The Independent's journalism is supported by our readers. When you purchase through links on our site, we may earn commission.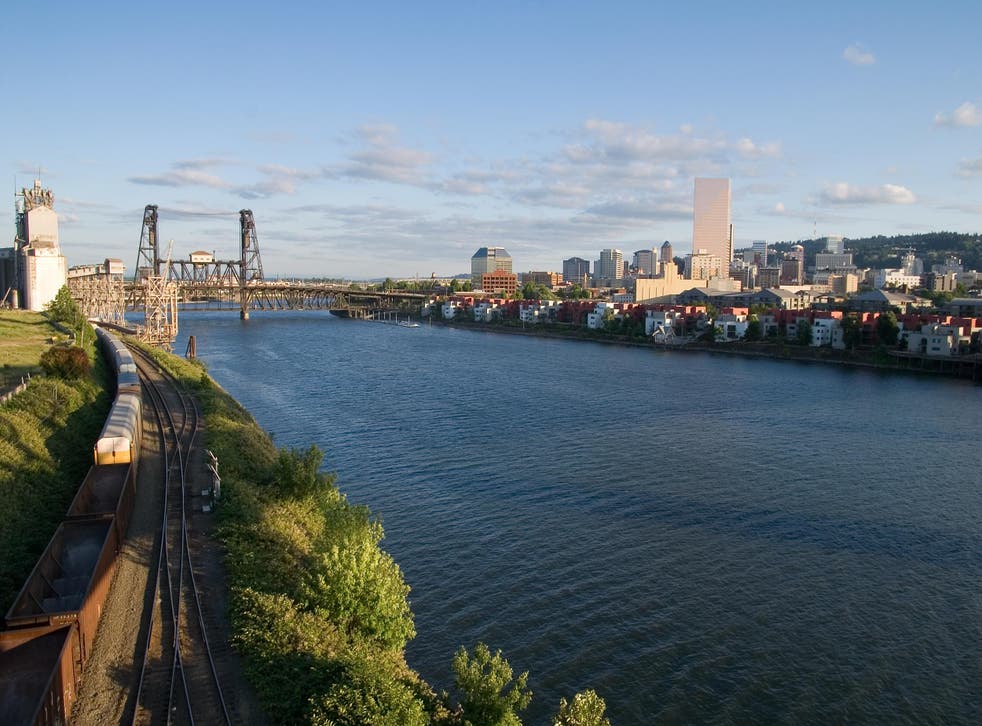 What to do in Portland: From microbreweries to third wave coffee
With new direct flights, America's hipster heaven comes a little closer
Why go now?
Portland has been an "it" city for years now, hailed primarily for its fiercely inventive, hyper-local food and beer scenes – The Washington Post went so far as to call it America's best food city, beating out San Francisco, LA and New York. But the lack of a non-stop flight between the UK and Oregon's largest metropolis has kept it off the mainstream tourist map for Brits, until now. This month, Delta Air Lines launches new seasonal flights between PDX and Heathrow, showing off the typically grey Pacific Northwest at its brightest: summertime.
And while Portland's proudly liberal, hipster-turned-up-to-ten reputation has seen it lampooned in sketch comedy show Portlandia, there's more to explore than too-cool live music (expect ukuleles), third wave coffee and the art of an exquisitely waxed moustache. The city's wealth of green spaces, 345 miles of developed bike trails and snow-capped volcano lurking on the skyline also make for a refreshingly outdoorsy getaway.
Need more convincing? The greatest solar eclipse in American history is slated to make landfall at Newport, south-west of Portland, and sweep across Oregon en route to the Atlantic on 21 August. A visit to the Pacific Northwest this year just might be written in the stars.
Get your bearings
Portland is sliced in two by the Willamette River, a tributary of the Columbia. To the west is Downtown (1), where you'll find most of the "sights", including museums, the Tom McCall Waterfront Park (2) and, further out, Washington Park – a huge green space home to hiking trails, the Portland Japanese Garden (3) and the famed International Rose Test Garden (4). East of the river, Inner South-East Portland (5) is more industrial, but is where you'll find the best microbreweries, coffee shops and independent restaurants.
Day one
Take a ride
Portland is a cyclists' city – it's home to the highest percentage of bicycle commuters in the US – so make like a local and get a handle on Downtown from the saddle. Cycle Portland's (6) (portlandbicycletours.com) Essential Tour, $39, offers an easy intro to the west side of the Willamette, and even wheels over to the Eastbank Esplanade for pretty views taking in a number of the city's 12 river-spanning bridges.
Window shopping
Head for the clump of hip shops huddled together on South-West 10th Avenue between Stark and Alder. Homegrown Wildfang (wildfang.com) (7) specialises in women's fashion inspired by menswear – think tailored shirts and blazers – and offers an in-shop tea bar that also serves beer and wine (take a seat and flip through the hip feminist magazines). Another indie womens' boutique, Radish Underground (radishunderground.com) (8), is the spot for a pair of Thunderpants (organic, New Zealand-made undies – designs include "sausage sizzle") and illustrated tees.
Lunch on the run
It wouldn't be a visit to Portland without a stop at a food cart. Street eats are a big deal here – there are an estimated 700 carts in the city, parked up in permanent "pods". Aim for where South-West 10th meets Alder for a good selection. Enduring favourite Nong's Khao Man Gai (khaomangai.com) (9) is now so popular, it has a separate brick-and-mortar location and a bottled sauce business. It serves one dish – chicken and rice – with a spicy, garlicky sauce. Other worthy contenders include Bing Mi! (bingmiportland.com) (10), cooking up stuffed Beijing-style pancakes, and loaded corn tortillas at El Taco Yucateco (find them on Facebook) (11). Stroll down to nearby O'Bryant Square (12) for somewhere to sit.
Another good option is Pine Street Market (pinestreetpdx.com) (13), a "curated food hall" in an old 19th century horse and carriage stable. Here, Kim Jong Smokehouse (kimjongsmokehouse.com) – fusing Korean street food and Southern-style barbecued meats – slings killer bibimbap bowls; go for the sweet and sticky short rib.
Cultural afternoon
Get an insight into what makes Portlanders tick at the permanent "Oregon Voices" exhibition at the Oregon Historical Society (ohs.org) (14), offering tell-tale titbits about the Oregonian mindset. That includes progressive laws on healthcare, environmental management, energy efficiency and, yes, cannabis. And don't miss the second floor's enthralling JFK retrospective, marking 100 years since his birth (until 12 November).
Dine with the locals
Portlanders are spoiled for choice when it comes to eating out. High-end vegan small plates made with Pacific-Northwest produce? Check. Chef-foraged molecular modernism? Check. But for a long-loved favourite, reserve always-busy Kachka (kachkapdx.com) (15). Leave it to Portland to make Russian food appealing: interiors fuse Soviet living room and industrial-chic – exposed pipes, flock wallpaper, an actual hammer and sickle – while the menu veers from Moscow to Siberia by way of Ukraine (specialty dumplings, smoked fish, piles of pickles). Order the house-made vodka infusions straight up – horseradish is a magical accomplishment of creamy mouthfeel and spicy kick.
Day two
Out to brunch
Dig into the natural bounty of Oregon at the Saturday Portland Farmer's Market (portlandfarmersmarket.org) (16), held in the grassy grounds of Portland State University. As well as browsing kiosks of local culinary invention – alpaca sausage and elk jerky; regional dairy and charcuterie (hello, chipotle cheese curds) – you can join the line for the C'est Si Bon! creperie stall (pork confit, caramelised onion and apple butter buckwheat crepes recommended).
A walk in the park
Portland's Japanese Garden (japanesegarden.org, admission $14.95 for adults) (3) was already impressive – being considered one of the most authentic outside of Japan – but in April unveiled the results of a $33.5m expansion, including a "cultural village" for performances, workshops and taking Japanese tea. Each section of its 12 acres up in Portland's West Hills is a precise work of art – even the waterfall was tuned by meticulously placing rocks to give the desired trickling sound. Just below is the International Rose Test Garden (rosegardenstore.org) (4), with a collection of around 600 varieties – just be sure to visit when they're in bloom.
Take a view
If you're lucky enough to be visiting on a clear day, hike up to Pittock Mansion (pittockmansion.org) (17) (be warned – we do mean "up"). The historic house museum – built by Henry Pittock, a businessman who had a large hand in making Portland a commercial centre – isn't the primary reason for making the trip, but rather the gardens' panoramic views of Downtown and white-peaked Mount Hood in the distance.
An aperitif
Navigating Portland's beer scene is a daunting task – with 76 breweries inside city limits, it has the most locally-owned breweries of any US city (craft beer powerhouse San Diego has the most per county). A better idea is to enlist some expert help. Brewvana (brewvana.com) will load you onto their brew bus and drive you around a hand-picked selection, giving a flavour of both established spots and new kids on the block – anything from beer-cart-turned-taproom Scout's culinary beers (marionberry red ale, peanut butter porter) to out-there Ecliptic, which rotates seasonal recipes according to the celestial calendar. Tour manager Emily studied monastic brewing practices at university, so you can expect some serious nerdery. Tours from $89 for four hours – includes four breweries, with roughly four beers at each (pours are generous).
The icing on the cake
Portland is a pioneer of "third wave" coffee, where minute attention is paid to provenance and brewing methods (think caring about growth elevation, Kyoto drips and debating AeroPress versus Chemex). Portland-born Stumptown helped usher in the movement in 1999 – but today the city is full of independent shops and roasters, with about 60 organisations roasting their own beans and plenty more buying those beans in. Third Wave Coffee Tours (thirdwavecoffeetours.com) will take you for tastings, cuppings and more at some of the city's finest establishments, for $40 per person.
Or check out Portland's other big scene: live music. For a reliably eclectic selection, the Doug Fir Lounge (dougfirlounge.com) (18) has anything from indie-folk to spoken-word-meets-cosmic-jazz. The style is woodland cabin (log walls, fire pits) and the crowd is super-casual (few bother to take off their coats and beanies).
Getting there
Delta Air Lines launches its seasonal flights on 27 May, taking off from Heathrow four times weekly until 29 October.
At Portland International Airport (19), hop on the MAX light rail service red line, which takes you to Downtown in about 40 minutes for $2.50. A cab ride to Downtown should cost about $35 and can take anything between 20 and 40 minutes. The same trip via Uber should cost from $20-27.
Staying there
Forget boutique hotels – The Jupiter (jupiterhotel.com) (20) is a boutique motel. This renovated motor inn has simple but colourful rooms, an art gallery in the lobby, complimentary self-serve local Water Avenue Coffee in the mornings, and even provides chalk so you can draw on your door (should you feel the need to self-express). Plus there's gigs, drinks and drunk food at Doug Fir (18) next door. Not the place for a quiet night in, mind. Rates start at $195 including tax, room only.
Brand-new AC Hotel Downtown (marriott.com) (21) is a Marriott offshoot conveniently plonked close to the waterfront. The vibe is a bit business-impersonal, but rooms are large and comfy, and it's quiet while being right in the thick of things. Rates vary depending on day and season – starting from around $160 and driving up to $253 per night (both inclusive of tax, room only).
More information
Register for free to continue reading
Registration is a free and easy way to support our truly independent journalism
By registering, you will also enjoy limited access to Premium articles, exclusive newsletters, commenting, and virtual events with our leading journalists
Already have an account? sign in
Register for free to continue reading
Registration is a free and easy way to support our truly independent journalism
By registering, you will also enjoy limited access to Premium articles, exclusive newsletters, commenting, and virtual events with our leading journalists
Already have an account? sign in
Join our new commenting forum
Join thought-provoking conversations, follow other Independent readers and see their replies