The Independent's journalism is supported by our readers. When you purchase through links on our site, we may earn commission.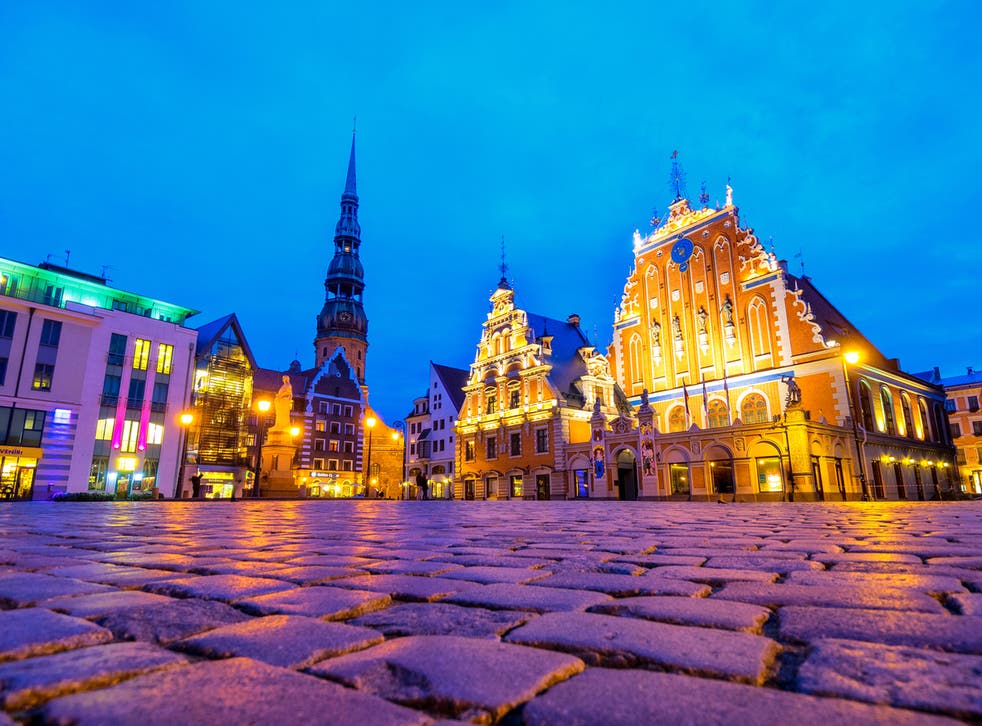 Riga city guide: Where to eat, drink shop and stay in the Latvian capital
How to make the most of a trip to the 'Baltic Berlin'
Christopher Beanland
Thursday 12 July 2018 17:17 Comments
Dubbing Riga "the Baltic Berlin" isn't as crazy as it sounds: Latvia's hip little capital is awash with art and music at the moment. Its acres of abandoned Soviet-era warehouses are the natural location for the first Riga Biennial of Contemporary Art (RIBOCA), a huge art festival running daily until 28 October 2018.
What to do in Riga
Hit the (Old) Town
Riga's handsome and historic Hanseatic Old Town is normally the first stop for visitors. The city walls, warehouses, houses and churches here have been renovated since the fall of communism – it all feels like a giant, living museum.
Park life
Bastejkalna Park, in the middle of Riga, is where locals go to eat lunch, jog, play chess or chill out after work. A pretty canal runs through the middle and the Opera House is a must-see.
Art of the matter
Riga's newest gallery, Zuzeum, is a reconfigured warehouse founded by the rich Zuzans family. It's a work in progress, due to be completed in 2019, but it looks pretty good already. It's one of the many great city venues for RIBOCA. Closed Mondays and Tuesdays.
Brought to book
The arresting sight of Latvia's new National Library, by Latvian architect Gunnar Birkerts, assaults your eyes as you cross the river Daugava from Riga's Old Town. Its odd exterior and huge interior spaces are a must-see; open Monday to Friday 9am-8pm, weekends 10am-5pm.
Where to stay in Riga
The arty Pullman has a pool and gym tucked up in its attic and low-lit, tasteful decor throughout. The healthy breakfast buffet is a stand-out. Doubles from €80 (£70), B&B
There are a mind-boggling four different Radisson hotels in this small city. The Elizabete does a great breakfast packed with local cuisine, including smoked fish, pork fat, rye bread, ham, cottage cheese and pickles. Doubles from £84, B&B
Grand Poet is a brand new hotel with a classy feel and a spacious and relaxing basement spa, complete with a big pool and several saunas. Doubles from €92, B&B
Where to eat
Pagalms is a beguiling little eatery that is pure class. A small menu with several vegetarian and vegan choices, low-lighting, tiled walls, cool clientele and a pop-up feel are enough to make you think you're in east London or Berlin. It's basically a wooden hut next to the tennis club, boasting cheap prices to boot.
Riga's brand new Japanese restaurant The Catch has been winning a lot of admirers since it opened earlier this year. Try the chicken ramen and tempura broccoli, or splurge on the sushi.
Where to drink
A lot of Riga's boozing options are concentrated in the Old Town. Try I Love You for a cheap local beer and indie tunes on the jukebox.
Kanepes Cultural Centre is where Riga's musicians, DJs, artists and students hang out. A former music school in a shabby house where they pour craft suds and put on live gigs at weekends, the name means "Cannabis Cultural Centre" – but don't bother asking for that.
One One plays electro, techno, house and minimal music. It's party central every Friday and Saturday night; post-industrial chic and a powerful sound system set things off.
Where to shop
Randoms is Riga's coolest little record shop where you can experience the vinyl record renaissance currently at play in Riga (there are several new vinyl pressing plants, vinyl-only record labels and vinyl markets all thriving in the city). Randoms sells a slew of 12 inch albums by big-hitting local bands like Carnival Youth, as well as those by international rock and dance acts. It also stocks trainers and T-shirts.
Kalnciema Iela's hip Slow Food Market dishes up local flavours and international favourites like veggie burgers as well as traditional Latvian baking, cheese, jars of pickles and jams and smoked fish in an atmospheric former woodworks. There's also a cafe and wine shop where you can buy a bottle.
Architectural highlight
Riga's jugendstil architecture, a type of art nouveau, is renowned as the best collection of buildings from the turn of the 20th Century in the world. Riga was flourishing at this time and there are dozens of fantastically ornate buildings inspired by the shapes of trees and flowers dotting the central district.
Nuts and bolts
What currency do I need?
Euros.
What language do they speak?
Latvian. English widely spoken.
How much should I tip?
10 per cent.
What's the time difference?
GMT +2
What's the average flight time from the UK?
Two and a half hours.
Public transport
Riga's trolleybuses are very cheap and easy to manage, but you can also walk the entire city very easily.
Best view
Head up to the Skyline Bar on the 26th floor of one of the city's tallest buildings for a glass of fizz with a sunset view.
Insider tip
Keep an eye out for ad hoc Berlin-style club nights and hip electronic music festivals like Kontaktor, which regularly take over some of the city's huge and empty old USSR-era factories in the suburbs.
The writer flew with Air Baltic, which flies direct daily to Riga from London Gatwick (and during summer from Aberdeen).
Register for free to continue reading
Registration is a free and easy way to support our truly independent journalism
By registering, you will also enjoy limited access to Premium articles, exclusive newsletters, commenting, and virtual events with our leading journalists
Already have an account? sign in
Join our new commenting forum
Join thought-provoking conversations, follow other Independent readers and see their replies