The Independent's journalism is supported by our readers. When you purchase through links on our site, we may earn commission.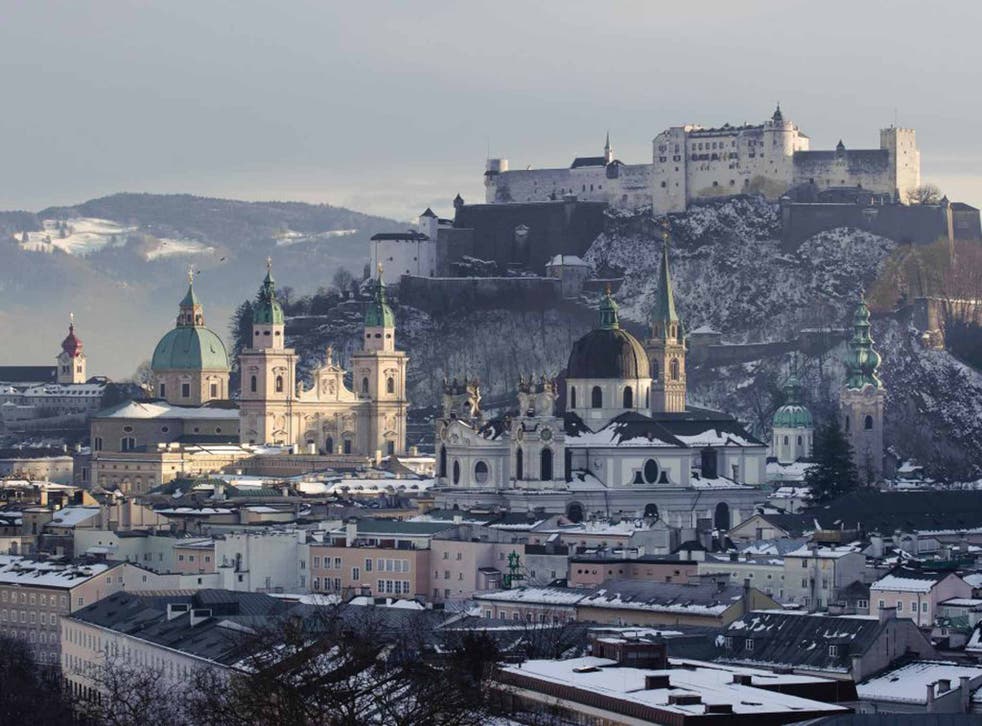 Salzburg travel tips: Where to go and what to see in 48 hours
This city of Mozart, 'The Sound of Music' and the gateway to great skiing is preparing to mark the 200th anniversary of its joining Austria
Travel essentials
Why go now?
Salzburg is in a celebratory mood. Not only does next year mark the 200th anniversary of the city becoming part of Austria, but it's also 50 years since Julie Andrews famously skipped across that meadow in The Sound of Music – a film that put Salzburg on the map.
But as the birthplace of Mozart, its streets have always been alive with the sound of music. Mozart Week (mozart eum.at) – a citywide celebration of his work – takes place from 22 to 31 January. And getting to the city is set to become easier: to coincide with the start of the ski season, British Airways launches two new routes this month.
Touch down
BA (0344 493 0787; ba.com) starts flying from Heathrow today and Glasgow from next Saturday, in addition to its Gatwick route; Ryanair (0871 246 0000; ryanair.com) operates from Stansted; easyJet (0843 104 5000; easyJet.com) from Gatwick, Bristol and Liverpool; Jet2 (0800 408 1350; jet2.com) from Edinburgh, Leeds/Bradford and Manchester; and Monarch (0333 003 0700; monarch.co.uk) from Birmingham.
Salzburg's airport is in the suburbs, 4km west of the city centre. The No 2 bus departs from outside the terminal every 10 minutes between 6am and 1am; the €2.50 ticket is available from the driver. Buses take 23 minutes to reach the Hauptbahnhof (1), which is north of the centre, and a further five minutes to Mirabellplatz (2). A taxi to Mirabellplatz costs around €15 and takes 20 minutes.
Get your bearings
Salzburg – meaning "Salt Fortress" – earned its fortune when nearby salt mines were established under the Roman Empire. It split from Bavaria in the 14th century and became an independent state until it was absorbed by Austria in 1816.
Salzburg sits snuggly in the eastern Alps, close to the border with Germany and is surrounded by three peaks: Mönhsberg, Gaisberg and Kapuzinerberg. The Ski Amadé area, Seefeld and Kitzbühel are easily accessible.
The city is split by the River Salzach, and most of its 150,000 residents live in the 19th-century New Town on the river's east bank. Across the narrow waterway is the Unesco-listed Old Town, where the city first took shape in the Middle Ages. The main tourist information office (00 43 662 8898 7340; salzburg.info; 9am to 6pm daily) is in the Hauptbahnhof (1). A 48-hour Salzburg card, gives free public transport and cheap entry some attractions for €32.
Check in
The riverside Hotel Sacher (3) at Schwarz strasse 5-7 (00 43 662 88 9770; sacher.com) is the city's most decadent, with 113 individually designed rooms. Doubles from €344, room only.
The Hotel am Mirabellplatz (4) at Paris-Lodron-Strasse 1 (00 43 662 88 1688; ausrotel.at) is a decent mid-range option with 71 small but pleasant rooms. Doubles from €220, room only.
Budget travellers should check Motel One (5) at Elisabethkai 58 (00 43 662 88 5200; motel-one.com). Doubles from €69, room only.
Day one
Take a view
The remains of the medieval Hettwer Bastion (6) are now a scenic lookout at the westernmost tip of Kapuzinerberg hill, offering an excellent vantage point across the Salzach towards the belltowers and onion domes of the Old Town.
Dominating the view is Hohensalzburg Fortress (7), the 11th-century citadel that sits atop Mönchsberg Mountain (507m). Climb the steps leading up from the hard-to-miss stone archway (8) at Linzergasse 12. Allow 10 to 15 minutes.
Take a hike
A short distance away from the lookout is a staircase (not to be confused with the stone trail that weaves west along the wooded hillside). Follow the steps all the way to the bottom and you'll emerge on to Steingasse.
Turn left and then immediately right, and you will arrive at the river. Turn left and walk along Giselakai towards the Art Nouveau Mozartsteg Bridge (9), which features in the picnic scene of The Sound of Music. Admire the old fortifications on the hillside.
Cross the bridge and pause at We Love Coffee (10), a small hut (open 7am to 5pm daily) that was originally used as a tollbooth for those entering the city's medieval quarter in the 19th century. Cross Rudolfskai and continue straight on to Mozartplatz (11), ending at the statue of the composer.
Lunch on the run
Opposite the statue (11) at Mozartplatz 1 is Café Glockenspiel (00 43 662 23 1068; café-glockenspiel.at), overlooking the ice-rink and bell tower of the Salzburg Museum (12) (00 43 662 6208 08705; salzburgmuseum.at). Try the organic carrot and parsley strudel served with wild garlic sauce (€12.90).
Window shopping
Salzburg's most charming shopping street is Goldgasse (13), a narrow alley lined with inviting antique and jewellery stores. Better known but slightly less quaint is Getreidegasse (14), where retailers have continued the tradition of hanging ornate works of wrought iron overhead to highlight what they sell – everything from shoes to handmade umbrellas. Typical opening hours are 10am to 7pm daily, except Sunday.
An aperitif
Join the locals huddled at the standing-only bar at family run Sporer (15) at Getreidegasse 39 (00 43 662 84 431; sporer.at; closed Sunday). Try a shot of Hausmischung, a secret blend of 19 herbs and roots (€2.10) or a warming glass of rum and orange punch (€3.40, all tipples distilled on the premises).
Dine with the locals
Fine dining and modern decor await at Magazin (16) at the foot of Mönchsberg Mountain at Augustinergasse 13 (00 43 662 8415 8420; magazin.co.at). Chef Richard Brunnauer's sophisticated dishes include venison and guinea fowl in a truffle crêpe (mains from €27, four-course "surprise menu" €69).
More intimate is St Peter Stiftskeller (17) at Sankt-Peter Bezirk 1/4 (00 43 662 841 2680; stpeter-stiftskeller.at). It dates back to 803, and makes the bold claim of being the oldest restaurant in Europe. Try the tafelspitz (boiled beef with creamed spinach) for €23.90.
Day two
Sunday morning: go to church
There are dozens of churches sprinkled across the city, so you're spoilt for choice. The big boy, of course, is Salzburg Cathedral (18) (00 43 662 8047 7950; salzburger-dom.at). The building, with its 71-metre dome, dates from the 1600s and has Renaissance paintings by Donato Mascagni. It opens 1pm to 5pm on Sundays (10am to 5pm on other days; admission free), but you can attend Sunday mass at 8.30am, 10am or 11.30am.
Out to brunch
Since opening its doors in 1705, Café Tomaselli (19) at Alter Markt 9 (00 43 662 8444 880; tomaselli.at; 8am to 8pm on Sundays, other days from 7am) has attracted poets, philosophers and other intellectuals. Tuxedo-clad waiters serve tasty scrambled eggs and sausages (€8.10), while tempting trays laden with cakes and strudels are paraded around.
Cultural afternoon
Visit the birthplace of Salzburg's most famous son. Wolfgang Amadeus Mozart came into the world on the third floor of a handsome yellow building on 27 January 1756. Now devoted to his life, the Mozart Geburtshaus (20) at Getreidegasse 9 (00 43 662 84 4313; mozarteum.at; 9am to 5.30pm daily; €10) showcases a number of his personal belongings including his childhood violin.
Bring yourself back to the 21st century at the clifftop Museum of Modern Art (21) at Mönchsberg 32 (0043 662 842 220; museumdermoderne.at; 10am to 6pm daily, except Mondays; entry €12).
A walk in the park
Linden trees and Baroque statues fill the grounds of the 17th-century Mirabell Palace (22) at Mirabellplatz 4 (00 43 662 80720; 8am to 6pm; entry free). It was here that Maria and the Von Trapp children sang "Do-Re-Mi".
Take a ride
The Festungsbahn funicular (23) at Festungsgasse 4 (00 43 662 8884 9750; salzburg-burgen.at; 9am to 5pm, departures every 10 minutes) whisks you to Hohensalzburg Fortress (7) at Mönchsberg 34 (00 43 662 8424 3011) in just 54 seconds. The return €11.30 ticket also includes entry to Hohensalzburg. More than 600 years in the making, it remains one of the world's best-preserved forts.
Icing on the cake
Salzburg has a sweet tooth. Don't miss out on trying a Salzburger nockerl, a local soufflé-like pudding with three mounds inspired by the surrounding mountains. Try it at Gablerbräu (24) at Linzergasse 9 (00 43 6628 8965; gablerbrau.at; 10am to 12am daily; €6.70).
Click here to view holidays and tours in Austria, with Independent Holidays.
Register for free to continue reading
Registration is a free and easy way to support our truly independent journalism
By registering, you will also enjoy limited access to Premium articles, exclusive newsletters, commenting, and virtual events with our leading journalists
Already have an account? sign in
Register for free to continue reading
Registration is a free and easy way to support our truly independent journalism
By registering, you will also enjoy limited access to Premium articles, exclusive newsletters, commenting, and virtual events with our leading journalists
Already have an account? sign in
Join our new commenting forum
Join thought-provoking conversations, follow other Independent readers and see their replies