San Francisco travel tips: Where to go and what to see in 48 hours
The Super Bowl's 50th anniversary is drawing attention to California's hilliest city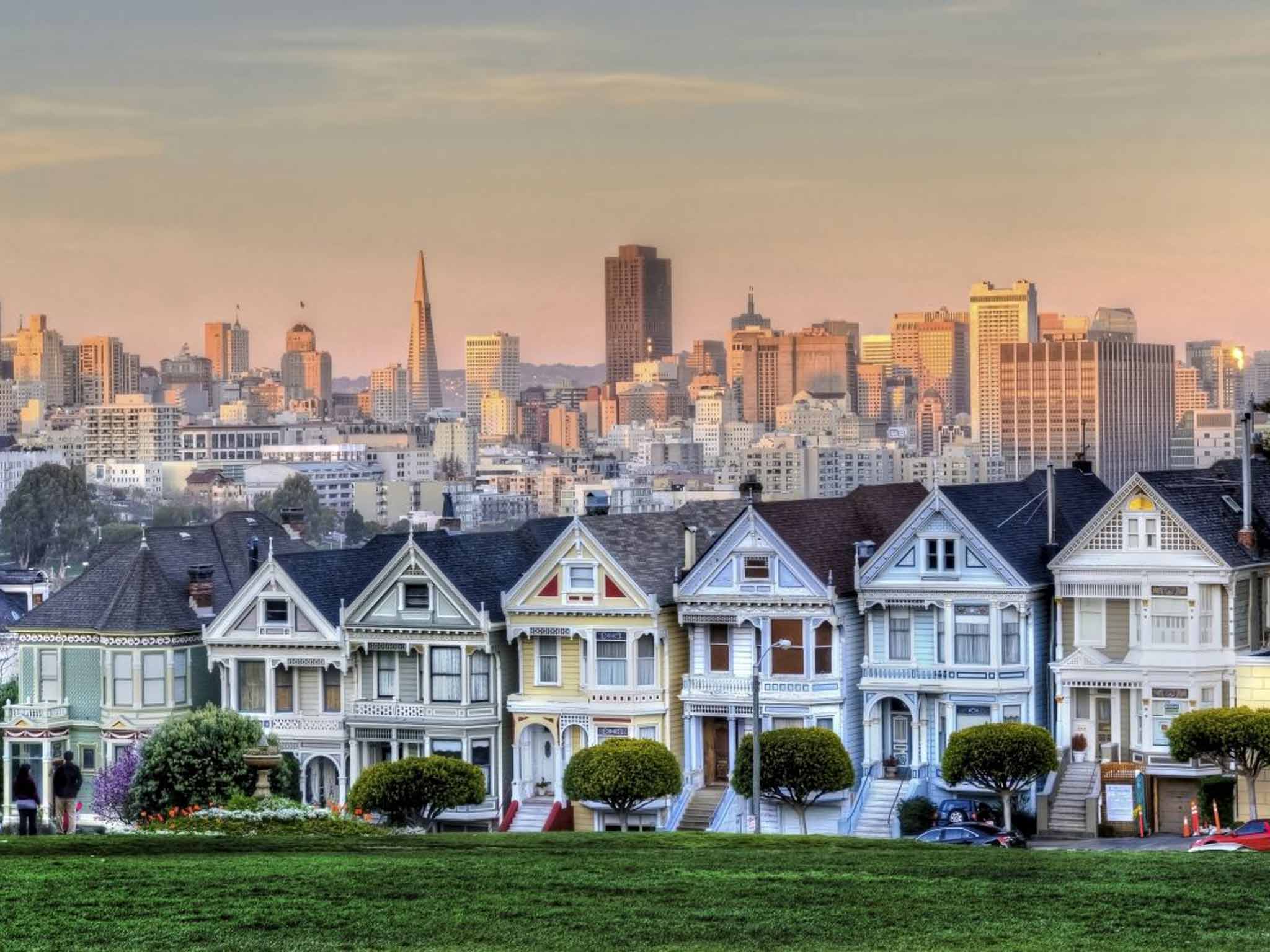 Travel essentials
Why go now?
The Super Bowl turns 50 tomorrow, and San Francisco is hosting the US's most watched TV event in its shiny new 49ers Levi's Stadium (actually in Santa Clara, 50 miles south-east of the city).
Even if your interest in the Super Bowl only extends to the half-time entertainment, San Francisco is a city with plenty to offer. It's currently enjoying a second tech boom, as Silicon Valley companies move into the city itself – bad news for locals as rents rise, but great for visitors, with waves of hip new bar, restaurant and shop openings.
There's plenty more activity on the calendar, including the Independent Film Festival (11-25 Feb; sfindie.com) plus the Tulipmania Festival (13-21 Feb; pier39.com) at Pier 39 (1).
Touch down
British Airways (0344 493 0787; ba.com) flies twice daily from Heathrow. Virgin Atlantic (0844 209 7777; virgin-atlantic.com) and United Airlines (0845 607 6760; unitedairlines.co.uk) also fly non-stop from Heathrow to San Francisco airport, 16 miles south of the city centre. The yellow line of the Bart suburban train network (bart.gov) connects with several stops in the city centre, from 4am until midnight. Single tickets cost $8.65 (£6.20); a taxi will cost upwards of $45 (£32). Both take about half an hour.
Norwegian (0843 3780 888; norwegian.com) launches budget flights in time for summer – from Gatwick to neighbouring Oakland on 12 May.
Get your bearings
Tucked into the top of a peninsula on America's Pacific Coast, San Francisco is a happening city at a manageable size, bordered by water on three sides; to the north, the brick-red Golden Gate Bridge (2) seems to burn through the notorious San Francisco fog.
The names of its districts recall a rich countercultural past – from the hippie drag of Haight-Ashbury to the home of the gay rights movement, Castro, to North Beach, where the Beatniks hung out. More recently, the place to be is the multicultural Mission, while SoMa (south of Market) is popular with techies.
The city is famously hilly; locals know which walking and cycling routes to take to avoid calf-stretching climbs, but the city's Muni bus and cable-car networks (sfmta.com) can help whisk you around: see 511.org for route-finding.
For more advice, visit the tourist office (3) at 900 Market Street (001 415 391 2000; sanfrancisco.travel; 9am to 5pm daily), or go to visitcalifornia.com.
Check in
Perched atop genteel Nob Hill, luxury hotel The Scarlet (4) at 1075 California Street (001 415 474 5400; thescarlethotels.com) is grand: rooms are plush with red velvet and swagged silk, an oriental twist reflecting the proximity of Chinatown. Doubles from $343 (£245), breakfast included.
The Kimpton Buchanan (5) at 1800 Sutter Street (001 855 454 4644; thebuchananhotel.com) also occupies a handy spot, at the junction of Japantown, Pacific Heights and Fillmore, all great for neighbourhood strolling. This boutique hotel has cool design, with nice touches such as tie-dyed kimono robes and welcome cookies. Doubles from $192 (£137), room only.
For a budget option with superlative views of the Bay, try the youth hostel: HI Fisherman's Wharf (6) at 240 Fort Mason (001 415 771 7277; sfhostels.org), in Fort Mason National Park; staff organise walking tours, even pub crawls. Dorm beds are $36 (£25); doubles rooms from $109 (£77), with breakfast.
Day one
Take a view
Coit Tower (7) rises out of Telegraph Hill near the tip of the peninsula (001 415 249 0995; sfrecpark.org). Take the lift to the top for a view of the city and the bay (open 10am to 6pm daily; $7/£5); check out the murals around the base too.
For a different perspective, head to nearby Pier 33 (8), and catch a ferry to Alcatraz (9); it's a 15-minute journey with lovely views. The prison that made the tiny island famous closed in 1963; today, an audio guide thrills with tales of dastardly criminals and improbable escapes. Ferries run 8.45am to 6.40pm; tickets cost $39 (£28), including the tour – book in advance (001 415 981 7625; alcatrazcruises.com).
Lunch on the run
Catch the Muni streetcar 'T' line from Embarcadero to 20th and 3rd, in Dogpatch, a neighbourhood full of artisanal, foodie businesses. Long Bridge Pizza (10) at 2347 3rd Street (001 415 829 8999; longbridgepizza.com) serves sourdough bases with generous toppings; from $12 (£8.50).
Take a hike
Formerly a working class ship building area, Dogpatch was in decline for many years but has seen a change of fortunes.
The American Industrial Centre (11) started offering space to some 300 artists and makers; cafés, bars, and artisan shops soon followed. Walk SF Tours offers neighbourhood tours (001 415 779 5879; walksftours.rezdy.com; $79/£56).
Or strike out solo – head from Long Bridge Pizza (10) towards the waterfront on 20th Street to Pier 70 (12), for a glimpse of the industrial heritage. Retrace your steps, and continue down 3rd street, nosing into chocolatiers, fromageries and ice-cream parlours for samples.
Turn off towards the waterfront again at 24th Street, to Warm Water Cove Park (13) – once known as Toxic Beach, it's cleaned up its act, and the neighbourhood is also home to well preserved Victorian architecture.
From Warm Water Cove Park (13), walk back up 24th, and turn right on Tennessee Street then left down Minnesota Street, admiring the pastel-coloured workers' cottages, dating back to the 1880s.
An aperitif
On the 39th floor of the Marriott Marquis Hotel, 780 Mission Street (001 415 896 1600; sfviewlounge.com) is the View bar (14), a tourist hot-spot, but for good reason: the unbeatable view of the skyline. Grab a cocktail (around $15/£10) and watch the sun go down.
Dine with the locals
The Mission District is a Latino area transformed into the city's trendiest enclave. Southern Pacific Brewery (15), 620 Treat Avenue (001 415 341-0152; southernpacific brewing.com) is a vast warehouse bar-cum-restaurant, where a young crowd tucks into burgers (from $11/£8), washed down by craft beer.
Dirty Water (16) is a recent opening inside the Twitter headquarters, 1355 Market Steet (001 415 792 5101; dirtywatersf.com). With dishes such as deer tartare and grilled quail ($22/£15), it caters to discerning diners – and drinkers: it offers more than 100 wines by the glass, and more than 50 beers on tap.
Day two
Sunday morning: out to brunch
At Craftsman and Wolves (17), 746 Valencia Street (001 415 913 7713; craftsman-wolves.com), brunch changes with the seasons. There are savoury options – smoked cheddar gougeres, bacon and soft-boiled egg muffins – but save space for the sweets: the patisserie is almost too pretty to eat. Open from 8am weekends, 7am weekdays.
Window shopping
Stay on Valencia Street to walk off brunch: it's lined with book stores, vintage shops, boutiques and local designers. Look out for the tongue-in-cheek frontage at 826 Valencia Pirate Supply Store (18), a literary charity set up by writer Dave Eggers (noon till 6pm).
Hire a colourful bike from the Mission Bicycle Company (19) on 766 Valencia Street (001 415 683 6166; missionbicycle.com, $40/£28 per day) – a fun, if energetic, way to explore the city.
Cultural afternoon
Pedal over to Presidio Park (about a 35-minute cycle – or take a taxi) to visit the Walt Disney Family Museum (20) at 104 Montgomery Street (001 415 345 6800; waltdisney.org). I promise no one dressed as Mickey Mouse will try to hug you. Instead, the museum offers a fascinating look at Walt's empire; his early innovations in animation are particularly interesting. Open 10am to 6pm daily; entry $20 (£14).
Take a ride
Continue cycling through the park and over the Golden Gate Bridge (2). Follow the coastal road down to the port town of Sausalito; slake your thirst at a waterfront bar before taking a ferry back to San Francisco ($11/£8, departing 3.50pm and 5.35pm).
On arrival, succumb to Pier 39 (1), home to tourist tat shops and a community of basking, honking sea lions. Return your bike (18) by 6.30pm; if that sounds like too much cycling for one day, Mission Bicycles can arrange pick-up from anywhere in the city for an additional fee of $40 (£28).
Discover your perfect holiday in California with The Independent.
Join our commenting forum
Join thought-provoking conversations, follow other Independent readers and see their replies