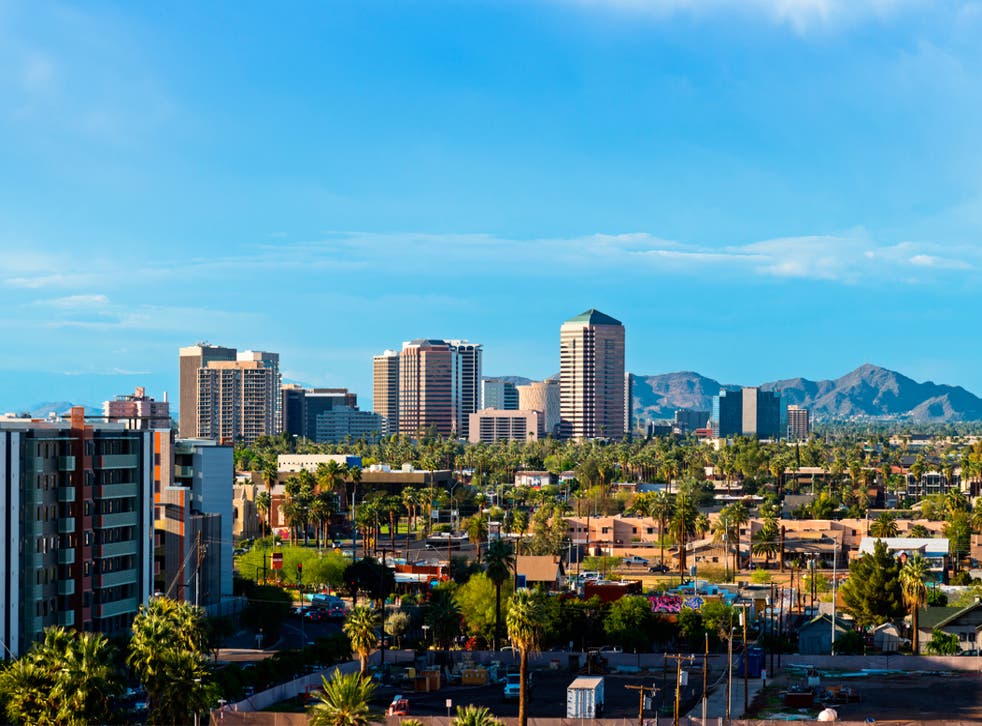 Scottsdale city guide: Where to eat, drink, shop and stay in Arizona's desert jewel
How to take the ultimate trip
Scottsdale is known as the jewel of the Sonoran Desert and it's easy to see why. Located on the eastern edge of Phoenix, Arizona, surrounded by sun-drenched mountains and dotted with brightly coloured flowering cacti, it is abundant in natural beauty. The city's warm climate will come as no surprise, but its desert location might mean you don't expect to also find the world-class food, art, architecture and golf courses that are solidifying Scottsdale's "Beverly Hills of the Southwest" reputation.
The Independent's hotel recommendations are unbiased, independent advice you can trust. On some occasions, we earn revenue if you click the links and book, but we never allow this to affect our coverage.
What to do
Art and architecture tour
Ever since the world-famous architect Frank Lloyd Wright moved to Scottsdale in the 1930s, the area has become something of an artistic Mecca. Wright's legacy is felt strongly, with many of his own designs – and those of his proteges – dotted across town. The best example is Taliesin West, his winter home and now an architecture school and foundation that is open to the public for guided tours only (open 8.30am-3pm daily, except public holidays; entry $25/£20).
The area also has a thriving art scene centred around the Main Street Arts and Antiques District in the Old Town. Either grab a free guide from your hotel or the tourist office or take part in the weekly ArtWalk, when the local galleries open their doors to the public to showcase global and local talent (every Thursday from 7-9pm).
Wander the Old Town's streets
A day walking the streets of Scottsdale's Old Town is a must. Its quaint, colourful streets are lined with historic saloons and shops selling cowboy attire that transport you straight to the old Wild West. High-quality Native American craft shops preserve important local heritage and reinforce the area's history. However, modern art galleries, fine dining restaurants and boutique shops are also on offer and demonstrate Scottsdale's growing prosperity. A great way to see the sights quickly is the free Scottsdale Trolley that runs every 10 minutes from 11am-9pm daily.
Unwind in a spa
Scottsdale's history as a leading health and wellness destination dates back to its Native American history, promoting focus on both body and spirit. Now, the town has more resort-spas per capita than any other US city and provides leading global treatments, as well as those inspired by local tradition. So whether you're in need of some pampering or desert serenity, Scottsdale has endless spas to choose from.
Desert adventure
The vast Sonoran Desert stretches into California, Mexico and Arizona and is the lushest and biologically diverse of North America's deserts. Experience the best it has to offer in the 30,000-acre McDowell Sonoran Preserve. It covers and protects a third of the Scottsdale area and is the largest urban preserve in the US. Some 200 miles of hiking trails showcase the area's spectacular mountainous desert landscape and rich flora and fauna, including show-stopping 200-year-old, 12m-tall Saguaro cacti. Free admission.
Where to stay
Built into the sides of Camelback mountain (the 900m-high rocky outcrop shaped like a camel's head that dominates the local skyline) is the upmarket Sanctuary Camelback Mountain Resort and Spa. With unrivalled views of the area, an award-winning spa, an excellent restaurant and bar and famous mid-century modern design, it understandably attracts a high-end crowd. Rumour has it that Jay-Z and Beyoncé even honeymooned there. Doubles from $380.
The young and hip travellers to Scottsdale typically flock to Hotel Valley Ho. Situated in the heart of Old Town, it is one of the area's most iconic buildings, having been designed by Edward L Varney, a former Wright apprentice. It oozes style, with bright colours and impeccable decor throughout. Its two pools are where the party's at, especially around happy hour. Doubles from $139.
The Phoenician is the go-to for active types, with a championship 18 hole golf course, a tennis complex and multiple pools (including a water slide). Stunning views back towards Camelback mountain are complemented by its exquisite rooms, which feature Italian marble bathrooms, private balconies, designer furnishings and bespoke art. Doubles from $212.
Where to eat
Located in the Old Town, The Mission offers a fresh take on Latin cuisine. Inventive dishes range from Peruvian clam stew with rock shrimp and chorizo to duck confit empanadas. It's a local favourite so be sure to reserve a table – the outdoor back patio is the best seat in the house.
Cafe Monarch has been voted one of the top 25 restaurants in America and is a memorable experience. The small family-owned restaurant has a real charm with the head chef known to take your order, clear your dishes and cook your food. Four-course fixed-price menus change weekly and offer creative dishes using locally-sourced seasonal ingredients. While the wood-panelled interiors are intimate, the outdoor candlelit courtyard is the most romantic option, with ivy-covered walls, palm trees and a photogenic fountain.
ZuZu at Hotel Valley Ho offers up inventive seasonal American cuisine in stylish, yet informal surroundings. Modern twists are given to typical American small dishes, sandwiches, salads and entrees. The Famous Zuzu Burger is the menu's highlight.
Where to drink
No trip to the Old Town is complete without a quick drink at Rusty Spur Saloon. Officially a historic landmark and Scottsdale's oldest bar, its old Western charm has been attracting locals and tourists for years. Live music and entertainment are on offer every afternoon and evening and it is open 364 days a year (closed on Christmas Day).
Dierks Bentley's Whiskey Row is the country music star's third establishment in Phoenix and is in Scottsdale's Entertainment District. Urban meets country as wooden barn cladding is framed in steel and an old vintage tractor sits next to vast banks of TVs. Regular country music and dancing gives it a modern, honky-tonk vibe.
If wine is more your tipple, Kazimierz World Wine Bar is your best option. With a wine list that runs to over 70 pages and something for all tastes and price points, it's worth getting the help of the very knowledgeable waiters. Live music is on offer most nights; after your last glass, take a stroll down the nearby Arizona Canal Trail to the famous Soleri Bridge.
Where to shop
If you're looking for a reprieve from the heat, the air-conditioned Scottsdale Fashion Square is widely considered to be one of the premier shopping destinations in the US. A smart mall, it's home to more than 200 shops as well as Neiman Marcus, Nordstrom and Macy's.
The old and new come together in Old Town Scottsdale. Souvenirs are sold alongside Native American designs at Bischoff's Shades of the West, and the area has nearly 100 galleries showcasing a range of artistic styles.
Biltmore Fashion Park is a mid-century landmark that remains one of the area's favourite shopping destinations. Outdoor mall arcades around a pretty central lawn are a pleasure to stroll through. Be sure to stop at Union, a collection of local, independent retailers selling goods unique to the local area. There's also a selection of great restaurants.
Architectural highlight
While most Frank Lloyd Wright fans flock to Wright's winter home, Taliesin West, the famous Arizona Biltmore resort is also worthy of a trip. Wright was a consultant in the design – which was led by Albert Chase McArthur – and it quickly became a local landmark. Wright also worked with sculptor Alfonso Iannelli on the Biltmore Sprites, the geometrical architectural statues that greet guests and visitors when they arrive at the resort.
Nuts and bolts
What currency do I need?
US dollars.
What language do they speak?
English.
Should I tip?
Tipping protocol usually varies between 15 and 20 per cent.
What's the time difference?
Seven hours behind.
What's the average flight time from the UK?
Direct American Airlines and British Airways flights take 10 hours and 50 minutes.
Public transport
In Old Town Scottsdale, hop aboard the free Old Town Trolley that runs throughout the day or rent a scooter or bike from Lime (download the mobile app from your app store). If you're looking to explore, hiring a car is advisable.
Best view
Climbing Camelback Mountain is a local tradition and offers spectacular views of the local Scottsdale area. But if the two to three-hour hike, steep ascents and potentially blistering heat isn't up your street, head to Sanctuary Camelback Mountain Resort and Spa for a drink at the excellent Jade Bar or a bite to eat at the equally impressive Elements restaurant. Both have fantastic views over the valley below – time your trip for sunset for the perfect experience.
Insider tip
Choose your time of year wisely. Temperatures can rise as high as 43C in the summer between June and August. Prices ramp up significantly in the cooler months from January to April as the east and west coast elite flock for some winter sun in the desert oasis. September to December is a great time to visit, with prices relatively low and temperatures manageable.
Join our new commenting forum
Join thought-provoking conversations, follow other Independent readers and see their replies