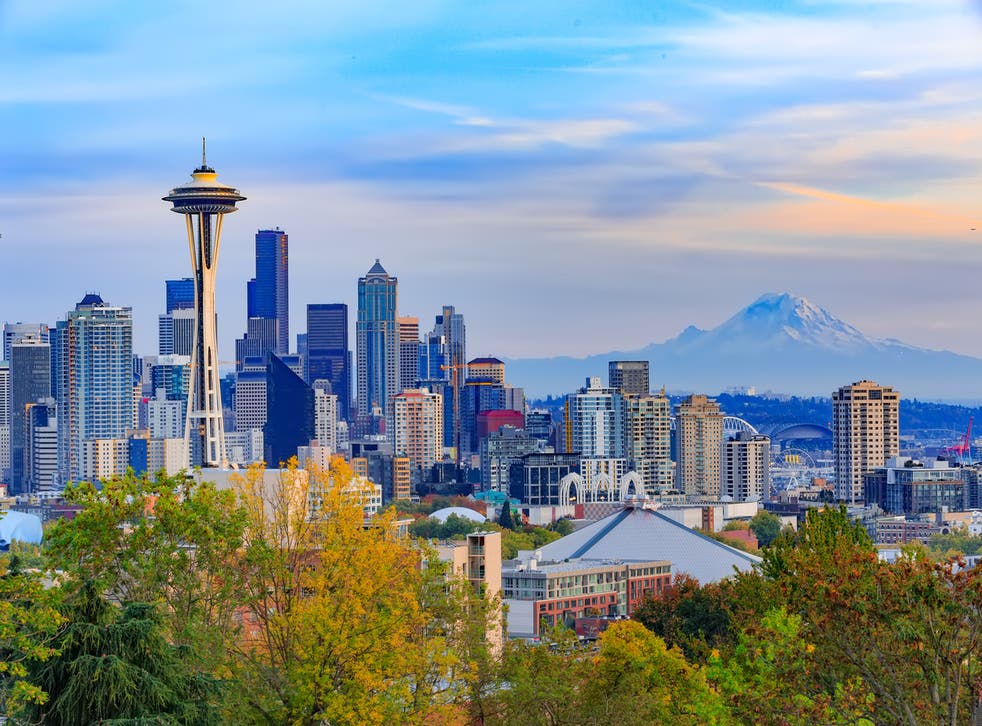 Seattle city guide: How to spend a weekend in the Pacific North West
It pays to be sleepless in Washington's high-tech yet laid-back metropolis
Christopher Beanland
Wednesday 06 December 2017 12:25 Comments
Why go now?
Seattle's mix of grunge culture, lo-fi living and Pacific Northwest charm is balanced today by its thriving tech scene, which ensures there are always new hotels, bars and restaurants to divert visitors. The city centre is being opened up with a tunnel that will eventually replace the Alaskan Way Viaduct (1), reducing traffic and creating greener spaces and cleaner air. Virgin launched direct flights there from London Heathrow last year, which makes getting there even simpler.
Get your bearings
Seattle has an odd setting, scrunched into a finger of land running north to south with Lake Washington to the east and the Puget Sound to the west. The city centre is compact and walkable but the suburbs stretch 10 miles south to Seattle-Tacoma (Sea-Tac) airport (2) (portseattle.org).
The main tourist information centre (3) (visitseattle.org/visitor-information/visitors-center) is at Upper Pike Street Lobby of the Washington State Convention Centre in Downtown Seattle; open 9am-5pm daily.
Day one
Take a view
Ride the famous 1960s monorail (seattlemonorail.com) from the downtown station at Westlake Centre (4) up to Seattle Centre (5). The Seattle Centre was the site of a World's Fair in 1962 and is manna for vintage junkies, with all sorts of cool retro architecture from the Mad Men era. The first thing you'll want to do is take a photo of the Space Needle (6) (spaceneedle.com), Seattle's bona fide icon. It graced the titles of TV sitcom Frasier and is the symbol of the city. From the top you can get a great view across town (assuming it's not foggy, which it often is). Open 9am-9.30pm Friday to Sunday, 9am-10.30pm on Saturdays.
Take a hike
Imagine yourself describing a curve running from north-west to south-east and you can take in a lot of Seattle's highlights in one easy morning walk. Venture off down 4th and you'll soon be strolling through historic Belltown (7). After about eight blocks, on the corner of 4th and Virginia, you'll find the famous Sub Pop Records (8) (subpop.com), which defined Seattle in the 1990s as one of the most important cities in the world for rock music. This is where grunge was born, and Sub Pop was the label that released records by bands like Nirvana (incidentally there's also now a Sub Pop shop at Sea-Tac Airport for cool last-minute souvenirs on the way home). Continue down 4th and turn right on Seneca to see an eccentric Seattle attraction – Freeway Park (9). This beautiful brutalist park spanning I-5 was designed by famed architects Lawrence Halprin and Angela Danadjieva in the 1970s. It mixes concrete with flowers and oriental water features, and is where you'll find picnickers on warmer days. Head south-east on 6th Avenue then take a right on Madison Street; after one block you'll come to Seattle's grand Public Library (10), designed by Rem Koolhaas and opened in 2004.
Lunch on the run
Pike Place Market (11) (pikeplacemarket.org) is more than just a food market – it's a Seattle legend. Open since 1907, it has featured in numerous films, such as Sleepless in Seattle. There are multitudes of restaurants and places where you can pick up ingredients for a picnic. The fish is especially fresh here.
Window shopping
Follow Pike Street in a north-easterly direction for about 25 minutes and you'll come to the cool enclave of Capitol Hill (12), with all kinds of interesting independent boutiques. Don't miss Seattle favourite Nube (13) (nubegreen.com) – a kind of ethical Urban Outfitters that stocks furniture, gifts, accessories and clothes, all hand-made in the United States.
An aperitif
In Capitol Hill, Melrose Market (14) (melrosemarketseattle.com) couldn't be any more perfect for an afternoon apero. This is the hipster answer to Pike Place Market, with distressed wood everywhere and cool joints serving wine by the glass and modern sharing plates. There are a dozen different vendors and bars inside so you're spoilt for choice, and hopping from one to another is part of the fun.
Dine with the locals
If the name "King's Hardware" (15) (kingsballard.com) makes you think of gruff guys in workshirts wrestling bears before breakfast then you're actually not that far from the truth when it comes to this burger joint and bar in Seattle's Ballard neighbourhood. There's definitely a lot of plaid and some backwoods-themed decor. But the main event is the big, juicy burgers, washed down by cool suds from craft brewhouses.
Day two
Out to brunch
For brunch with a difference, head to Collections Cafe at the Chihuly Gardens and Glass Museum (16) (chihulygardenandglass.com). Brunch is served on Saturday and Sunday from 10am-4pm and as well as attractive food you can enjoy the remarkable surroundings. Dale Chihuly is a local artist who blows glass into crazy shapes and this is where many of his finest works are kept – you can stare at them over your eggs Benedict with Alaskan snow crab.
A walk in the park
Grab a cab and head north-east to a very special little park by the lapping waters of Lake Washington in the affluent Harrison/Denny-Blaine neighbourhood. Viretta Park's (17) (seattle.gov/parks/find/parks/viretta-park) lawns and flowerbeds are brooding yet bucolic. This sense is only amplified by their links to Nirvana's Kurt Cobain, who lived in a house bordering the green space – and indeed died there in 1994. Today, the park's benches serve as an ad hoc memorial, with fans placing flowers on them every day.
Cultural afternoon
For an afternoon of art, Seattle Art Museum (18) (seattleartmuseum.org) is hard to beat. A relaxing space, it always boasts a series of interesting temporary exhibitions and a permanent collection including pieces by Alexander Calder and Richard Serra.
Travel essentials
Getting there
The writer flew with Virgin Atlantic (virginatlantic.com), which has a new daily flight from London Heathrow to Seattle; from £538 return.
From the airport, take the Light Rail run by local transport provider Sound Transit (soundtransit.org/Schedules/Link-light-rail). It runs every 15 minutes off peak and every six minutes at peak times and costs $3.25 (£2.41). Traffic is always heavy from the airport to Downtown; a taxi, which costs around $35 can end up being a bit of a waste of time (and money).
Staying there
The Thompson (19) (thompsonhotels.com) is one of Seattle's finest choices, with a luxury vibe and a minimalist glazed exterior that screams chic. Doubles from $300, room only.
The Ace (20) (acehotel.com/seattle) in Belltown was the growing hipster chain's first outpost and is culturally significant in its own right for transforming the direction hotels have been heading in the 21st Century. You get 10 points every time you see a guy with a beard wearing a lumberjack shirt here. Doubles from $195, room only.
The Arctic Club – a Doubletree by Hilton (21) (doubletree3.hilton.com) oozes charm. Its historic home was the former Arctic Club, built off the back of Klondike Gold Rush riches. Vintage photos still hang around the handsome building. Doubles from $125, room only.
More information
Register for free to continue reading
Registration is a free and easy way to support our truly independent journalism
By registering, you will also enjoy limited access to Premium articles, exclusive newsletters, commenting, and virtual events with our leading journalists
Already have an account? sign in
Join our new commenting forum
Join thought-provoking conversations, follow other Independent readers and see their replies