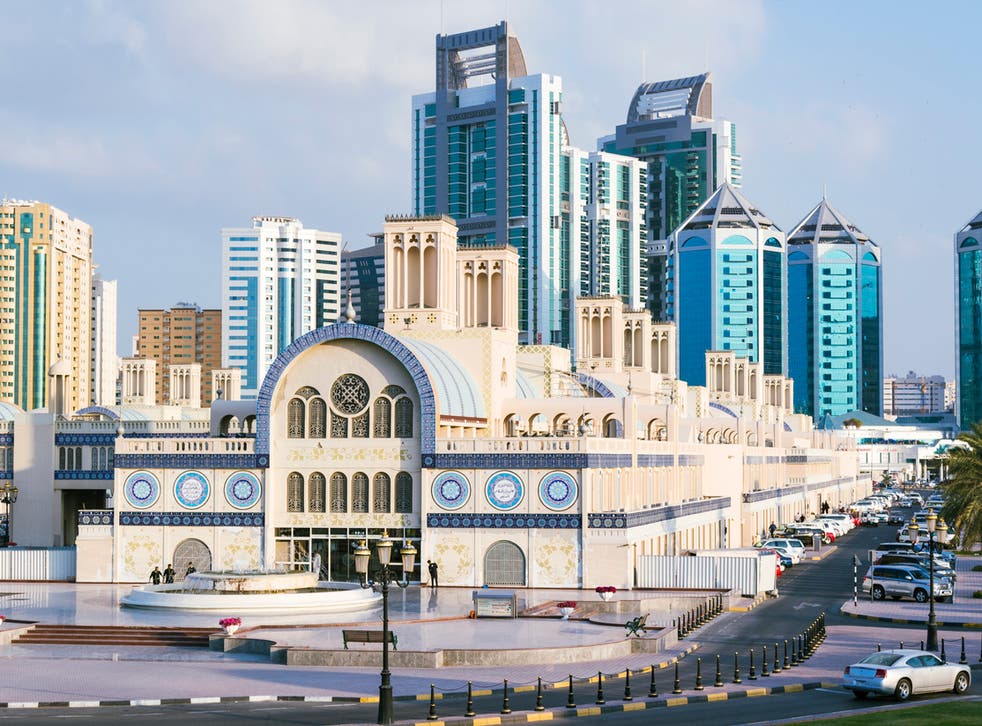 Sharjah city guide: Where to eat, drink, shop and stay in the UAE Emirate
Things are changing fast in the third-largest city in the UAE
A centre of Islamic culture and tradition, Sharjah is the third-largest city in the UAE and only 30 minutes from Dubai Airport. Perhaps because alcohol is banned, it's been overshadowed by its neighbour, but a wealth of attractions – from a restored heritage area to a rotating calendar of events – means things are changing fast. Its status as Unesco's World Book Capital in 2019 (the official launch was on 23 April) has only upped its profile further.
What to do
Sharjah city guide

Show all 7
Islamic heritage
A fitting starting point is the Sharjah Islamic Museum. Set within a beautifully renovated indoor market that's big on symmetry and Arabic design, it explains Muslim practices and contributions to science and the arts in inventive ways. Open 8am-8pm daily; Fridays 4-8pm. Entry 10AED (£2.20).
The Al Noor Mosque is one of the few in the emirate that allows non-Muslims to enter, and it's as elaborately decorated inside as its exteriors suggest. As throughout Sharjah, conservative dress is expected, though women are given an abaya and hijab to wear. Open Mondays and Thursdays, 10-11am. Free entry.
Stroll the waterfront
Today's Sharjah has a modernity to it that's invigorating to see. A walk along the manicured Al Majaz waterfront reveals its shiny new restaurants and hangouts, like Shakespeare & Co, a Jelly Belly ice cream parlour and the fantastic Al Rawi. The latter is defined as a cafe-bookshop, with literature in both English and Arabic, but really it's a cultural space where there are book clubs, signings, workshops and community gatherings. Open 8am-midnight daily (closes 1am Thursday to Saturday).
Ogle some art
The Sharjah Art Foundation has permanent and temporary exhibitions, many of which are on the international circuit. Try to catch one of their outdoor screenings of Arabic and English films. Open 8am-8pm daily; 4-8pm Fridays. Free entry.
Desert activities
An hour away from Sharjah's city centre is full-on desert territory, wandering camels included. That means dune bashing, cycling tours and twilight Bedouin-style camps, depending on one's adrenaline levels. Try it in Mleiha to include a visit to the archaeological site with the first evidence of human activity outside Africa.
Where to stay
For location and price, the Golden Tulip can't be beaten. It's on the waterfront and it handily shares building space with a 24-hour supermarket. Each room offers lakeside views and a kitchenette, and is comfortably furnished. Doubles from 180AE (£39), room only.
Nearby, the newer, more modern The Act Hotel has plush rooms and a steam room, sauna and rooftop pool. It's as close to a design hotel as you'll find in Sharjah city. Doubles from 429AED (£92), B&B.
The Ramada Hotel not only borders Dubai with a free shuttle service to its city centre, but also has a Vegas-style bridge straight to the Sahara Centre (to spend any savings made). Rooms are impressively spacious. Doubles from 250AED (£53), room only.
The Sheraton looks like a grand palace on the approach and beach resort once you're inside. The beachside restaurant Al Qubtan is a fine place to lunch, while the seafood restaurant Marasea is locally favoured too. Doubles from 321AED (£55), room only.
Where to eat
A particularly tasty version of Middle Eastern cuisine (think flatbreads with hummus, baba ganoush and meat grills) is found in Shababeek, a restaurant with award-winning design. It's part of a cluster of restaurants along the Venice-inspired Al Qasba; across the canal, Beit Setti, meaning "grandma's house", is a busy Syrian eatery with flavoursome food and plenty of outdoor seating.
There's another cluster of upmarket dining spots along the Al Majaz waterfront. Al Fanar is the best place to try upscale traditional Emirati cuisine. Their breakfast game is strong: go traditional and order balalit, sweet, syrupy noodles topped with an omelette-style egg.
Dining at the Al Bait Hotel is a good chance to nose around this heritage hotel and try daring dishes (although prepare to loosen the purse strings considerably). Alongside shawarma and falafel, the Arabic restaurant features poached lamb brain and kibbeh nayyeh, a Levantine lamb version of steak tartare. The main restaurant's offerings include kangaroo katsu and 24-hour braised camel, a speciality of the region.
At the other end of the spectrum, Al Madfoon is a popular, no-frills restaurant that specialises in marinated grilled meats, including goat.
Where to drink
Alcohol is banned in Sharjah, so it'll have to be juice. Haji Ali Juice Centre is a small joint that gets busy in the evenings; all their juices are made fresh, and if water is used, it's filtered.
Coffee culture is popular too. In the heritage area of the Heart of Sharjah, Ratios Coffee serves a rotating line up of single-origin coffee alongside snacks. On the counter, there's a long row of tasting pieces of Mirzam chocolate like saffron, maple, jaggery and almond (take it as an invite to try them all, extensively).
Where to shop
Sharjah doesn't try to compete with Dubai for its range of bling and brands. The closest version of a luxury mall is the Sahara Centre, with international shops like Lacoste and Jack Jones alongside major Emirati stores.
However, there's plenty of arts, crafts and textiles to be found. Find these in the Central Souk, also worth a visit as it's such a landmark, and the Heart of Sharjah. This is a heritage market area given a modern makeover, with shops selling antiques, traditional items and homewares. Most shops open later in the day on Fridays.
Architectural highlight
It's convenient for the sightseer that Sharjah's Cultural Square, with a 15m-high moment of the Quran at its centre, is surrounded by five magnificent Arabian-style buildings: the Cultural Palace, the Ahmad Bin Hanbal Mosque, the Ruler's Office, a government office and Sharjah Library. Each is a feast for the eyes.
Nuts and bolts
What currency do I need?
The Arab Emirate Dirham (AED).
What language do they speak?
Arabic, but English is widely spoken too.
Should I tip?
Tipping isn't customary, but don't let that stop you.
What's the time difference?
GMT+4.
What's the average flight time from the UK?
British Airways, Virgin Atlantic and Emirates fly direct from the UK to Dubai Airport in about seven hours.
Public transport
There's a good bus service, and taxis are widely available and affordable.
Best view
The Khalid Lake Trail is a promenade with expansive views of Sharjah's skyscrapers and ornate mosques, framed by the placid lake and blue skies.
Insider tip
Looking for a gift? Dates, spices and Emeriti coffee beans can be found at the Souq Al Jubail, primarily a fish market, but one side is dedicated to groceries. Head to the Zahrat Al Seder stall for a wide range of honey, include full honeycombs and "married people honey" with aphrodisiac properties.
Join our new commenting forum
Join thought-provoking conversations, follow other Independent readers and see their replies