The Independent's journalism is supported by our readers. When you purchase through links on our site, we may earn commission.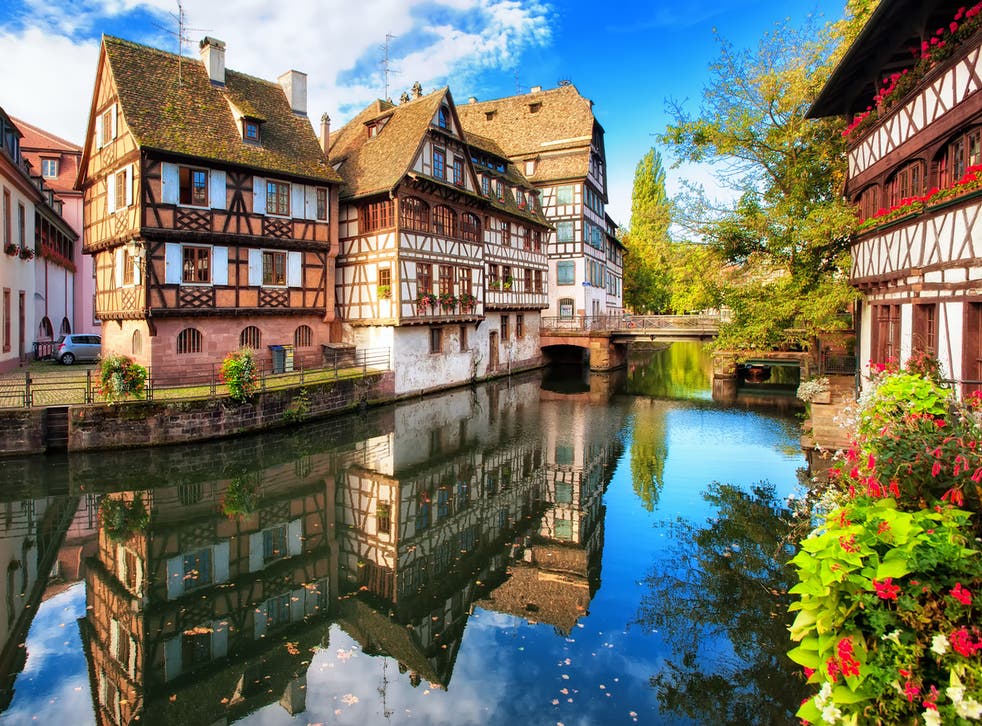 Strasbourg city guide: What to do on a weekend break in the French home of the European Parliament
Beyond the EU institutions, the capital of Alsace offers the perfect blend of sophistication and charm
Why go now?
Eurosceptics like to turn their noses up at the home of the European Parliament, but they're missing out on one of France's most appealing and sophisticated cities. Alsace's capital Strasbourg looks like something out of a Black Forest fairytale, with medieval half-timbered houses covered in flowers and set in cobbled squares. There's also a stately Gallic elegance in the mansions that appeared when the French took over the city from the Germans, and a cosmopolitan ease about the place, which becomes even more agreeable in late summer as café tables colonise every open space.
Get your bearings
Encircled by the River Ill and the Canal du Faux-Rempart, Strasbourg's Unesco-listed centre, Grande-Île, is best seen on foot. Visitors make a beeline for the magnificent Romanesque-Gothic Cathédrale de Notre-Dame (1) before exploring Petite France (2), the old tanners' district by the river. The central railway station (3) is west of Grande-Île and only a five-minute walk to the river. The EU institutions (4) are about 2km north-east of the centre and are a pleasant 30-minute riverside walk. The tourist office is in a handy location at 17 Place de la Cathédrale (5) (0033 388 522 828; otstrasbourg.fr). It's open daily 9am-7pm.
Day one
Take a view
Trek up the 332 steps to the cathedral's viewing platform for vistas stretching to the Black Forest and Vosges mountains. It's open daily 9am-7.15pm April to September, and 10am-5.15pm October to March, admission €5. The cathedral is a Gothic masterpiece (open daily 9.30-11.15am and 2-5.45pm) and features an astronomical clock that springs into action at 12.30pm.
Take a hike
Start at the cathedral, where just to its south is the monumental Palais Rohan (6), an 18th-century, Parisian-style palace that's home to the fine arts, decorative arts and archaeological museums. Walk down café-filled Rue des Mercière past delightful half-timbered medieval buildings towards Place Gutenberg (7) and its handsome Renaissance architecture.
As you carry on down Rue des Serruriers, the style becomes decidedly French until you reach Petite France (2), where, contrary to the name, pure Alsace takes over. It's half-timbered heaven, with absurdly pretty houses overlooking the rushing waters and locks of the River Ill. Look west for the Barrage Vauban (8), a 17th-century dam with a panoramic terrace that offers fabulous views (open 7.45am-8.45pm May to August; other times vary). Once you've wandered through Petite France's lanes, head up to Grand'Rue (9), one of the historic centre's arteries and an animated place of cafés and shops.
Lunch on the run
Flammekueche – rather like a very thin pizza covered with cheese, lardons and onions – is an Alsatian staple. Try a slab of it (from €5.50) along with a glass of local beer at Au Brasseur (10) (aubrasseur.fr), a fun microbrewery decked out in chunky industrial-chic style.
Window shopping
The genial brothers who run Mon Oncle Malker de Munster (11) (malker.fr) in Place de la Boucherie make their own farmhouse cheeses, including pungent Munster. Classy boutiques line Rue des Juifs, including ethical fashion label Ekyog at No 2 (12). For high street brands, check out Rue des Grandes Arcades (13), Rue des Francs-Bourgeois (14) and Place Kléber (15).
An aperitif
Look out for Place du Marché-Gayot, a lively cobbled square full of bars and cafés off Rue des Frères near the cathedral. A bubbly glass of crémant d'Alsace (€5) at Le QG (16) goes well with people-watching. In Grand'Rue, pull up a retro chair at wilfully ramshackle Troquet des Kneckes (17) at No 112 for a large selection of Alsatian beers (from €2.30).
Dine with the locals
"Hearty" is elevated to a new level at a traditional Alsatian winstub (tavern). Chez Yvonne (18) (0033 388 328 415; restaurant-chez-yvonne.net) is a cosy place to sample choucroute (€18.30), a waist-expanding dish of sauerkraut and smoked meats cooked in Riesling. For something more refined, opt for Michelin-starred Au Crocodile (19) (0033 388 321 302; au-crocodile.com) for exquisite dishes such as roasted turbot (€48) in an atmosphere that's both regal and relaxed.
Day 2
Out to brunch
Behind the cathedral in quiet Rue de la Râpe is rustic Bistrot & Chocolat (20) (0033 388 363 960; bistrotetchocolat.net), where the Sunday brunch menus range from €14 to "ze maxi full miam" for €25. They all include scrambled eggs, salads, fruits and cakes, with the full monty adding a veggie burger and pancakes among other goodies. If you want an expensive touch of opulence (and have booked a month or so ahead), try Au Fond du Jardin (21) (0033 388 246 006; aufonddujardin.fr) next door. This elaborate tea room specialises in the most over-the-top madeleines you're likely to see, with Sunday brunch ranging from €18 for pastries and hot chocolate to an eye-watering €39 for savoury tarts, soup, salad, eggs and decadent desserts.
A walk in the park
Parc de l'Orangerie (22), Strasbourg's oldest park, sprawls across 26 landscaped hectares east of the centre. Follow its shaded paths to the free zoo, city farm, children's playground lakes and waterfalls. Look up to see countless storks – a symbol of Alsace – nesting in trees and on rooftops. Then you'll understand why all the souvenir shops sell soft-toy versions of the birds.
Take a ride
Make use of Strasbourg's extensive network of cycle lanes and pedestrianised streets by renting a Vélhop (velhop.strasbourg.eu). You can pick up a bike at one of 20 automatic docking stations or five rental shops. Pay €1 an hour or rent it for the whole day for €6.
Cultural afternoon
Get a fascinating crash course in Alsatian history at Musée Alsacien (23) (0033 368 985 152; musees.strasbourg.eu) on the south side of the river. Displayed throughout three atmospherically creaky 16th- and 17th-century houses are exhibits showing Alsatian life over the centuries. The recreations of home interiors, as well as a forge and winery, are beautifully done. It's open 10am-6pm Wednesday to Monday, admission €6.50.
The icing on the cake
If Petite France didn't give you enough of a visual feast, carry on along the riverside path under Quai St-Nicolas past dog-walkers and picnicking students. Carry on eastwards to the jetty by the Palais Rohan (6), the starting point for Batorama (batorama.fr) boat trips along the River Ill, which is more like a canal than a river at this point. Over a 100-minute boat ride, you'll go all the way round the Grande-Île before exploring the 19th-century German Neustadt and going as far as the EU institutions (4). Tours run every half hour from 9.45am-6pm and cost €13.
Travel essentials
Getting there
The train from London St Pancras to the centre of Strasbourg is the most convenient, with a change at Paris or Lille. Voyages-sncf (voyages-sncf.com) has return journeys from £101. Ryanair (ryanair.com) has twice-weekly flights from Stansted, from £79 return. The airport train costs €2.60 each way and takes nine minutes.
Staying there
In a prime Petite France spot in a 19th-century former ice house on the River Ill, Régent Petite France offers contemporary elegance in its 75 rooms. There's an assured light touch with Alsatian cuisine in the restaurant, and the spa includes a terrace hot tub.
Doubles from €290, room only.
regent-petite-france.com
The 16th-century Hotel Cour du Corbeau is an enchanting half-timbered concoction just south of the river near the cathedral, with 63 rooms.
Doubles from €175, room only.
cour-corbeau.com
Tranquil Hotel du Dragon has 32 pleasantly simple rooms and a courtyard garden a short walk south of the river from Petite France.
Doubles from €71, room only.
dragon.fr
Register for free to continue reading
Registration is a free and easy way to support our truly independent journalism
By registering, you will also enjoy limited access to Premium articles, exclusive newsletters, commenting, and virtual events with our leading journalists
Already have an account? sign in
Register for free to continue reading
Registration is a free and easy way to support our truly independent journalism
By registering, you will also enjoy limited access to Premium articles, exclusive newsletters, commenting, and virtual events with our leading journalists
Already have an account? sign in
Join our new commenting forum
Join thought-provoking conversations, follow other Independent readers and see their replies