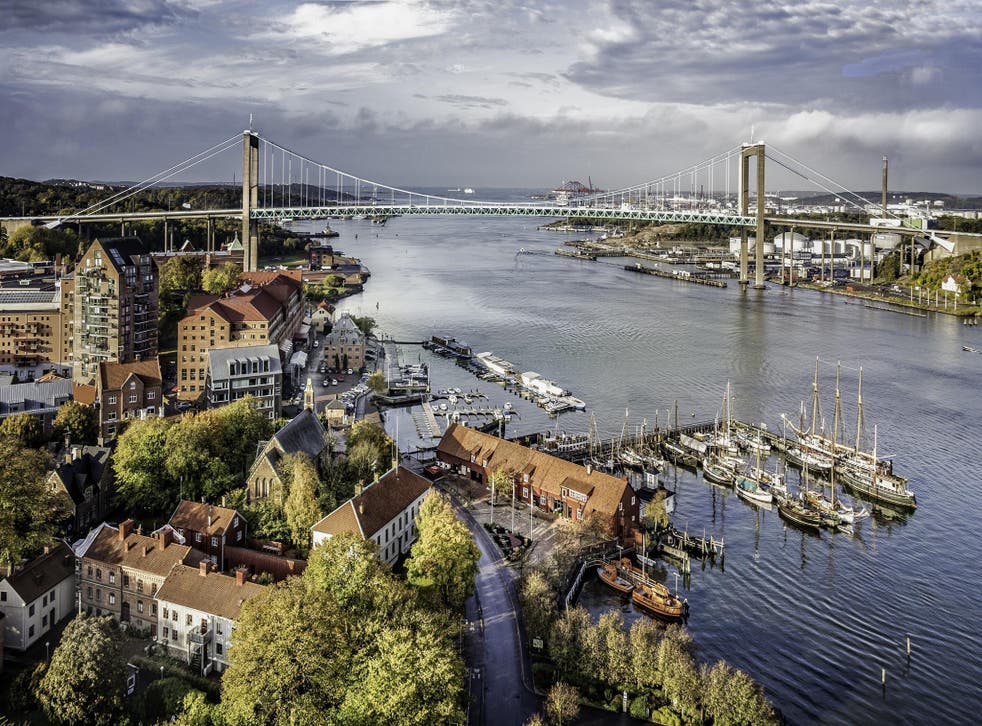 48 hours in Gothenburg: hotels, restaurants and places to visit
Spend an autumn weekend in Sweden's second city
Why go now?
Sweden's second city, a civilised, stylish port on the south-west coast, is worth visiting at any time of year but comes alive in autumn with festivals and Halloween excess. Hem, Villa & Bostadstratt (goteborg.hemochvilla.se), 28-30 October – a sort of Scandinavian Ideal Home Exhibition – showcases the best of interior design, encompassing Mitt Kok, an immersive food fair with cookery demonstrations. For fright-seekers young and old, Halloween events at the expansive Liseberg amusement park (liseberg.com) draw over 200,000 visitors in search of ghoulish fun. Head to zombie-prone District Z for a night of the living dead.
Get your bearings
Gothenburg is situated at the mouth of the Gota River on Sweden's south-west coast, with most of the points of interest conveniently located within the compact heart of the city, with the port to the north.
The main tourist centre (1) can be found at Kungsportsplatsen 2 (00 46 31 368 4200; gothenburg.com). It opens Monday 9.30am-5pm Monday-Friday, 10am-2pm Saturday, closed Sunday; opening hours change after 1 May.
There is very little traffic in the city centre, although trams (Gothenberg has the largest system in Scandinavia) and buses slice through the streets with precise regularity. It's wise to invest in a Goteborg card (335 krona/£40 for 48 hours, October-April; 525 krona/£63 May-September) for unlimited rides on all public transport (including ferries), free entry to museums, art galleries and the Liseburg amusement park. Cards can be purchased online (gothenburg.com) or at Gothenburg Tourist Offices. Single transport tickets cost 25 krona (£3) and are valid for any number of interchanges within 90 minutes.
Day One
Take a hike
Start at Stenpiren terminal (2) and catch the "criss-cross" ferry west down Gota alv, taking in the brutish Goteborgs Energi plant and – by contrast – the elegant south bank, lined by handsome history and centuries of architecture.
Unboard at the Alvsborg bridge (3) and visit art space Roda Sten Konsthall (4) (rodastenkonsthall.se; 40 krona, under-26 free) for bold, contemporary work, and coffee on its harbour-front terrace.
Walk the short distance up Mariaplan to Majorna, a working class district on the rise, where, along Mariagatan, you'll find vintage treasures at Fabriken (5) (fabrikengbg.se), alfresco beers at Olstugen Tullen (6) (olstugen.se), and Tapasbaren (7) (tapasbaren.se), purportedly the best tapas in the city.
Lunch on the run
Take Tram 9 back to Central Station (8) and head for the herd of food trucks that converge in the small square off Magasinsgaten. Strommingsluckan (9) (strommingsluckan.se) offers hearty local food, such as local fried herring with mashed potatoes and lingonberries.
For delicate pizza, freshly baked sourdough, and pour-over coffee, adjacent hipster bolthole, Da Matteo (10) (damatteo.se), is hard to beat; while Gabriel (11) (restauranggabriel.se), housed in the charming Feskekorka (Fish Church) market hall, at Rosenlundsvagen 411 25, is the go-to place for catch of the day.
Window shopping
On and around Magasinsgaten independent retailers rub shoulders with hip bars and off-beat restaurants. Highlights include Acne (12) the pricy but oh-so-stylish Swedish fashion label that has a store at No 19 (acnestudios.com), and another local brand, Nudie Jeans (13), which has its repair station around the corner at Vallhaten 15 (nudiejeans.com) – you can have alterations done here, or pick up recycled denim. Vallgaten 12 (14) at (of course) Vallgaten 12 (vallgaten12.se) houses furniture, food and art all under one stylish roof.
An aperitif
The opulent Puta Madre (15) at Magasinsgatan 3 (putamadre.se) is a wonderful hybrid: a tequila bar dressed in fin-de-siècle brothel style, brought to life by a ragtime soundtrack and dapper-looking waiting staff. Sip on mescal cocktails in the amber glow, or kick back with gum-singeing Swedish vodka shots.
Dine with the locals
Slip through Puta Madre's secret door to Basque (basque.se), a buzzing, tiled bar serving perfectly curated pintxos, quality wines and ice-cold cava.
For local flavour – and larger portions –- head to the award-winning Familjen (16) at Arkivgatan 7 (restaurangfamiljen.se) for slow west Swedish dining in an unpretentious setting.
Day Two
Sunday morning: out to brunch
Le Petit Café (17) at Haga Nygata 2 (lepetitcafe.se), in the fashionable district of Haga, is a multicultural gem, run by Iranians and styled in candle-lit, "hygge" style. Choose from two main dishes (normally roast chicken or seasonal pasta), with a good salad bar, free bread and mountains of butter. On brighter days there are rickety iron tables lining the building outside, and Sunday opening hours are a generous 8am-8pm.
A walk in the park
Slottsskogen park (18) is a green oasis in the Linne district, where locals converge to stroll and socialise around its well-kept lawns. A small zoo is home to a variety of animals and birds, including Nordic species of elk and moose, and there are ancient trees, forest paths and waterways to discover at every turn.
Take a ride
Bikes loom large here, and the relatively flat landscape makes it easy to traverse the city. The Styr & Stall cycle-share scheme (styrochstall.se) is available at more than 50 sites, and bikes are free with a Goteborg card.
Take a short ride along the river and cross Gota alv bridge (19) to the regenerating harbour district of Frihamnen. The oncoming chill at this time of year makes a sauna particularly inviting, and the public one, Almanna Badet (20), is among the world's most spectacular, rising from the bank of the river with its obtuse angles and corrugated steel exterior (timecenter.se; free, but online booking is essential).
Cultural afternoon
For superlative Nordic painting, the Gothenburg Museum of Art (21) on Gotaplatsen (goteborgskonstmuseum.se) is world class. Open from 11am Tuesday-Sunday with various closing times between 5pm and 8pm, closed Mondays.
Or head to the nearby Rohsska Museum (22) at Vasagaten 39 (rohsska.se) for design and decorative arts, from contemporary Scandinavian fashion to ancient Chinese ceramics. Open 12pm-8pm Wednesday, to 5pm Thursday-Friday, 11am-5pm Saturday-Sunday, closed Monday-Tuesday.
The icing on the cake
No trip to Gothenburg is complete without sailing to the city's impressive archipelago – a constellation of car-free islands and fishing communities offering wild nature and postcard good looks. Take the ferry from Saltholmen (22) to Styrso (23), considered the hub of the southern part, for fishing, swimming and seal watching.
Travel Essentials
Getting there
The writer flew with Norwegian (norwegian.com), which operates six flights a week to Gothenburg from Gatwick. Ryanair (ryanair.com) flies from Stansted and Edinburgh, while British Airways (ba.com) flies from Heathrow.
All flights from the UK serve Landvetter airport (24), 30km east of the city centre. Buses from Landvetter leave about every 12 minutes from 4.15am-9pm and take half an hour. A return ticket from the airport to Nils Ericson Terminal (25) costs 185 krone (£22) when booked online in advance (flygbussarna.se), or an extra 10 krone on the day. A one-way taxi will set you back 400 krone (£48).
Staying there
For basic accomodation, the STF Goteborg City Hostel (26) at Drottninggaten 63-65 (swedishtouristassociation.com) has double rooms starting at 1,046 krona (£125) including breakfast, or 946 (£113) krona if you don't mind making your own bed on arrival. A welcoming lobby strewn with old tin lanterns and fireplaces elevates the place from budget to boho.
Hotel Riverton (27) at Stora Badhusgatan 26 (riverton.se) is crisp, modern and well located, and its Sky Bar and restaurant on the 12th floor offers one of the best views in the city. A Superior Queen Room starts at 1,295 krona (£155), including breakfast and use of the spa.
Hotel Pigalle (28) at Sodra Hamngatan 2 (hotelpigalle.se) evokes La Belle Epoque with its rich, decorative rooms and charming bar and restaurant. Double rooms start at 2,954 krona (£354) including breakfast.
The exchange rate used in this feature is 8.34 krone to the pound
Click here to view our latest travel offers with Independent Holidays
Join our new commenting forum
Join thought-provoking conversations, follow other Independent readers and see their replies