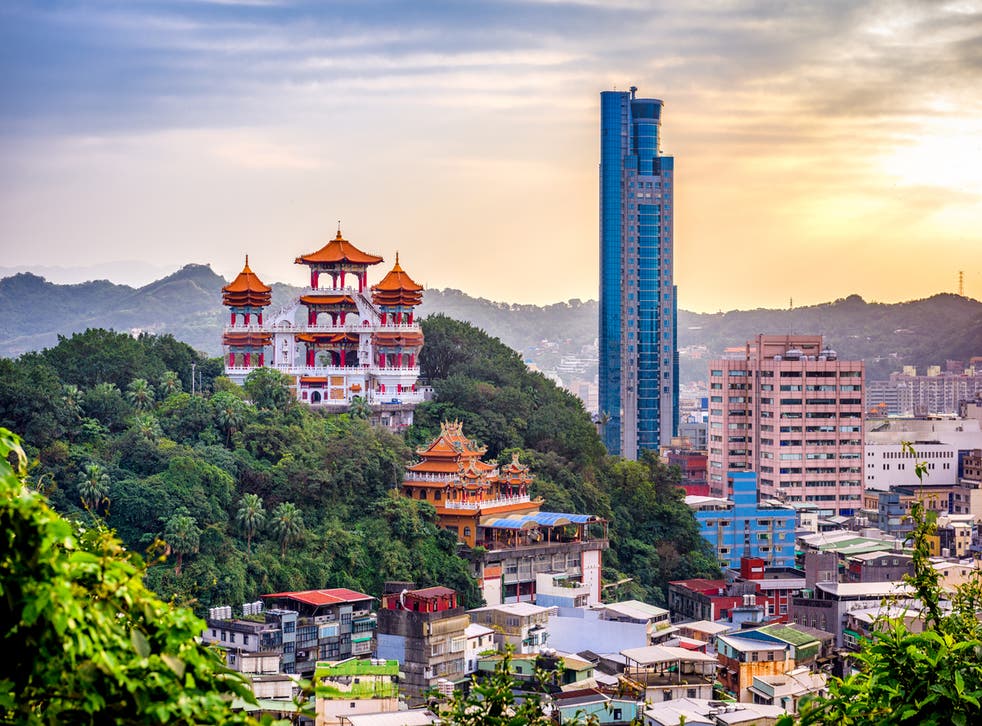 Taipei city guide: Where to eat, drink, shop and stay in Taiwan's capital
Forget everything you think you know about 'Made in Taiwan'
Hazel Plush
Friday 18 October 2019 12:25 Comments
The Independent's hotel recommendations are unbiased, independent advice you can trust. On some occasions, we earn revenue if you click the links and book, but we never allow this to affect our coverage.
It's the Asian nation you never thought to visit. But like all the best secrets, this one's too juicy to keep: Taiwan is incredible. From its mountainous middle to the sugary beaches and hot springs in the south, this diminutive island is packed with topological treasures – and has more ornate temples, awesome day hikes and wildlife-rich forests than you could hope to squeeze into a fortnight.
Wherever you venture, chances are you'll begin your journey in Taipei – the surprisingly hip, entrepreneurial capital. And with direct flights to Taipei from London Gatwick with China Airlines, now is the time to bust those stereotypes for yourself.
What to do
Get high
Taipei 101 is unmissable in every sense of the word. Over half a kilometre tall, this towering financial centre looks big and brash – but it's also expertly feng shui'd. From 2004 until 2010, it was the world's tallest building – and it's still the best place to get your bearings in the city. The observation deck on the 89th floor feels even higher thanks to Taiwan's otherwise low-rise skyline: you're actually eye level with the surrounding mountains, which give a hint of the epic landscapes that Taiwan has in store. Entry 600NT$ (£14); open daily, 9am-10pm.
Pay your respects
Combining Taoist, Confucian and Buddhist principles, Lungshan Temple – which has weathered earthquakes, wars and natural disasters since 1738 – is spiritual and spectacular in equal measure. Here, worshippers gather beneath gilded dragons and billowing incense clouds, offering up everything from apples (for safety) to cakes (for prosperity). It's a joy to wander around. Admission free, though donations are welcomed; open daily, 6am-10pm.
Unearth national treasures
China's greatest collection of fine artworks and priceless ceramics resides not on the mainland, but in Taiwan – at the National Palace Museum. The collection of Ming vases, ancient calligraphy, jade carvings (and much more: there are more than 600,000 pieces) were whisked out of China before the Cultural Revolution took hold – and remain in this imposing building, modelled on an emperor's fortress. Allow a long afternoon, at least. Entry 350NT$ (£8.60); open daily, 8.30am-6.30pm (9pm on Fridays and Saturdays).
Keep guard
Don't miss the changing of the guard at Chiang Kai-shek Memorial Hall, the supersized monument to generalissimo Chiang Kai-shek, the former president of the Republic of China. Every hour between 9am and 5pm, the guards – with their helmets, rifles and boots a-gleaming – march through the court in a display of military might that will send a shiver down your spine. Admission free; open daily, 9am-6pm.
Master the art of dumplings
Once you've had your fill of dumplings in the night markets and restaurants of Taipei, try your hand at the surprisingly tricky art of making them at Taiwan Cooking 101. Chef Jeff is a talented tutor, and his fun, informal workshops are suitable for beginners and seasoned cooks alike. From 1,980NT$ (£47); open daily, 10am-6pm.
Where to stay
Sleep off your jet lag in the lovely Sheraton Grand Taipei Hotel – it's a chain, yes, but the black-out blinds, sumptuous beds, and choice of local and Western food will ease you into Taiwanese life gently. It's also convenient for the metro and Taipei Main Station – and taxi drivers know exactly where to find it. Doubles from 5,800NT$ (£144), room only.
The moment you step into DG Hotel, you know you've found a gem: with its quirky pastel décor, suntrap terrace and flowers at every turn, this heritage property has had a radical renovation for the Instagram generation. When you've finished snapping, you'll appreciate the budget-friendly price and handy setting – a short stroll from shops, Yashan night market and the metro. Doubles from 2,450NT$ (£60), B&B.
Is it a gallery or guesthouse? Hotel Éclat's enviable art collection includes works by Andy Warhol and Salvador Dali, but it has substance as well as great style. Rooms are spacious and include Nespresso machines, Montblanc stationery and Philippe Starck-designed furniture. The location – close to the boutiques and bars of Da-an – is pretty nifty too. Doubles from 5,000NT$ (£124), room only.
Where to eat
On weekends, the flagship restaurant of Din Tai Fung – at the base of Taipei 101 – serves a whopping 10,000 dumplings per day, all of which are filled, folded and steamed by hand. You can see the chefs at work in the glass-fronted kitchen. Don't leave without your fill of xiaolongbao (pork dumplings) and pineapple cake. Open daily, 11am-9.30pm (10pm on Friday and Saturday). Booking is essential.
After dark, neon-lit Ximending is a retail frenzy, with thousands of shops and stalls hawking everything from Hello Kitty backpacks to the latest tech. Eating here is half the fun: slurp sweet bubble tea from Chachago (36-1, Hanzhong Street; open daily 10am-11pm) while you browse, then refuel with rich beef noodle soup at Ay-Chung Flour-Rice Noodle (8-1 Emei Street; open daily 9am-11pm). You can't miss it: the queue is usually around the block.
Taiwanese street food is cheap, cheerful and plentiful – and nowhere does it better than Shilin Night Market (Jihe Road, Shilin District; opening times vary). Pepper pork buns, blow-torched steak, fried chicken, mango smoothies… whatever you fancy, you'll find it right here. Follow your nose to one of the many "stinky tofu" stalls: trying this fermented snack is a rite of passage (and it's surprisingly delicious).
Where to drink
Taipei locals love their coffee: you can't walk far without tripping over a hip micro-roastery or latte foam artwork. The best joints include Fika Fika Cafe (open daily 8am-9pm) and the Lobby of Simple Kaffa (open daily 12.30-9.30pm).
The tea plantations in the hills around Taipei produce a mean cuppa, too. Take the gondola up to MaoKong (120NT$/£2.90 one-way) – a treat in itself, as you skim the treetops and tiny villages – where a clutch of traditional tea houses await. For a few pounds, you'll receive a heap of exquisite oolong leaves, unlimited hot water, and a lesson in how to brew the perfect pot. Yao Yue Teahouse (6, Lane 40, Section 3, Zhinan Road; open 24 hours) has particularly fine valley views.
For a history lesson on tea cultivation and trade – as well as unlimited free brews – head to MaoKong's Taipei Tea Promotion Centre (8, Lane 40, Section 3, Zhinan Road; open daily 9am-5pm, closed Monday). This is a great opportunity to buy directly from local tea producers, who take it in turns to showcase their blends.
Where to shop
Taiwan's independent design scene is flourishing, and Taipei is the place to find all the best homegrown brands and boutiques. At Four Four South Village Simple Market (Songqin Street; open Sundays, 1-7pm), you'll find everything from handmade earrings in the shape of kittens and coffee cups, to vintage leather jackets and craft beer. Even the market itself is a treasure: it used to be a derelict military village, but has been renovated and spruced up with street art.
The artistically urban Huashan 1914, in a converted sake factory, is stuffed with independent shops too: highlights include Bleu & Book (for books and gifts), Natural Life (for handmade conserves and ice lollies), and various pop-up galleries where you can buy local art. There's also a cinema, theatre and restaurants aplenty. Bade Road; open daily, 9.30am-9pm.
In The Red House (opening hours vary) you can rummage through quirky tattoo transfers, hand-painted T-shirts, vintage bric-a-brac and much more: it's all unique and very, very cool. For more mainstream shopping, Ximending's seemingly endless parade of international brands is a five-minute walk away.
Architectural highlight
Until 2010, Taipei 101 was the tallest building in the world – and it still stands head and shoulders above the capital. Designed as a hub for financial corporations, it is rich in Chinese symbols of prosperity: it was built in eight sections (for fortune), with 101 floors (for perfection), and decorated with bamboo flower-inspired shapes (for renewal).
Nuts and bolts
What currency do I need?
Taiwan new dollar (NT$).
What language do they speak?
Mandarin, though English is widely spoken.
Should I tip?
Though not expected, tipping is certainly appreciated. Add 10 per cent, or round up the bill if the service was particularly good.
What's the time difference?
Eight hours ahead of GMT.
What's the average flight time from the UK?
China Airlines flies direct from London Gatwick to Taiwan Taoyuan International Airport (Taipei) four times a week: the journey takes 13 hours.
Public transport
The Taipei Metro is fast, efficient and cheap: a 24hr pass costs 180NT$ (£4.40), granting you unlimited travel throughout the network. The express service connects the airport with Taipei Main Station in 35 minutes. When you swipe your ticket, listen out for the musical turnstiles: each of the metro lines have their own signature tune.
Best view
For spectacular urban views, climb Elephant Mountain – a simple, paved 40-minute hike from Xiangshan metro station. Sunsets are epic up here: with the city at your feet, the neon billboards and bright lights burst into life, with Taipei 101 as the centrepiece.
Insider tip
Though English is widely spoken in Taipei, a little Mandarin goes a long way – especially when greeting older generations, or if you plan to travel elsewhere in Taiwan. Master a few words, and you'll be greeted like a long-lost friend.
More information
Register for free to continue reading
Registration is a free and easy way to support our truly independent journalism
By registering, you will also enjoy limited access to Premium articles, exclusive newsletters, commenting, and virtual events with our leading journalists
Already have an account? sign in
Join our new commenting forum
Join thought-provoking conversations, follow other Independent readers and see their replies