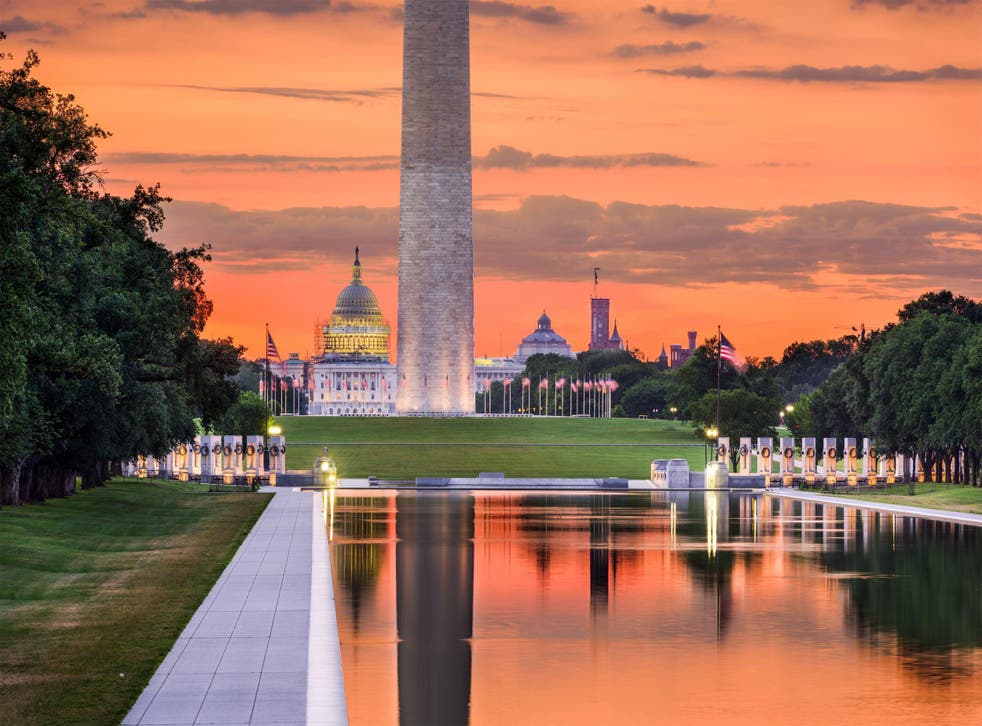 48 hours in Washington DC: Hotels, restaurants and places to visit
With election fever reaching its peak, now is the perfect time to explore the US capital. Paula Hardy finds America's psyche etched in stone
Why go now?
A nation is many things: its people, its politics, its art, its architecture and its memories. In the US, all of these elements can be found in the nation's small but palpably powerful capital, Washington DC.
Nowhere else in the Union are the nation's ideals expressed so hopefully and its darkest moments remembered so poignantly than in the monuments and museums along the Mall. The latest addition, a long time in coming, is the National Museum of African American History and Culture (1), which opened in September. And now is an especially significant time to visit, as the nation prepares to swear in its 45th president.
Get your bearings
DC is a small city, just 60sq miles; a tenth the size of London. A new Circulator Bus (decirculator.com; tickets $1) loops around the main attractions along the Mall, as well as servicing upmarket Georgetown and lively Adams Morgan to the north.
To get further afield use the metro (wmata.com; fares from $1.75 to $5.90 depending on distance). Penn Quarter, where the main train station is located, lies to the north-east of the Mall around Pennsylvania Ave as it runs between the White House (2) and Capitol Hill (3). Surprisingly, the legislative heart of the city is a popular residential quarter and is full of good restaurants and nightlife. West, across the river, and you're in Virginia, where you'll find the vast Arlington National Cemetery (4) and the Pentagon (5).
The tourist information centre (6) can be found at 506 9th St (washington.org; open 9am-5pm weekdays, closed weekends).
Day one
Take a view
Climb the steps of Henry Bacon's 1922 Lincoln Memorial (7) for the defining DC view down the Mall. It's here that Martin Luther King Jr stood when he called down the moral authority of the great sculpted colossus and the famous words of the Gettysburg Address. In the pink light of dawn no view in the city is more lovely.
A walk in the park
America's most famous lawn, the Mall, is just two miles from tip to toe. Start at Lincoln's great Greek temple (7) before moving on to the contrasting Vietnam Veterans Memorial (8) and the Korean War Veterans Memorial (9) either side of the reflecting pool. While the former is pure abstraction, a deep V-shaped granite gash in the ground, the latter depicts a life-sized platoon striding across the juniper bushes. As winter hastens and snow falls on their field coats it is particularly evocative.
Southeast, beside the Tidal Basin, is the 30ft tall memorial to Martin Luther King Jr (10). He stands side on to the aspiring 555ft obelisk that is the Washington Monument (11), the marble blocks of which were quarried by slaves in Maryland mines. Reserve a ticket in advance (recreation.gov) to ride the elevator to the top for a bird's eye view of Capitol Hill (3) flanked on either side by the extraordinary collection of 10 Smithsonian Museums.
Lunch on the run
The best lunch option on the Mall is the Mitsitam Native Foods Café (12) (mitsitamcafe.com) in the National Museum of the American Indian (corner of 4th St and Independence Ave SW), which attracts office workers and tourists alike with its cedar-planked wild salmon and Great Plains buffalo burgers.
Otherwise, follow the Capitol crowd to 20 Pennsylvania Ave SE where you'll find Sushi Capitol (13) (sushicapitol.com) run by Minoru Ogawa, the man previously behind the Mandarin Oriental kitchen.
More adventurous eaters should make the worthwhile trek to the sunlit warehouse of Union Market (14) (unionmarketdc.com) at 1309 5th St NE, where pop-up restaurants try out all the latest DC food trends, such as TaKorean (Korean-inspired tacos) and DC-adapted, gluten-free Indian dosas.
Cultural afternoon
The National Museum of African American History (1) (nmaahc.si.edu; 10am-5.30pm daily) opened this autumn, more than 100 years after it was first proposed by black veterans of the Civil War. The inaugural exhibition features 34,000 fascinating artefacts that move from the literal and metaphorical darkness of slavery – located 80ft below ground level – through exhibits exploring the Jim Crow era and the Civil Rights movement to the light-filled top floor galleries showcasing the African American contribution to the country's music, dance and popular culture. Given high demand, visits are currently by free timed pass, issued at 9.15am everyday at the Constitution Avenue entrance.
An aperitif
Head to Gallery Place where you'll find the cosy brick-lined Partisan (15) (thepartisandc.com) at 709 D St NW. As the name suggests, the men behind the bar – Jeff Faile, Brent Kroll and Greg Engert – have strong opinions on cocktails, beer and wine. Aside from dozens of sour ales there are biodynamic orange wines and Faile's smoky rye- and mescal-based cocktails with chilli oil and chocolate twists that suit the colder weather.
Dine with the locals
With its comic book wallpaper, cafeteria chairs and paper lanterns, Bantam King (16) (bantamking.com) at 501 G St NW is a fun and informal Chinatown option, dedicated to chicken ramen and Japanese fried chicken.
Alternatively, book ahead for Jeremiah Langhorne's mid-Atlantic focused restaurant, The Dabney (17) (thedabney.com) at 122 Blagden Alley NW. With no gas in the kitchen, Langhorne's heritage Maryland and Virginia dishes of rock fish, pork belly, quail and sweet potato rolls are all cooked over an open fire. If you can't get a reservation, come at 5.30pm for one of the few walk-in tables or lie in wait in the gorgeous Columbia Room bar next door.
Day two
Sunday morning: out to brunch
Join sweat-soaked joggers and Sunday cyclists for small batch baked goods and a cup of silky smooth Stumptown coffee at Baked & Wired (18) (bakedandwired.com) at 1052 Thomas Jefferson St NW in preppy Georgetown. While the counter is lined with pretty cupcakes beneath glass cloches, the weekends are the best time to sample traditional pies stuffed with peaches, mixed berries and pecans. Sunday hours are from 8am-8pm.
Take a hike
Filled with Washington's best Federal American and Victorian architecture, Georgetown is made for ambling, especially in late autumn when the neighbourhood is at its most atmospheric. From Baked & Wired (18) you can wander down the banks of the 19th-century C&O Canal (19), before heading north up Wisconsin Avenue NW, where JFK proposed to Jackie at Martin's Tavern (20). Further north, at 3001 R St NW you'll find DC's great and good interred beneath the brooding Victorian memorials and obelisks in the historic Oak Hill Cemetery (21) (oakhillcemeterydc.org), which is open from 1-4pm on Sunday.
Take a ride
As well as walking, Georgetown is a great cycling spot, particularly along the C&O Canal Towpath, a flat, tree-lined route that runs 185 miles from Georgetown to Cumberland. The 14-mile ride to Great Falls (22), just outside the city, is the most popular. Find trail maps at Bike Washington (bikewashington.org/canal) and hire bikes at Big Wheel Bikes (23) (bigwheelbikes.com) next to the canal at 1034 33rd St NW. The cost is $21/35 per half-/full-day.
Window shopping
Book Hill is a Parisian-style row of antique stores, art galleries and independent stores like Lynn Louisa (24) (lynnlouisa.com) at 1631 Wisconsin Ave NW. For the perfectly polished DC look, book into the homegrown beauty spa Bluemercury (25) (bluemercury.com) at 3059 M St NW; and if you're off to a function but don't want to lash out the cash, hire your formalwear from Rent the Runway (26) (renttherunway.com) at 3336 M St NW.
Icing on the cake
Still one of America's finest jazz supper clubs, Blues Alley (27) (bluesalley.com) at 1073 Wisconsin Ave NW is a venerable DC institution housed in an 18th-century, red-brick carriage house. Dine on Creole cuisine and book ahead if a big name is on the billing.
Travel essentials
Getting there
Washington Dulles Airport (28) is served from Heathrow by British Airways (ba.com), Virgin Atlantic (virgin-atlantic.com), American Airlines (aa.com) and United Airlines (united.com).
The airport is 26 miles west of the city centre. Between 6am and 10.40pm Silver Line Express buses leave every 15 to 20 minutes for Wiehle-Reston East station (29) ($5 one way), from where you can continue your journey into the city by metro. A taxi costs between $65 and $75.
Staying there
For budget accommodation, try HI Washington DC (30) (hiwashingtondc.org) at 1009 11th St NW, which has dorm beds starting at $32 including breakfast, and private rooms from $92. It's staffed by friendly volunteers who organise tours, pub crawls and dance classes.
Those in the know make a beeline for the handsome rooms at the art deco Carlyle Dupont Circle (31) (carlylehoteldc.com) at 1731 New Hampshire Ave NW. It was refurbished in 2015 when it became part of the Kimpton brand. Deluxe king rooms from $170, room only.
Arguably the best address in Washington DC is the Beaux Arts beauty, The Jefferson (32) (jeffersondc.com) at 1200 16th St NW. Rooms are full of antiques and gilded age luxury, and the on-site cocktail bar is superb. Classic rooms start at $372, room only.
More information
Click here for the Best of the USA Tour, with Independent Holidays
Join our new commenting forum
Join thought-provoking conversations, follow other Independent readers and see their replies