The Independent's journalism is supported by our readers. When you purchase through links on our site, we may earn commission.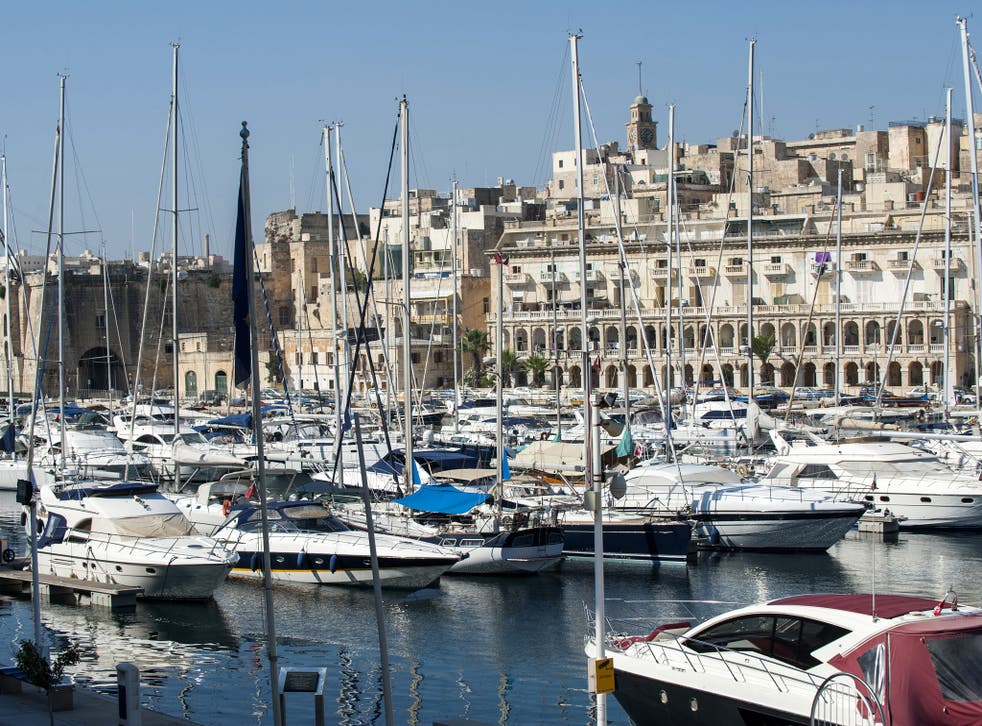 Valletta travel tips: Where to go and what to see in 48 hours
Once a 17th-century time capsule, Malta's capital is coming alive with new restaurants, boutique hotels and modern architecture
Travel Essentials
Why go now?
The beautiful Maltese capital is enjoying a new buzz, for this 17th-century time capsule now has Renzo Piano's new golden-stone City Gate (1) and Parliament Building (2), all sharp edges and angles, demonstrating the latest in architectural innovation. And Valletta is smartening itself up to take over as European Capital of Culture in 2018.
Its beautiful town-houses are being turned into boutique hotels, and there are thrillingly scenic places to eat out. Strait Street (3) was once the red-light district but now hosts regular outdoor concerts and art exhibitions. From mid-November to January, there's the Mdina Cathedral Contemporary Art Biennale (mdinabiennale.org), in the island's ancient capital, Mdina, a walled hilltop town, 20 minutes' drive from Valletta, where international contemporary artists will be exhibiting their work.
Touch down
Air Malta (0906 103 0012; airmalta.com) flies from Heathrow, Gatwick, Birmingham, Manchester, Newcastle, Norwich, Cardiff and Glasgow; easyJet (0843 104 5000; easyJet.com) flies from Gatwick, Newcastle and Manchester; Ryanair (0871 246 0000; ryanair.com) flies from Luton, Stansted, Birmingham, East Midlands, Edinburgh, Exeter, Glasgow Prestwick, Liverpool and Leeds/Bradford; Jet2 (0800 408 1350; jet2.com) flies from Glasgow, Manchester, East Midlands, Newcastle and Leeds/Bradford; British Airways (0344 493 0787; ba.com flies from Gatwick.
From Luqa airport, 5km south-east of Valletta, bus X4, X5 or X7 will drop you outside the City Gate (1); single fares €2. A taxi costs €15.
Get your bearings
Valletta has a neat grid street system, so it's extremely hard to get lost. The city is largely pedestrianised, but it is hilly, built on a thin peninsula by the Knights of St John on Malta's east coast after they withstood the Great Siege of 1565 (repelling a huge Turkish army).
From City Gate (1), the main drag of Republic Street runs straight to Fort St Elmo (4) at the peninsula's tip. The tourist office (5) on Merchants Street (00 356 2291 5440; visitmalta.com; open Monday to Saturday, 9am to 5.30pm, to 1pm Sunday) is near City Gate (1). The city's foremost sights, the mind-blowingly Baroque St John's Co-Cathedral (6) and the frescoed Grand Master's Palace (7), lie about halfway down Republic Street.
East of the city lies the Grand Harbour, with ferries from Valletta Waterfront (8) to Three Cities – three smaller towns that predate Valletta. To the west is Marsamxett Harbour (9), with ferries to the elegant suburb of Sliema.
Check in
Casa Ellul (10), at Old Theatre Street (00 356 2122 4821; casaellul.com), is a 17th-century wine merchant's house converted by Maltese architect Chris Briffa in sympathetic yet contemporary style. It has eight rooms; doubles from €180, room only.
Valletta Vintage (11) at 179 Republic Street (00 356 7945 3458; vallettavintage.com) is another Briffa baby, with harbour views, traditional tiled floors, and roof terrace. Doubles from €80, room only.
Nelli's (12) is on Dock 1 (00 356 7958 8897), across the Grand Harbour in Copiscua, one of the Three Cities. It's a lovely B&B with elegant rooms, waterfront views, and breakfast on a roof terrace. Doubles from €95.
Day One
Take a view
Start your day at Upper Barrakka Gardens (13), which offer wonderful views over the piercing-blue Grand Harbour, the Three Cities and Fort St Angelo (14), Malta's oldest fort, which is due to open to the public in November after a restoration by Heritage Malta.
Take a hike
Start on the bridge across Valletta's ditch, which opens into Renzo Piano's City Gate (1). This is less a gate, more a breach, with smooth golden-stone walls. Beyond it you can wander around the spaces created by the Italian architect's audacious new Parliament Building (2), a huge sandstone block that has been machine-sculpted to create a kind of angular lace.
Move on to overlook Piano's controversial auditorium, built atop the ruins of Valletta's Opera House (15). The 19th-century theatre was destroyed by bombing in 1942 and its shell and broken columns remain, now surmounted by smart moss-green seating.
Walk down Republic Street to St George's Square, where you can visit the Grand Master's Palace (7) (00 356 2124 9349; heritagemalta.org; open 9am to 5pm; €10), Valletta's older powerhouse built by the Knights of Malta. Here, a series of frescoed chambers are guarded by suits of armour, and you can visit the Armoury with its elegant swords, weaponry, and intricately decorated Turkish spoils.
Coming out, take Old Theatre Street and pass one of Europe's oldest theatres, Teatru Manoel (16), (take a tour of its gilt and red velvet interior; teatrumanoel.com.mt). At the end of the street is a view of the glinting Mediterranean.
Lunch on the run
Book ahead for Da Pippo (17) on Melita street (00 356 2124 8029), an old-school Italian restaurant, which has a club-like, in-the-know feel, and is so popular it needs only to open for lunch (closed Sunday). It catered for "Brangelina" when the A-list couple were in town (to shoot By the Sea on the neighbouring island of Gozo). Dishes such as spaghetti with mussels cost around €15.
Window shopping
Opposite Da Pippo, you'll find the vintage and vintage-inspired clothing of Blush & Panic (18) also on Melita Street (00 356 2720 9889; closed Sunday), where Samantha Gatt curates the clothes and accessories, with some exquisite summer dresses that are very Audrey Hepburn.
An aperitif
More of an alley than a street, Strait Street (3) was once known as "the Gut", a notorious hang-out for off-duty sailors. This arty, mini- Montmartre was bereft when the British Navy left in 1979 and took most of its clientele with it. The street still has the faded bar signs from its former life. Now, once again, it hosts nightly hubbub as people throng outside its hole-in-the-wall bars.
There's often live entertainment here, from orchestras to jazz singers. Take your pick from a row of small bars, including the Loop (19), which opens from 1.30pm to 4am, and where you can sit outdoors and enjoy the ambiance while sipping an ice-cold Cisk, the excellent local beer.
Dining with the locals
Guze (20), a 16th-century house on St John's Street (00 356 21239686; closed Sunday) was once home to the architect of Valletta, Francesco Laparelli. It's an intimate space with flagstones, antique glass chandeliers, and local dishes, such as linguini calamari or stuffed rabbit, for around €18.
The Black Pig (21) on Old Bakery Street (00 356 2122 1606) takes its food seriously. It has a small menu of modern French dishes, such as slow-cooked pork neck with salt-baked beetroot and jamon iberico for around €24, served in a romantic wood-beamed room that seats only 20.
Day Two
Sunday morning: go to church
Visit St John's Co- Cathedral (6) for High Mass at 9.15am. Inside, each chapel seems to have been decorated in an attempt to outdo the others. The floor dances with polychrome marble (no high heels are allowed), and the ceiling is the work of the Italian artist and Knight of St John, Mattia Preti. Its other great treasures include two paintings by Caravaggio, who fled to Malta after committing murder in Rome. He spent several years on the island, becoming a Knight of St John (though he soon ran into trouble here too and ended up fleeing back to Italy).
Out to brunch
Wander down to the waterside and Malta's Harbour Club (22) at 4 Xatt Il-Barriera (00 356 2122 2332), converted from a series of boathouses, with astounding harbour views. You can sit indoors or out, and there's a restaurant and bar on several levels, designed by Chris Briffa, Valletta's favourite architect. It serves the likes of mussel and clam hot pot for €11.50.
Cultural afternoon
Walk down St Barbara's Street, outside the city walls, with views on your right, then re-enter the city at the shady bastion-top Lower Barrakka Gardens. At the end of Mediterranean Street you'll see the magnificent Fort St Elmo (4), which has been recently restored and opened to the public.
Inside, the National War Museum (00 356 2122 2430; heritagemalta.org; 9am to 6pm daily, entry €10) has been completely revamped and opened in May. The islands have had a tempestuous history, fought over for centuries, and this museum vividly brings all that to life, from the David-and-Goliath-style Great Siege where the knights battled off a huge army of Turks, to the ferocious bombardment of the Second World War.
Well-thought-out audio visuals, involving cannon fire and insights into the difficulties of supply boats, make for an absorbing visit. Artefacts include the remains of the Gloster Gladiator biplane Faith – sole survivor of the war-time defence trio that included Hope and Charity.
Icing on the cake
Don't miss a chance to ride the Valletta ferry (vallettaferryservices.com; return €2.80), ideally over to the lovely Three Cities (the small towns of Vittoriosa, Cospicua and Senglea).
Ferries leave from opposite the base of the Panoramic Upper Barrakka Lift, which connects Valletta with Valletta Waterfront (8) and operate from around 7am to midnight from June to September.
Register for free to continue reading
Registration is a free and easy way to support our truly independent journalism
By registering, you will also enjoy limited access to Premium articles, exclusive newsletters, commenting, and virtual events with our leading journalists
Already have an account? sign in
Register for free to continue reading
Registration is a free and easy way to support our truly independent journalism
By registering, you will also enjoy limited access to Premium articles, exclusive newsletters, commenting, and virtual events with our leading journalists
Already have an account? sign in
Join our new commenting forum
Join thought-provoking conversations, follow other Independent readers and see their replies