The Independent's journalism is supported by our readers. When you purchase through links on our site, we may earn commission.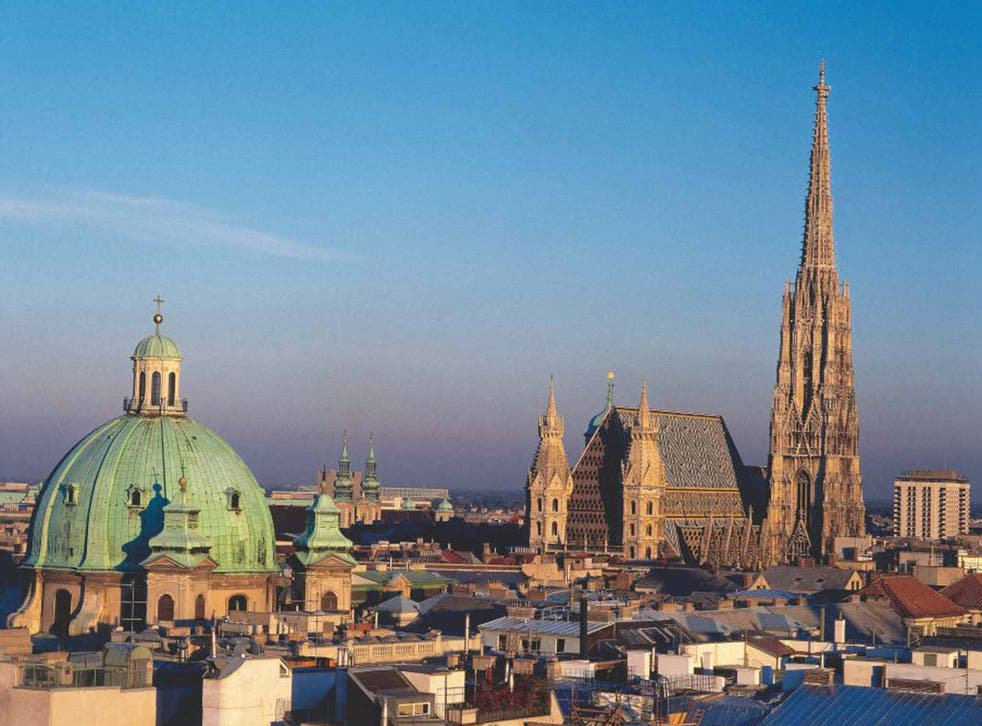 Vienna travel tips: Where to go and what to see in 48 hours
New flights make Austria's cultured capital even easier to visit this autumn, writes Laura Holt
Travel essentials
Why go now?
The Austrian capital is replete with high culture, from the 19th-century State Opera House (1), home of the annual Opera Ball, to historic Habsburg-era attractions, such as the ornate Belvedere Palace (2). Modern Vienna is also flourishing – especially in the outer districts, where hip restaurants, bars and boutiques are leading many to label it as the "new Berlin".
This week Austrian Airlines (03701 242625; austrian.com) launched a new flight to Vienna from Manchester - the only daily service. And from 17 September, British Airways (0844 493 0787; ba.com) starts competing with easyJet from Gatwick, adding another way to reach the city's historic Christmas markets (14 November-24 December; christkindlmarkt.at).
Touch down
Vienna airport (00 43 1 70070; viennaairport.com) is 18km south-east of the city centre. Austrian Airlines flies from Manchester and Heathrow; easyJet (0330 365 5000; easyjet.com) from Gatwick, Luton (starting 23 October), Manchester (5 November) and Bristol (6 November); Jet2 (0800 408 1350; jet2.com) from Manchester, Leeds/Bradford (starting 27 November) and Newcastle (27 November); and British Airways from Heathrow and Gatwick (17 September).
From the airport, the express City Airport Train takes you to central Wien-Mitte station (3) in 16 minutes for €12 one way (daily 5.36am-11.36pm). Alternatively, the S-bahn train takes 25 minutes and costs €4.40. Taxis are around €25.
I travelled with British Airways Holidays (0844 493 0787; ba.com), which offers three nights in Vienna with flights, accommodation and breakfast from £419pp.
Get your bearings
Most of Vienna's landmarks are in the Innere Stadt (Old Town), encircled by the Ringstrasse, Vienna's grand boulevard, which is celebrating its 150th anniversary this year. Also called the 1st District, the Innere Stadt is crowned by the majestic spire of St Stephan's cathedral (4). To the north lies the tree-lined Danube Canal.
Cross the Ringstrasse to explore the outer districts, which number one to nine as they move clockwise from the north. For fashionable restaurants and bars, aim for the 2nd District, Leopoldstadt. If it's one-off boutiques and design shops you're after, head for the 7th, Neubau, also home to the Museums Quarter (5) – a €150m development of galleries within the Habsburgs' former court stables.
The main Tourist Office (6) at Albertinaplatz (00 43 1 24555; wien.info) opens 9am-7pm daily. A 48-hour Vienna Card costs €18.90, giving free transport and discounts on more than 200 attractions.
Check in
The historic Hotel Imperial (7) at Kärntner Ring 16 (00 43 1 501100; imperialvienna.com) has been welcoming guests such as Richard Wagner, Sigmund Freud and Charlie Chaplin since 1873. Doubles start at €359, room only.
A new addition from the owners of Vienna's hip Hotel Daniel (8) at Landstrasser Gürtel 5 (00 43 1 90 1310; hoteldaniel.com) is the central Grand Ferdinand (9) at Schubertring 10-12 (00 43 1 91880; grandferdinand.com), which is due to open on the Ringstrasse at the start of October, with urban-chic interiors, a rooftop pool, and doubles from €198, room only.
For something more intimate, try This Is Not A Hotel (10) at Obere Donaustrasse 9 (00 43 1 348300; thisisnotahotel.at), a boutique B&B that opened last year close to the Danube Canal. Suite-like rooms cost from €99 including breakfast.
Click here to see a bigger image of the map
Day one
Take a hike
Start at the Hofburg Palace (11), former winter residence to the Habsburg monarchs. Gain insight into their daily lives by visiting the Sisi Museum (00 43 1 533 75 70; hofburg-wien.at; €12.50; daily 9am-5.30pm), dedicated to the melancholic and reclusive empress Elisabeth "Sisi" of Austria and her husband Franz Joseph I, who ruled for almost 68 years.
You'll also find the Spanish Riding School (00 43 1 533 90 31; srs.at) within the palace walls, which has been celebrating the classical art of haute école (equestrian dressage) for 450 years. A 10am weekday visit to watch the elegant Lipizzaner stallions training costs €14. More elaborate 11am weekend performances start at €23.
Exit and sweep past the Albertina museum (12) (00 43 1 534 83 0; albertina.at; €11.90; daily 10am-6pm), home to an acclaimed collection of Impressionist and early 20th-century art. A show on Edvard Munch, "Love, Death and Loneliness," runs 25 September-24 January 2016.
Finally, continue past the Hotel Sacher (13), home of the Sachertorte chocolate cake (which costs €5.60), before ending with a behind-the-scenes tour of the State Opera house (1), where the likes of Gustav Mahler once conducted (00 43 1 514 44; wiener-staatsoper.at; €7.50; times vary).
Lunch on the run
Dating back to 1786, Naschmarkt (14) is one of Vienna's oldest and most popular markets (9am-6.30pm daily). It runs for almost a mile between Linke and Rechte Wienzeile streets, selling eat-as-you-go dishes such as bratwurst or sweet dates stuffed with salty cheese and walnuts from around €1.50 a bite. There's also a weekend flea market on Saturdays.
Window shopping
In nearby Neubau, shops include Die Sellerie (15) on Burggasse 21 (diesellerie.com), which sells design items and homewares; Schokov (16), a chocolate shop at Siebensterngasse 20 (00 43 680 3000860; schokov.com), which proffers international sweet treats alongside its own label from €6.50 a bar; and Sight (17), a clothing boutique at Kirchengasse 24 (00 43 676 7394407; sight.at), identifiable from its neon-lit displays.
An aperitif
Soak up the nightlife of Leopoldstadt by taking the lift to the 18th floor of the Sofitel hotel (18). At the top you'll reach Das Loft (00 43 1 9061 68110; dasloftwien.at), a sleek, contemporary rooftop bar with views across the city centre to the dramatically illuminated spire of St Stephan's cathedral (4). Cocktails cost from €10.50.
Dining with the locals
Afterwards, experience the up-and-coming dining scene along Praterstrasse (19), which runs just behind the hotel. Top spots include Asian-fusion restaurant Mochi (00 43 1 925 13 80; mochi.at) for low-cost sushi (€5-10), and Café Ansari (00 43 1 2765102; cafeansari.at), where Middle Eastern-inspired dishes include braised lamb with apricots and creamy polenta (€15.90). Booking essential.
Day two
Sunday morning: go to church
St Stephan's cathedral (4) at Stephansplatz 3 is a soul-stirring place to begin the day (00 43 1 51552 3054; stephanskirche.at). Part Romanesque, part Gothic, it dates to the 14th century and stands on the ruins of two previous churches. Its rooftop is covered in a mosaic of coloured tiles. Inside, you can climb the 137-metre South Tower for views of the city (€4.40; daily 9am-5.30pm) or take a guided tour of the catacombs (€5.50; 1.30pm–4.30pm). Sunday opening hours are 7am-10pm, with masses from 7.30am to 9pm.
Out to brunch
Try the local speciality, Wiener schnitzel, at Plachuttas Gasthaus zur Oper (20) on Walfischgasse 5-7 (00 43 1 51 222 51; plachutta-oper.at; from 11am daily). The thin, breaded veal cutlet is served at its best in this stylish, modern restaurant, with potato salad and lamb's lettuce on the side. It's pricey at €19.20, but big enough for two. Austrian wine by the glass from €4.70.
Cultural afternoon
Most shops are closed on Sundays, so head to the Museums Quarter (5). The Leopold Museum (00 43 1 525700; leopoldmuseum.org; €12; daily 10am-6pm) at Museumsplatz 1, houses works, including Egon Schiele paintings, amassed by Rudolf Leopold over five decades.
A walk in the park
The parklands surrounding Belvedere Palace (2) are free to visit. They include a fountain-speckled Baroque garden, which runs between the Upper and Lower parts of the palace, and a Botanical Garden.
Icing on the cake
Visit the Upper Belvedere to see one of the world's greatest collections of Klimt paintings, including The Kiss and Judith (00 43 1 795 57 134; belvedere.at; €14; 10am-6pm). Then head down to the Lower Belvedere, which, until 11 October, is showing a special exhibition of the Austrian Expressionist's paintings, curated to mark the 150th birthday of the Ringstrasse (€12; 10am-6pm).
Click here to view Tours and Holidays to Vienna, with Independent Holidays.
Register for free to continue reading
Registration is a free and easy way to support our truly independent journalism
By registering, you will also enjoy limited access to Premium articles, exclusive newsletters, commenting, and virtual events with our leading journalists
Already have an account? sign in
Register for free to continue reading
Registration is a free and easy way to support our truly independent journalism
By registering, you will also enjoy limited access to Premium articles, exclusive newsletters, commenting, and virtual events with our leading journalists
Already have an account? sign in
Join our new commenting forum
Join thought-provoking conversations, follow other Independent readers and see their replies