The Independent's journalism is supported by our readers. When you purchase through links on our site, we may earn commission.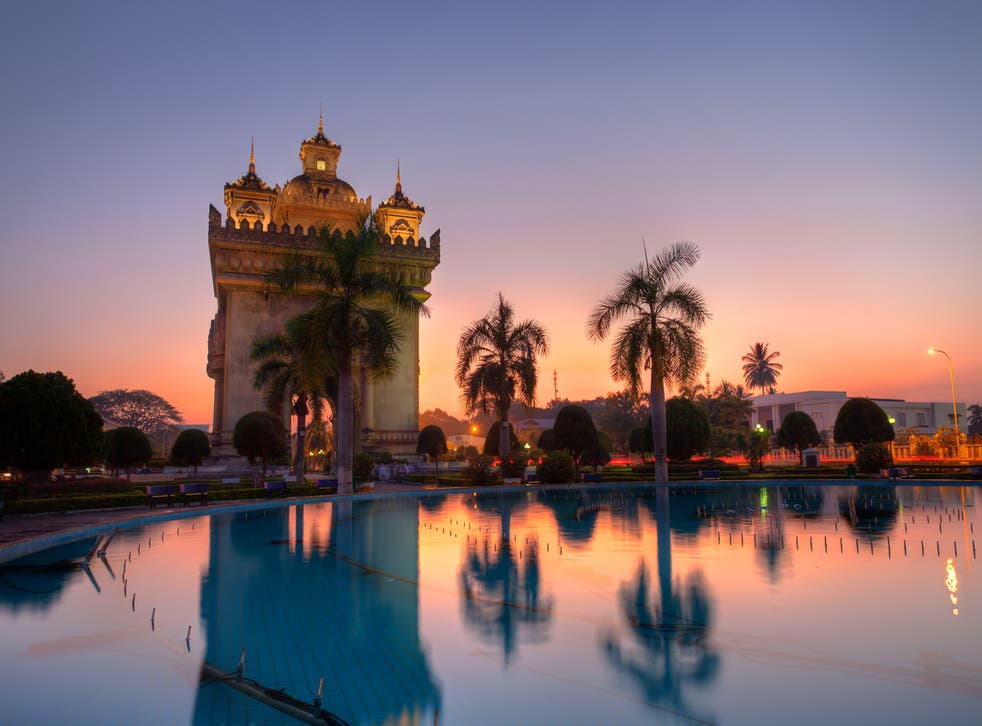 Vientiane guide: Where to eat, drink, shop and stay in the Laos capital city
In many ways, Vientiane is the least Southeast Asian of all the Southeast Asian capitals. Laos' first city stretches along the eastern bank of the Mekong where it forms the border with Thailand, a peaceful treasure trove of French bakeries and Buddhist stupas, wine cellars and night markets.
Vientiane's diversity is a byproduct of its chequered past: razed by the Thai army in the 1820s, it was gradually rebuilt by French colonists in the early 20th century. Their mansions were left to crumble during the civil war of the 1970s, and nowadays its wide boulevards and quiet parks offer a haven to frazzled backpackers looking to catch a breath after the hustle of Vietnam or the bustle of Thailand.
Laotians in the People's Democratic Republic joke that "PDR" really stands for Please Don't Rush: and why would you, when a busy day in Vientiane means an afternoon sipping locally-grown coffee and watching the Mekong roll past?
The government is trying to promote tourism this year with its Visit Laos Year 2018 campaign, making this a great time to visit Southeast Asia's quiet corner.
What to do
Visit a temple
Vientiane is home to some of Laos' most famous temples, many of which were lovingly reconstructed after the war. Must-sees include Pha That Luang, a stupa believed to house a relic of the Buddha, and Wat Si Saket, the oldest temple in Vientiane, which contains some 10,000 images of the Buddha.
Understand the history
During the Vietnam War (or American War, depending on your perspective) the USA dropped two million tonnes of explosives on Laos in an effort to disrupt supply lines in the south, and even today the land is still riddled with unexploded cluster bombs and landmines. COPE is a charity that provides prosthetic limbs, wheelchairs and rehab to their victims, and a trip to its visitors centre is both heartbreaking and inspiring. Entry is free but donations are welcome and help fund COPE's work.
Park life
Catch the Number 14 bus out of town – or take a tuk-tuk – to the delightful Buddha Park, a strange and wonderful collection of sculptures from Buddhist and Hindu tradition. The monk who created it dreamed of uniting the two faiths, and the park illustrates the mythological melting pot he came up with. Go early to avoid the crowds; entry 15000 kip (£1.30).
Stroll along the Mekong
The Mekong's riverside park is a wonderful place to mingle with locals or grab a beer and enjoy the tropical sunset over Thailand on the other side of the river. If you feel energetic, join the infectiously enthusiastic public aerobics class that runs daily at 5pm for 5,000 kip (40p).
Where to stay
A hidden gem, the New Laos Paris Hotel (00856 21 222 229) sits inside an unassuming, tall townhouse in the city centre. From the outside it has all the glitz of a Parisian apartment block, but the rooms themselves are smart and comfortable. There's free, limitless coffee in the foyer and the staff are helpful and keen to practise their English. Doubles from £16, room only; no elevator.
With its kaleidoscopic, muralled walls and huge communal garden, it's no wonder the Backpackers Garden Hostel (00856 30 99 66 678) is the main meeting point for those on the banana pancake trail. Dorms are cheap and clean, at £4 a bed, or go luxe with a double with private bathroom for £12, B&B.
For a taste of Vientiane's French colonial history head to Mandala, a lovingly-restored villa-turned-boutique hotel a block from the Mekong. It's a small property, which means every room has been uniquely refurbished. Doubles from £57, B&B.
Where to eat
Lao Kitchen (00856 21 254 332), near the National Museum, serves elegant Laotian classics in its pretty restaurant. Best among them is glorious larb, a salad typically made with minced meat, fresh herbs, toasted rice and lots of lime juice and fish sauce. Order with a side of sticky rice, served in its own little bamboo tube, to mop up the juice. It also offers two very good vegetarian versions – tofu and mushroom – which is a rarity.
Xang Khoo doesn't sound like your typical French restaurant, but it's renowned for its amazing crepes with an Asian twist. If you've been in the region for a long time you could be forgiven for diving straight into the superb French cheese board and washing it down with a large glass of red.
Jamil Zahid's Indian and Pakistani restaurant is a local legend, hidden away down an unassuming backstreet. It's family-run, and the food – rich, generous and spicy – is extremely cheap. Your photograph will also appear on the restaurant's Facebook wall, because the charming Jamil is impossible to say no to.
Where to drink
Wild, hipsterish and raucous, M-Park is a new open-air food and drink market straight from the streets of Shoreditch. Don't stress about what to drink – Beer Lao is available from any of the wood-panelled stands, and it's one of the best of the Southeast Asian lagers.
Draped in tropical hanging plants and covered in colourful murals, Kung's is a cosy cafe tucked away down a little alley a short walk from the city centre. It's the perfect place to try Laos coffee, which is grown a few hundred kilometres away on the forested Bolaven plateau.
If you've finally had it with Beer Lao, Chang, Singha, Tiger, Angkor and Saigon, stroll along the Mekong to Chokdee Cafe. The Tintin graffiti gives it away: this is a Belgian bar with one of the best beer selections in Southeast Asia. It's relatively expensive, but worth it for the chance to sip on a Trappist beer.
Where to shop
Brace yourself before you plunge into Vientiane's legendary night market in the riverside park from 6-10pm. It's more orderly than some in Southeast Asia, but the tight walkways, bright lights and dizzying array of souvenirs can still be a sensory overload. The place to go for souvenirs and trinkets, it's easy to spot – look out for the red tents and thousands of people.
For foodies, Vangthong Market is a must-see. From around 5pm it takes over the streets around the National Stadium and is usually packed with locals. Try the barbecued river fish and keep an eye out for roti, pancakes fried with an egg and banana mix and drizzled in condensed milk.
A number of NGOs have linked local craftspeople with boutique shops in Vientiane, among them Finer Things, which sells a good variety of local art including beautiful silks and weavings, and local coffee beans.
Architectural highlight
Most Southeast Asian capitals can boast a plethora of beautiful temples – but how many have their own version of the Arc de Triomphe? Patuxai, a war memorial in the centre of town, is peculiarly beautiful; its castle-like turrets are decorated with animals and characters from Laotian mythology.
Nuts and bolts
What currency do I need?
Kip.
What language do they speak?
Lao.
Should I tip?
Not expected, but rounding up your bill or adding 10 per cent will be appreciated.
What's the time difference?
GMT+7.
What's the average flight time from the UK?
12-13 hours.
Public transport
Tuk-tuks and local taxis.
Best view
From the top of Patuxai victory monument.
Insider tip
Late in the dry season (October to April) the Mekong dries out spectacularly and a sandbar forms between Laos and Thailand. Enterprising locals quickly populate it with food stands and it becomes a truly unique place to go for a picnic. Don't get carried away and try to walk into Thailand though.
Register for free to continue reading
Registration is a free and easy way to support our truly independent journalism
By registering, you will also enjoy limited access to Premium articles, exclusive newsletters, commenting, and virtual events with our leading journalists
Already have an account? sign in
Join our new commenting forum
Join thought-provoking conversations, follow other Independent readers and see their replies