The Independent's journalism is supported by our readers. When you purchase through links on our site, we may earn commission.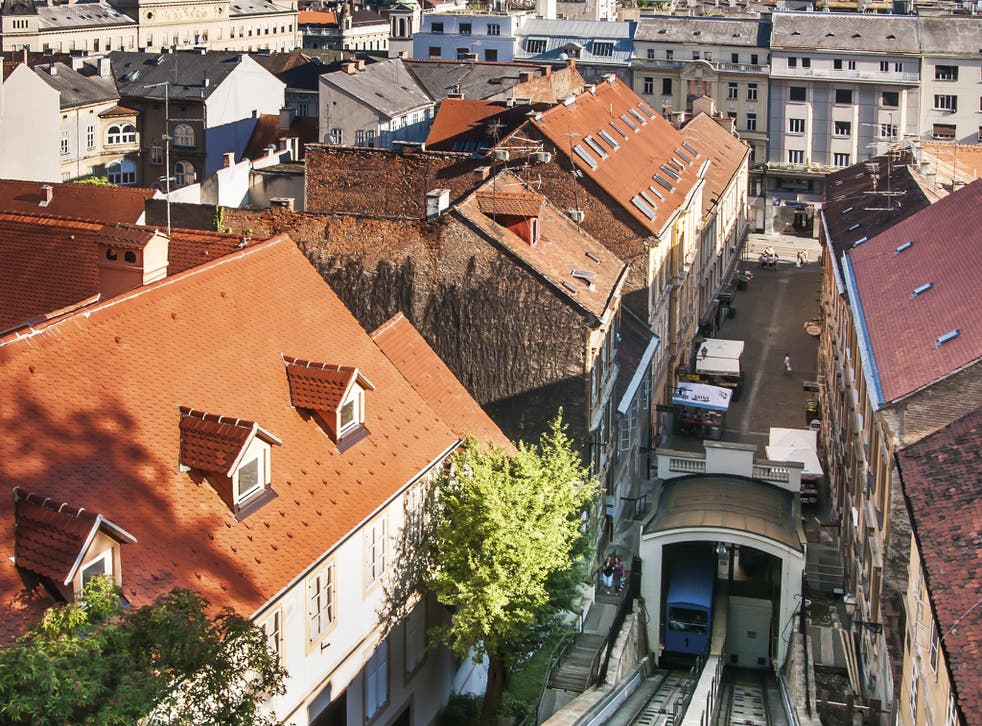 Zagreb travel tips: where to go and what to see in 48 hours
Art galleries, parks and a medieval city centre
There's more to Croatia than the coast – its medieval capital is crammed with cultural curiosities and green spaces that salute summer.
TRAVEL ESSENTIALS
Why go now?
It is now 20 years since Croatia emerged from Yugoslavia, and its war of independence, as a fully fledged state. However, you will not hear many echoes of conflict in its capital.
Zagreb is small but defiantly arty. Make a trip in the next few weeks and you will have time to catch "Rodin in Mestrovich's Zagreb" (until 20 September; 50 Croatian kuna/£5) – a touring show of the French sculptor's work (including models of The Thinker and The Kiss) at the Umjetnicki Paviljon (1), an ornate building, created as an exhibition space in 1898 (open daily 11am to 7pm, Sunday 10am to 1pm, closed Monday (Trg Tomislava 22; 00 385 1 4841 070 umjetnicki-paviljon.hr). And who was Ivan Mestrovich? See "Cultural afternoon" opposite.
Touch down
Zagreb's airport is 12 miles south-east of the centre in the suburb of Plesa. It welcomes two direct flights from the UK daily – British Airways (0844 493 0787; ba.com) and Croatia Airlines (0844 371 0310; croatiaairlines.com), both from Heathrow. A shuttle bus service (00 385 1 633 1999; plesoprijevoz.hr; K30/£3) cuts a 30-minute dash into town – daily, every half an hour, 4.30am to 8.30pm, stopping at the central bus station (2) on Avenida Marina Drzica. Depending on traffic, taxis take 20 minutes and cost K200 (£20).
Get your bearings
Set in the north of the Croatia – far closer to Slovenia's capital, Ljubljana (87 miles away), than its compatriot Dubrovnik (310 miles) – Zagreb is a pretty prospect, framed by Mount Medvednica, which rises to 3396ft directly to the north. It is still visibly medieval in the narrow lanes which infuse Gornji Grad, its "Upper Town" and historic core.
Donji Grad ("Lower Town"), immediately to the south, was laid out in the 19th century, and has some of the best restaurants. Novi (New) Zagreb, further south, across the River Sava, is defined by drab Cold War-era housing, but is worthy of a visit – it can be reached via three of the 17 tram routes that, along with buses, comprise the city's transport network (00 385 60 100 001; zet.hr; singles K10/£1, one-day pass K30/£3). The tourist office (3) is on the main square at Trg Jelacica 11 (00 385 1 481 4051; zagreb- touristinfo.hr). Until the end of October, it is open daily from 8.30am to 9pm (Sunday, 9am to 6pm). Further information at croatia.hr.
Check in
A sturdy four-star which has occupied its central address at Petrinjska 71 since 1932, the Hotel Astoria (4) (00 385 1 480 8900; hotelastoria.hr) has double rooms for K739 (£74), with breakfast.
Tucked just north-west of the centre at Pantovcak 52, Hotel President Pantovcak (5) (00 385 1 488 1480; president-zagreb.com) is a boutique option with floor-to-ceiling windows, a quiet garden and doubles for €119.
The Esplanade (6), at Mihanoviceva 1 (00 385 1 456 6666; esplanade.hr), is Zagreb's grandest retreat – a fabulous five-star dating back to 1925. Doubles start at €127, room only.
DAY ONE
Take a hike
Secret Europe: 50 truly unforgettable experiences

Show all 50
Start in Gornji Grad, at Croatia's tallest building, Zagreb Cathedral (7) whose twin towers rise to 354ft (Kaptol 31; 00 385 1 481 4727; glas-koncila.hr). Although heavily rebuilt after an earthquake in 1880, this 13th-century wonder is majestic, open daily 10am to 5pm, from 1pm on Sundays (five services every Sunday morning).
Follow Kaptol due west into Dolac (8), the city's main market square – the venue for a daily (weekdays 6.30am to 3pm; Saturday to 2pm, Sunday to 1pm) feast on local olive oils, honey and cheeses (as it has been since 1926).
Leave to the south via Splavnica, cross Jelacica, turn right on to Ilica (the key retail stretch) and take the second right, Tomiceva. Here, the Zagreb Uspinjaca (9), which is part of the public transport system and runs every 10 minutes (daily 6pm to 9pm; K4/40p) is a funicular which has climbed its 216 feet of track since 1890. At the top, the promenade of Strossmayerovo Setaliste (10) offers splendid city views.
Window shopping
Zagreb has a range of intriguing stores. Alongside the funicular, at Tomiceva 4, Take Me Home (11) (00 385 1 798 7632; takemehome.hr) is a design shop selling inventive children's toys and quirky lamps. Crop (12), at 28 on the bar strip of Tkalciceva (00 385 91 533 8233; crop.com.hr), revels in Croatian wines and organic goods. Horvath (13), at Gaja 27 (00 385 1 487 3029; horvath-galerija.hr) is a little gallery selling pieces by Croatian painters such as Zilic Davor and Malovec Hrvoje.
And if you have not yet had your fill of food stalls, then the vegetable market in Britanski Trg (14) (British Square) may well appeal. It's open daily from 7am to noon, except on Sunday (8am to 2pm), when it becomes an antique fair.
Lunch on the run
Restoran Pod Grickim Topom (15), at Zakmardijeve Stube 5 (00 385 1 483 3607; restoran-pod-grickim-topom.hr), serves a tasty sole fillet cooked in white wine for K150 (£15).
Cultural afternoon
Zagreb is full of museums. The Musej Mimara (16), at Rooseveltov Trg 5 (00 385 1 482 8100; mimara.hr; K40/£4), is its prime art showcase, with glories by Veronese, Van Dyck and Renoir. Its summer hours (until the end of September) see it open daily from 10am to 7pm (Saturdays to 5pm, Sundays to 2pm, closed Mondays). The Moderna Galerija (17), at Hebrangova 1, focuses on Croatian art of the 19th and 20th century, with works by Zlatko Bourek and Milan Steiner – (00 385 1 604 1040; moderna-galerija.hr; K40/£4). Open weekdays from 11am to 7pm, closed Mondays, open weekends to 2pm.
The Atelijer Mestrovich (18), at Mletacka 8 (00 385 1 485 1123; mestrovic.hr; K30/£3), toasts the sculptures of Mestrovich, "the Croatian Rodin", open daily 11am to 7pm, except Saturday and Sunday (to 2pm) and Monday (closed).
An aperitif
Donji Grad has a clutch of great places to drink on Bogoviceva. Vinyl Bar (19), at No 3, proffers a range of Croatian wines from K20 (£2) a glass (00 385 1 563 5483; vinylzagreb.com).
Dining with the locals
Also in Donji Grad, at Nikole Tesle 14, Ristorante Carpaccio (20) serves slivers of swordfish for K98/£9.80 (00 385 1 482 2331; ristorantecarpaccio.hr). Fajn (21), at Vranyczanyeva 6 (00 385 1 4851411; fajnbistro.com.hr), is a Gornji Grad gourmet jewel with gnudi (small soft dumplings) with goat's cheese and tomato (K70/£7). At the Esplanade (6) Le Bistro has haute cuisine with exotic touches such as monkfish with coconut and curry sauce (K145/£14.50).
DAY TWO
Sunday morning: go to church
While the Cathedral (7) dominates Gornji Grad, Crkva Sv Marka (St Mark's) (22) is a hugely photogenic 13th-century church at Trg Sv Marka 5 (00 385 1 485 1611), with coloured tiles adorning its roof and forming the coats of arms of Zagreb and Croatia. Inside you'll find Mestrovich sculptures (open during services – weekdays 7.30am and 6pm, Saturday at 7.30am, Sunday at 10am, 11am, 6pm).
Take a ride
Pick up tram No 6 (for "Sopot") in Jelacica square (3) and ride six stops south, into Novi Zagreb. Here, dive into the Musej Suvrememe Umjetnosti (23) at Avenida Dubrovnik 17. The Museum of Contemporary Art (00 385 1 605 2700; msu.hr; K30/£3) opened in 2009 and has added a dab of culture to an unremarkable area. It is a striking edifice of glass and concrete with 12,000 exhibits including art by such Croatian visionaries as Milivoj Uzelac and Josip Seissel (open daily 11am to 6pm, Saturday to 8pm, closed Mondays). Continue your ride on one of artist Carsten Höller's distinctive steel art-slides.
Out to brunch
The museum has a restaurant where you can take a break from all the dynamic visuals with something mildly less challenging, like a sizeable salad for K70 (£7).
A walk in the park
Park Ribnjak (24) injects a dose of open space into the tight alleys of Gornji Grad. The city's fortifications ran this way in the 15th century and you can still see wall fragments. Park Zrinjevac (25) (Trg Nikole Subica Zrinskog) is the loveliest element of the "Zelena Potkova" ("Green Horseshoe") fringing Donji Grad. An 1891 pavilion at its heart stages free summer concerts.
Icing on the cake
Zagreb's most alluring attraction may be the Museum of Broken Relationships (26), at Sv Cirilac Metoda 2 (00 385 1 485 1021; brokenships.com; K25/£2.50). It was opened in 2010 by a couple whose own bliss had foundered, and is now a repository for totems of defunct romance such as the champagne cork that would have saluted a wedding had the bride not found her fiancé cheating, or the basketball, subtitled, simply, "he was a player". The museum (open daily, 9am to 10.30pm) has a café where you can sip an espresso for K8 (80p), or a bottle of wine for K100 (£10).
Click here to view Croatian tours and holidays, with Independent Holidays.
Register for free to continue reading
Registration is a free and easy way to support our truly independent journalism
By registering, you will also enjoy limited access to Premium articles, exclusive newsletters, commenting, and virtual events with our leading journalists
Already have an account? sign in
Register for free to continue reading
Registration is a free and easy way to support our truly independent journalism
By registering, you will also enjoy limited access to Premium articles, exclusive newsletters, commenting, and virtual events with our leading journalists
Already have an account? sign in
Join our new commenting forum
Join thought-provoking conversations, follow other Independent readers and see their replies