7 festivals in stunning locations
From an igloo at the top of a mountain to a 60m deep limestone quarry, or an 18th century demilitarised fortress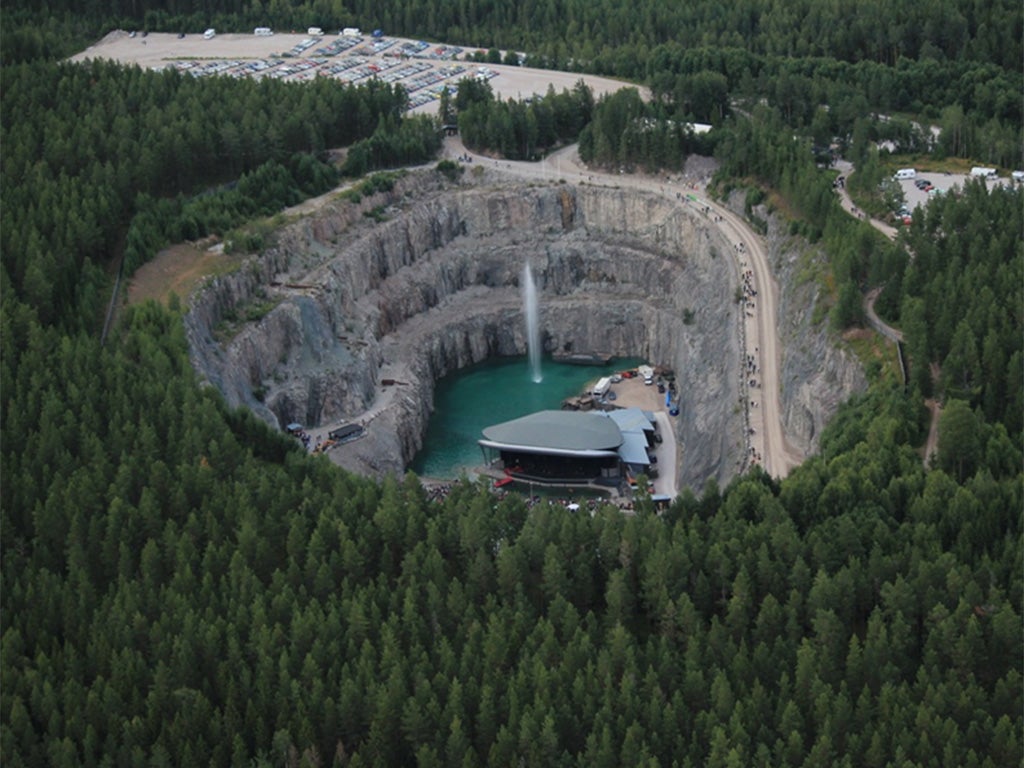 Though it's more traditional to stick a few tents in a muddy field, locations for festivals are becoming increasingly adventurous, providing a stunning backdrop to nights of alfresco partying.
From an igloo at the top of a mountain to an historical fortress, we take a look at some of the most beautiful and unusual locations which welcome revellers from around the world, where you won't need a filter to capture the natural surrounding beauty.
Exit, Serbia
Exit started off as a student movement, to fight for freedom and democracy in Serbia after a decade of civil wars. Fifteen years later, and it was named best European medium sized festival in 2014. Exit takes place in a huge 18th century fortress in Serbia, where the dusty, winding pathways of the demilitarised Petrovaradin fortress, just above the Danube River, make for ethereal scenery. It's perfect for an adventurous tour to find hidden stages in nooks and crannies away from the main stage, where a variety of music tastes are catered to. Friendly people, cheap drinks, and a guaranteed good time into the early hours.
Tickets from £114, 9 - 12 July 2015
Into the Valley, Sweden
What with outer space and under the sea being impractical festival settings for the time-being, Into the Valley has cleverly found a spot which combines the feeling of both for the first year of the event. It takes place in an old limestone quarry 60 metres below the dense green forest, with a blue lake at the bottom which you can both swim in and drink from. The aerial view is striking, and the perspective from the ground within Dalhalla amphitheatre is imposingly memorable (not to mention some great acoustics).
Tickets from £117, 31 July – 1 August
Festival No. 6, North Wales
This cultural retreat is set in the coastal village of Portmeirion, which provides a beautiful backdrop to the cerebral activities on offer. As well as the beach you'll find the Portmeirion Gardens, a dog cemetery and the 70 acres of exotic woodland to discover, plus the Central Piazza looks like a little bit of Rome. It's family-friendly and disabled-accessible, plus it provides the perfect antithesis to mainstream festivals if you're looking for a more relaxing time in picturesque surroundings, that isn't too far from home.
Tickets from £170, 3-6 September 2015
Snowbombing, Austria
Held in the postcard-perfect town of Mayrhofen, during any part of this activity-packed festival, visitors will be treated to amazing views of the Penken and the Ahorn mountains. During the day, parties take place at the top of the mountains, with events in the evenings that include a party in a giant igloo and drinks at a lumberjack's mountain retreat. If all that partying and skiing has you tired out, you can also visit the 5 star Stock Resort, which has an infinity pool with a backdrop of the mountains. Simply stunning.
Tickets from £234 (incl. 5 nights accommodation), April 2016
Envision festival, Costa Rica
Set in the southern coast of Costa Rica, Envision takes place in Uvita village, where the picturesque beach is minutes from the rainforest setting of the festival's camping accommodation. So the area isn't left covered in empty bottles and fag butts, they offer environmentally friendly tips and sustainability workshops, and there's an eclectic mix of activities includes Tai Chi and Yoga, as well as surfing. The tropical climate means visitors must be prepared for bugs, however, and they warn: 'DO NOT CAMP UNDER A COCONUT TREE! COCONUTS ARE HEAVY, FALL A LONG WAY AND ARE NOT SO SWEET IF THEY HIT YOU.'
Tickets from £160 , 26 February - 1 March 2016
Image credit: Zipporah Lomax
Fuji Rock Festival, Japan
On the festival's first day of Fuji Rock's inaugural event in 1997 there was a typhoon, which the Red Hot Chili Peppers played through – even though Anthony Kiedis had a broken arm to boot. The festival's location has since moved away from Mount Fuji (though retaining its name) and it now takes place in Naeba Ski Resort (around 1.5 hours from Tokyo on the bullet train). There are beautiful views of surrounding green forests and natural streams to cross, plus a striking view of the mountains on the longest gondola lift in the world.
Tickets from £208, 24-26 July 2015
Traena, Norway
The small village of Sanna in Traena sees inhabitants get involved in the festival by volunteering, and its far-removed island location means it's only accessible by boat. As the oldest fishing village in Norway, there are caverns dating back to the early Stone Age. This year they're introducing open mic sessions – so if you've ever wanted to play at a festival, particularly with a backdrop of the Norwegian sea and some enormous rocks, here's the place to do it. The 23 hours of sunshine means the festival offers some inspired venues – including one in a cave, and another in a church with blacked-out windows. At the top of the list of things you will find on the campsite, they also list 'Nice people', on the website.
Tickets from £115, 9-11 July 2015
Image credit: Wyndham Wallace
Join our commenting forum
Join thought-provoking conversations, follow other Independent readers and see their replies