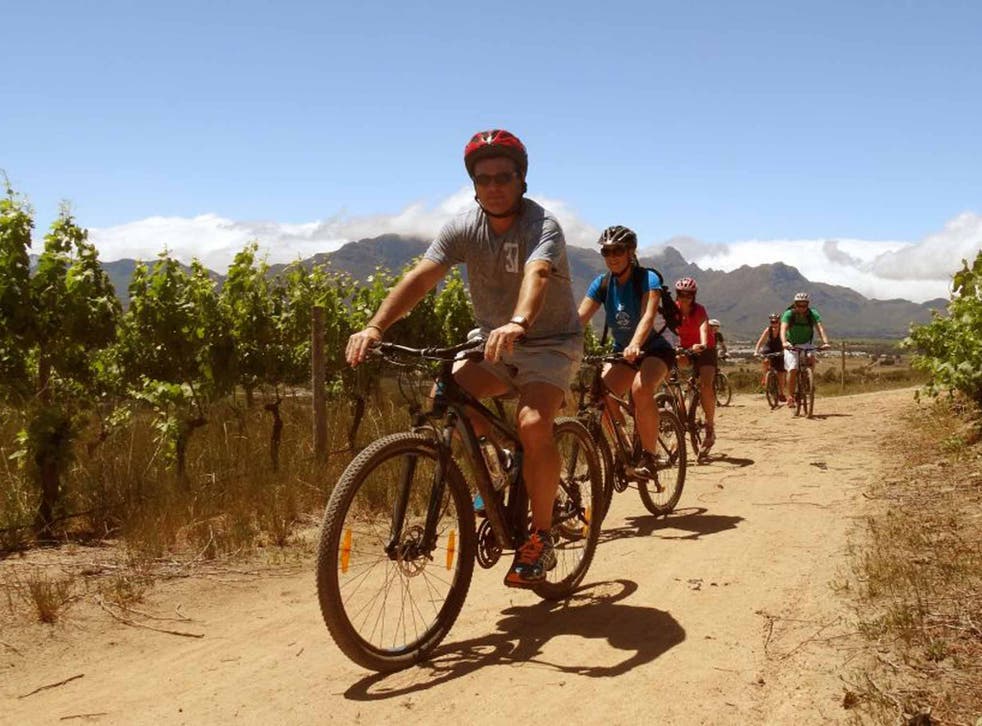 Winter activity holidays: From cycling South Africa's vineyards to walking in Andalucia
Don't just hibernate this season ... get on your bike
If January's dark evenings have you craving daylight and itching to get into the great outdoors, cast off your woolly jumpers and find an adventure in sunnier climes.
South Africa's glorious golden vineyards are perfect for exploring on two wheels, and in winter the days are warm but the surrounding mountains are capped with snow. Head to Stellenbosch, half an hour from Cape Town, and the aptly named Bikes 'n Wines (00 27 21 823 8790; bikesnwines.com) will take you on a day's cycle around little lost lanes, rolling farmland and elegant Dutch-style estates (R635/£30). The 13-mile "challenging" ride should help you burn off some of the booze as you pedal between tastings at three local wineries.
If you've been cooped up in a dark office, stretch out your limbs with yoga on a balmy beach. In Goa, Little Cove Yoga's thatched bamboo huts are nestled under coconut trees overlooking the Arabian Sea, and the focus here is on daily yoga sessions, fresh food, and Ayurvedic massage (00 91 07875231613; yogaschoolgoa.com). And there's also plenty of time to perfect the art of doing absolutely nothing in a hammock. Full-board stays cost from Rs4,200 (£42) per person per day, including two daily yoga sessions.
Find a little slice of paradise in Belize, where the weather is reliably glorious between January and March. This Central American gem marries the vibrant culture of South America with the easy breeziness of the Caribbean. Named as one of the best diving locations on earth, a dip below the waves reveals sharks, stingrays and many other creatures of the deep making their home in the second longest barrier reef in the world. Tide Tours (00 501 7222129; tidetours.org) offers day-long dives at two sites in the Sapodilla Cayes near Toledo (US$264/£172 per person). Back on land, stay in the peaceful, off-grid Hickatee cottage (00 501 662 4475; hickatee.com) nestled in the jungle. Doubles from $65/£42 per night B&B.
In need of a long weekend's escape? The rolling hills and shaded cork groves of Andalucia's Sierra de Aracena national park are often mild and sunny in winter. It may not be sunbathing weather exactly, but this is a real walker's paradise – spend the days hiking ancient paths through sun-dappled woodlands and while away the evenings in sleepy whitewashed villages. Stay at Finca Buen Vino (00 34 959 12 40 34; fincabuenvino.com), a charming, pastel pink B&B high in the hills of the Sierra, with panoramic views across the valleys. From €100 (£72) per person per night, with breakfast (minimum three-night stay).
Join our new commenting forum
Join thought-provoking conversations, follow other Independent readers and see their replies