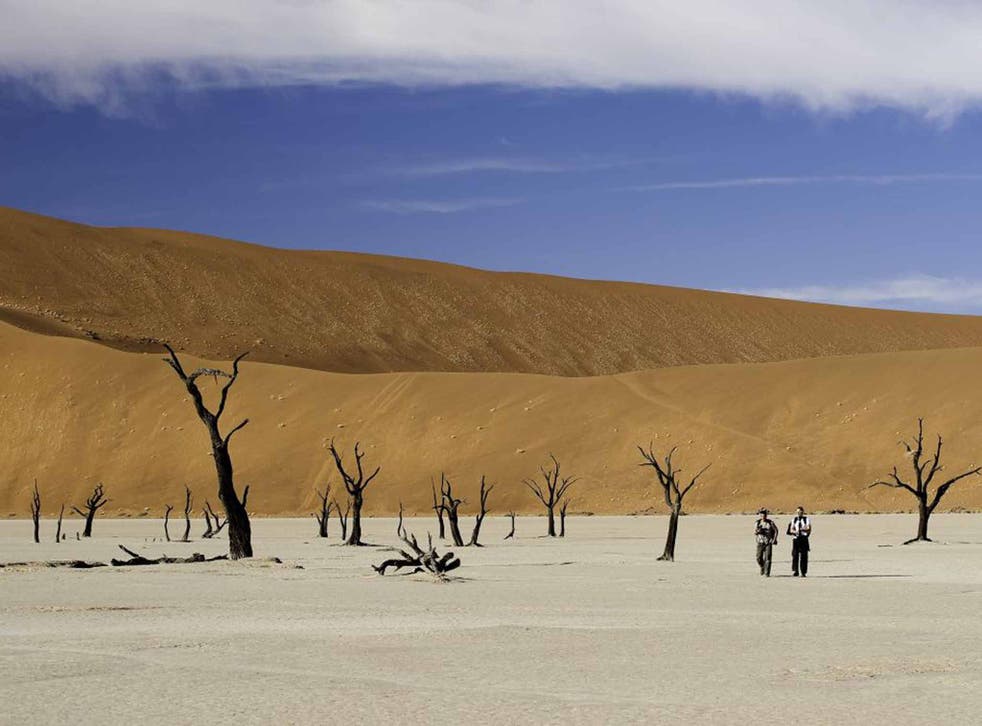 Adventure holidays 2015: Spot a white rhino in Namibia or a solar eclipse from the Faroe Islands
Chris Leadbeater suggests a range of adventure holidays, from following in Napoleon's wake to the road less ridden in Uttar Pradesh
Chris Leadbeater
Monday 29 December 2014 11:42 Comments
Intrepid, horizon-chasing travel comes in many forms – and for those seeking adventure in 2015, there are numerous alternatives to the obvious. Namibia, for example (namibiatourism.com.na), will come to the fore as an option for an African odyssey – as it salutes 25 years of statehood, having emerged from South Africa's grip in March 1990.
This is a fascinating country where the Skeleton Coast fills the north-west corner with sparse sands, Etosha National Park is home to black and white rhinos, lions and leopards, and the area's history as a German colony (1884-1915) is palpable in the buildings of the capital, Windhoek, and the resort city of Swakopmund. Bailey Robinson (01488 689 700; baileyrobinson.com) can arrange an 11-day "Nature in Namibia" tour which ticks off the dry dunes of the Namib Desert (the world's oldest, dating back up to 80 million years), Swakopmund and Etosha National Park – from £3,900 per person full-board, including internal transport but not international flights.
Canada is always game for adventure. But 2015 may be the year to ignore the famous peaks of Alberta and British Columbia for the lesser-known lights of Newfoundland and Labrador (newfoundlandlabrador.com). The country's most easterly province is more accessible as of October, thanks to Air Canada's (0871 220 1111; aircanada.com) decision to operate its service between Heathrow and St John's year-round (three flights a week). The provincial capital is part of a new 11-day tour offered by Trafalgar (0800 533 5616; trafalgar.com) – a journey which also calls at Gros Morne National Park (for sightings of black bears) and L'Anse Aux Meadows, the site of a Viking settlement which, founded around 1000, pre-dated Columbus by five centuries. It costs from £2,178 per person, including flights and accommodation with breakfast.
If a previous visit to India has taken you to Goa and Kerala, next time take the road less ridden in Uttar Pradesh (up-tourism.com). Next to the Nepalese border in the north, this state is home to Agra, Lucknow, Varanasi and Dudhwa National Park – the latter is a less-busy choice than Ranthambore for those hoping to see tigers. Western & Oriental (020 7666 1234; westernoriental.com) is selling a week's Uttar Pradesh break which includes three nights in the park at the freshly opened Jaagir Lodge – a refurbished 1940s hunting retreat with 12 luxury suites and villas – plus two nights in the state capital, Lucknow. It costs from £1,899 per person, including flights, game drives and meals.
Top 10 destinations for 2015

Show all 10
In Peru (visitperu.com), the Lares Trek is a second possibility for those who want to walk to Machu Picchu, but cannot get permits for the oversubscribed Inca Trail. Latin America specialist High Lives (020 8696 9097; highlives.co.uk) sells a four-day assisted hike along a path which begins 35 miles east of the "lost" Andean citadel, rising to 4,600m when it crosses the Auroracasa Pass. Tour-only prices for a trip that mixes camping and basic hotel accommodation start at £850 per person. Alternatively, two high-end lodges have opened on the route, with a third due in 2015, offering comfortable "base camps" for hikers (0800 014 8886; laresadventure.com). A seven-day hike costs US$2,590 (£1,727) per person, excluding flights.
You thought South American wine was all about Chile and Argentina? Travellers looking at Brazil (visitbrasil.com) will find something unusual in Bespoke Brazil's 15-day Brazil Wine Tour (01603 340 680; bespokebrazil.com). The itinerary heads for Rio Grande do Sul – Brazil's most southerly state, where vineyards hug the Serra Gaucha highlands – and neighbouring Santa Catarina, while also visiting Rio and Iguacu Falls. Prices from £3,690 per person, excluding international flights.
If Scandinavia seems a fine idea, there is good reason to favour the Faroe Islands (visit faroeislands.com) in 2015. This Atlantic archipelago 185 miles north of Scotland will be one of only two places from which to see a total solar eclipse (the other being Svalbard) on 20 March. Nordic Experience (01206 708 8888; nordicexperience.co.uk) is offering a five-day break (17-21 March) that will take in the islands of Streymoy, Eysturoy and Sandoy before the eerie celestial event. It costs from £2,595 per person, including flights from Stansted.
However, for an island even further off the beaten path, it doesn't get much more remote than St Helena (sthelenatourism.com). In the South Atlantic, 1,162 miles west of Angola, this UK overseas territory will get its first airport in 2016. For now, though, the only method of access is the RMS St Helena. This 155-berth vessel will leave Cape Town on 4 May. A return-sailing break, lasting 19 days, costs from £2,695 per person excluding flights (020 7575 6480; rms-st-helena.com). Eight days are spent on the island, taking in sights such as Longwood House, where the exiled Napoleon arrived in October 1815.
Register for free to continue reading
Registration is a free and easy way to support our truly independent journalism
By registering, you will also enjoy limited access to Premium articles, exclusive newsletters, commenting, and virtual events with our leading journalists
Already have an account? sign in
Join our new commenting forum
Join thought-provoking conversations, follow other Independent readers and see their replies