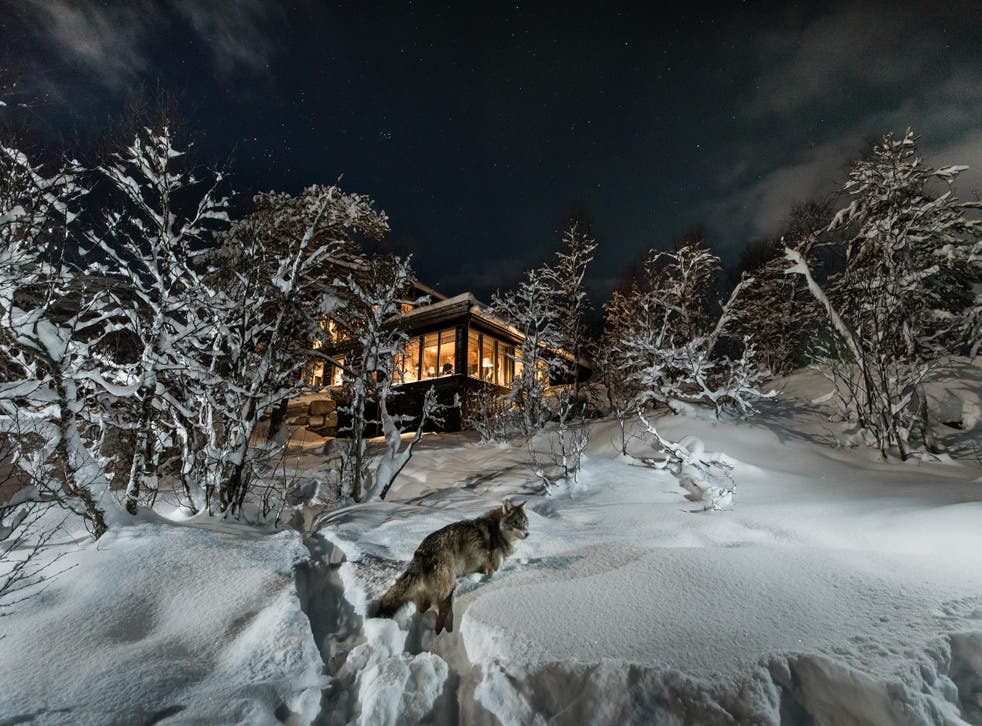 Eight of the best Arctic adventures, from building snow shelters to surfing in the Arctic Circle
It's officially winter (or at least it feels like it). Tamara Hinson picks the best Arctic adventures, from kissing wolves to meeting Santa
Resist the temptation to go into hibernation this winter and sign up for an adrenaline-boosting Arctic adventure instead.
Here are eight of the best.
Sign up for a survival course in the Finnish wilderness
The Arctic Circle conjures up images of rosy-nosed reindeers and gift-laden elves, but it's also got a dark side – and we're not talking about the potential over exploitation of Santa's workforce, either, but bone-chilling temperatures, wild animals and, during the winter, endless hours of darkness. To learn how to conquer this challenging wilderness, sign up for a survival course in Finnish Lapland's Pyhä-Luosto national park – you'll learn about the psychology of survival, how to cook Rudolph – sorry, reindeer – over an open fire and how to build a snow shelter, which you'll then sleep in.
From £266pp for a day/night workshop
Kiss a wolf in Norway
Spend the night at the Wolf Lodge, part of northern Norway's Polar Park. This cosy chalet is inside a huge enclosure which is home to a pack of semi-wild wolves, so don't be surprised to find them peering through the floor-to-ceiling windows at night. Come morning, you'll be able to experience a more intimate encounter with these fearsome predators. Your guide will lead you outside into the snowy enclosure where he'll summon the wolves with a howl or two, giving you the opportunity to experience a "wolf kiss". Breath mints not included.
Wolf visits from £281pp
Join a northern lights photography workshop
Photographing the northern lights is a complicated business and if you don't know your ISO from your aperture, increase your chances of snapping nature's most spectacular light show with a photography-themed exploration of Finland's Riisitunturi national park. It's a great way to discover one of the country's most beautiful areas, too – to get the perfect shot, you'll have to hike up rugged fells and battle through snowdrifts before restoring energy levels with delicious, traditional Finnish fare, cooked over a camp fire.
From £641pp
Say hello to Santa in Rovaniemi, Finland
Every year more than 500,000 people visit Father Christmas at his home on the outskirts of Rovaniemi, Finland; and since 1985, he's received more than 15 million letters at Santa Claus Village. The bearded one seems to be a bit of an entrepreneur, offering visitors the chance to sign up for lessons at elf school or for husky and reindeer rides, before bedding down in an igloo hotel. If you visit, don't forget to walk across the official line marking the beginning of the Arctic Circle. The village straddles the border and you'll be able to request a certificate confirming your entry. There are three-night packages that include airport transfers and a host of activities, such as an Arctic Circle crossing ceremony; 3km reindeer or 5km husky safaris; an Arctic animal wildlife park day trip; a private meting with Santa; and a northern lights safari.
From £864 per adult and £608 per child (aged 2-14 years), full board
Admire the aurora borealis in the Yukon, Canada
Most people head to Norway, Sweden or Finland for the northern lights, but in the remote Yukon, in north-west Canada, the chances of a stray selfie stick ruining your carefully planned photo are slim to none. On Arctic Range's day-long aurora borealis viewing tours you'll admire the dancing lights from a dedicated viewing platform while learning about the chemical light reactions which create them, and the First Nation legends they've inspired.
From £75pp
Sleep in the original ice hotel, in Sweden
The original ice hotel can be found near Kiruna, Sweden, and this year will fling open its doors on 14 December. The themes are yet to be revealed, although it's been confirmed guests will be able to sleep with the – frozen – fishes in an ice suite inspired by an aquarium, with another ice suite to resemble a sweet shop. Some 33 artists from 13 countries will help design this year's hotel and guests will be able to sign up for a chef's table experience, during which they'll enjoy delicious cuisine presented on plates made from ice.
From £1,117pp for a three-night package, B&B, including flights
Sail across the Arctic Circle
Don't make the mistake of confusing Hurtigruten with your typical cruise line. Those who set sail on its 12-day Classic Round Voyage along Norway's coastline and into the Arctic Circle, opt for Berghaus over ball gowns. There's no standing on ceremony either, especially during northern lights season – October to March – proof of which is the in-room alarm system which announces the lights' appearance – don't be surprised to find a stampede of pyjama-clad, camera-wielding passengers making a dash for the top deck. You can add a wide range of excursions too, including snowmobile tours, husky rides and mountain hikes.
From £986pp, excluding flights
Surf inside the Arctic Circle in Norway
Surf the Arctic Circle and you'll have the waves to yourself with the chances of sand migrating to your nether regions pretty slim, too – mainly because the freezing temperatures make dry suits compulsory. In the 1960s, Thor Frantzen and Hans Egil Krane surfed Norway's waves for the first time – on homemade boards, built using the shape of the ones they'd seen on a Beach Boys album as a guide. They set up a camping and surfboard rental business which was later taken over by Frantzen's daughter and turned into a surf school. Today, lessons take place 365 days a year at Unstad Arctic Surf – the world's northernmost surf school – although the most spectacular time of year is undoubtedly winter, when adrenaline junkies can hang ten beneath the northern lights.
One-hour lessons from £149pp
Register for free to continue reading
Registration is a free and easy way to support our truly independent journalism
By registering, you will also enjoy limited access to Premium articles, exclusive newsletters, commenting, and virtual events with our leading journalists
Already have an account? sign in
Register for free to continue reading
Registration is a free and easy way to support our truly independent journalism
By registering, you will also enjoy limited access to Premium articles, exclusive newsletters, commenting, and virtual events with our leading journalists
Already have an account? sign in
Join our new commenting forum
Join thought-provoking conversations, follow other Independent readers and see their replies