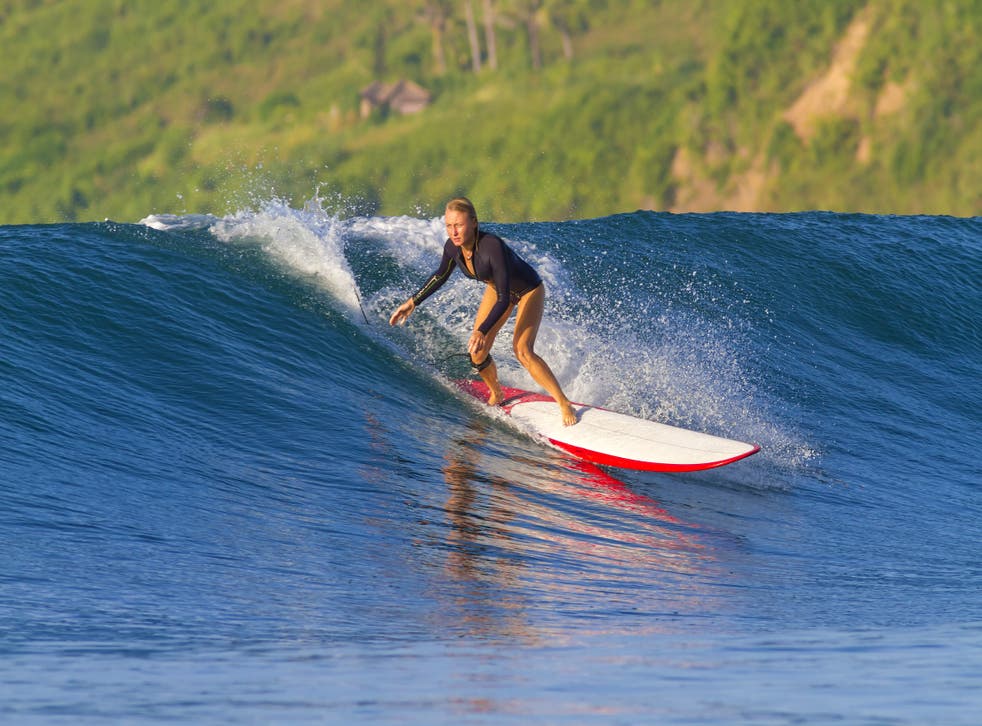 The best surf camps for beginners
Never caught a wave before? Join a specialist retreat, from Newquay to Nusa Lembongan
They say salt water can cure anything, and a week of catching waves, napping in hammocks and toasting the sunset at a remote surf camp is definitely a salve for the stresses of daily life. Never caught a wave before? No problem. Escape and recharge at one of these beginner-friendly camps.
Dirt-cheap surfing packages are popping up all over Europe's coast but unless you care about nothing but catching waves 24/7 it's worth picking a camp that combines chasing great swell with a welcoming base to chill out in afterwards. Surfers at the Natural Surf Lodge (naturalsurflodge.com) stay in hand-built wooden cabins in the heart of the pine needle-strewn Landes Forest in Seignosse, France. Days at this woodland retreat tend to slip into each other – walk through the woods to nearby Les Casernes beach for a dawn surf lesson and a lazy barbecue lunch then wander back to camp and borrow a canoe for a paddle on the lake. In the evenings rest your wave-tired limbs in the camp's hammam or hammocks. One week's surf camp including daily lessons and breakfast costs from €445 per person.
"You don't have to be a surfer to stay here, but we can help you to become one." is the encouraging motto at Buena Vista Surf Club (buenavistasurfclub.com), an eco-friendly lodge far from the madding surf crowds in Nicaragua. Marielle and Marc upped sticks from Holland to set up Buena Vista, which aims to work in harmony with its secluded jungle location just behind Playa Maderas beach. Energy is solar, water comes from the well and food is cooked fresh by Marielle. Wake up in one of the three treehouses and listen to the whoops of howler monkeys as you practise yoga on the enormous sun deck before morning lessons - instructors will teach you everything from catching your first wave to surf etiquette and water safety, and can magic you to the best beach by boat if there's no swell. As night falls, relax with a beer in the open-air common room and listen to the noises of the jungle begin. Doubles from $65 (£45) per person and lessons $35 (£25) an hour, including a day of board hire.
Pop-up restaurants, pop-up boutiques, pop-up festivals... it was only a matter of time before surfers got in on the action. The army of fans who love Soul & Surf's (soulandsurf.com) laid back camps in the Indian Ocean will delight in two new retreats closer to home as Soul & Surf sets up shop in Sagres in Portugal for two weeks this month. A team of surf coaches, yoga teachers and chefs will be taking over chilled-out seaside Casa Meranka, a quirky cluster of cottages a ten-minute flip-flop from some of Portugal's best surf spots. All levels of surfer are welcome and guests will start the day with a dawn surf before breakfast and more time mastering pop-ups, followed by a Vinyasa Flow yoga session and another surf as the sun sets. Just be sure to make time for a cocktail by the pool. A week-long retreat (until 21 May) costs €842 per person based on two sharing a twin room, including accommodation, food and instruction.
Go from newbie to Kelly Slater with total surf immersion in Indonesia. Mojo Surf (mojosurfindo.com) will whisk you on a six or eight-day island hopping tour through the archipelago, searching out surf in the clear waters of Bali, Nusa Lembongan and Lombok. They promise you'll be catching waves like a pro by the time you're back in Bali, but the trip definitely isn't all work and no play – there's plenty of time to snorkel with manta rays in the tropical waters, explore the colourful markets of Kuta and catch a sunset or two. From AU$799 (£435) per person including domestic transport, accommodation, tutoring and most meals.
Women-only fitness retreats are becoming incresingly popular, and there is plenty of choice for novice surfers. Best of the bunch is Surf Sistas (surfsistas.com). Their national and international surf camps will stick you in one of their stripy rash vests, build your confidence and teach you to master your board in a relaxed environment. Cut your teeth on Cornish waves with a weekend surf trip to Newquay for £299 per person, including transfers from London, accommodation and some meals, or go on an epic 10-day Costa Rica road trip (US$1,750/£1,233 per person) along the Pacific coast, ideal for improving your skills in paradisiacal surroundings.
Register for free to continue reading
Registration is a free and easy way to support our truly independent journalism
By registering, you will also enjoy limited access to Premium articles, exclusive newsletters, commenting, and virtual events with our leading journalists
Already have an account? sign in
Register for free to continue reading
Registration is a free and easy way to support our truly independent journalism
By registering, you will also enjoy limited access to Premium articles, exclusive newsletters, commenting, and virtual events with our leading journalists
Already have an account? sign in
Join our new commenting forum
Join thought-provoking conversations, follow other Independent readers and see their replies