Military fitness: sun, sea and sweat
There are plenty of press-ups to be done, but a new military-style fitness break in Fuerteventura is no boot camp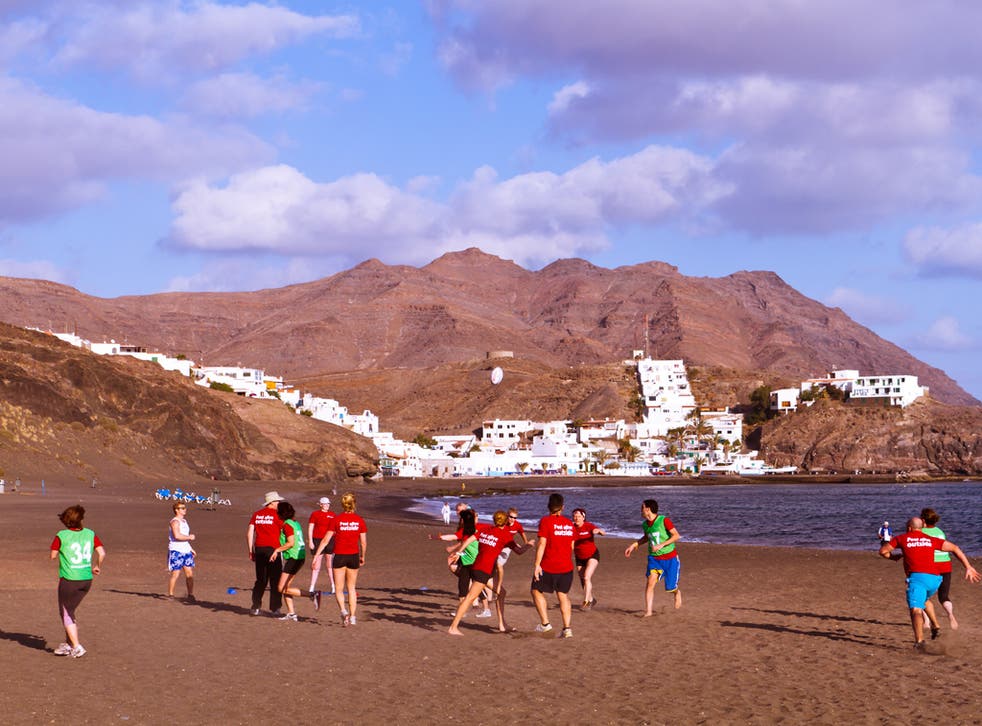 Sunrise over the black-sand cove at Las Playitas, on the south-east coast of Fuerteventura, is an odd experience. Sandwiched between the Atlantic and the island's volcanic hills sits one of Europe's largest fitness resorts. From the balcony of my room, I stared down at the different tribes dotted around. In one corner, the Wham! fans were leaping about to the chirpy encouragement of their aerobics instructor. Nearby, the Speedo brigade was slicing up and down the Olympic-sized pool while future Roger Federers grunted it out on the tennis court. The spinning class was sweating on stationary bikes, while human centipedes of runners were wending their way upwards across the surrounding slopes. One of my fellow travellers summed it up when he said it felt like we had been dropped into a human eugenics project of Amazonian Danes, sinewy Germans and fresh-faced Dutch, all devotedly pursuing their particular sporting passion.
But it was the group of barmy Brits pounding up and down the beach – attempting press-ups on tyres in camouflage paint (for no more sinister reason that the instructor thought it would be amusing) and pole dancing around the umbrellas – that attracted the most bemused audience.
The crowd concerned was part of a SunFit holiday, a new project launched by the British Military Fitness (BMF) organisation – and I was part of it. In 1999, three people turned up in London's Hyde Park for a circuit session run by ex-servicemen and women. Today, BMF has 20,000 members panting their way around 120 parks across the country. Not content with conquering the UK, the company has now launched SunFit, a "holiday" at the four-star Las Playitas resort in the Canary Islands, with four holidays a year.
Fuerteventura – with its stark, rugged terrain, good beaches and year-round warm climate – was deemed a suitable location because it attracted athletes, surfers and sailors, as well as sun-lounger lizards. Las Playitas is tucked away from the British beer-before-breakfast brigade that dominates some of the island's larger resorts. A series of low-rise hotels and villas, set among palm and bougainvillaea gardens, it is a sympathetic – if somewhat dominating – addition to the white flat-roof buildings of the neighbouring fishing village.
At this point I should declare an interest. For several years, I have been a BMF devotee, who turns up in sun and snow (albeit slightly grumpily) to perform press-ups on my local common. Nevertheless, the idea of an entire week of fitness – wheezing my way behind a crowd of super-humans – filled me with some trepidation. I was convinced only peak-performance players would want to spend their holidays pumping out sit-ups. But just like at those cold, wet classes on Clapham Common, many of us were simply trying to build up to a reasonable level of fitness.
Happily, my group of 16 was reassuringly normal. Many had turned up alone and ranged from competition-level fitness devotees to those who struggled valiantly to complete just one circuit of the athletics track but were keen to improve. I was further reassured on my first night when one of the instructors went up for his third helping of dessert before leading the way to the bar.
BMF emphasises that SunFit is not boot camp. Every one of the four hourly classes a day – along with sunrise and sunset stretching sessions – is optional and comes with cheerful bellows of encouragement, rather than military-style shouting.
The classes were as diverse as the shapes, sizes and ages in our group. Traditional BMF workouts, kickboxing aerobics, mountain hikes and swim-circuit sessions were some of what was on offer. We were graded according to our ability – with lower expectations from the less fit – and high-intensity workouts were mixed in with plenty of playtime. The eternally cheerful staff – a combination of BMF instructors and fitness specialists – easily swapped between giving the strongest a run for their money and encouraging the weaker people in the group. (But I really cannot recommend their karaoke skills.)
There was no pressure to take things to the limit but – whether in a spirit of camaraderie or competition – it was inspirational to see how hard everyone pushed themselves out of their comfort zone. The pained expressions on some of the women's faces upon realising they were about to attempt a version of the England Ruby fitness test was only matched by the male looks of horror when they learned they were about to swing their hips in a Zumba class. Some of us may have made laughable boxers but there is nothing quite as comical as watching a man attempt to use a skipping rope for the first time.
From a personal point of view, it was the steep 13km run up to a lighthouse and back that filled me with dread. I know my limitations. Saying no to another glass of red wine is one; distance running is another. I have never been so thrilled to see a summit in sight. As I admired the view, I was filled with such a sense of glee that I briefly forgot that I still had to run back down again.
More importantly for someone who doesn't do abstinence, the holiday was as much about pleasure as it was pushing the pain barrier. For a resort that claims to attract top athletes and prides itself on its triathlon sportsmen, there was a respectable selection of unhealthy bars and restaurants, too. The evening buffet ranged from salad to sushi, but also offered paella and profiteroles. BMF is adamant this is not a diet camp. The rooms boast corkscrews rather than bathroom scales.
Anyone who still had any energy left after the SunFit classes could sample everything else the resort had to offer, from the largest gym I have ever seen (which happily closes for a siesta in the afternoons) to scuba diving, beach volleyball or golf. Few of us did. It wasn't until I creaked out of bed for sunrise stretching on the fourth day that I appreciated how hard I had been working out.
At the end of the week, most of the group left smugly satisfied that they had completed more hours of fitness training in a week than they would normally manage in a month. Equally, they had done the extensive hotel buffet justice and kept the bar in business. As I prepared to leave the resort, a German athlete approached me, commenting: "You need a rest now, no? I have seen you British, you work very hard." I didn't have the heart to explain that my bedraggled state had less to do with sit-ups and more to do with a cracking hangover.
Travel essentials
Getting there
SunFit (020 7751 9742; sunfit.co.uk) holidays start at £770 per person, including seven nights' half board at the four-star Las Playitas Resort, airport transfers, six days of fitness classes, all equipment and hire fees. The next dates the holidays run are 3-10 March, 12-19 May and 15-22 September. Flights are not included in the price. Fuerteventura can be reached from the UK on Thomas Cook Airlines (0871 230 2406; flythomascook.com), Monarch (08719 40 50 40; flymonarch.com), Thomson (0871 231 4787; thomson.com), Ryanair (0871 246 0000; ryanair.com) and easyJet (0843 104 5000; easyJet.com).
More information
Canary Islands Tourist Board: turismodecanarias.com
Register for free to continue reading
Registration is a free and easy way to support our truly independent journalism
By registering, you will also enjoy limited access to Premium articles, exclusive newsletters, commenting, and virtual events with our leading journalists
Already have an account? sign in
Register for free to continue reading
Registration is a free and easy way to support our truly independent journalism
By registering, you will also enjoy limited access to Premium articles, exclusive newsletters, commenting, and virtual events with our leading journalists
Already have an account? sign in
Join our new commenting forum
Join thought-provoking conversations, follow other Independent readers and see their replies