The Independent's journalism is supported by our readers. When you purchase through links on our site, we may earn commission.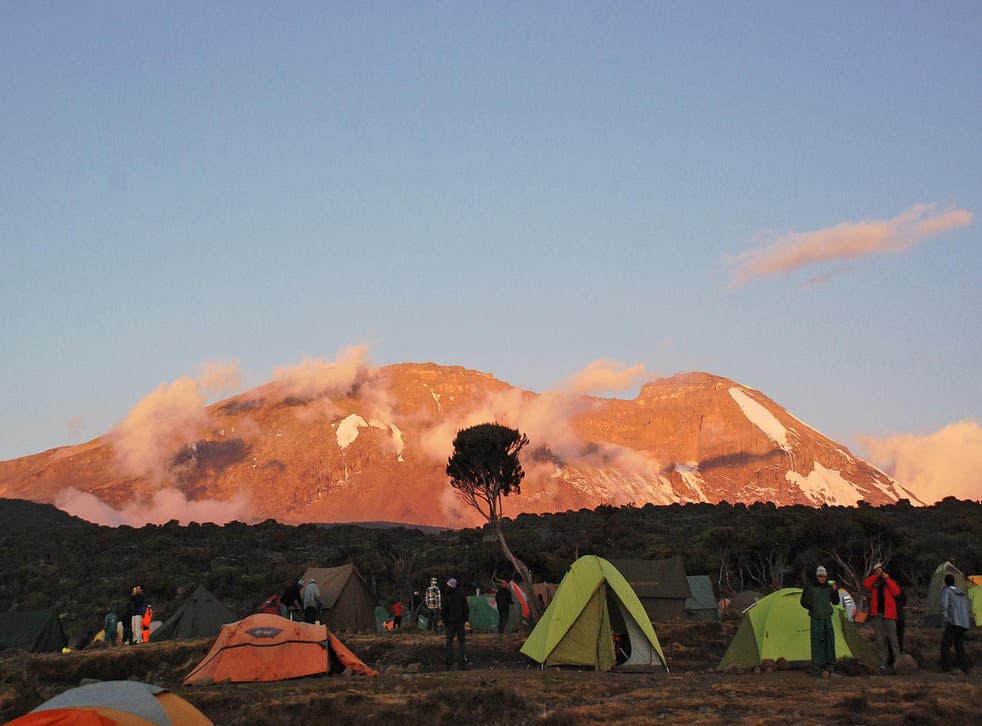 Kilimanjaro packing list: What do you need to climb Africa's highest mountain?
Our definitive guide to the top kit, from walking boots and backpacks to water bladders and head torches
Clothes
Waterproof jacket
Rab is perhaps my favourite outdoor brand, as you'll see from a couple of my other suggestions below, and its lightweight Flashpoint waterproof folds up to pocket size. The hood is wired, so you can create a peak, and has an adjustable drawstring on the back. £200 from Rab
Down jacket
Like the waterproof, Rab's Continuum is ultra light and compact - there are warmer down jackets out there but you'll have lots of layers so you don't really need any more bulk. £220 from Snow and Rock
Hiking boots
On terrain as uneven as this, you need boots with good ankle support. Lowa's Renegade Mid GTX are extremely comfortable and snug around the ankle; the best boots I've ever had. £140 from Cotswold Outdoor
Other shoes
Your feet will thank you for taking non-hiking shoes to wear around camp. I went against advice and took sandals (which I combined, stylishly, with socks) but I'd recommend a pair of trainers, which will keep your toes warmer than my Birkenstocks did.
What to pack for Kilimanjaro

Show all 23
Fleece
Patagonia's Better Sweater is perhaps the warmest fleece I've ever tried on, and it has three handy pockets. £100 from Patagonia
Thermal/long-sleeved top x 2
When it comes to lightweight warmth, merino wool is king. Rohan's Merino Union 150 hooded top is made from a blend of merino and polyester - it's incredibly thin but is great at keeping the wind chill off. £65 from Rohan
I also took a couple of merino base layers I'd bought for cycling, but which were great on the mountain too; try Chapeau's Blue and Oatmeal top. £59.99 from Chapeau
T-shirts/vests x 4
I just took some tops I already had, but I should have invested in moisture-wicking ones as things did get pretty sweaty; Uniqlo's AIRism vests and T-shirts are designed to do just that. £7.90 from Uniqlo
Waterproof trousers
Pakka's waterproof trousers are cheap and cheerful, with velcro at the ankles so you can get them over your boots. £12.99 from Mountain Warehouse
Zip-off trousers
You could take separate shorts and trousers, but I prefer to pack light, so I took Columbia's two-in-one Silver Ridge Convertible Pants. They're very thin, so great for the early, hot days of the hike, and loose enough to be combined with thermals if needed. £60 from Columbia
Thermal bottoms x 2
I call these long johns, but apparently no one else does anymore. Helly Hansen does a good range, including the Lifa Twin Pack (top and bottoms together). £40 from Cotswold Outdoor
Ski trousers
I hired these from my tour company for around US$15, but if you want to buy your own, Wed'ze's Slide 300 have a fleece lining and come in black or a jazzy shade of turqoise. £29.99 from Decathlon
Thick socks x 6
Walking socks seem to come in absurdly broad size ranges, and I found most women's pairs too big for my size five feet. So instead I went for Karrimor Juniors (yes, they're for children), which fit perfectly. £4.50 for two pairs from Karrimor
Liner socks x 6
These are thin socks that go under your thicker ones, and wick away moisture to, in theory, help you avoid blisters. The Bridgedale Coolmax Liners served me well. £13.49 for two pairs from Dash4it
Gloves
So, so important for summit night. Salomon's Element gloves are sturdy but with a nice, soft lining. They come up a little small, so be sure to go a size bigger if you plan to put hand warmers in them. £59.99 from Ellis Brigham
Balaclava, snood or similar
I took a Buff Polar and it worked a treat; essentially a tube of thin fabric with fleece at one end, it comes in a range of different colours. £27 from Buffwear
Sun hat or baseball cap
I wore one I got for $5 at a gas station in Mississippi, but if you want something more stylish, try the Nike Metal Swoosh Logo cap. £12 from Nike
Kit
Day pack (approx 30 litres)
I took the Lowe Alpine Airzone Pro ND, which is spacious, comfortable to carry and has a side zip that I could put my water bladder tube through (try this one instead if you want a dedicated pocket for your bladder). £110 from Lowe Alpine
Duffle bag (approx 80 litres)
I took North Face's excellent, waterproof Base Camp Duffel in size medium (69 litres), which I just about managed to squeeze everything into, but I'd recommend upgrading to large (95 litres) to be on the safe side. Remember, though, that you can only take a maximum of 15kg. £115 from The North Face
Water bladder (minimum 3 litres)
The Best Beeway Backpack Water Reservoir is sturdy and has an insulated tube, so it takes a little longer to freeze on summit night (though it will eventually). £13.99 from Amazon (includes cleaning kit)
Water bottle (1 litre)
I didn't take one but I wish I had, both for summit night (see above), and to use as a makeshift hot water bottle to warm my feet (I borrowed someone else's for that purpose). Try the 1L Metallic Bottle With Karabiner. £4.49 from Mountain Warehouse
Four-seasons sleeping bag
Rab's Ascent 900 down sleeping bag takes up a fair bit of space, but it's extremely soft and kept me incredibly warm. £270 from Cotswold Outdoor
Roll mat
Some tour operators lend these out for free, or they can be hired. I borrowed a Thermarest from a friend, which did a great job of protecting me from the cold ground. £59.99 from Ellis Brigham
Head torch
The name of the LE Super Bright LED Headlamp says it all. Cheap but does the trick. £5.50 from Amazon
Walking poles
I hired for about US$10 and didn't really like them, but you can buy if you prefer. Go Outdoors has a selection from £4.99
Extras
First aid kit
Hand towel
Toiletries (wet wipes, deodorant, sunblock and sunblock lip balm)
Sunglasses
Portable power supply
You won't have signal most of the time, but assuming you use your phone for taking pictures, you might want to take one or two of Varta's Portable Power Banks with you to plug into. £9.99 from Amazon
Urine bottle
Trust me, if you have your own tent (I wouldn't recommend this if you're sharing), you won't regret taking one of these. It's exactly what it sounds like, and it will save you having to go out into the cold in the middle of the night (inevitable when you're drinking at least three litres a day). Honestly. £5.99 from Boots
Register for free to continue reading
Registration is a free and easy way to support our truly independent journalism
By registering, you will also enjoy limited access to Premium articles, exclusive newsletters, commenting, and virtual events with our leading journalists
Already have an account? sign in
Register for free to continue reading
Registration is a free and easy way to support our truly independent journalism
By registering, you will also enjoy limited access to Premium articles, exclusive newsletters, commenting, and virtual events with our leading journalists
Already have an account? sign in
Join our new commenting forum
Join thought-provoking conversations, follow other Independent readers and see their replies