The Independent's journalism is supported by our readers. When you purchase through links on our site, we may earn commission.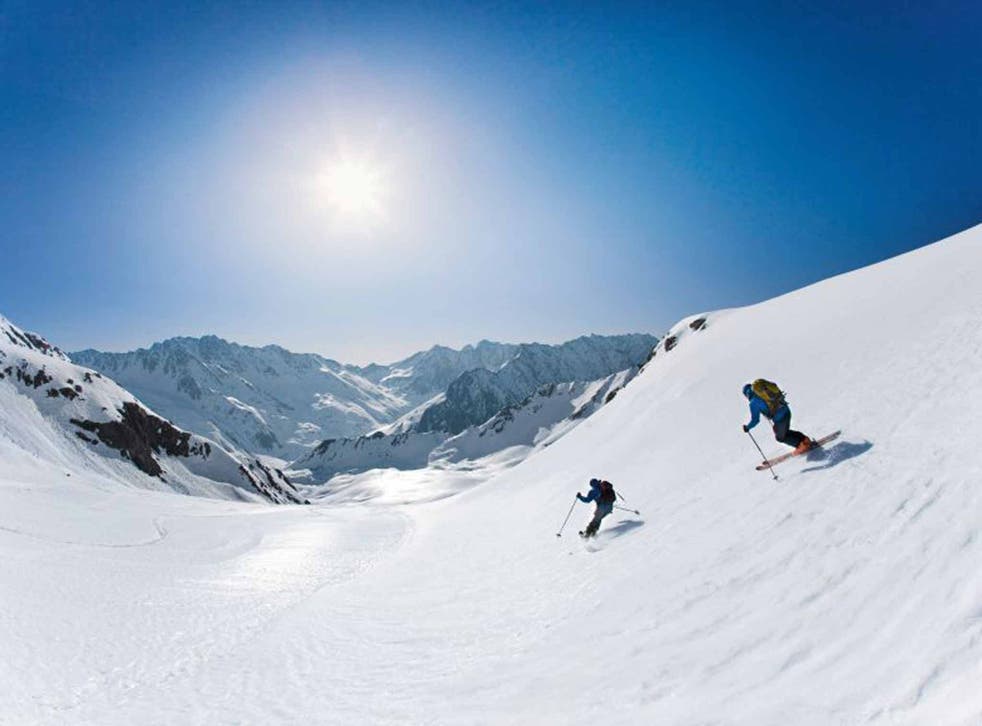 Ski in James Bond's tracks or abseil in east London: Active holidays 2015
From swimming in Iceland to questing walkers in Spain, Chris Leadbeater looks at active holidays for 2015
The craggy corners of the US are always epic spaces for breaks with an energetic edge. But 2015 might be the year to step away from the glamourous mountains of Colorado and try the rather more offbeat Alaska (travelalaska.com). America's biggest – and most dramatic – state will come into focus as its most populous city reaches its 100th birthday.
Anchorage (anchorage.net) is an intriguing urban pocket on the lip of the Cook Inlet, with inviting bars and restaurants on West 5th Avenue. It also acts as a gateway to a true natural wonder. Denali National Park – which cradles North America's tallest peak, the 20,237ft Mount McKinley – lies 200 miles north of the city (a tiny hop in Alaskan terms), and is an ideal enclave for hiking and climbing. It also features in the Awesome Alaska tour now offered by Solos Holidays (0844 371 8860; solosholidays.co.uk) – a new 12-day group trip, aimed at single travellers, which costs from £4,999 per person, including flights and breakfast. It takes off from Heathrow and goes via Minneapolis to Anchorage on 23 August.
Back in Europe, Iceland (iceland.is) is renowned as a place of water, with roaring falls and gushing geysers – but rarely as a place where you should swim. However, it is plausible if you opt for a sojourn at the Ion Luxury Adventure Hotel (00 354 482 3415; ioniceland.is). This boutique property offers jaunts to the nearby Thingvellir National Park, where the Eurasian and North American tectonic plates grumpily meet. Guests can snorkel in the deep Silfra fissure (from ISK15,990/£81, peering down at the planet at its most cracked – before retiring to the hotel for spa treatments (from ISK9,500 I/£48) that use ash from 2010's volcanic enfant terrible Eyjafjallajokull. Doubles for ISK33,500 (£170), room only.
If skiing is your rugged pursuit of choice, Austria (austria.info) will have its moment in 2015. But not in the fabled resorts of Mayrhofen, St Anton or Kitzbuhel. Instead, Sölden (soelden.com) will leap into the frame as one of the settings for the latest James Bond movie Spectre. Script leaks notwithstanding, filming is scheduled to take place during January and February. With 91 miles of pistes and two glacier areas, Sölden provides a wealth of downhill challenges. A half-board week in March at the four-star Hotel Tyrolerhof, including flights from Manchester to Innsbruck and six-day lift passes, costs from £1,095 per person with Neilson (0333 014 3351; neilson.co.uk).
For warmer escapades, fly off in search of African wildlife. But not to classic destinations such as Kenya or South Africa. Instead, try Zambia (zambiatourism.com), where Robin Pope Safaris (00 265 179 4491; robinpopesafaris.net) specialises in walking tours into the lions' den. Elephants, giraffes and buffalo are also part of the tapestry in South Luangwa National Park. Two separate seven-night forays are slated for 2015 (28 August, 4 September). Guests cover six miles per day on foot with a guide and a scout, sleeping in mobile camps. Prices start at £4,279 per person, full board, without flights.
Closer to home in Spain (spain.info), the Camino de Santiago is also a venue for questing bootsteps. But why not break the mould in 2015 and cover the time-honoured pilgrimage path to Santiago de Compostela by pedal power? Explore (01252 883 980; explore.co.uk) has launched a new Cycle Camino de Santiago tour – a 10-day self-guided break which traces the last 203 miles of the route, starting from León and forging west through leafy Galician countryside. Trips are possible between March and November, from £935 per person – including hotel accommodation, breakfast, luggage transfers and bikes but not flights.
You can also find a quirky take on the activity break on home soil, at the ArcelorMittal Orbit (0333 800 8099; arcelormittalorbit.com) . It has swapped the concept of climbing a London landmark to admire the view for the more unnerving concept of sliding down it.
The 377ft red steel tower – which supplied a note of modern art to the 2012 Olympics (and is now officially part of the post-Games Queen Elizabeth Olympic Park in Stratford, east London) – has introduced abseiling days which let brave visitors descend 260ft from the upper viewing deck. Prices start at £85. Sessions are available on 25 April, 16 May and 28 June.
Register for free to continue reading
Registration is a free and easy way to support our truly independent journalism
By registering, you will also enjoy limited access to Premium articles, exclusive newsletters, commenting, and virtual events with our leading journalists
Already have an account? sign in
Register for free to continue reading
Registration is a free and easy way to support our truly independent journalism
By registering, you will also enjoy limited access to Premium articles, exclusive newsletters, commenting, and virtual events with our leading journalists
Already have an account? sign in
Join our new commenting forum
Join thought-provoking conversations, follow other Independent readers and see their replies