Wild swimming: Forget the pool and go wild instead
There's no need to hop on a plane in search of aquatic thrills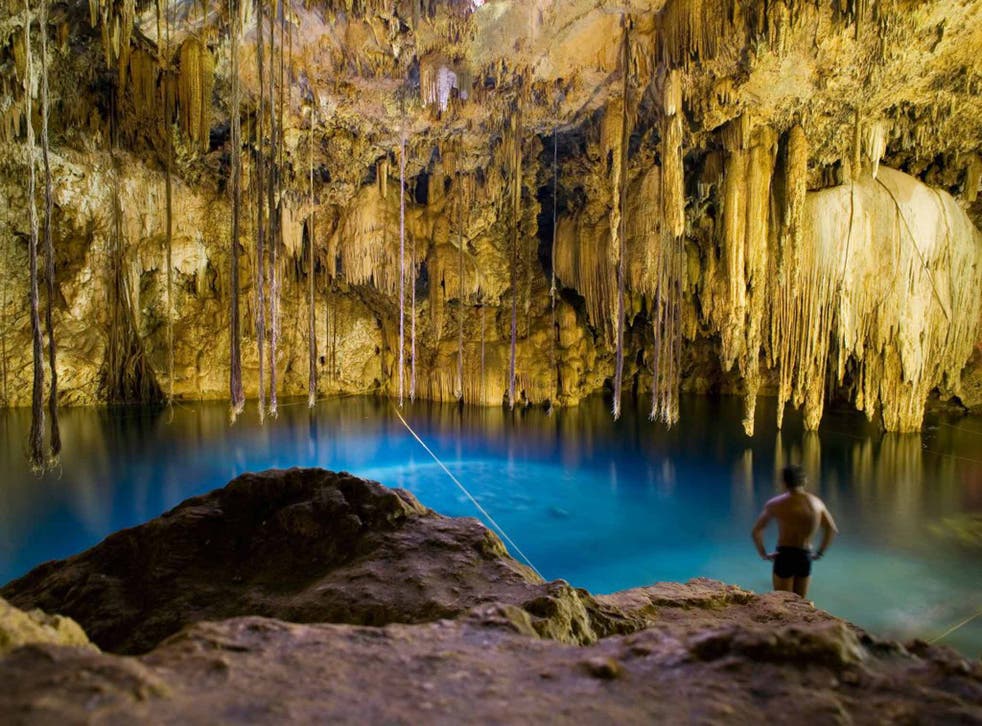 A nip in the air is no reason to forgo the wonders of wild swimming. You can still take a dive into the temperate waters of some of the world's most beautiful and unusual swimming spots, from waterfalls and forest pools to bat caves.
Hidden in the hills of Thailand, near the river town of Kanchanaburi, the fabled three-headed Hindu elephant god Erawan has taken the form of a magnificent seven-tiered waterfall. Erawan's Falls, in the national park of the same name, are linked by a steep, mile-long hike, which can take most of the day to complete if you stop for a dip in the crystal clear waters of each of the lagoons.
In the first pool little fish nibble harmlessly on your toes, while the fourth and fifth have natural stone slides on which you can whoosh down into the water. The tiny seventh pool is said to resemble the head of Erawan himself. Stay in the park's bungalows from 800 Thai baht (£14.50) for two people, or one of Kanchanaburi's cheap and cheerful guesthouses. Park entrance costs 300 baht (£5.40) and it is easily reached by bus from Kanchanaburi (thainationalparks.com).
Troglodytes should pack their bathers for Mexico's Yucatán Peninsula and go in search of Cenote X'keken, a cave full of deep, still water, with a ceiling of limestone arches and stalactites. As you swim in the chilly cenote (sinkhole), shards of light descend through cracks in the roof, where you'll find the cave's other regular visitors – leathery little bats. X'keken is an easy cycle from the town of Valladolid, where you can rent bikes from La Candelaria hostel (0052 985 856 2267; hostelvalladolidyucatan.com), which will also give you a hand-drawn map. Doubles from 380 Mexican pesos (£15).
If your idea of wild swimming is rather more paradisical, live out your Swiss Family Robinson fantasies on Espiritu Santo, one of the many islands of Vanuatu, in the South Pacific. In the depths of the forest are the Blue Holes – formed by springs of fresh water rising up from limestone, the water is a bizarrely pure, bright crayon blue. Nanda Blue Hole (entry A$5/£2.30; nandabluehole.com) is the largest and loveliest.
But there's no need to hop on a plane in search of aquatic thrills. If you've got a thick enough wetsuit you can prove your mettle with a skin-tingling autumn swim in Pembrokeshire's Blue Lagoon, hidden in the cliffs above Abereiddy Beach. Walk up a little path past ruined slate workers' cottages and you'll suddenly stumble upon this man-made sea-water lagoon of deep, sapphire blue. Those brave enough to dive in and swim across are rewarded with jutting slate steps to clamber up for a heart-stopping leap into the depths.
Register for free to continue reading
Registration is a free and easy way to support our truly independent journalism
By registering, you will also enjoy limited access to Premium articles, exclusive newsletters, commenting, and virtual events with our leading journalists
Already have an account? sign in
Register for free to continue reading
Registration is a free and easy way to support our truly independent journalism
By registering, you will also enjoy limited access to Premium articles, exclusive newsletters, commenting, and virtual events with our leading journalists
Already have an account? sign in
Join our new commenting forum
Join thought-provoking conversations, follow other Independent readers and see their replies