The Independent's journalism is supported by our readers. When you purchase through links on our site, we may earn commission.
Timket: Why Addis Ababa's Epiphany celebrations are the best party in town
You don't have to be religious to get a kick out of these energetic festivities, says Lynn Houghton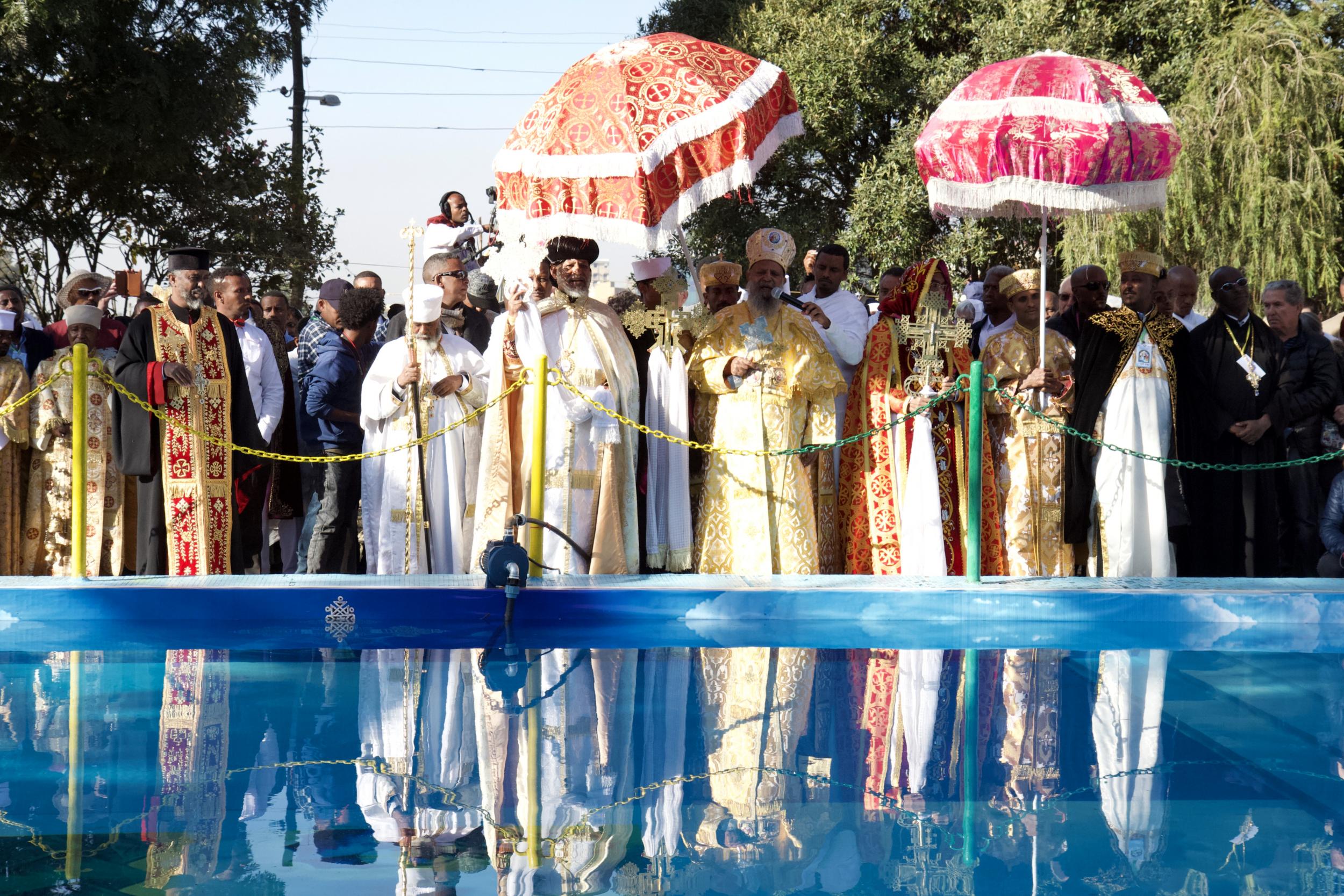 The shrill call to prayer signals another clear, bright dawn in Addis Ababa, Ethiopia's bustling capital. Rubbing the ever-present red dust from my eyes, I arise and peer out the window, gazing at the crescent that sits jauntily above the minaret's bulbous crown. It's time to prepare for a unique experience during an important time: Epiphany.
Also known as Timket, a word derived the ancient Semitic language of Ge'ez, this joyous celebration is one of the most popular dates in the Orthodox Church calendar. In recognition of the three kings following the Eastern Star and bringing gifts to the Christ child, it takes place 12 days after Christmas on the 19 January. While there are plenty of followers of Islam in Ethiopia, the majority of people are Orthodox Christians – Timket, therefore, is a national holiday.
Weaving through heavy traffic (avoiding goats being herded and huge buses transporting locals), I make my way to the western part of the city known as Meda. Red, yellow, and green bunting flutters in the breeze. Ornaments with colours of the national flag remind me of rebellious Christmas tree decorations that have escaped Santa's workshop.
In the early morning sun, thousands of worshippers, many attired in traditional garb of white cotton robes, descend onto an enormous grassy field. Covering several acres, this is the designated zone for the main Timket events. Many come to listen to venerated priests and holy men perform the epiphany service around the baptismal pool or to hear sermons in a large tented area. But just as many are attending for the recreational activities taking place after religious readings are complete.
Celebrating Easter in Mexico with a crucifixion
Show all 11
Crowd control is intense, with blue-uniformed police searching everyone entering the compound. Creeping around others, I make my way to the heart of the action and approach the perimeter of the chained-off pool to get a better look. On the northern end is a large rainbow arch situated over a life-sized golden statue of Christ. A water feature replicates baptism, with liquid spilling from a jug of water tilted over Jesus's head. At the other end of the pool is a replica of the ark of the covenant, or tabot, nestled at the feet of several elders. Arrayed in opulent red and gold liturgical garments, the men are shielded from the sun by large umbrellas of beautiful brocade trimmed with fine fringe. The boundary of the basin is crowded with clergy, media, several tourists and the ever-present faithful.
The quiet service begins with readings and low-pitched chanting from some of the men. Filigreed crosses appear, each one representing a different historic part of Ethiopia (Lalibela, Axum, Gondar). These enormous crosses, plus a holy book, are paraded around at significant times during the ceremony. The language barrier makes it difficult to appreciate what is happening, but the symbolism helps fill in the gaps.
After about half an hour, there is shrieking! A huge collection of congregants has been pressing in to get close to the pool and are now being hosed down during a particularly messy communal baptism event. All is accompanied by a cacophony of clapping, whistling and shouting. I get roped into several family photographs; the atmosphere is electric.
Now the festivities really begin. Several have brought footballs and set up impromptu pitches far from where serious sermons have been taking place, while still others bring picnic lunches of traditional Ethiopian food including injera bread and wonderfully spicy curries and lentils. Small stoves are set up for coffee beans to be freshly roasted to make the deep, dark drink that is revered here. Some attendees have come by horse and offer rides to delighted children.
The day before, a whole myriad of processions had taken place with thousands taking part. Each church group, with their own colourful style of costume, marched in choreographed unison to upbeat songs. As groups processed down the street, the clapping and singing became louder.
Enormous wooden and cardboard structures with pictures of the Virgin Mary and other saints were paraded behind the marchers. The entire parade, including the giant posters, circumvented a monolithic monument in the middle of a roundabout dedicated to those who fell during the Italian reprisals of 1937. Long red carpets were unfurled before these images with women scurrying ahead of the procession, furiously sweeping dust off the rugs.
Back in the present, I squeeze out through a very crowded exit and make my way to the largest church in Addis Ababa, the Medhane Alem Cathedral. Further festivities are taking place, including a huge procession of horns (imbilita) followed by shouting and singing participants in white robes. As the priest joins along with the singing, I admit this feels much more like a party than any traditional church I've experienced. I doubt anyone would disagree that the Ethiopians' enthusiasm for Timket is infectious.
Travel essentials
Getting there
Ethiopian Airlines flies daily from Heathrow and four times per week from Manchester to Addis Ababa, from £455 return.
Staying there
Far & Wild Travel specialises in tailor-made holidays plus small group tours to Ethiopia and offers a Timket Festival Tour in 2020, from £3,685pp.
Join our commenting forum
Join thought-provoking conversations, follow other Independent readers and see their replies