The Independent's journalism is supported by our readers. When you purchase through links on our site, we may earn commission.
Alien igloos, lions and leopards: Escaping the safari crowds in Tanzania
A new sci-fi-style safari camp offers a more low-key, solitary experience than you would normally find around one of Africa's biggest tourist attractions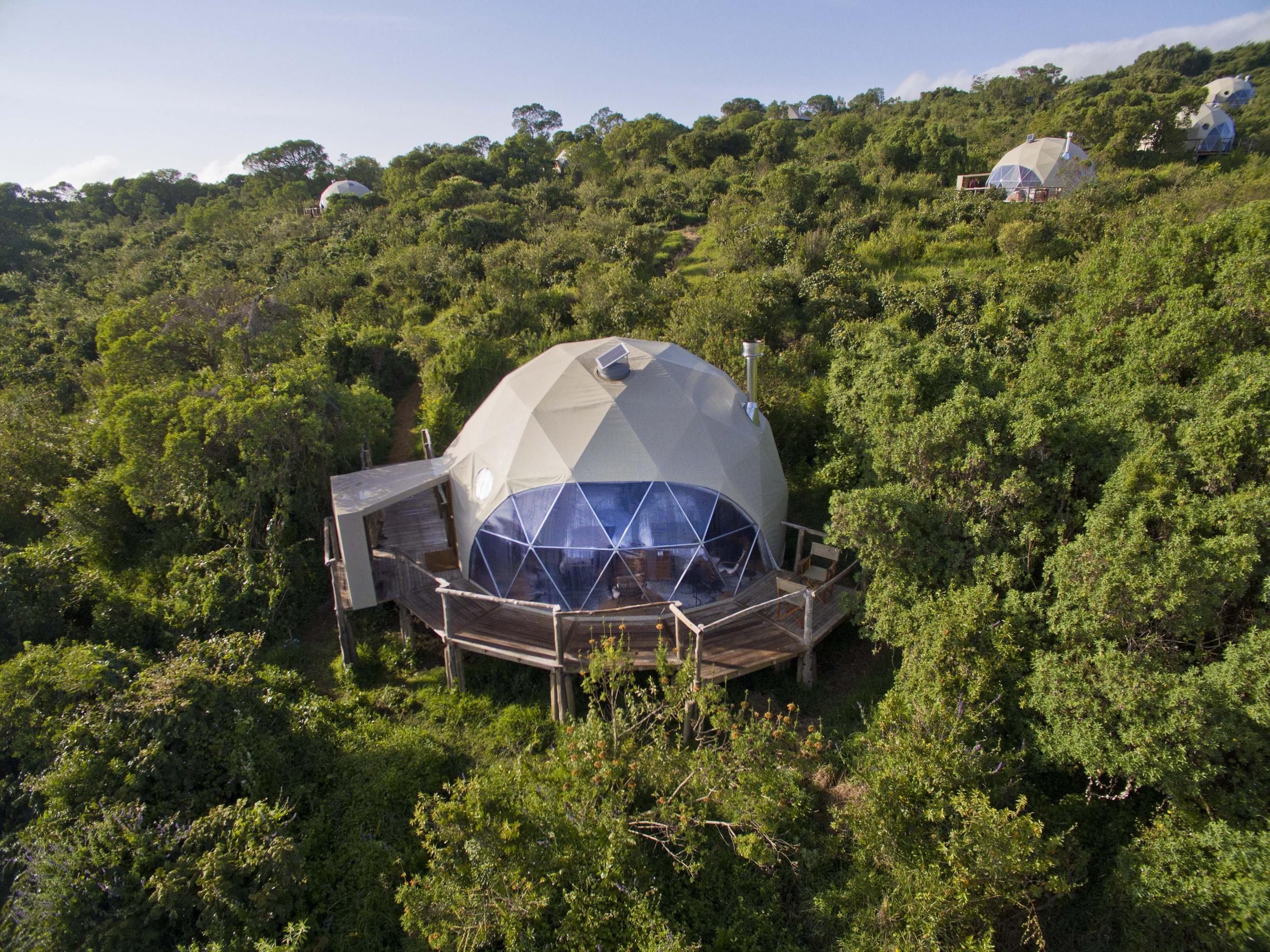 Shake, shake, bang. The car jerks down another dip on the dirt track; fine volcanic dust swirls up in our wake. As it clears, moon-white faces appear brightly in the distance. They move closer, revealing three young girls with spirals and geometric patterns painted thickly onto their skin in chalk.
I'm in North Tanzania, on my way to stay at a new lodge tucked up in its highlands, well away from the tourist hullabaloo that concentrates around the country's famous Ngorongoro Crater. Here, 22km north-east of one of Africa's biggest tourist attractions, there are no other lodges; just wide, open land where the Maasai roam, their lives seemingly little changed.
As we pull up at the camp, after a three-hour drive from Lake Manyara Airport, the air is notably cooler – we're now 2,670 metres above sea level. Overgrown grassy paths, flanked with swathes of wild flowers, lead us to a scattering of almond-coloured, bulbous domes peeking over the vegetation. There are eight of these unusual, alien-looking tented pods spread across the hillside. It's like I came looking for a safari, but found a sci-fi set instead.
The camp is within the Ngorongoro Conservation Area, a Unesco World Heritage Site and multiple land use area, where protected wildlife wanders freely among the Maasai, who number 50,000 here. While it's Ngorongoro Crater that draws crowds for the incredible concentration of wildlife within, there's also a wealth of under-explored riches outside its rim.
"Our guests visit the Ngorongoro Crater but also Empakai and Olmoti, two less well-known craters we're close to," Victor, the lodge's manager, explains. "We call them the silent craters because no visitors go there." This is a volatile and restless land where tectonic plates shifted more than two million years ago, ripping apart Earth's crust. Volcanoes lifted their fiery heads, before some collapsed to create the peppering of calderas that now surround us.
One morning, after looking out at glorious uninterrupted mountain views over a big breakfast on the lodge's terrace, we head off to explore Empakai Crater. We go with an armed ranger (it's compulsory) as well as our Maasai guide, Lenganasa, because unlike in the Ngorongoro Crater, where you are vehicle-bound, we can be footloose and fancy-free. As footloose as you can be with unpredictable buffalo around, anyhow.
Looking down into the crater from the top, it resembles a big washing basin with a lake as its centrepiece, fringed with shimmering white salt. We clamber down through the forest cloaking the crater's steep walls. At the bottom, flamingos lift their wings, flashing salmon-pink feathers. Decorated morans (young Maasai warriors) sit among herds of cows.
After the one-hour climb back up we return to camp by car. Outside, hills sweep down into wide plains sprinkled with clusters of Maasai bomas (livestock enclosures). Buttercup-gold light bathes zeals of zebras and the open land accentuates kori bustards, yellow-billed kites and golden-winged sunbirds. Herds of cattle are dwarfed by the expanse. Each herd circles around a burst of colour: the Maasai's red checkered shukas (traditional garments) jolt the landscape.
Back at the lodge nights are cosy. Although the days are warm, temperatures at night can drop as low as -1C. Early evening one of the housekeepers – a large percentage of the lodge's staff are Maasai – lights fires in the wood burners (each dome has its own) and the enormous beds are warmed with soft, faux-fur-covered hot water bottles.
The lodge is the latest from the well-respected South Africa-based safari company Asilia, and it ushers in a new species of safari camp. While in the beginning I found the "alien igloos" a little too at odds with the ancient land rising up around them, once I get used to the contemporary design there is much to love.
After a delicious supper of grilled beef we are escorted back to our tent by one of the camp's friendly night-duty guards. "There's a leopard often seen in the camp," Victor explains. Solar lights, which hang from shepherd hooks, trail up the hill, lighting the way.
Inside the pods, animal skins cover the floor and photographs of Maasai life adorn the walls. The fronts of the tents are made of strong clear plastic, so in the mornings you can admire the sweeping views stretching out before you without leaving the bed.
Next morning, Olmoti Crater entails another beautiful walk and has a waterfall tumbling down its sheer sides. Climbing back up, we are excited to pass fresh lion prints. Chameleons clamber in the grasses and old man's beard hangs from the trees. At the top we lie in the sunshine, and steppe eagles soar so close I can see their markings. We watch cows tramping down the hills like large armies. They head to the spring water which flows along the crater bottom, their steady advance relaxing to watch.
Despite my preference for safaris without crowds, we spend one day in the Ngorongoro Crater. There's a reason why more than 400,000 people visit per year. It's one of the world's largest unbroken calderas, and its walls form a natural enclosure for one of the biggest concentrations of wild animals on earth. "The problem is there's no limit on the number of vehicles that can enter," Lenganasa explains. But fortunately our lodge is closest to the Lemala entrance, quieter than the alternative Lodoare gate on the crater's opposite (and busier) side.
We see zebra stallions fighting and ostriches streaking past rhino. Lions are everywhere; we watch them mate (the male roaring right by us after he rolls over), a lioness stealthily stalking a wildebeest, and a huge pride sleeping soundly, all stretched out by a stream. We count 27 spotted hyenas, their humped backs dramatic against the big sky, mingling with grey crowned cranes, jazzy with their red throats and golden mohicans. One corner of the grassland is forested, full of beautiful yellow-barked acacia trees and herds of elephants.
Our last day is spent strolling among the hills near the lodge and experiencing slivers of Maasai life up close. In other parts of Tanzania, meeting Maasai has become limited to fake encounters at a tourist boma – something The Highlands is thankfully determined not to replicate. Instead they organise for us to visit a family in their village.
As we arrive Loosidan, a Maasai man with stretched ear lobes and a dagger at his waist, finishes placing his goats inside a kraal. Women wear striking necklaces, the colour of tropical birds, around their necks and have silver beaded chains sparkling from their ears. Loosidan ushers us inside his home – made from mud, cow dung and sticks. We sit chatting with him and his wife, while their children run around and my eyes adjust to the dark, smoky interior.
Suddenly we hear a truck pull up. Several morans jump out, their silver headpieces glinting, and one carries a blackened cooking pot. "They've just returned from spending a week in the forest," Lenganasa says. "A group of them go to eat meat and medicinal roots. This tradition, called orpul, makes us strong."
The majesty of these highlands is made all the more beautiful by this distinct and colourful culture. As we leave I take one last look back: the shukas and the setting sun all blaze red.
Travel essentials
Getting there
Kate Eshelby travelled with KLM (klm.com) from Heathrow to Kilimanjaro International Airport via Amsterdam. Connecting flights with Coastal Aviation (coastal.co.tz) take you on to Lake Manyara.
British passport holders require a visa to visit Tanzania, available at the airport (US$50).
Staying there
Kate Eshelby was hosted by Tanzania Odyssey (0208 704 1216; tanzaniaodyssey.com). Accommodation at The Highlands camp starts at US$760 per person per night, including full-board with house drinks and all activities. This excludes the Ngorongoro Conservation Area fees which are $70 per person for 24 hours and the crater descent fee which is $295 per vehicle. The Highlands camp only accepts children from the age of five. Children aged five to 18 are charged 50 per cent of the adult rate.
Join our commenting forum
Join thought-provoking conversations, follow other Independent readers and see their replies