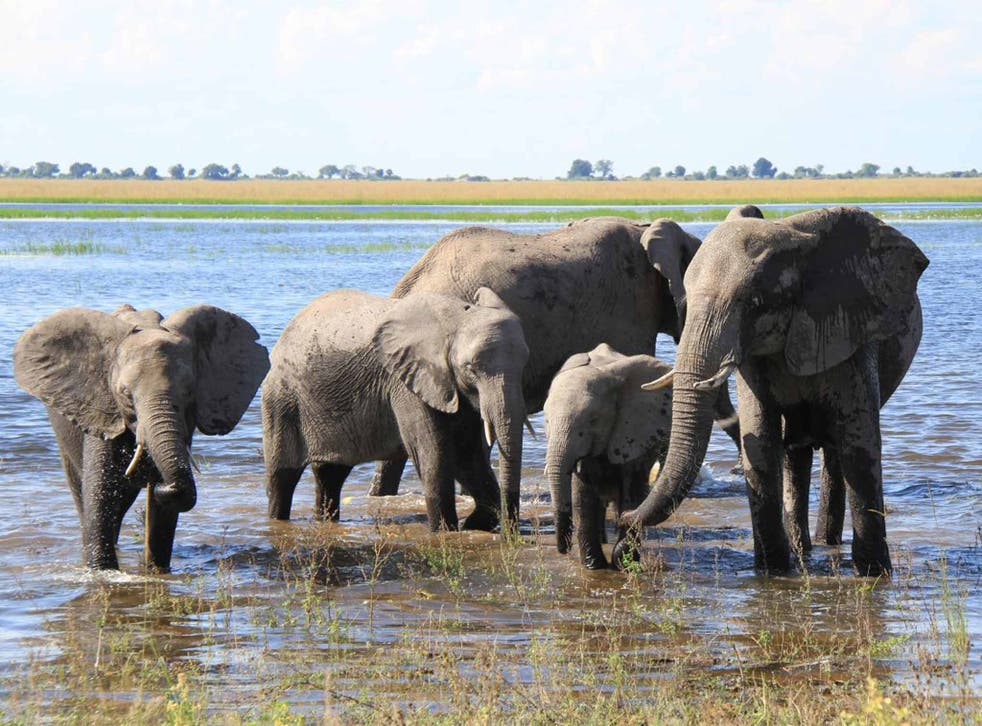 Botswana: A trunk call for elephant conservation
Being tickled by an elephant is a surreal sensation. Jabulani is a giant, measuring three and a half metres to his shoulder – more than twice my height – and I felt tiny standing beside him in the heart of the Botswana bush. As he sniffed my skin, his warm, whiffy breath and the wiry hairs on his trunk brushed my arm, making me giggle like a child. His huge, milky white tusks were cool to the touch and as smooth as polished glass, curving to the sky in a sweeping arc. To Jabulani (affectionately called Jabu) they're simply tools to help him in his daily life, but to poachers they're worth millions.
A staggering 50,000 elephants are slaughtered annually to meet the global demand for ivory, part of an illegal wildlife trade worth over £11bn. Botswana, which next year will host an anti-poaching conference, has an exemplary record in this respect, and is home to approximately 200,000 elephants – among them Jabu and his two pachyderm pals, Thembi and Morula.
Twenty five years ago, Americans Doug and Sandi Grove started caring for two-year-olds Jabu and Thembi, after the animals were orphaned by culling operations in South Africa. Six years later, the couple adopted Morula – then an anti-social 17-year-old female from Zimbabwe, traumatised by culling and difficult early years. A zoologist and elephant trainer in the film industry, Doug helped the three recuperate and taught them commands. Now living in Sanctuary Retreats' private concession in the Okavango Delta, through their charity Living with Elephants, the couple offer visitors an intimate morning with the animals, interacting and walking with them through the bush.
Standing alongside Jabu, I felt weirdly relaxed, stroking him like I would my dog. "He has a very calming effect on people," Sandi confirmed. "He's a big guy, but he's cuddly too." His thick, tough skin has ridges like tyre treads and coarse black hairs all over, helping him to sense even the smallest fly on his enormous seven-ton body.
Doug introduced us to Thembi. "She's very highly strung; something as innocuous as a butterfly can freak her out. But she's incredibly clever and resourceful." Using Thembi as his model, Doug explained an elephant's unique features: the intricacies of their trunks, which are "like having your nose on your fingertips", their six sets of molars, the unusual third eyelid-type membrane that flits across their eyes. We learnt about their greeting rituals, family lives, physiology, and evolution, and their vital role as eco-engineers, preventing bush encroachment.
Then I took Morula for a walk. "Keep your hand flat, palm up, and she'll put her trunk on it and walk with you," Sandi advised. We ambled along a dusty track, trunk-in-hand, for 15 minutes. If I slowed down, she did too. If I quickened my pace, she came with me, gentle and eager to please. Sandi described her character, heavily influenced by her troubled background. "She has a great need for love, and to express love: she's very tactile and clingy." Following our stroll, Sandi told me to hold out my arms and with a low rumble of contentment, Morula promptly plonked her trunk in them like an enormous, heavy baby.
After a buffet lunch under the shade of an acacia, the elephants demonstrated their repertoire of noises, from deep breathing to piercing squeals – sounds Doug variously described as double didgeridoo, raspberry, and a storm rolling across the savannah. On tip-toes, I touched the top of Thembi's trunk as she followed Doug's commands, feeling astonishingly different vibrations for each sound. The finale was a cacophony of excited trumpeting from Jabu and Thembi, reverberating all around us.
But this isn't just a gimmick for tourists. With the money raised by the charity, 12-14-year-old local children come to the bush for two days, learning how to live with their pachyderm neighbours, increasing their understanding and helping to reduce human-wildlife conflict. Sleeping at Doug's Camp, the children spend precious time getting to know the orphans. "We do before-and-after artwork with the children, and a regular comment after they've been with us is 'we've learnt that elephants can be our friends'," Sandi noted. Back at school, they share their experiences with classmates. To date, some 2,500 children have met these charismatic elephants and it's hoped the message will spread like ripples in a lake.
Sanctuary Retreats' guides take the children on game drives, aiming to lessen their fear of wildlife. They also visit Sanctuary's camps, Baines' and Stanley's, the only two in the concession, to learn about the employment possibilities through tourism that wildlife brings to the Okavango Delta.
I stayed at Baines' Camp. With just five suites, it's intimate and relaxed, overlooking the amber-coloured Boro River scattered with water lilies, papyrus fringing its banks. On boat trips we encountered hippos, crocs and a gamut of birdlife that included pretty white-fronted bee-eaters and malachite kingfishers. On game drives, we realised elephants weren't the Delta's only residents. Giraffes, impalas, red lechwe, baboons, warthogs, kudu, and hyenas were easily spotted – unlike other tourists, who were rarely seen.
By contrast, Chobe National Park, covering 10,500 square kilometres of Botswana's north-east corner, is the country's busiest park for both visitors and elephants, whose population wavers between 45,000 and 80,000 depending on migration patterns. In April when I visited, the inky waters of Chobe River flowed calmly over the floodplains. Hundreds of elephants came each afternoon to drink and frolic in the mud.
As I sat on my terrace at Sanctuary's beautiful Chilwero Lodge on the Park's border, around 100 elephants sauntered past just beyond the fence. For two hours, they mooched around pulling up grass as they headed to the river. Their giant footsteps were silent, but their gentle rumblings and quiet majesty were enough to get my attention.
When the dry season starts in June, the shrunken Chobe River attracts thousands of elephants. To help protect them, an ambitious trans-frontier conservation area involving Angola, Namibia, Botswana, Zimbabwe, and Zambia has recently been established. Despite this, concerns for elephant safety are rising. "We definitely feel that the wave of poaching in East Africa is moving south," Sandi told me. "Our long term aim was to release Jabu, Thembi, and Morula to the wild but we'll have to see how things develop." And, as if thinking the unthinkable, her sentence petered out with the words "Jabu has such lovely long tusks …"
Getting there
Sue Watt travelled with Rainbow Tours (020 7666 1250; rainbowtours.co.uk) which offers three nights at Sanctuary Baines' Camp and three nights at Sanctuary Chobe Chilwero from £3,845pp. The price is based on two people sharing and includes South African Airways flights from the UK to Botswana via Johannesburg, local light aircraft flights, full board, and scheduled game activities. Elephant activities cost from £230pp.
Five top elephant conservation trips
100 miles for elephants, Kenya
Join a 100-mile sponsored walk around Kenya's Kirisia Hills for UK charity Space for Giants (bit.ly/WalKenya), which was supported by the Independent Elephant Appeal. Over nine days, walking with Samburu guides and camel caravans, you'll help fund wages, equipment, and scout training. Highlights include visiting a community anti-poaching project and wildlife sanctuary, and lunch with the "Space for Giants" team. From US$3,950 (£2,469), excluding flights. Minimum sponsorship is US$500 (£313) with a target of US$2,500 (£1,563). The next departures are on 17 September, and in February and September 2015.
Elephant collaring project, Tanzania
The Saadani Elephant Project Team collars elephants to track their movements and mitigate human wildlife conflict around Tanzania's Saadani National Park (01285 643 333; steppesdiscovery.co.uk). Joining the team, you'll help track suitable elephants by helicopter, vehicle, and on foot, and assist with darting, collaring, or keeping the animals comfortable during collaring operations. You'll spend a night in an observatory, and explore this unique park where wildlife often wanders on to the beach. The trip runs annually in autumn – 2015 dates to be confirmed. From £4,295, excluding flights.
Researching elephant populations, Botswana
The Botswana Eco Wilderness Project collates vital information on the Tuli elephant herds that migrate across the wilderness of the Greater Mapungubwe Transfrontier Conservation Area bordering Botswana, South Africa, and Zimbabwe (01454 269 182; conservationafrica.net). Activities include monitoring elephants and their relationships with predators, developing identification cards for bulls and breeding herds, recording population numbers, age and gender structure of herds, and noting herd dynamics of around 1,200 elephants free-roaming the Tuli Block. From £2,620 including flights.
Save the Elephant Safari, Kenya
This elephant-focused safari includes three visits to Daphne Sheldrick's Elephant Orphanage in Nairobi, which rears young elephants orphaned by poachers, along with two visits to elephant release sites in Tsavo National Park, with the David Sheldrick Wildlife Trust (01473 890 499; tribes.co.uk). The cost includes sponsorship of a baby elephant. You'll see young elephants having mud baths and being bottle-fed at Ithumba stockades, where they're prepared for release, although many released elephants return to drink at the waterhole, providing plenty of pachyderm activity. From £3,175, excluding flights.
A game of cats and elephants, Namibia
Volunteers help with surveys on elephant, leopard, and cheetah populations in central Namibia's Khomas Highlands, as well as receiving training in basic bush skills and telemetry (0870 446 0801; biosphere-expeditions.org). As well as aiming to capture and collar leopards and cheetahs, and assisting with general game counts, you'll track elephants early in the morning, recording their activity and location, helping to inform research on their impact on the ecosystem of Namibia's conservancies and game farms. The trip costs from £1,860 for 12 nights, excluding flights.
Join our new commenting forum
Join thought-provoking conversations, follow other Independent readers and see their replies