The Independent's journalism is supported by our readers. When you purchase through links on our site, we may earn commission.
Addis Ababa city guide: Where to eat, drink, shop and stay in Ethiopia's lively capital
How to make the most of a trip to this buzzy African city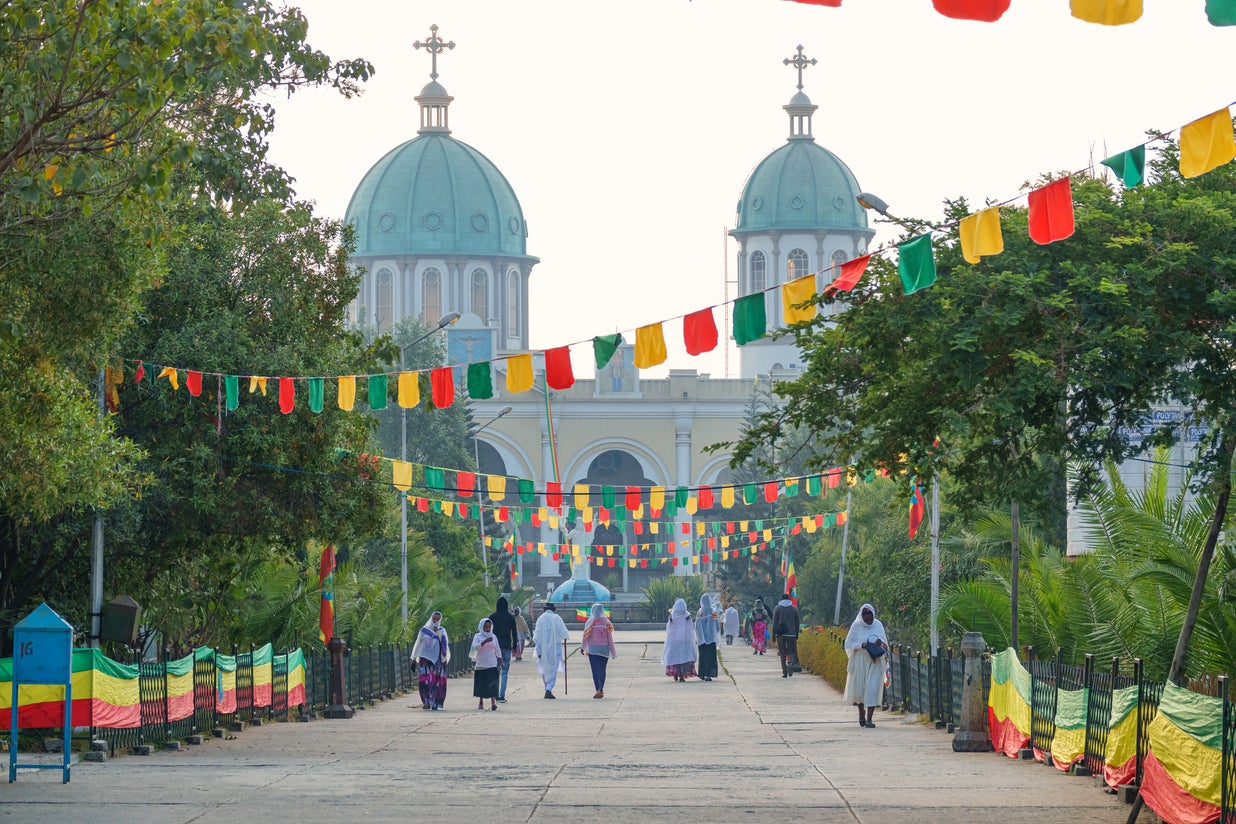 Addis Ababa is a city of contrasts – new skyscrapers stand on dirt roads and international business conferences meet next to traditional markets where rural customs are preserved. The city is growing rapidly and tourism in Ethiopia is on the rise, but many travellers still see the capital as a mere stopover on the way to more remote areas of the country. The hectic city can be daunting, but "Addis", as it is known to locals, is an exciting cultural hub with plenty to see and do – and excellent food.
What to do
Keep caffeinated
Ethiopia is known as the birthplace of coffee, and on nearly every block in Addis you'll find roadside buna (coffee) stands with the traditional coffee ceremony setup. Incense burns as a woman roasts beans, a jebena coffee pot nestled in the coals. Small cups of the dark brew are served with sugar and a sprig of rue herb; 5 birr (14p) a cup. Pull up a short stool and sit for a while.
Rock out
Traditional music and dance performances, called "cultural shows", are held at several popular restaurants – but music lovers won't want to miss Fendika Azmari Bet, a small bar and cultural club in the hip Kazanchis area. Run by dancer Melaku Belay, Fendika is often filled with an eclectic mix of music industry folks, in-the-know locals and travellers. With a cover charge of 50 birr (£1.36), shows range from intimate Ethiopian jazz nights to multi-act traditional song and dance extravaganzas that culminate in jam sessions (Fridays are a good bet – call ahead to confirm schedule). Check out the art gallery in the back and the small patio on the side, where plates of barbeque chicken and rice are often on offer.
Visit Lucy
The partial skeleton of a female australopithecine, known as "Lucy", was discovered in the Awash Valley of Ethiopia in 1974. The bone fossils of this human ancestor are over 3 million years old, now preserved in Addis at the National Museum of Ethiopia (00251 11 111 7150). The Lucy display is the star attraction of the small museum. Open 8.30am-5.30pm daily; entrance is 10 birr (28p).
Make injera
A staple of Ethiopian cuisine, injera is a mildly sour, spongy flatbread made from fermented teff flour (and sometimes additional flours, such as barley). Stewed main dishes are typically served atop injera and eaten by hand, using more injera to scoop up mouthfuls of food. Several tours in Addis offer injera making components – My Guzo's Culinary Tour is a popular one (£79). Daniel and Tigist on Traveling Spoon offer private cooking classes in their home (£72pp, with discounts for groups).
Where to stay
Hotels in Addis can be quite inexpensive, though plumbing and internet amenities do tend to scale with price. Airbnb is gaining traction and rooms for two can go for under £20 a night – get a feel for daily life and insight into the city from your local hosts.
The 11 rooms at Biruk Bed and Breakfast are small but pleasant and provide a residential experience in Bole, an upscale neighborhood near the airport with a bustling business main street. Family-run, the small guest house is private and friendly. Doubles from 1,146 birr (£31), B&B.
Jupiter Hotel in Kazanchis is known for reliable wifi and accommodating staff eager to help guests arrange their itineraries. (Non-hotel guests can also enjoy the wifi by visiting the hotel bar or café.) The breakfast buffet is large, and rooms in front offer views over a patchwork of corrugated metal shop roofs. Doubles from 4,191 birr (£114), B&B.
The Sheraton Addis is a large luxury hotel with several suite options and multiple restaurants and bars on site. The Office, an outdoor bar, features modern cocktails and live music. Doubles from 7,559 birr (£206), room only.
Where to eat
Kategna is a large restaurant with an extensive menu of regional food. The beyaynitu "fasting special" is a medley of vegan dishes ("fasting" means consuming no animal products, a frequent practice for Ethiopian Orthodox Christians), and it includes a vibrant version of suf fitfit (pieces of injera in a sunflower seed sauce). For meat eaters, the star dishes are the doro wot (stewed chicken) and the special kitfo (raw ground beef in spiced butter with chopped collard greens and cheese).
Tsige Shiro, a casual local chain, specialises in its namesake dish: shiro, a stew made with chickpea flour and berbere spice. The version here is thick and hearty and has a little extra kick.
Ethiopia is famously, and proudly, the only country in Africa that was never colonised, though it was occupied by Italy in the mid 1930s. Signs of the Italian occupation linger – pasta is nearly as easy to find in Addis as injera. At Lucy's Lounge and Restaurant, next to the National Museum, the arrabiata sauce is spiced with berbere for a fusion flavour.
Ristorante Castelli is a classic Italian eatery in Piazza, known as a celebrity favourite (Jimmy Carter, Bob Geldof, Brad Pitt and Angelina Jolie have eaten here).
Try the cuisine of bordering country Sudan at the Sudanese Restaurant in Bole. The gurasa demaa (flatbread with a spicy tomato meat sauce) and shish tawook (grilled chicken and veggies skewers over rice) are standouts.
For Ethiopian baklava, made with peanuts, head to Ras Mekonnen Café in Piazza. Wash down your pastries with spris – a half tea, half coffee mix.
Where to drink
Locally made honey wine, called tej, can range from bright and sweet (reminiscent of orange juice) to sharp and burning (reminiscent of rubbing alcohol). For a pleasant balance, try the tej at Tuluk Restaurant at Ghion Hotel, or order a round at the historic Addis Ababa Restaurant (00251 011 1566157).
To recognise casual spots where you can grab an Ethiopian beer, keep an eye out for the yellow St George branded umbrellas over patio tables. St George is a light lager; Habesha is a bit darker and sweeter.
For coffee, order a straight espresso or macchiato and pick up a bag of freshly roasted beans at celebrated local roasters Tomoca.
Where to shop
Addis is home to the sprawling Merkato, billed as the largest market in Africa. For shoppers who want a smaller, more leisurely experience, try Shiro Meda Market, located near the American Embassy, where local weavers sell handmade fabrics, shawls and other clothes. Bargaining is expected.
Larger than Shiro Meda but smaller than Merkato, Shola Market's stalls are filled with everything from spices and incense to produce and clothes. Look for Ethiopian white honey and coffee-ceremony pottery.
At the boutique Salem's Ethiopia, handicrafts such as baskets, jewellery and fabric are on offer at fixed prices to ensure high quality wares and fair payment to artisans. The shop is located near Medhane Alem Church in Bole. You might find weavers at work when you visit.
Architectural highlight
Holy Trinity Cathedral (Haile Selassie Church) features ecclesiastical paintings in modern and medieval Ethiopian styles. The church was founded in 1931 under Emperor Haile Selassie and now houses the tombs of Selassie and his wife. In the same complex you'll find a circular church built in 1890, as well as monuments to soldiers and graves of prominent Ethiopians. British suffragette Sylvia Pankhurst, who campaigned against the Italian occupation and moved to Ethiopia, is also buried here.
Addis Ababa nuts and bolts
What currency do I need?
Ethiopian birr (currently £1 = 37 birr, rates fluctuate). Pounds, euro or dollars are sometimes also accepted, or even preferred. Smaller businesses are often cash only.
What language do they speak?
Amharic is the national language.
Should I tip?
Tipping is becoming more common. For tour guides and at mid-range and higher-end restaurants, 10-15 per cent is typical, sometimes already included on the bill.
What's the time difference?
Ethiopia is three hours ahead. But the "time difference" goes deeper than that, as Ethiopians also have their own 12-hour clock (sunrise corresponds with 1am) and 13-month calendar (in which the year is about seven to eight years earlier than in the widely used Gregorian calendar). When interacting with foreigners and when information is provided in English, the "international" date and time is usually used rather than the local system. To be safe, it's best to clarify when discussing scheduling details.
What's the flight time from the UK?
On Ethiopian Airlines, flights from Heathrow are about 7 to 8 hours.
When's best to go?
October to February is the dry season. Visiting in the March to September rainy season means fewer crowds (September and March are often only a little rainy and you may find cheaper prices on these fringe months).
Public transport
For the new Addis Ababa Light Rail, look for orange kiosks to buy tickets. Minibuses travel along major roads and a conductor shouts out the route's final destination; carry small change for fares, which range from around 5-10 birr (14p-28p). Blue "contract cabs" are popular with travellers on short visits; you negotiate the price before getting in – an average city trip will be about 150 birr (£4.08).
Best view
Look out over the whole city from Mount Entoto, just outside Addis.
Insider tip
Photography is much more common among farenji (foreigners) than locals – you may get funny looks for taking pictures of food or stray dogs, but probably won't be stopped. To take pictures of people, ask first.
Join our commenting forum
Join thought-provoking conversations, follow other Independent readers and see their replies