Ghana's new creative scene: Stylish new places to eat, drink and appreciate art are reinvigorating Accra
Ghana's economic boom took a blow from tumbling oil prices, but an energetic group of people is picking up the pieces in Accra.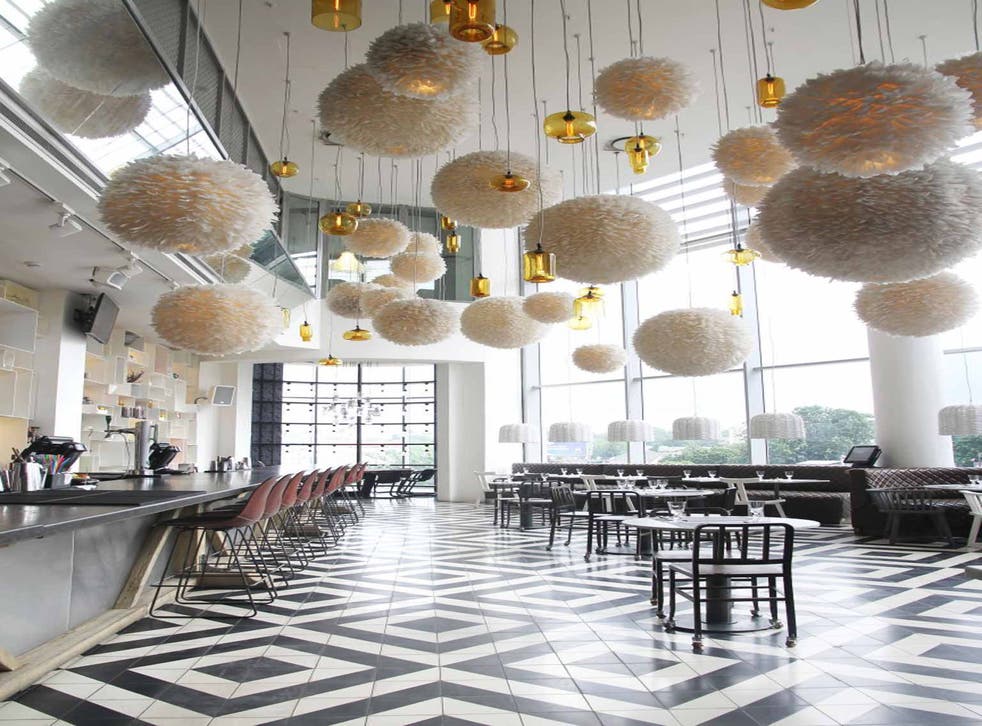 As a tourist in Accra, where traffic queues are a daily challenge, getting stuck in one actually gives you plenty of time to look around. Riding along at almost walking pace, you can see infinite examples of roadside creativity, from men making furniture to mothers braiding their daughters' hair. Wandering by, balancing baskets of Nkate cake (Ghanaian peanut brittle) on their heads, are women swathed in fabrics of bright greens and brilliant blues.
"The 21st century will be shaped by what happens not just in Rome or Moscow or Washington, but by what happens in Accra, as well," said President Barack Obama after visiting the Ghanaian capital in 2009. Indeed, at that time, and for a few years after, gold, cocoa and crude oil exports led to an economic boom in Ghana. More recently, however, tumbling global crude oil prices took a toll on its finances. But, despite gloomy news stories, there is another market growing that may even draw tourists, thanks to a group of expatriates that wants the country's creativity and hospitality recognised.
"I want to transport consumers to another world," says Nada Moukarzel, a Lebanon-born designer who moved to Accra more than 20 years ago with her husband, Nabil. They have since set up Yolo Experiences – You Only Live Once – a business that celebrates art and design, food and furniture. Eleven years ago, they opened the first of their two La Maison boutiques, selling local art and imported homeware, and now they have a collection of restaurants. When I visit La Maison, it's like walking into someone's home-cum-art gallery – a vision of creamy elegance, with dazzling wooden sculptures next to plump, beige sofas.
This contrasts starkly with my visit to Artists Alliance Gallery, a three-storey arthouse near the beach. There are gems here – bright canvases depicting Ghanaian street life by celebrated local painter Ablade Glover, and hand-painted coffins – but they are jumbled on top of each other and, sadly, I spot moisture droplets dripping down pictures, from exposure to the sea air.
Last year, Nada and her friend Rania Odaymat, a jewellery designer, hosted an exhibition at La Maison called Beyond, where participating artists of every variety were encouraged to collaborate and exhibit.
"Really, art is the story of a country ... But now, in Ghana, the art scene is mediocre," declares Nada. "But there is a lot of talent. The problem is that Ghanaians don't always appreciate local art – so that's a problem. And it means they can't export it. Of course, if they can't do that, they will never be recognised on an international level."
The response to the show, which consisted of painting, photography, sculpture and dance, was huge, with 300 coming on opening night, after which there were visits by schools, students, self-taught artists and journalists. Odaymat explains: "People said they couldn't believe they were in Ghana. It was very energetic and surprising for some because they had not seen anything like this before."
Today, Nada and Odaymat are busy planning a second exhibition for next month, with a theme based loosely around social media, what Odaymat calls "a long history of African art and craft but in a modern context". So far, this includes a song by sound artist Panji Anoff, who is collecting samples of questions that people have asked on Whatsapp, and "Emoti-Masks" created by Kojo Rasta to represent a cross between emotions, wood and African art.
One afternoon, I visit the studio of another exhibitor, Panji's brother, Nana Anoff, a celebrated Ghanaian artist who uses mixed media to tell stories "of hard-working African women". In his space, an enormous, eccentric junkyard, I spot metal wires bent in the shape of angel wings and he also shows me an eye-catching wooden piece that he has created for the exhibition. It incorporates a cylinder taken from Panji's car and a dangling key. "It's about positive thinking," he smiles.
Another highlight is a trip to Wild Gecko, where a trio of Dutch and Ghanaian friends – Poem van Landewijk, Kingsley Kwame Safo and Lizzie Vardon – are also celebrating Ghanaian arts and crafts. Their business consists of a series of craft workshops, plus an emporium in which to buy the creations – wooden ornaments, tribal-inspired furniture, bags fashioned from recycled rubbish and toys from local prints.
"We were fed up with people saying that everything that comes out of Africa is crap or made of crap. Beautiful things can be done but at the right price," says Van Landewijk, whose market is stocked by "75 per cent people who live here".
Throughout my trip I experience another arm of Accra's burgeoning creative economy, one involving high-end hospitality, something there has traditionally been little of. I am told about the popular party spots, Republic and Duplex, and how friends congregate at the enchanting night market. On a midnight visit here I drink Ghanaian beer and scoff grilled mackerel and a ball of keku (grilled fermented corn wrapped up in corn leaves), with hot chilli sauce, but elsewhere the leisure market seems dated.
There are other exceptions, however. The Yolo group runs a string of stylish places, from chicken restaurants Yard Bird, to hipster coffee chain Vidda e Caffe, and the superb Japanese restaurant Santoku. Meanwhile, in a building called Icon House there is the fashionable Latin African steakhouse, Urban Grill, with its jagged silver mirrored wall tiles and glass private dining room. I feast on excellent dishes such as unctuous pork belly seared with a kumquat glaze on crispy cassava created by chef Andrew DiCataldo, formerly of New York's acclaimed Patria.
Restaurants are paving the way for other businesses too; their arrival and success prompted one of London's prominent nightlife entrepreneurs, Nick House – the man behind Prince Harry's favourite spots Mahiki and Boujis – to open Carbon, a rooftop nightclub, this month. Downstairs is a brasserie, Coco Lounge, kitted out with a cluster of striking white-feathered globe lights and a metal sculpture of an African baobab tree, by the ever ebullient Nana Anoff – the effect of which somehow vibrates with the energy and colour of the surrounding city, while adding a degree of Scandinavian cool. The menu – including great plantain crisps and red rice with shrimps – is respectful of Ghanaian cuisine, but with a nod to international dining. Perhaps my most surprising hit is milo cake, an exceptionally light chocolate sponge made using Australian hot chocolate, the invention of pastry chef Geisa Carneiro, whose cooking CV includes The Wolseley in London.
Carneiro admits it is hard work here and that she needed to "adapt quickly"; for example, when no one knew what a rolling pin was, she had to have one made in the market. However, she has since taught 10 Ghanaian girls to make the cakes which fill the daily-changing menu (some 90 varieties weekly), along with ice cream, profiteroles and doughnuts, and she says she's happy. "And they are proud."
Now, not only are there queues at each of these restaurants, but also waiting lists for new staff positions. Accra, it seems, is back in business.
Getting there
British Airways (0844 493 0787; ba.com) flies non-stop from Heathrow to Accra. Lower fares are available on connecting flights, such as from Gatwick, Heathrow, Birmingham, Manchester or Edinburgh via Istanbul on Turkish Airlines (0844 800 6666; turkishairlines.com).
Staying there
La Villa Boutique (00 233 302 730 333; lavillaghana.com) offers doubles from US$204 (£136) with breakfast.
Eating and drinking there
Coco Lounge (00 233 246 666 000; bit.ly/CocoLounge).
Santoku Restaurant & Bar (00 233 5 44 311 511; santoku-restaurant.com).
Urban Grill (00 233 244 222 202; bit.ly/UrbanGrill).
La Maison (030 278 1074;
lamaisonghana.com). Yard Bird (00 233 540 888 000; bit.ly/YardBirdAccra).
More information
Yolo Experiences (00 233 540 101 218; yoloxperiences.com).
Register for free to continue reading
Registration is a free and easy way to support our truly independent journalism
By registering, you will also enjoy limited access to Premium articles, exclusive newsletters, commenting, and virtual events with our leading journalists
Already have an account? sign in
Register for free to continue reading
Registration is a free and easy way to support our truly independent journalism
By registering, you will also enjoy limited access to Premium articles, exclusive newsletters, commenting, and virtual events with our leading journalists
Already have an account? sign in
Join our new commenting forum
Join thought-provoking conversations, follow other Independent readers and see their replies