How tourism can help Sierra Leone's recovery from Ebola
The impact of Ebola spread far beyond those infected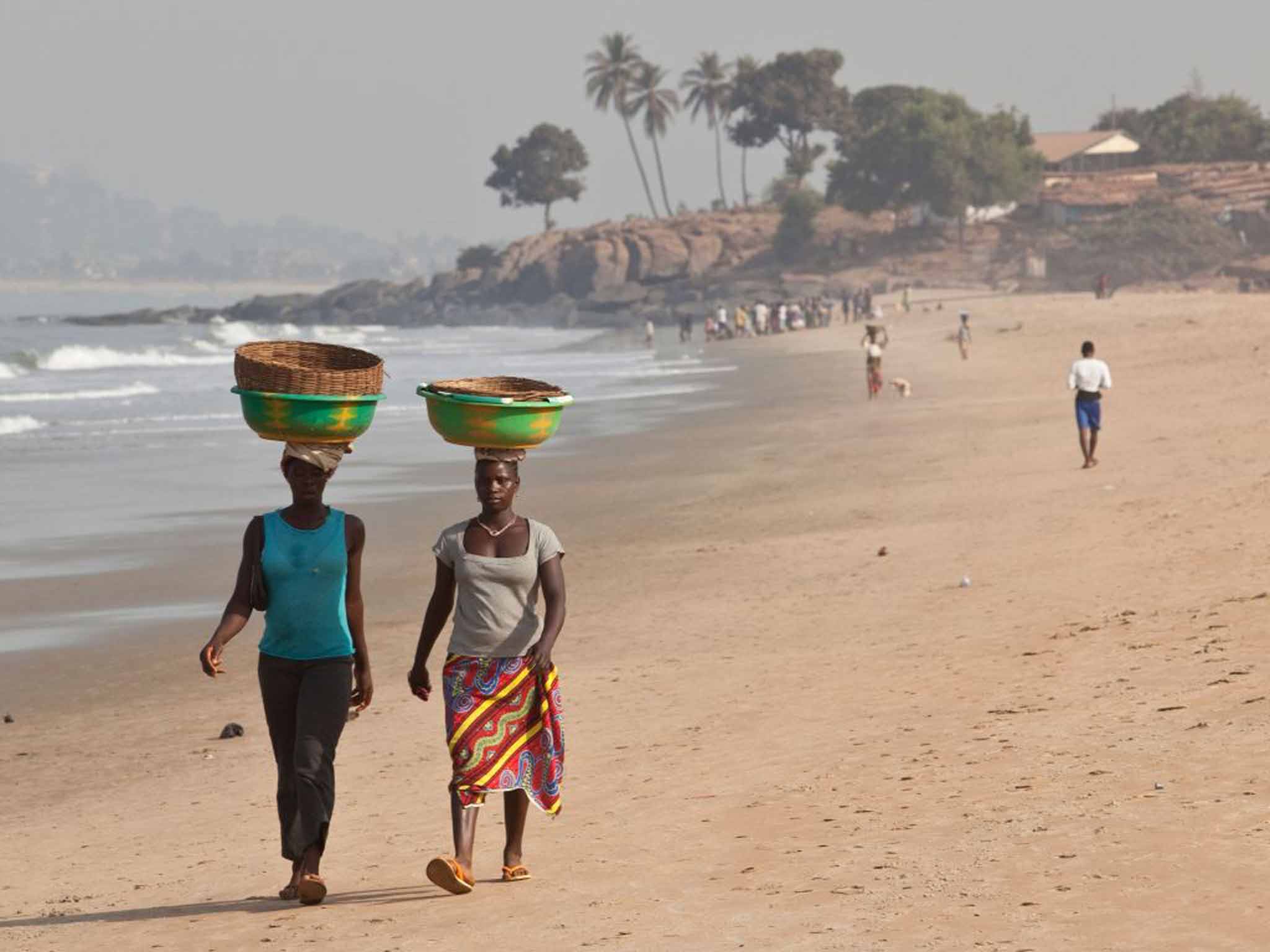 'It was a lonely disease. People who got sick, no one came to visit them. They were alone. And if they died, they usually died alone. They were buried … and that's it." In Freetown, I spoke to Bimbola Carol. Like others who had escaped the country's civil war, he had been part of an idealistic tide that returned after peace in 2002. We first met five years ago in Freetown when he was engaged in the country's nascent tourism industry.
It's easy to forget that in the 1970s the Freetown Peninsula's exceptional beaches featured in glossy brochures alongside Gambia. Rumours that the Bounty bar's famous ad was filmed at River Number Two Beach persist. However, almost 11 years of civil war turned paradise into purgatory. Since the peace accord of 2002, a trickle of adventurous travellers had been growing – those interested in wildlife, or keen to learn about the country's history. "People were coming," Bimbola said. "There were a lot of reasons to be optimistic …."
Indeed, in recent years the once ubiquitous rattling thrum of generators had ceased to occupy Freetown's pavements, while water had miraculously begun to issue from taps. Roads, too, improved – those to the Freetown Peninsula beaches evolved from jaw-jarring corrugations to some measure of continuous Tarmac. Beyond the peninsula village of Kent, a 40-minute boat ride transported you to Banana Island's tranquil, car-free retreat from Freetown's chaos, where crystal-clear bays kept a promise of fresh lobster and campfires on the beach.
Elsewhere, at Tiwai Island Wildlife Sanctuary in the country's south-east, a community project built connections between tourism and conservation. Expert guides identified 11 species of primates inhabiting the forest canopy, including chimpanzees, while nocturnal treks sought out elusive pygmy hippopotamuses.
Even Unesco woke up to Sierra Leone's important place in history, taking note of Bunce Island's deep-water slave fortress, once pre-eminent in West Africa's transatlantic slave trade. Here, among rusting cannons and crumbling palisades, Bunce's grim "warehouse of humanity" offered a final glimpse of Africa to those destined for the plantations of the Carolinas and Caribbean.
Then, last year, Ebola struck. The World Health Organization (WHO) currently estimates almost 4,000 Ebola deaths in Sierra Leone, and more than 11,000 in the West African region.
"It was a very dark time," Bimbola recalled. "It felt like the progress the country had made over 10 years was threatened in just a few months."
Over a coffee in downtown Freetown, I met Brigadier Charlie Herbert, Commander of UK forces in Sierra Leone and Deputy Commander of the Combined Joint Inter-Agency Task Force. He summed up the events of 2014 thus: "Sierra Leone was clawing its way out of poverty. It was on a proper boom. Then, 18 months ago, two things happened: one, Ebola; two, the price of iron ore fell. You ended up with a double whammy – public health crisis combined with an economic natural resources crisis."
The impact of Ebola spread far beyond those infected. Schools, colleges, hotels and restaurants all closed, and most shops were required to shut at 6pm. Football matches were banned, and even Freetown's celebrated nightclubs fell silent. Economically important mines, already hit by a global downturn, ceased operation. Airlines suspended flights. The country was isolated.
"Working with DfID [the Department for International Development] I think we got here as quickly as we could, once the decision was taken, and I think we achieved extraordinary results," Brigadier Herbert said. "We broke the back of the crisis in December, January. We got it down to manageable levels: 10 to 20 cases a week by April, May. It's been a long battle but now Sierra Leone is keen to move on with its future."
Even before the 42-day countdown to Ebola-free status had expired, Freetown was already transformed. Last month, Siaka Stevens Street was filled with weaving motorcycle taxis, cars, crammed poda poda minibuses and stencilled, white four-wheel drives, all honking their horns. Shops and street vendors plied their trade, sometimes too loudly. Surging crowds spilled from the pavements. The end of the rainy season saw tropical humidity with temperatures above 30C. It verged on overwhelming, but life was resurgent.
However, behind the ebullient crowds a sense of shock remained. At a stall selling stationery I talked to the owner, Abdul Karim Kamara. "This was the worst era for the country," he said. "We never expect anything like this. I don't know if I can say it was more than the war…. This is an invisible enemy. In a war, you can see the enemy. You can find somewhere to hide .... A lot of us still don't understand it."
Back at Bimbola's office, for the time being instead of showcasing Sierra Leone's tourism sights his company provided logistics for NGOs and booked fixers for journalists. "It's all still here – the beaches, the wildlife and the history. We have to be positive," he said, smiling. "I have to believe that good things are coming."
Sierra Leone was declared Ebola-free on 7 November and the British Foreign Office's advice was updated the same day. Overland specialist Dragoman has re-instated trips for 2016, while Overlanding West Africa has already visited Sierra Leone. Jim Louth, of Undiscovered Destinations, a specialist in off-the-beaten-track holidays, said: "It's good to see the prompt change in travel advice and the return of an opportunity to explore an authentic part of West Africa. Sierra Leone, more than ever, deserves its share of tourist dollars."
Getting there
Tour operators offering trips to Sierra Leone include Undiscovered Destinations (0191 296 2674; undiscovered-destinations.com), Dragoman (01728 861133; dragoman.com) and Overlanding West Africa (01728 862247; overlandingwestafrica.com).
More information
Bradt Guide to Sierra Leone (2012; bradtguides.com)
Visas and Information:
Visit Sierra Leone (visitsierraleone.org).
Join our commenting forum
Join thought-provoking conversations, follow other Independent readers and see their replies