The Independent's journalism is supported by our readers. When you purchase through links on our site, we may earn commission.
Why Marrakech is North Africa's newest art hub
Two exciting contemporary art openings this month are putting the Moroccan city firmly on the map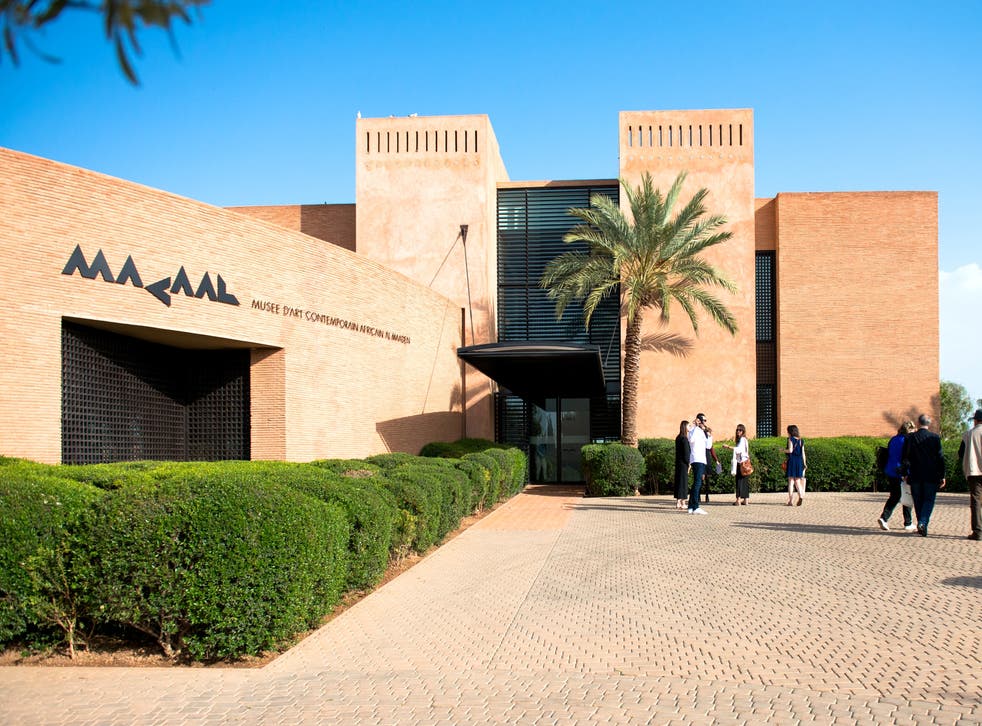 Marrakech looks like it has been coloured-in using a child's paint box. The winding medina streets are a dusky pink, and jasmine, cactus and bougainvillea-filled courtyards shimmer under the deep blue sky.
But while the Moroccan city has been attracting and inspiring artists for centuries, it is only now becoming a key stop on the art market's endless parade of international gatherings. And this February is its debutante ball, as the renowned African art fair, 1:54, and the Museum of African Contemporary Art Al Maaden (Macaal) both launch in Marrakech the same week.
African art has blazed onto the cover of magazines and into the world's glossiest galleries and apartments after decades of international irrelevance. As the influence of Chinese art has waned, contemporary African art fairs have popped up in New York, London and Paris, and African art exhibitions have been given prominence throughout Europe.
But an increasingly loud clamour is coming from the continent itself, as local artists and curators insist that museums and fairs dedicated to their work are also located on home turf.
"After raising the profile of African artists overseas, our long-term ambition was always to bring the focus back to the continent, so we could create a solid base on African soil," says Touria El Glaoui, the founder of 1:54, which runs alongside the Frieze art fair in both London and New York.
From Addis Ababa to Johannesburg, African-based galleries are proliferating at an impressive rate thanks to a surge in profits and international media coverage. Last year, the spotlight was firmly on Cape Town due to the launch of Zeitz Mocaa – the world's first dedicated contemporary African art museum – which cemented the beach city's status as a cultural hub.
But in a continent of 54 countries and over one billion people, there is an urgent need for more than one major international art centre – and El Glaoui has worked with Moroccan curators and artists to ensure Marrakech's siren call was too tempting to resist.
One of these collaborators was Othman Lazraq. Along with his property developer father Alami Lazraq, Lazraq is the founder of Marrakech's Macaal – a hulking, dusky-pink museum that soft-opened in 2016 and is fully launching to the public this month. It will show the family's 2000-strong collection of African art alongside rolling exhibitions dedicated to life on the continent, beginning with "Africa is No Island", which explores national identity through photography.
"I am passionate about ensuring our art is shown here in Africa," says Othman. "Marrakech was an important art hub long before Cape Town, partly because it attracted so many creative people like Yves Saint Laurent from Europe. But now we want to attract African artists from our continent.
"Africa was always seen as a block, rather than connected countries, but we know how diverse it is, and how it has traditions and customs that no longer exist abroad. My father has always wanted to give his legacy to showing that to the world."
This February, hundreds of collectors will pay witness to the range of African art on display as they descend on Macaal and the lush grounds of La Mamounia, the five-star hotel where 1:54 takes place.
"Marrakech is undeniably African, but it is also French-speaking and sits on the cusp of Europe and the Middle East," says El Glaoui – who is also the daughter of renowned Moroccan artist Hassan El Glaoui. "And as a result we have attracted far more galleries and collectors from France and Belgium than our other fairs, but also Senegal, Cameroon and Dubai.
"And while they are here, these people will experience the city's growing contemporary art scene, thanks to the talks and events we are putting on around the city."
While central Marrakech may look deliciously timeless through the eyes of a tourist, the city's contemporary art revolution has actually been brewing for years behind the implacable facades of the medina riads and in the stark, modern buildings of the dusty suburbs.
In Riad Yima, Hassan Hajjaj – a prominent Moroccan contemporary artist whose work has been compared to Warhol's – has turned his family home into a primary-coloured, paint-splattered ode to pop art, where visitors can pick up a canvas, a sculpture and a bowl of couscous.
The sleek, all-white Voice Gallery, meanwhile, is a soothing antidote to the heat and colour of the city outside. Committed to showing work by emerging North African artists, it has launched many careers. Nearby is 6.4 Gallery, which focuses on Moroccan artists, and Gallerie 127, a centre for African photography.
And then there are the gardens. Wander through the cactus-laden Al Maqam artist's residency on the outskirts of the city, the Al Maaden Sculpture Park, where monumental art works sit placidly in front of the Atlas Mountains, and Jardin Anima – a lush botanical garden interspersed with primary coloured sculptures. In the colourful Jardin Rouge in the Montresso Art Foundation, talks will be taking place throughout 1:54.
"There is so much to see, but there is really is no competitiveness at all, just excitement," says Othman. "Everyone wants the best for the city, which is why we keep being offered spaces for free this February. It will be a month of celebration."
As Morocco currently provides no state support for artists or galleries, this influx of influential collectors and curators will provide a much-needed boost to the entire industry, particularly given that the Arts in Marrakech biannual couldn't show this year due to a lack of funds.
Alongside the glittering Musée Yves Saint Laurent, which opened late last year, these bold, colourful contemporary art fairs and exhibitions have already attracted a new kind of visitor to Marrakech – one that looks beyond the heady, incense-laded souks that speak so heavily of Morocco's past, towards its future as one of the loudest voices in the African art world.
Travel essentials
Getting there
EasyJet flies from London Gatwick and Manchester to Marrakech from £140 return.
Staying there
Riad Dar Zaman is a 10-minute walk from 1:54; doubles from £67, B&B. La Sultana Marrakech is five minutes from 1:54; Doubles from £300, B&B.
More information
1:54 Marrakech runs 22 to 25 February at La Mamounia, with events at Macaal, Musee Yves Saint Laurent and Fondation Montresso. Macaal launches to the public on 24 February.
Register for free to continue reading
Registration is a free and easy way to support our truly independent journalism
By registering, you will also enjoy limited access to Premium articles, exclusive newsletters, commenting, and virtual events with our leading journalists
Already have an account? sign in
Register for free to continue reading
Registration is a free and easy way to support our truly independent journalism
By registering, you will also enjoy limited access to Premium articles, exclusive newsletters, commenting, and virtual events with our leading journalists
Already have an account? sign in
Join our new commenting forum
Join thought-provoking conversations, follow other Independent readers and see their replies