The Independent's journalism is supported by our readers. When you purchase through links on our site, we may earn commission.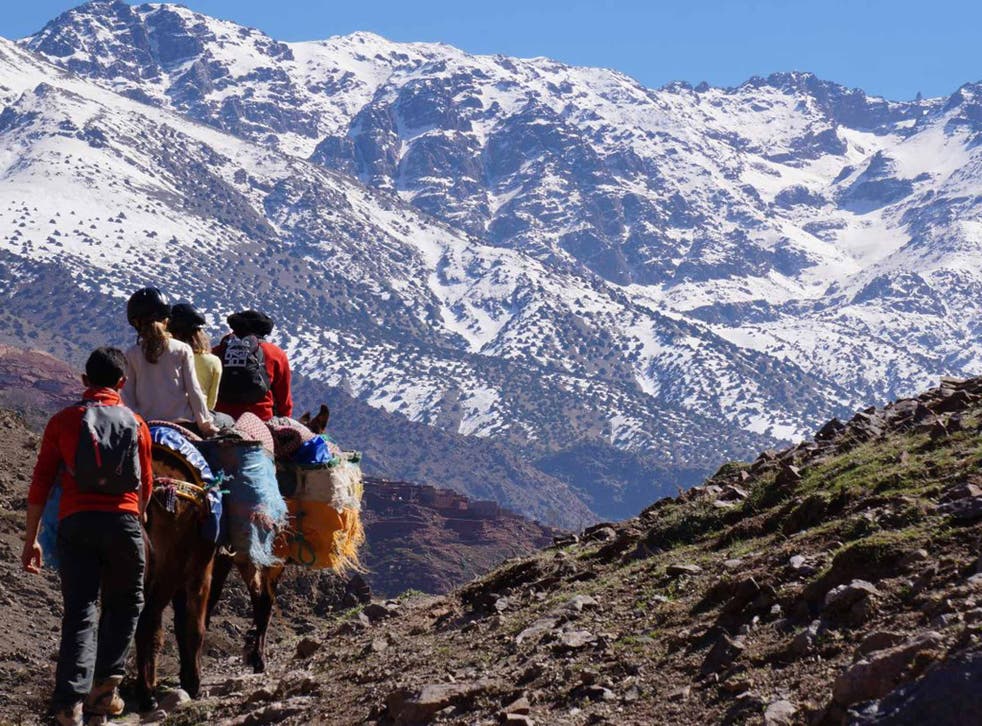 Morocco for families: From the Atlas Mountains to Saharan sands
This land of ancient medinas has something to thrill all ages, says Aoife O'Riordain
Once the preserve of more adventurous travellers, Morocco has evolved as a mainstream destination for families seeking something a little more exotic. Whether it's the bustling crowds and colours of Marrakech's ancient medina, the vast, windswept beaches of its Atlantic coast, the high-altitude thrills of the Atlas Mountains, or the shifting sands of the Sahara, there is something for all ages, from tots to grandparents.
Children receive an extremely warm welcome in Morocco, and with a flight time of between three and four hours, it's close enough for a short break. Yesterday, easyJet (0905 821 9000; easyjet.com) launched direct flights from Luton to Essaouira, making this atmospheric seaside town on the western coast much easier to reach. That said, the outbound flight from London has a decidedly family unfriendly departure time of 6.40am.
If such an early start doesn't appeal, there are many more connections to the country's main gateway, Marrakech. Also known as the Rose City, it is the obvious must-see for first timers. There has been an proliferation of hotels both inside its historic medina and the surrounding areas, many of them are family friendly, with pools, gardens and activities.
Trekking in the nearby Atlas Mountains is another popular excursion for a day or a few nights – smaller children can often ride on donkeys and it's a great way to experience the authentic, rural side of the country stopping at Berber villages along the way.
Morocco's other cities such as Casablanca, Meknes, Rabat and Tangier have plenty to offer; the Unesco-listed city of Fès is increasingly seen as a less touristy alternative to Marrakech. Its medina is claimed to be the world's largest car-free urban centre, so children can roam freely.
Morocco for families

Show all 6
Of the many resorts dotted up and down the country's lengthy coastline, Agadir is its best known, its six-mile beach is lined with hotels and resorts, and many of them are all-inclusive. Those in search of more authentic experience should look further north to Essaouira, El Jadida and the under-the-radar charms of the laid-back 17th-century fishing port of Oualidia.
Further inland, southern Morocco is the gateway to the Sahara, where you can enjoy the "Lawrence of Arabia" experience of camping out under the stars, sand surfing and riding camels. This is ideal for families with slightly older children, as transfer times can be long, particularly if you are driving from Marrakech.
Although parts of Morocco can be oppressively hot in summer (temperatures in Marrakech regularly top 40C in August), with some careful planning you can enjoy a family break during the school holidays. Take care to avoid the midday sun, limit the amount of time you spend inland, and instead head for the coast where temperatures are usually a pleasant 30C. February or October half-term, the Easter holidays and Christmas/New Year are good times to visit, although the mountains see snow in winter and rain can be a pain at sea level.
Outside the major cities and resorts, an organised tour is often the best way to enjoy the country's diverse splendours. Inntravel (01653 617 000; inntravel.co.uk) has a new seven-night itinerary in its family friendly portfolio. Tales from Morocco includes three nights in Marrakech and four in the village of Ouirgane in the Atlas Mountains.
In the company of an English-speaking guide, families walk or ride mules to a remote Berber village, bake bread using traditional methods, weave rugs and help prepare tagine. The price of £698 per adult and £595 per child, based on four sharing includes B&B, most meals, guiding and transfers. Flights extra.
On The Go Tours (0207 371 1113; onthegotours.com) offers several trips for families, including the 11-night Kasbahs, Kids and Surf (from £849 per adult and £599 per child). Includes 10 nights in hotels, a night camping in the Sahara, surf lessons in Taghazoute, a camel trek, transfers and most meals. Flights extra.
Just deserts
Southern Morocco is the gateway to the awe-inspiring dunes of the Sahara, and on the way you can stop at the crumbling remains of the stunning, Unesco-listed site of Ait Ben Haddou, a spectacular example of the local desert architecture, which has featured as a backdrop in many films including Gladiator as well as TV blockbuster Game of Thrones.
Budding cinephiles can take a look behind the scenes at the Atlas Film Studios (00 212 524 882 223; studioatlas.com) in Ouarzazate, the centre of Morocco's film industry. Here numerous films have been shot including Babel, Alexander and Asterix & Obelix.
Lawrence of Morocco (01672 500 555; lawrenceofmorocco.com) has a seven-night itinerary starting and ending in Marrakech with stops at Azalai Desert Camp in Zagora, on the edge of the Ch'gaga dunes, and its sister hotel in Skoura. Prices start from £1,094 per adult and £335 per child, including B&B accommodation, some meals, transfers and car hire. Flights are extra.
Active adventures
If you want to add some adventure to a stay in Marrakech, a few nights in the Atlas Mountains is ideal. Tourdust (020 3291 2907; tourdust.com) has a number of family friendly treks with mules for youngsters. A three-day trek for a family of four is £174pp with guide, cook, mules and transfers from Marrakech.
KE Adventure Travel has an eight-day Teenage Toubkal Ascent tour aimed at families with children over 10 (and used to long mountain walks), it culminates on Morocco's highest peak, Mt Toubkal. From £395 per person including accommodation, transfers, some meals and guided treks. Flights extra.
For autumn half term, Saddle Skedaddle (0191 265 2220; skedaddle.co.uk) has a guided family cycling holiday for over 10s, from 17-24 October. It visits Marrakech and the High Atlas Mountains, with a night in a desert camp. The price of £1,135 per adult and £896 per child includes half-board, guiding, transfers and bike hire. Flights extra.
Where to stay
Marrakech is expecting two high profile hotel openings this year – the Mandarin Oriental Marrakech (mandarinoriental.com) and Grace Marrakech (gracehotels.com). For the moment, though, the Four Seasons Marrakech (pictured right, 00 212 524 359 200; fourseasons.com) just outside the city, is a good luxury choice, with a children's pool, kids' club (ages four to 12) and a "young adults centre" for teens. Doubles here cost from £258, room-only, with children under 18 sharing their parents' room free.
Renting a house is another option – Maison Vingt Sept (01424 426 751; maison27.com) is a three-bedroom house in the boutique Les Jardins du Touhina development, a 20-minute drive from Marrakech. There is a pool, garden and private cook, as well as use of the nearby facilities such as a spa and café. Rates for four people start at £235 per night (with a minimum stay of three nights).
In the Atlas Mountains, Kasbah du Toubkal (00 212 0524 485 611; kasbahdutoubkal.com) is a popular spot in the shadow of Mt Toubkal, with a number of family rooms and a satellite lodge. Doubles cost from €160 per night, B&B, with a €40 charge for an extra bed so a child can share their parents' room.
Beach babes
The chance for sun, sea and sand abounds on the west coast which is ideal for young children. Agadir is one of the country's most popular and affordable beach destinations, but smaller, seaside spots such as Oualidia, Sidi Kaouki and the broad, wave-bashed beaches of Essaouira have more unspoilt allure.
The village of Sidi Kaouki, 20 minutes south of Essaouira, is perfect if you take advantage of the new easyJet flights. Fleewinter (020 7112 0019; fleewinter.com) offers seven nights at Rebali Riads from £495pp, with flights and B&B; children can share their parents' room from £30 extra per night. The complex has activities including surfing, camel safaris and quad biking, and there's a tennis court and swimming pools.
Further north, between Essaouira and Casablanca, El Jadida is a quiet, coastal alternative to Marrakech. More popular with Moroccans, it has a Unesco-listed medina and some beautiful beaches. Glitzy Mazagan Beach and Golf Resort (00 212 423 388 080; mazaganbeachresort.com) is great for active youngsters. It has a new Golf Academy with weekend tuition for juniors, go-karts, three kids' clubs, a family pool, and a 7km beach. Doubles start from £123, B&B, and can accommodate up to two children under 12 for an extra £17 per child per night.
Marrakech express
Marrakech has undeniable appeal, with its 11th century medina – a Unesco World Heritage Site. Children will be enchanted by the nightly theatre in Djemaa el-Fnaa square, with its snake charmers, Gnaoua musicians, magicians, storytellers and the billowing smoke and aromas of its food stalls.
It's worth bearing in mind, however, that younger children might find the sights, sounds and hoards a little too much to deal with. The Jardin Majorelle (00 212 5 24 31 30 47; jardinmajorelle.com), gifted to the city by Yves Saint-Laurent, is a peaceful escape from the crowds, with ponds, exotic plants and Berber Museum.
A night or two in one of the many riads (townhouses) in the heart of the medina is a unique experience, but staying outside the old walls tends to offer more facilities. There are many different options for families just outside the city in the Hivernage, Palmerie and surrounding areas, with the medina easy to reach for an afternoon or day trip. The Fellah Hotel (00 212 525 065 000; fellah-hotel.com) in Tassoultante, a 20-minute drive away, offers a weekly children's activity programme. Rooms sleeping three start at £135 per night, B&B, but non-guests can use the facilities for Dh450 (£30).
Getting there
Marrakech is served by easyJet (0843 104 5000; easyjet.com) from Gatwick, Stansted, Manchester, Glasgow and Bristol; Ryanair (0871 246 0000; ryanair.com) from Stansted and Luton; British Airways (0344 493 0758; ba.com) from Gatwick; and Royal Air Maroc (020 7307 5800; royalairmaroc.com) from Gatwick.
Essaouira is served by easyJet from Luton. Agadir is accessible by easyJet from Gatwick; and Monarch (0333 003 0700; monarch.co.uk) from Manchester,
Fès and Rabat are both served by Ryanair from Stansted. Casablanca is served by Royal Air Maroc (020 7307 5800; royalairmaroc.com) from Gatwick and Heathrow. Tangier is served by Air Arabia (0906 959 0004; airarabia.com) from Gatwick.
Getting around
If you are staying in or around Marrakech, transfers and local taxis are probably the easiest way to get around. ONCF (oncf.ma) operates a good train network between major cities such as Tangier, Rabat, Casablanca, Marrakech, Meknes, Fès and Oujd. Fares are inexpensive and can be booked online before you arrive.
Renting a car is the most convenient option for those travelling with children, but caution is necessary – according to the Foreign Office there is a high instance of road traffic accidents, and you need to be well prepared if undertaking long journeys to more remote parts of the country. Crossing the high passes in the Atlas Mountains can also be hazardous in bad weather, and outside the urban areas, roads can be very badly lit.
Click here to view Moroccan tours and cruises, with Independent Holidays.
Register for free to continue reading
Registration is a free and easy way to support our truly independent journalism
By registering, you will also enjoy limited access to Premium articles, exclusive newsletters, commenting, and virtual events with our leading journalists
Already have an account? sign in
Register for free to continue reading
Registration is a free and easy way to support our truly independent journalism
By registering, you will also enjoy limited access to Premium articles, exclusive newsletters, commenting, and virtual events with our leading journalists
Already have an account? sign in
Join our new commenting forum
Join thought-provoking conversations, follow other Independent readers and see their replies