On The Road: All life and death to be found in a maze of a market in Ethiopia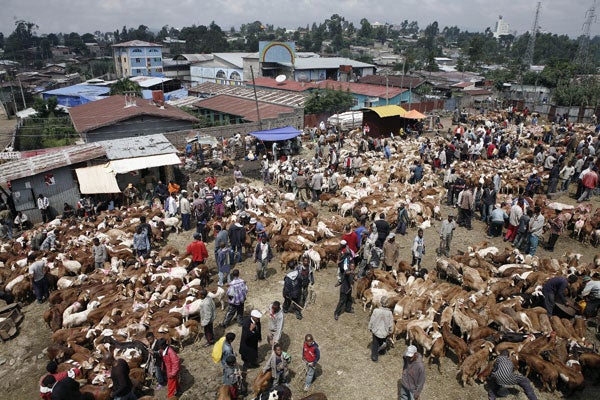 I knew I was lost when I found myself surrounded by dozens of newly-made coffins. They were piled against the walls: adult size, child size, baby size, all smelling of freshly sawn timber. Addis Ababa's merkato is a huge sprawling city-within-a-city; a market so vast that no one seems to be sure where it exactly begins or ends – and I had been wandering around it for hours.
There's just street after street of endless, well, stuff. I found the street where old cardboard boxes come to die, the street where used "US AID" containers and cans are resold as kitchen sieves and pans. There's a timber street, a plastic food container street, a belt street, a tyre street and, of course, a coffin street. And it was in the coffin street that I finally realised I had no idea where I was. Wafts of spice and incense, leather and wood mingled in the air as I watched an old man methodically sand a timber panel to fit on to a tiny coffin.
In the next lane old ladies bargained for bright plastic bowls as music blared from a beaten-up cassette player. I drifted down a path lined with gaudy plastic flowers and wreaths. A tiny, wrinkled Amhara woman, with an intricate cross tattooed on her forehead, smiled up at me as she added some dazzling pink carnations to a display. I sat down on the stool next to her. We grinned at each other. She gave me a plastic daisy. Do you know the way out of here? I mimed to my best ability. She sat back and thought about what I meant for a minute and then, beckoning me to follow her, led me back the way I had come.
Past the flowers, plastic plates and blasting pop music, to the coffins stacked up side by side. We stopped. I sighed. I was doomed to end up a coffin customer. My guide cleared her throat and looked at me strangely. She pointed to an opening between two stores. There, right in front of my nose, was the main road. The old man finished sanding down the coffin panel. He wiped his brow with a dirty rag and then began sanding the next in line.
Footprint guides to East and Southern Africa are on sale now. For a 35 per cent discount off any Footprint guidebook go to footprinttravelguides.com and enter 'indy11' at checkout.
Join our commenting forum
Join thought-provoking conversations, follow other Independent readers and see their replies