The Independent's journalism is supported by our readers. When you purchase through links on our site, we may earn commission.
Seychelles: Fly and hop for an island adventure
There's plenty to explore beyond the high-end beach resorts, as James Litston discovers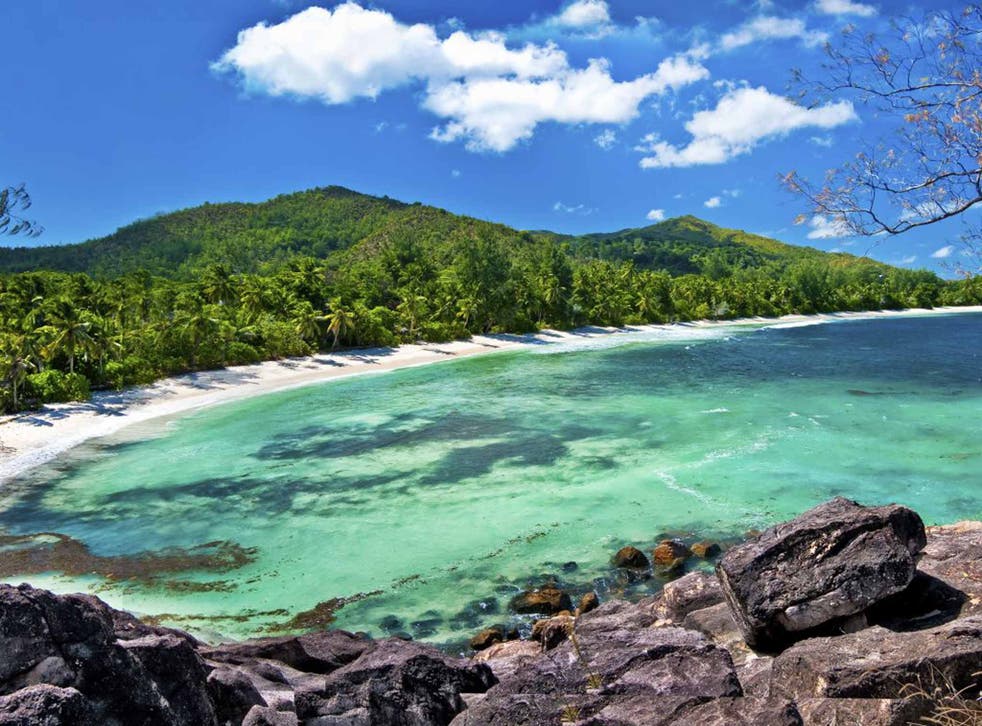 As tropical island sunsets go, this is pretty spectacular. I'm in northwest Praslin, in the Seychelles archipelago, gazing across a seascape flecked with palm-fringed specks of land. The mountainous spine of Mahé, Seychelles' main island, frames the scene to my left; to the right, a sweep of white-sand beaches leads to a forested headland. Ahead, the sun is sinking inexorably into the Indian Ocean, tinting the sky with streaks of delicate rose quartz. The colours grow ever more intense as the sun slips out of sight and the embers of the day settle on the horizon.
I'm captivated; but sublime sunsets are everyday events here. Just beyond the headland, guests at the five-star Lémuria Resort will be watching this same, fiery sky giving way to a starry night. They'll be doing so in considerable style, too; Lémuria is Praslin's most exclusive hotel, where the top suite costs upwards of €6,000 (£4,700) per night and even the cheapest rooms are more than €500 (£390) in low season. I am on a more modest budget. My self-catering room at Islander Guest House is setting me back just €80 (£63) a night.
For a two-bedroom unit with kitchenette and en-suite, this seems inexpensive by any standards; but in a notoriously high-end destination like Seychelles, it's a bit of a bargain. Admittedly it's rather basic, but the simply furnished rooms are clean, well-equipped and splashed with hibiscus blooms plucked from the tropical gardens. A breakfast of eggs and island fruits is served in a waterfront, thatched pagoda that later on doubles as the Capricorn restaurant. Its Creole cuisine is authentic and excellent: the octopus curry is the best meal of my trip.
In pictures: Seychelles

Show all 5
Seychelles may be perceived as exclusive and pricey, but of course there's more to the islands than luxury. While they certainly offer some serious indulgence, there's increasingly more opportunity for regular travellers, too. Lower-priced accommodation, inexpensive restaurants and good transport make island-hopping, Seychelles-style, a viable proposal.
I'd started my island odyssey in Mahé, the mainstay of the British tourism market and the largest of the islands. It is home to the capital Victoria. I was staying at the DoubleTree by Hilton Allamanda Resort, one of the newest properties to fall into the (relatively) affordable bracket – doubles start at €208 (£163). Bright interiors, pop-art canvases and a beachfront deck with funky soundtrack make this a surprisingly stylish retreat, ideal for recharging after a long-haul flight.
My next stop on Praslin is only slightly less chic; and with B&B from around €200 (£156), Indian Ocean Lodge is markedly cheaper, too. Located a mile or so down the coast from the Islander, its 32 airy, sea-facing rooms come with bleached wood, rattan and flowing, white cotton for a comfortable, beach-house look. From here, it's an easy bus ride to the east coast for Praslin's best beaches, or down the road to Vallée de Mai, to hike through a forest of endemic coco-de-mer palms.
Just offshore is Cousin, an island nature reserve, where, on arrival, a guide explains how Seychelles broke away from the continental landmass long before mammals evolved. Like a real-life Jurassic Park, giant tortoises and other reptiles held sway here for millennia. Along with the birdlife, they became fearless and confiding – traits that proved catastrophic when European settlers arrived with their dogs, cats and rats in the early 17th century.
However, recent conservation efforts mean that today, Cousin once again buzzes with life. Giant tortoises amble ponderously here and there. In the trees, pure-white fairy terns litter the branches, while larger, long-tailed tropicbirds raise fluffball chicks on the ground. Every creature, great and small, seems unconcerned by my presence.
If Praslin feels idyllic and relaxed, it's nothing compared to the near-comatose pace in my next destination, La Digue. Except for a tiny handful of cars, the fastest vehicles on the road are the ox-carts that serve as taxis. This is life in the slow lane. Everyone gets around by bike, so I pick one up from one of the many rental outfits and follow the coast road to Anse Sevère. It turns out to be less daunting than its name suggests – with a deep drift of sand flanked by forest and sea, it's hard to imagine a more perfect spot.
Heading in the other direction, the road peters out amid the sculpted granite and soft sand of beautiful Grand Anse. A hiking trail leads onwards to Petite Anse and Anse Coco, castaway coves each more lovely than the last. On the way back, I stop to explore L'Union Estate – a colonial-era coconut plantation – and perhaps the island's most photographed spot, Anse Source d'Argent.
Widely touted as La Digue's best beach, Anse Source d'Argent is a serene stretch of sand backed by palm trees and jumbled, time-worn granite boulders. It's also just a short walk from my final hotel, La Digue Island Lodge. There are cheaper rooms, but for their sheer Robinson Crusoe charm, I upgrade to a thatched chalet (from €275/£215, B&B) amid lush gardens where Seychelles sunbirds – an endemic relation of the hummingbird – pollinate flowers with their sickle-shaped bills.
Later, I'm dining at the al-fresco restaurant, watching another show-stopping sunset. Not recognising my starchy side-dish, I ask the waiter what exactly I'm eating. "It's breadfruit," he says, "the food of our ancestors. They say once you've eaten breadfruit in Seychelles, you're bound to return to our beautiful islands."
There's no need to worry about that, I tell him. My mind is already made up.
Getting there
James Litston travelled with Kuoni (01306 747008; kuoni.co.uk), which offers a nine-night tailor-made holiday in the Seychelles from £1,935pp. The price includes three nights at the Coco De Mer and Black Parrot Suites, three nights at La Digue Island Lodge, and three nights at the Berjaya Beau Vallon Bay Beach Resort, as well as flights from Heathrow on Etihad Airways via Abu Dhabi, domestic flights with Air Seychelles, transfers in resort and breakfast.
Staying there
Islander Guest House, Praslin (islander-seychelles.com).
DoubleTree by Hilton Allamanda Resort, Mahé (doubletree.com).
Indian Ocean Lodge, Praslin (indianoceanlodge.com).
La Digue Island Lodge (ladigue.sc).
Visiting there
Half-day trips to Cousin island are offered by Angel tours for €75/£59pp (angeltours.sc).
More information
Register for free to continue reading
Registration is a free and easy way to support our truly independent journalism
By registering, you will also enjoy limited access to Premium articles, exclusive newsletters, commenting, and virtual events with our leading journalists
Already have an account? sign in
Register for free to continue reading
Registration is a free and easy way to support our truly independent journalism
By registering, you will also enjoy limited access to Premium articles, exclusive newsletters, commenting, and virtual events with our leading journalists
Already have an account? sign in
Join our new commenting forum
Join thought-provoking conversations, follow other Independent readers and see their replies