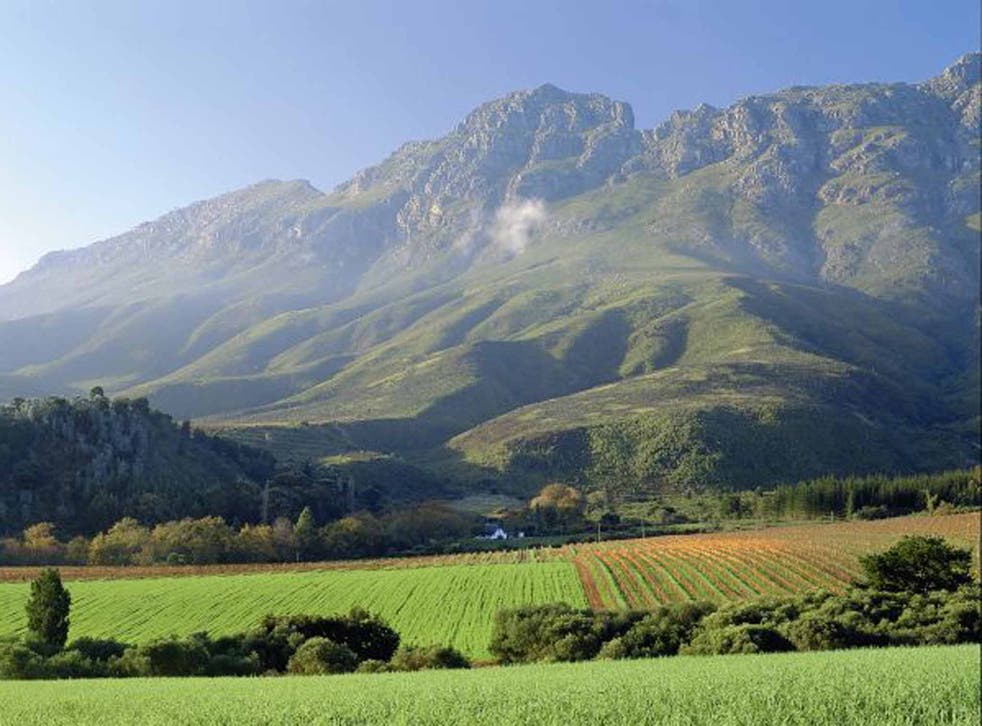 South Africa's Garden Route: Lush forest, quaint towns, lakes and lagoons
​Leave the big cities behind and take a trip along the coastline, suggests James Bainbridge
Along South Africa's southern coast, between the thick forests and dramatic river valleys of the Outeniqua and Tsitsikamma Mountains is a coastal string of lagoons, lakes and holiday towns dedicated to downtime – all connected by the N2 highway. But locals and visitors can't quite agree on where this strip of holidaymaking pleasure, the Garden Route, begins and ends – they're too busy surfing the Indian Ocean, sunbathing and hiking to worry about such things.
Roughly, it's bookended by the town of Mossel Bay and the Tsitsikamma region. In the intervening 200km, the N2 passes the towns and villages of Wilderness, Sedgefield, Knysna, Plettenberg Bay and Nature's Valley, before crossing the provincial border from the Western Cape to the Eastern Cape, where the forest hamlet of Storms River is the last stop on the Garden Route.
The area is known for its moist, subtropical forests – dank, atmospheric places, where trails once used by Boer woodcutters and elephants wind between towering yellowwood trees, 3m-high tree ferns, strange fungi and babbling brooks. Here you may spot the endemic Kynsna dwarf chameleon, or hear the "kow-kow" call of the rare Knysna lourie.
Spending a day beneath the canopy in this silent world dappled with sun and shadow, following in the footsteps of 19th-century gold prospectors, timber merchants, fortune seekers and colonials, is a magical experience. Much of the forestry is protected by the well-organised Garden Route National Park, which is divided into the Wilderness, Knysna Lakes and Tsitsikamma sections.
The Garden Route owes its distinctive natural environment and mild climate – a contrast with the fruit-growing Langkloof and semi-desert Karoo areas to the north – in part to a meeting of ocean currents. The resultant indigenous forests saw the town of Knysna boom in the 19th century, when ships loaded with timber braved the treacherous passage between the Knysna Heads, two dramatic sea cliffs guarding the entrance to Knysna Lagoon.
Knysna's history as a commercial centre and holiday town makes it an interesting cultural base for a few days. Cycle or stroll through the centre, stopping at woodwork shops and galleries; grab lunch on the road-connected Thesen Islands or at the Knysna Waterfront marina; and cruise across the lagoon to the Heads.
The other popular base is Plettenberg Bay ("Plett"), a whitewashed resort town with an upmarket feel and several animal parks just outside town, on the Crags tourist route. The Monkeyland primate sanctuary (00 27 44 534 8906; monkeyland.co.za) offers a guided walking safari through a forest inhabited by apes, monkeys and lemurs (190 South African rand/£8.50), and the neighbouring Birds of Eden (00 27 44 534 8906; birdsofeden.co.za; 190 rand/£8.50) is the world's largest free-flight aviary.
For rustic relaxation, head to the beach town of Wilderness or idyllic Nature's Valley, sandwiched between beach and lagoon in the Tsitsikamma forests. The whole area, especially Knysna, is overrun with South African tourists during the Christmas and Easter holidays, so visit at a quieter time to appreciate its restful charm.
There are numerous Garden Route tours to choose between, many starting in Cape Town and returning to the Cape or continuing to Port Elizabeth. Exodus (0845 805 2455; exodus.co.uk) offers a 14-day Cape Town & the Garden Route guided group tour; prices start at £2,099 per person, including flights, transport and B&B, and the itinerary includes three days in Tsitsikamma and Knysna and several other stops on the south coast.
Kuoni (0800 044 8576; kuoni.co.uk) has a few tours covering the Garden Route, including a 10-night fair trade-themed self-drive tour; the price of £2,787 per person includes international flights, accommodation, some meals and car hire. Stops along the way include Plettenberg Bay and the Amakhala Game Reserve near Port Elizabeth.
Bygone era
The Knysna forests were once felled by hardy lumberjacks, who lived deep in the woods and avoided the now-vanished elephants – as represented in the four Forest Novels of South African author Dalene Matthee. The Garden Route National Park's Knysna Lakes section is the place to learn about this 19th-century era. Here you'll find various elephant- and woodcutter-themed walks, the Forest Legends Museum (00 27 44 382 9762; free), and a few neck-arching trees spared by the logging (which stopped in 1939), including the 39m, 650-year-old King Edward VII Tree. Visiting the tree costs 38 rand (£1.70).
To travel back to the dawn of modern South Africa, visit Mossel Bay's Bartholomeu Dias Museum Complex (00 27 44 691 1067; diasmuseum.co.za), which recalls the Portuguese explorers of the late 15th century (entry 20 rand/£1). Exhibits include the Post Office Tree, where the mariners left letters for each other, and an 1888 replica of the ship used by Dias.
Activity capital
The Route offers varied activities from zip-lining (above) and mountain biking to kayaking and tubing. Bloukrans Bridge has the world's highest bridge bungee jump – a 216m plunge into the Bloukrans River valley, operated by Face Adrenalin (00 27 42 281 1458; faceadrenalin.com; 890 rand/£40).
Knysna Lagoon has boat trips, surfing and snorkelling around the Heads with Trip Out (00 27 83 306 3587; tripout.co.za). Two-hour surfing lessons start at 350 rand (£16), canyoning costs from 650 rand (£29) and snorkelling is 300 rand (£14).
The Featherbed Company (00 27 44 382 1693; knysnafeatherbed.com) offers cruises including the Eco Experience, across the lagoon to the Featherbed Nature Reserve for a 4x4 tour and nature walk (from 410 rand/£18).
Untouched Adventures (00 27 73 130 0689; untouchedadventures.com), at the Storms River Mouth Rest Camp, runs a two- to three-hour kayak trip up the river gorge to discover caves and pools. The cost is 450 rand (£20).
Food on the move
Numerous farm stalls and markets serve the products of the fertile Western Cape, one of South Africa's great bread baskets. Wild Oats Community Farmers' Market (00 27 44 883 1177; wildoatsmarket.co.za), held on Saturday mornings in Sedgefield, sells an array of hot dishes and take-away delicacies.
Nature's Way Farm Stall (00 27 44 534 8849) offers light meals and tastings of local produce, including its own cheese. Find it on the Loredo dairy farm, beside Route 102, between the Crags and Nature's Valley. Similarly rustic, Totties Farm Kitchen (00 27 44 389 0092; tottiesfarmkitchen.co.za) is a restaurant and shop in the forest village of Rheenendal, with hearty dishes such as homemade pies. To get there, turn off the N2 between Buffels Bay and Knysna and follow the secondary road for 13km.
On Bramon Wine Estate (00 27 44 534 8007; bramonwines.co.za) at the Crags, you can taste their Methode Cap Classique bubbly, sauvignon blanc and rosé, and picnic in the vineyards.
Walk in the woods
With its old-growth forests sprawling to the water's edge, the Garden Route is one of South Africa's favourite hiking destinations.
Several long-distance trails, that can take up to a week, follow the Indian Ocean or explore the mountains; the best known is the five-day Otter Trail, which crosses 43km of beaches and river mouths in the Garden Route National Park's Tsitsikamma section. Permits for the trail costs 1,000 rand (£45pp), including accommodation in basic huts, and should be booked well in advance.
For the more casual hiker, there are also many options for shorter strolls among the towering yellowwood and stinkwood trees. Head to the Garden Route National Park or the Goukamma Nature Reserve (00 27 44 383 0042; capenature.co.za), between Sedgefield and Buffels Bay, for easily manageable paths and boardwalks. Highlights include the seven kilometre Half Collared Kingfisher Trail, which follows the Touws River to a waterfall in the park's Wilderness section.
There's also a two kilometre walk to the dramatic 77m suspension bridge at Storms River Mouth, in the Tsitsikamma section. Short trails are generally included in park entrance fees, which range from 40 rand (£1.80) for Goukamma to 180 rand (£8) for Tsitsikamma.
Getting there
Cape Town is the best international airport for the Garden Route. The only non-stop flight from the UK is on BA (0844 493 0787; ba.com) from Heathrow. Indirect options include Emirates (0344 800 2777; emirates.com) via Dubai, Etihad (0345 608 1225; etihad.com) via Abu Dhabi; and Turkish Airlines (0207 471 6666; turkishairlines.com) via Istanbul.
Getting around
A car is useful; an affordable local hire firm is Around About Cars (00 27 21 422 4022; aroundaboutcars.com).
FlySafair (00 27 87 135 1351; flysafair.co.za), Kulula (00 27 11 921 0500; kulula.com) and Mango (00 27 11 086 6100; flymango.com) link George on the Garden Route with Johannesburg and Cape Town. Airlink (00 27 11 451 7300; flyairlink.com) connects George airport with Cape Town and Durban.
Bus lines including Greyhound (greyhound.co.za) stop along the Garden Route; a budget alternative is the Baz Bus (00 27 21 422 5202; bazbus.com).
Red tape
Families are warned that admission will be refused to any child under 18 who does not travel with a full birth certificate. Rules are even tougher if both biological parents are not travelling. See bit.ly/FamilySAf for more details.
Where to stay
The Garden Route has no end of accommodation, from campsites to luxury lodges. A stunning example of the latter, near Knysna, is Phantom Forest Eco-Reserve (00 27 44 386 0046; phantomforest.com), with treehouse suites on a private reserve from 3,876 rand (£173) B&B.
To indulge your fairy-tale fantasies, stay in one of the two castles which were built on the secluded Noetzie beach in the 1930s by an eccentric Rhodesian. Self-catering from 3,500 rand (£156); sleeps eight (noetziecastles.co.za).
Tranquility Lodge (00 27 44 531 6663; tranquilitylodge.co.za) in Nature's Valley is a pleasant mid-range guesthouse. Doubles start at 1,180 rand (£53), B&B.
Backpacker hostels abound, while campers can stay deep in the woods at the Forest Timber Camping Decks in the national park's Knysna Lakes section. Pitch your tent on a raised platform and sleep suspended between the treetops and the forest floor; sites cost 245 rand (£11) for two people.
Join our new commenting forum
Join thought-provoking conversations, follow other Independent readers and see their replies