The Independent's journalism is supported by our readers. When you purchase through links on our site, we may earn commission.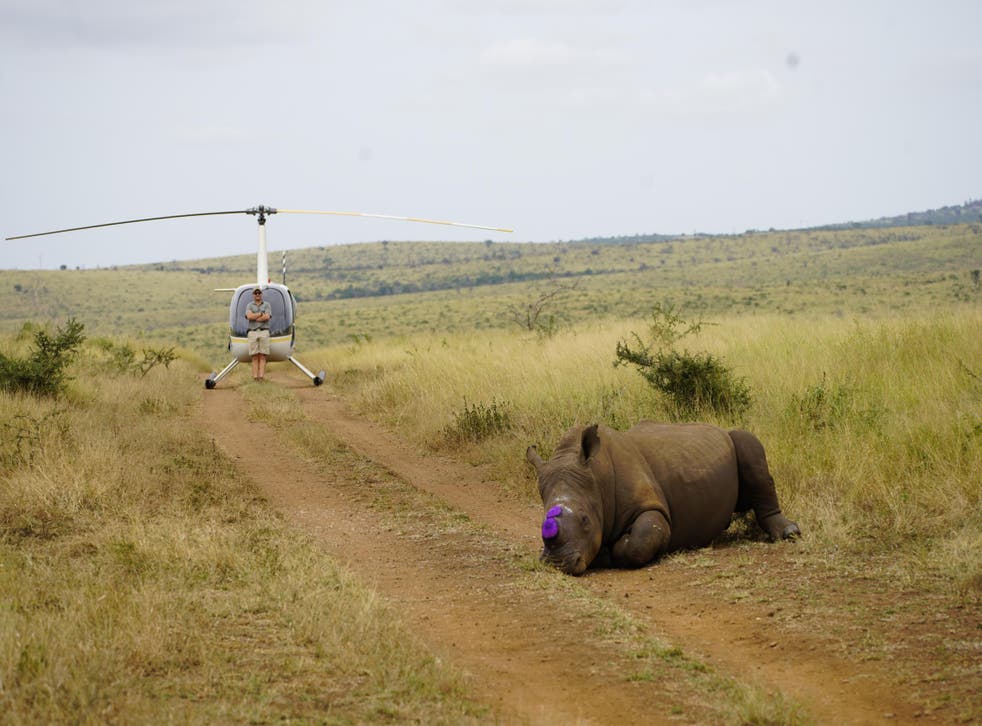 Why a South African game reserve is dehorning its rhinos
This revolutionary scheme may seem cruel, but is aimed at deterring poachers – and saving animals' lives
The tiny Robinson R22 helicopter hangs low in the sky, seemingly only 20m above ground. Suddenly it tips vertiginously, the tail almost vertical, and hurtles forward.
Anton Louw, the ranger in our open safari vehicle, and MD of Zuka Private Game Reserve in KwaZulu-Natal says: "It's guiding the rhino, getting it out into the open, away from hazards like a ditch."
Louw is an extremely experienced tracker, able to find everything from a feasting leopard – assisted by the distant squeals of agitated monkeys – to almond milk in a remote South African safari lodge.
The helicopter slows and sits upright again, hovering in place for a moment, which tells Louw something's happening. "That's the dart going in," he says.
We drive down the dirt road and see the rhino ahead.
It's all part of a rhinoceros dehorning procedure. No, I'm not undercover with a band of poachers – quite the opposite. This process is done to protect the rhinos.
The removal of most of the horn, done by a chainsaw but, I'm assured, as painless as trimming a fingernail, means the obscene interest in the animal's horn as a source of valuable mineral is severely reduced. Rhino horn on the black market sells for $100,000 (£75,000) per kilo. It's valued as an aphrodisiac in some parts of the world, despite there being no evidence to support this. As Mike Kirkinis, owner of Lebombo Safaris, puts it: "To be crude, the only way the horn will make a difference to somebody's manhood is if he straps it on."
But once the animal has been dehorned, the poachers, who think nothing of killing a rhino just to steal its lucrative headpiece, are much more likely to look elsewhere.
The nature conservancy thought long and hard before beginning the programme. After all, a rhino has a horn for a reason, right? Yes – primarily to defend itself against predators and other rhinos.
But in the history of the Zuka Reserve, not a single rhino without a horn has been killed by the most likely non-human predator, a lion. And if all rhinos are dehorned, there's a level playing field between them.
Kirkinis, who organised the day's excursion, explains this project can take up to 40 per cent of the reserve's time. It's costly too, thanks partly to the price of the helicopter and its skilled tracker and pilots. The operation is funded by donations from safari guests, donors to www.africafoundation.org.za and conservancy members who own the land.
In pictures: Angry rhino charges conservationists in Nepal

Show all 6
For security reasons, Kirkinis won't say how many rhinos there are on the reserve, only that it's a significant number. In the Seventies, there were 300,000 black rhinos across Africa; the figure is now less than 5,000. The number of more commonly found white rhinos is also only a fraction of what it once was, perhaps 20,000 in the entire continent. One species, the northern white rhinoceros, is virtually extinct: the last male died in March, with only two females alive with which conservationists hope to save the animal from extinction.
Mike Toft, the vet who will shortly remove the horn of the rhino that's just been tranquilised, says: "The dart includes a drug called M99, which is about 10,000 times as strong as morphine. A tiny amount is easily enough to kill a human." He warns me, "When you see the horn being removed, I'll be surprised if you don't have an emotional reaction."
Louw nods, whispering: "The first time I saw it happen, I found the experience very intense."
As we drive up in two safari open jeeps, the rhino is standing on one spot. He starts "high-stepping", something Toft says happens as the dart takes effect. He sways and, in a heart-breaking moment of pathos, falls, rolling and landing on his side.
The vet and safari trackers move in quickly, encouraging the rest of us to follow. "Put your knee there," Louw instructs me, and five of us press on the rhino to hold him in place. The animal, Toft has warned us, is half-awake, not half-asleep – although large earplugs and a blindfold – specially designed for a creature this size – are in place to help keep him relaxed.
The vet is watching the animal's vital responses intently, ready to pour water on him or blow him with cool air if he gets too hot. Before the current M99 cocktail was arrived at, rhinos would often overheat during the sedation, with many of them dying after the procedure.
The horn removal begins. The chainsaw – a tool that has been carefully chosen following experimentation with various cutting methods – glides through the horn easily, spraying flakes in the air. As the vet expertly trims, a blood vessel is broken and a little blood drips out – something we've been assured is painless as the horn has no nerve endings.
This is the moment I realise I'm crying. Even though I know the operation is to keep the animal alive, the whole thing feels overwhelming.
The vet sands the base of the horn to make it smooth and then uses an aerosol with an antiseptic and insecticide spray, leaving the horn a neon-bright purple.
The removed horn is injected with a microchip to identify it as others in the group perform medical tests on the rhino.
We retreat to the 4x4 while Toft uses another injection to wake the rhino. He lies immobile for almost a minute, then slowly gets to his feet and walks away. The horn will regrow, and this magnificent beast will need to be trimmed again in a couple of years.
Horn shavings litter the road, but are collected by the team. I pick one up and ask if I can keep it as a souvenir. Louw points out that sniffer dogs will recognise this at the airport, and I quickly hand it over.
"It's inconceivable that we still have to be doing this, but it's a stopgap until other measures, such as outlawing the sale of rhino horn, can take hold," says Kirkinis. "This procedure costs around 15,000 to 20,000 South African rand per animal (£900-£1,200), and we can do up to 20 a day. It can reduce the chances of poaching by up to 90 per cent."
Travel essentials
Getting there
British Airways flies from London Heathrow to Johannesburg, followed by a flight to Phinda Reserve private airstrip on South African Airways, from around £1,300 return.
Staying there
David Phelan stayed as a guest of the Bayala Private Safari Lodge and Camp in the Zuka Reserve; doubles from £230, B&B.
Register for free to continue reading
Registration is a free and easy way to support our truly independent journalism
By registering, you will also enjoy limited access to Premium articles, exclusive newsletters, commenting, and virtual events with our leading journalists
Already have an account? sign in
Register for free to continue reading
Registration is a free and easy way to support our truly independent journalism
By registering, you will also enjoy limited access to Premium articles, exclusive newsletters, commenting, and virtual events with our leading journalists
Already have an account? sign in
Join our new commenting forum
Join thought-provoking conversations, follow other Independent readers and see their replies