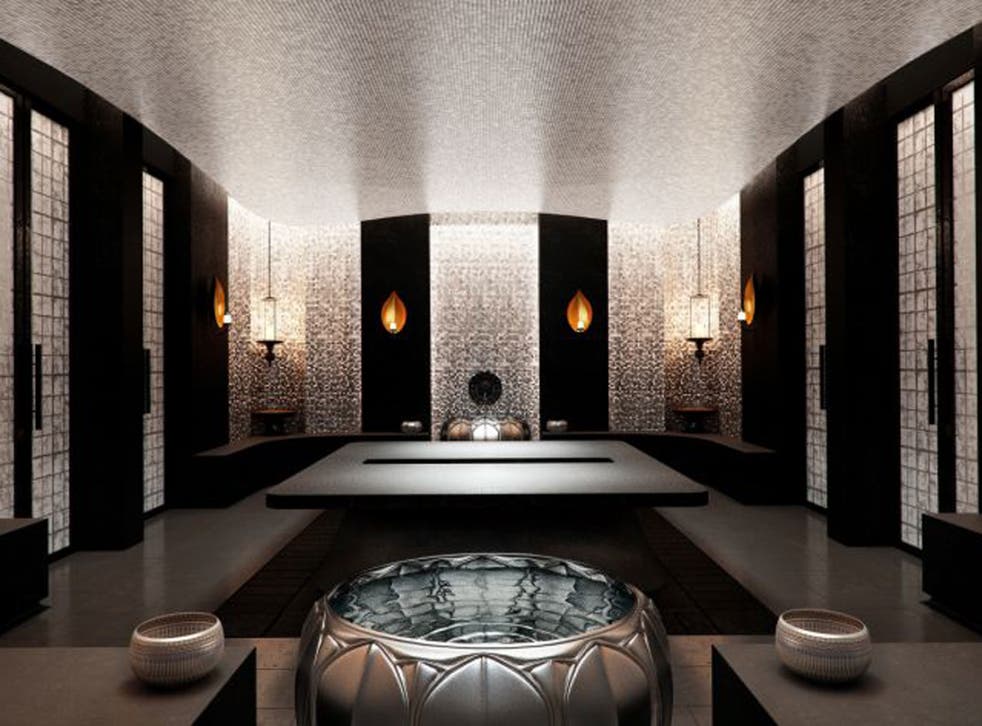 When at Bohemia get set for rhapsody
Room Service: Bohemia Suites, Gran Canaria
Matthew Hirtes
Friday 07 December 2012 08:00 Comments
Walk down Avenída Estados Unidos and you'll be forgiven for missing the entrance to Gran Canaria's latest five-star hotel. For there's no sign to this New Millennial take on standard 1970s architecture. At first, I thought it might be an apartment block, since this part of Playa del Inglés is very much residential. But the colourful external lighting made me retrace my steps. This was indeed the hotel I was looking for.
From the moment you step through the door of the adults-only Bohemia, it's a challenge not to rhapsodise about it. The entrance is classic feng shui with a narrow portal which contrives to produce a level of stress in the visitor. However, the lobby soon widens and acts as a calm after the storm. As does the complimentary glass of cava, handed to you on arrival.
In a past life, the hotel was the 1971-built Apollo, which closed its doors in 2009. Since then, the number of bedrooms has decreased from 115 and services increased to gain an extra star. There are now 67 rooms and 80 staff – such an employee-to-guest ratio makes for a pampered stay. However, while staff are conspicuous by their presence, they are not as in your face as their sheer force of numbers would suggest.
The lobby, where you're never a coffee table away from a copy of Vogue, has chandeliers that look like drop-earrings. It's a space that exudes relaxed glamour with contemporary furnishings and smooth finishes. It's all in keeping with the modus operandi of Swiss architect Pia Schmid, whose idea for the transformation focused on intelligent luxury: "construction is communication. Architecture is relationship. Life" is her somewhat confounding motto.
Head to the eighth floor for the classy 360 Degree Lounge, where you're greeted by a riot of colour – light blue walls, lilac and red chairs – and a portrait of 1920s Manhattan flappers. Here, I dined – with the open-plan kitchen in full view – from an enterprising menu with more global than local dishes (the emphasis was Mediterranean) and a wine list to redress the imbalance, with wines from Tenerife and Gran Canaria.
Another place to get away from it all is the first-floor Siam Spa. The sleek black interior provides a temple to the body beautiful, but finishing touches were being applied on my visit so I wasn't able to enjoy a massage from one of four Thai masseuses. The basement wellness centre (featuring saunas, steam bath, and gym) was open, as were the two swimming pools set in verdant gardens – a green and pleasant contrast to the nearby Maspalomas sand dunes.
Location
The hotel is a 10-minute walk from the Yumbo centre, the Canaries' most celebrated gay nightspot, and a further five to the beach of Playa del Inglés. Nevertheless, it feels far removed from the drink-your-age-in-pints image of the resort.
Thirty minutes' drive from Gran Canaria's LPA airport, the Bohemia is located 55km south of the island's capital Las Palmas. A day trip is achievable, but probably unlikely as your pace is abated by the hotel's chilled but never chilly ambience.
Comfort
Of the 67 bedrooms, 29 are suites. With a nod to Morocco – which is a good deal closer than the Iberian peninsula – rooms come in three colours: purple, red or yellow. The gnome stools are a highlight of the playful design. The open-plan layout of my yellow room made it seem more spacious, with wooden floors giving way to a balcony and the en suite bathroom in full view. In daylight hours, your sleeping quarters are transformed as the sun's rays come flooding in.
The minibar is stocked with local chocolates from the esteemed El Aderno stable and serrano ham from the peninsula. Midnight munchies have never been better catered for. I resisted the temptation to switch on either the Loewe TV or Apple iMac, not wanting 21st-century reality to invade the reverie cast by Room 506.
Travel Essentials
Bohemia Suites, Playa del Inglés, Gran Canaria, Spain (00 34 92 85 63 400; bohemiagrancanaria.com).
Doubles from €189, including breakfast.
Register for free to continue reading
Registration is a free and easy way to support our truly independent journalism
By registering, you will also enjoy limited access to Premium articles, exclusive newsletters, commenting, and virtual events with our leading journalists
Already have an account? sign in
Join our new commenting forum
Join thought-provoking conversations, follow other Independent readers and see their replies