The Independent's journalism is supported by our readers. When you purchase through links on our site, we may earn commission.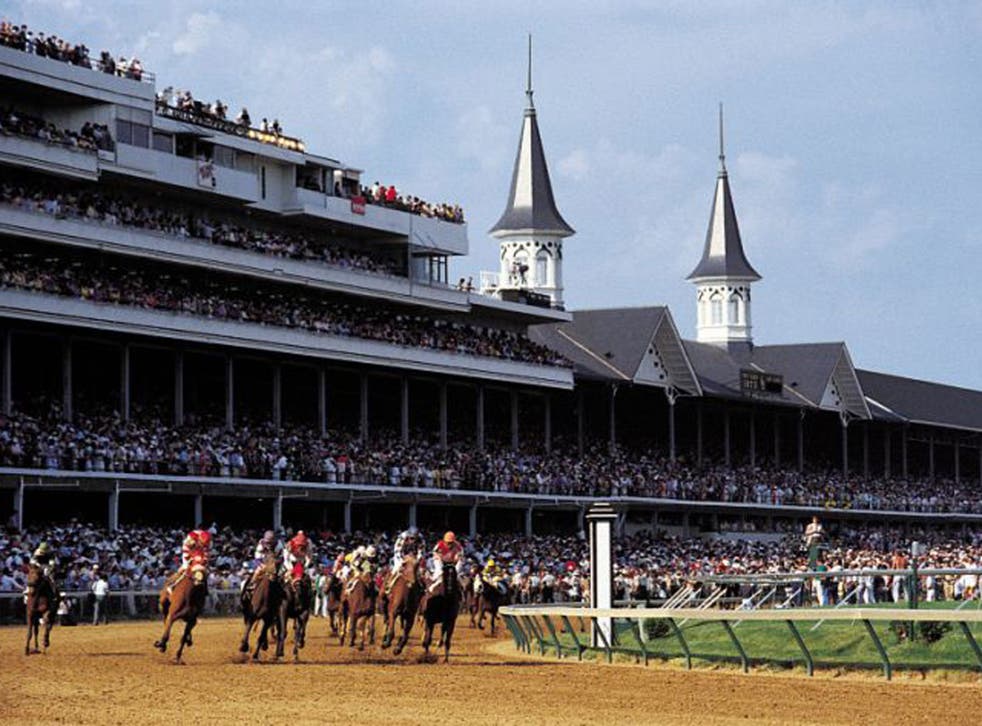 A date with the Kentucky Derby
Churchill Downs is the revered home of American horse racing, as Chris Leadbeater discovers on a trip to Kentucky
There is something eerie about being in a big sporting venue when the crowds are absent. It is a cold Kentucky morning in the suburbs of Louisville, and I am one of only four people standing by the vast grandstand at Churchill Downs racecourse. The other three are applying a lick of white paint to one of this elegant structure's supporting columns, leaving me to survey the view: the epic curve of the track; the wind toying with the brown-orange dirt that constitutes its surface; the many rows of seats, each a pale green. Behind me, one of the workers drops his brush – and the sound seems to echo endlessly.
The scene will be rather more busy tomorrow, especially at 6.24pm (11.24pm UK time), when the starters will line up for the 140th running of the Kentucky Derby. Churchill Downs will be crammed to its 120,000-strong capacity, spectators swirling around the outfield and filling the yard behind the stands where the names of the 139 previous champions – equine aristocrats such as War Admiral, Secretariat and Seattle Slew – are fixed to the walls. By 6.26pm, another remarkable horse will have joined them, and the US will be entranced.
Traditionally held on the first Saturday of May, the Kentucky Derby is an American sporting icon, perched on the pantheon with the Superbowl, the World Series and the last round of the Masters. Except that it is quicker than these stars-and-stripes extravaganzas. Far quicker. It takes the winner between 121 and 124 seconds to sprint the one-mile distance – only two horses (notably Secretariat in 1973) have broken the two-minute barrier. It is a race that, unlike the perilous lottery of Britain's hurdle-laden Grand National, is a flat-track feat of pure athleticism, exclusively for three-year-old thoroughbreds. Victory bequeaths immortality.
For all this ballyhoo, it is easy to catch a glimpse of Churchill Downs when the hooves are flying. Tickets for the Derby sell swiftly, but meetings are held throughout the year – the core racing season for 2014 lasts until 29 June, with further sessions slated for autumn (5-28 September; 26 October-30 November), once the cloying heat that cloaks Kentucky in summer has dissipated. Admission can be cheap, too: as little as $3.
This picture is complemented by the next-door Kentucky Derby Museum, which revels in the fanfare and folklore of the event. There are outfits in bright colours – jockeys' silks and female race-day fashions, the latter a wild flurry of pink fabrics and peacock feathers. And there is an impressive in-the-round auditorium where the rituals of the day pour forth as slow-motion images – steaming flanks, flared nostrils, graceful but powerful motion.
I find myself drawn to the touch-screen library, which stores all footage of the Derby. The inaugural champion of 1875, Aristides, is represented by a plain drawing, but newsreel reportage swings in as early as 1918, capturing Exterminator's romp to the tape. The ensuing videos sketch out a changing America – smart suits, decadent furs and peacetime smiles as Assault takes the first post-war Derby in 1946; the name of 1965 victor Lucky Debonair chiming with the optimism of the Sixties; whoops and hollers for Secretariat's still-unmatched 1973 record time; a wet day in 2010, winner Super Saver coated in mud.
It is not hard to subscribe to the glamour of it all. It is only when I leave the museum that I realise: Churchill Downs is not very glamourous. At least, not beyond its perimeter fence. Here, the southern half of Kentucky's largest city fans out in unlovely style, the epitome of urban mundanity. At the rear gate of the course, Wagner's could not be more unpretentious – a relic dating to 1922, part pharmacy, part diner, and entirely sewn into Derby mythology. On race day you cannot buy a table here – although, on this morning, things are less flustered. Sepia photos of keynote races hang in the eating area, elderly gentlemen study torn newspapers and the clatter of pans in the kitchen is as loud as any final-furlong roar. My cheese omelette comes with coffee and a scowl from the waitress.
This is splendid. In an era when sport can be so stage-managed, so polished to blankness, it is refreshing to find a hallowed arena where a dab of dirt lingers under the fingernails.
But then, Louisville is a place that looks back as much as forwards. Founded in 1778 on the lower bank of the Ohio, it grew on river traffic and later as a railway hub. Like many mid-sized American cities, it slumped in the Sixties as its population decamped to out-of-town housing and malls. And like many of its compatriots, it has recovered in the past two decades, new bars and cafés dotting its nightlife district NuLu and burrowing into the red-brick shelter of Downtown's fine old buildings. MilkWood, on West Main Street, is a case in point, playing clever tricks with both meat (the pork shoulder comes barbecued with coconut rice and okra) and cocktails (the sweet ruby allies bourbon, sweet tea and mint).
Louisville is Kentucky's main metropolis. And yet, its city concerns render it at odds with the rest of the state. Kentucky is rural, defined by its love of whiskey and horses, clinging to both as pillars of identity. Without them, it might be lost, neither part of the Midwest that fans out above it (its northern neighbours are Indiana – immediately over the river – Illinois and Ohio), nor the South that begins on its lower edge in the shape of Tennessee.
It takes me just a few miles, forging east out of Louisville on Route 60, to uncover that fabled Kentucky of giant ranches and verdant bluegrass (in reality more of a healthy olive hue). Frankfort, the fifth most diminutive state capital in the US, is gone in seconds. So is Midway, an encapsulation of small-town America where a train line trawls Main Street.
By the time I reach Lexington, I am at the heart of Kentucky – if not quite geographically then certainly spiritually. A shrine to the religion of saddles and stallions, it markets itself as the "Horse Capital of the World" and backs up this boast at Keeneland – a racecourse that replaces the frayed-at-the-corners aesthetic of Churchill Downs with clipped refinement. Framed by lush acres, it sings of expensive tastes – bespoke outfits and mint juleps in the sun. And while it does host races, in April and October, the focus is as much on breeding as competition. You can practically smell the cash that washes around the Sales Pavilion in November, when billionaires come to buy the finest foals from the surrounding estates.
The true temple, however, is the Kentucky Horse Park. Here, the International Museum of the Horse traces man's relationship with these distinguished creatures to the chariots of ancient Egypt, while, in a prominent position at the entrance to the property, a bronze sculpture marks the grave of Man O'War – the Lexington-born behemoth whose 20 wins in 21 races from 1919 to 1920 made him arguably the greatest American thoroughbred of all time.
In the adjacent Hall of Champions, his successors doze through retirement – Go For Gin, the 1994 Derby winner and Funny Cide, the hero of 2003. Then there is Cigar, a titan of the Nineties who accrued $187 short of $10m in prize money during his career. Now 24, he emerges from his stable in a foul mood, shoots me an angry glare and ambles into the pasture outside. He may not be pleased to meet his public but, as with Kentucky as a whole, there is a stubborn nobility to the moment that is rather endearing.
Travel essentials
Getting there
United (0845 607 6760; united.com) flies to Louisville from Heathrow via Chicago, Washington DC and New York-Newark – and to Lexington from Heathrow via Chicago.
Staying there
Galt House Hotel, 140 North 4th Street, Louisville (001 502 589 5200; galthouse.com). Doubles from US$190 (£113), room only. Gratz Park Inn, 120 West Second Street, Lexington (001 859 231 1777; gratzparkinn.com). Doubles from $203 (£121), room only.
Visiting there
Kentucky Derby Museum, 704 Central Avenue, Louisville (001 502 637 1111; derbymuseum.org). Daily 8am-5pm except Sunday, 11am-5pm; $14 (£8.30). Racecourse tickets (001 502 636 4400; churchilldowns.com) from $3 (£1.75). Keeneland, 4201 Versailles Road, Lexington (001 859 254 3412; keeneland.com). Open to the public for self-guided tours. Kentucky Horse Park, 4089 Iron Works Parkway, Lexington (001 859 233 4303; kyhorsepark.com). Daily 9am-5pm; $16 (£9.50).
Eating there
Wagner's, 3113 South 4th Street, Louisville (001 502 375 3800; wagnerspharmacy.com).
MilkWood, 316 West Main Street, Louisville (001 502 584 6455; milkwoodrestaurant.com).
More information
Register for free to continue reading
Registration is a free and easy way to support our truly independent journalism
By registering, you will also enjoy limited access to Premium articles, exclusive newsletters, commenting, and virtual events with our leading journalists
Already have an account? sign in
Register for free to continue reading
Registration is a free and easy way to support our truly independent journalism
By registering, you will also enjoy limited access to Premium articles, exclusive newsletters, commenting, and virtual events with our leading journalists
Already have an account? sign in
Join our new commenting forum
Join thought-provoking conversations, follow other Independent readers and see their replies