All white in the salt flats of Bolivia: Salar de Uyuni - where dust devils etch the surface

Show all 6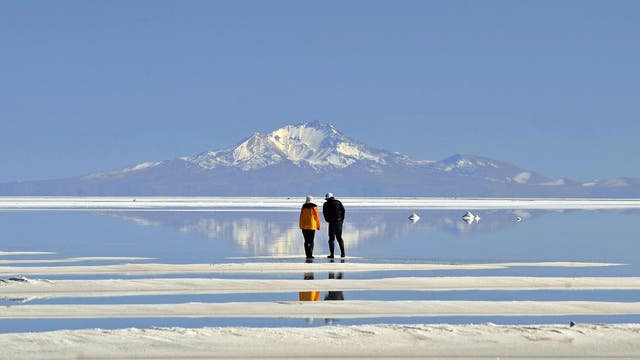 All white in the salt flats of Bolivia: Salar de Uyuni - where dust devils etch the surface
Vast salt flat is said to have been created by a mountain goddess. Neil McQuillian is in thrall to this otherwordly landscape
The most popular bar in Uyuni is Extreme Fun Pub. It offers "llama sperm" shots and phallic drinking vessels. Spend an hour in this 1km-by-2km town and you can understand why merrymaking has found such awkward, overeager expression. Fun feels far away here, a forgotten concept to be guessed at. Step down from the first-floor bar to street level – albeit a 3,668m-above-sea-level street level – and the town's dusty, congestion-free boulevards, sickly and pallid in colour, are as functional as ducting, petering out into flat Altiplano badlands of scrub and rubble. The streets' unusual width affords glimpses of this landscape from many points in town, as if daring you take it on. Occasionally, a fine dust whips up, so that people squint their eyes and raise hoods. Electricity lines stretch in great sagging lengths. One popular internet café advertises high-speed connections, though the owner admits to every customer that it is in fact muy lento. Very slow – that's Uyuni all over.
The town did once have greater purpose. Stand on the platform of its railway station, which still serves the Oruro-Villazon passenger line, and listen to the clanging as workers repair rolling stock, turning Uyuni into an echo chamber and recalling its former status as a rail nexus for the transportation of mined booty. With that role redundant, why didn't Uyuni give up the ghost? Extreme Fun Pub provides the answer: in one of its rooms, the floor is thick with salt.
It is during the daytime that Uyuni is at its most desolate, because tourists are out gazing at the town's modern-day raison d'être: the Salar de Uyuni. This, the world's largest salt flat, extends over 9,000 harshly beautiful square kilometres, but the clincher that draws visitors away from Bolivia's northern highlights – La Paz, the Bolivian Amazon and Lake Titicaca – is that the standard three-day-two-night trip also takes in the Reserva Nacional de Fauna Andina Eduardo Avaroa, whose lakes of red and green, stinking mud pits and pink flamingos contrast in the most clamorous way imaginable with the salar's blank whiteness.
With principal base towns such as Uyuni and Potosi – where the draw is a frightening descent into the once-bountiful mines of Cerro Rico mountain – the regional tourist board's motto might as well run: "It's grim down south (but in a good way!)". Indeed, the Uyuni expeditions kick off by visiting a graveyard (of sorts). A few minutes' drive in the 4x4 beyond the town's edge, with the Altiplano billowing out all around us, we arrived at the Cementerio de Trenes, two long rows of locomotives, wagons and carriages seemingly frozen in their death throes. The gritty rust suited their make-up, all rivets and parts. Graffiti ranged from "Viva mi patria Bolivia" and "Nicole Te Amo" to "Mickey From Boyzone Woz Ere" and "NUFC". Our driver-cum-guide, Garcia, said the train cemetery had been in place for over 70 years.
Glowering beneath his big "Countryside Ford" baseball cap, Garcia had so far hardly spoken – though his habitually parted lips suggested he was on the cusp of speech – and then only in Spanish. But it quickly became clear that he would express himself through the medium of breakneck speed, a practice that did have one early benefit. As we careered through the still-salt-free landscape, a giddy sense suddenly washed over me that everything was dropping away, as if a clifftop loomed ahead of us. My right foot searched for a brake. Then, all at once, we were upon the salar. Driving seemed to become gliding. On the horizon, mountains floated, their bottoms cut away by some optical illusion. This was the dry season; during the rainy months (November to April), salar tours are more highly prized since the submerged surface becomes one vast mirror.
Garcia's speed was particularly troubling because the terrain so resembled ice, but soon the salar was fragmented into a vast network of polygonal shapes, formed by the evaporation of salt water through cracks on its surface. To the north, Volcán Tunupa was coming into view. This dormant volcano gives the salt flat its traditional name – Salar de Tunupa – and plays a part in indigenous theories of its creation, according to which the mountain goddess Yana Pollera filled the plain with her milk to keep apart volcano gods Tunupa and Q'osqo, who were fighting over fatherhood of the goddess's child.
In the lake, an island. Brown and green against the overarching white, the cacti-studded Isla Incahuasi (or Isla del Pescado) grew closer. Its raw beauty was spoilt by a long line of tour group 4x4s parked along its southern flank, so neat and numerous they might have just rolled off the production line. The salt lake appeared to lap at the island in a series of little bays, while the crooked cacti, sprouting ice-blue flowers, could have been gently waving underwater. Of course, the whole region was once submerged: some 12,000 years ago, the salar was part of enormous Lago Tauca. At the island's peak, we found offerings to the Andean earth mother, Pachamama: coins, cigarettes and a lone hair scrunchie. The mountain-dominated horizon was split, front to back, into three lines of varying grey, like a photography test strip. An approaching 4x4 sounded like a jet plane high overhead, its track cutting through one of the circular shapes that salt dust devils etch on the salar's surface.
We spent our first night at a basic, salt-constructed refuge in Puerto Chuvica, one of 20 or so communities along the salar's banks. The surrounding hillsides were flecked with cacti that looked to be moving at iceberg pace down the slopes. The main signs of life were grazing vicuñas, the undomesticated, cartoon- cute relation of the llama and alpaca, whose coat is hugely valuable. Taking a walk into the hills, I passed among coral-sharp rocks covered in fossilised algae, and piles of stones known as apachetas, ceremonial constructions linked to communion with nature. Stumbling upon a couple engaged in their own amorous communion with nature sent me quickly back the way I had come. As I descended, the hills' shadow made slow, sliding progress across the salar.
Next day we visited a sequence of lakes. The first, and the most beautiful spot yet, was Laguna Cañapa, where 100 or so pink flamingos stood erect, piercing reflections of the surrounding mountains in the shallow waters. Lowering their heads to feed, the birds appeared to be kissing themselves. The next lake, Laguna Hedionda, reeked of sulphur – the name means "stinky" – and the flamingos squelched as they stepped about the sludgy waters.
Soon nearly all sense of a road was gone and Garcia powered his way through a dark brown landscape that rolled this way and that, like thick-spread dulce de leche. The only times he slowed were to pack his cheeks with coca leaves, fastidiously nibbling each one from its stem before pressing it into his mouth. Copper-stained mountains etched with patterns like satellite images of Mars rose up in the distance and a dust twister raced away ahead of us. We stopped for a staring match with a trio of viscachas, rodent creatures like a cross between a rat and a hare, and suitably peculiar guardians for the reserve which we were about to enter.
Named after Eduardo Abaroa Hidalgo, a colonel killed during the War of the Pacific in which Bolivia lost its coastline to Chile, it's as if the reserve were doing its landlocked best to assuage that loss. It puts on quite a show. The highlight, and the location of our second night's accommodation – a motley hamlet of low concrete refuges – was Laguna Colorada, whose silky red waters were scattered with white islands of the mineral borax, like so many dollops of cream. On the lake's far shore, a wall of dust drifted like a ghostly ship's sail, then dissipated. Come nightfall the sky was a planetarium, with more and more stars appearing the longer I looked. Beyond the darkness-obscured lake, some distant storm caused flashes of dusty red on the horizon, showing up the mountain line.
At 5am it was 5C on our final day – it can reach -20 to -25C come June and July, Garcia had told us with relish – and the sky was still a deep blue. With mountains glowing red in the early morning sun, he accelerated blindly through the dust, racing other 4x4s to reach the geothermal field known as Sol de Mañana. At a freezing 5,000m this was the highest point on our tour. The stinking, bubbling pits were shrouded in steam, beyond which a nearly full moon was pale in the cloudless blue.
By now we'd had our fill of eye candy. Garcia took us on to a paddling pool-sized hot spring – Laguna Polques – and then on to the so-called Salvador Dalí desert, whose strange rock formations couldn't even tempt us out of the vehicle. Laguna Verde wasn't green on this visit, which Garcia put down to an absence of wind, but that was fine – we'd seen enough.
The seven-hour drive back to Uyuni was undertaken in near silence. Garcia sent coca leaves fluttering out of the window as we passed occasional roadside shrines, blessing himself in a conflation of indigenous and Christian belief. At one point we passed a small, ugly industrial facility. I asked if this had anything to do with the processing of lithium, the mineral that powers mobile phone, laptop and electric car batteries, since the salar holds vast reserves of this grey gold under its surface. Garcia didn't know. A pilot plant has recently been endorsed by President Evo Morales; however, if those tentative steps become a rush, Extreme Fun Pub may find that far fewer gringos will come looking for refuge from Uyuni's streets.
Travel Essentials
Getting there
Air Europa (0871 423 0717; aireuropa.com) flies from Gatwick, with a change of plane in Madrid, to Santa Cruz in the east of Bolivia. American Airlines (0844 499 7300; americanairlines.co.uk) flies from Heathrow to the Bolivian capital, La Paz, via Miami.
Staying there
La Petite Porte (00 591 7388 5960; www.hotel-lapetiteporte-uyuni.com) offers doubles for US$90 (£56), including breakfast.
Seeing there
Recommended Uyuni tour operators with offices in town include Red Planet Expedition (00 591 7240 3896; redplanetexpedition.com) and Cordillera Traveller Tours (00 591 2693 3304; cordilleratraveller.com).
Register for free to continue reading
Registration is a free and easy way to support our truly independent journalism
By registering, you will also enjoy limited access to Premium articles, exclusive newsletters, commenting, and virtual events with our leading journalists
Already have an account? sign in
Register for free to continue reading
Registration is a free and easy way to support our truly independent journalism
By registering, you will also enjoy limited access to Premium articles, exclusive newsletters, commenting, and virtual events with our leading journalists
Already have an account? sign in
Join our new commenting forum
Join thought-provoking conversations, follow other Independent readers and see their replies