The Independent's journalism is supported by our readers. When you purchase through links on our site, we may earn commission.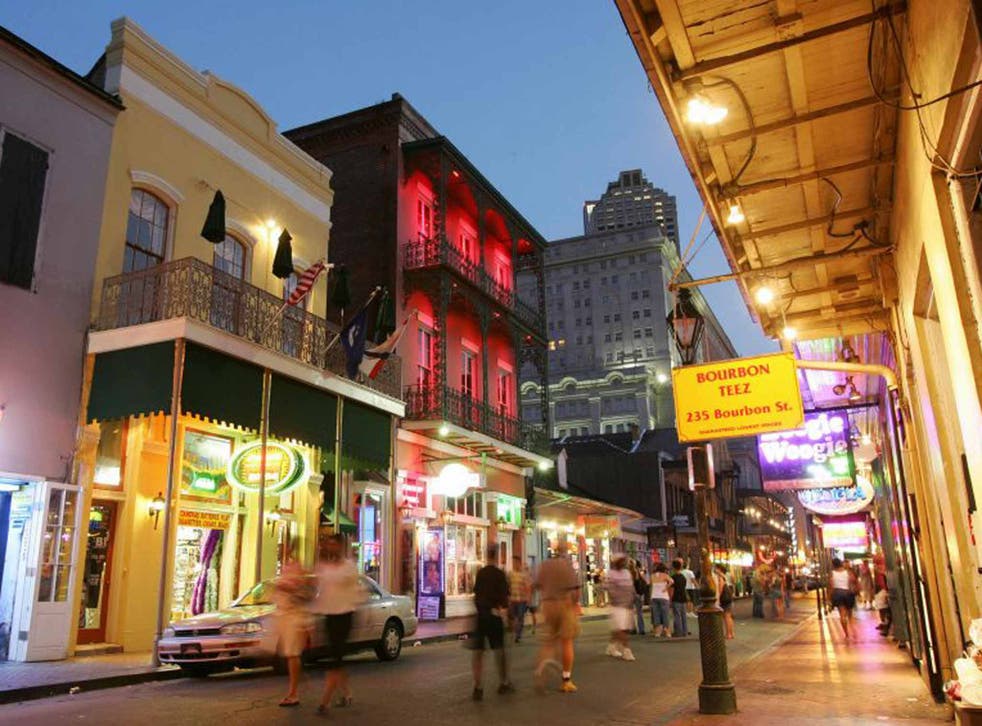 America's Deep South: Endless opportunities for a first-class road trip
It may not be easy to define, but this region is full of music, food and huge historic significance, says Chris Leadbeater
Considering that it is a term so closely tied to America – a two-word phrase which swirls with images of history, food and music – the "Deep South" can be tough to pin to the map.
Anyone who holds even the vaguest interest in the US knows roughly where to find this most fabled of regions – there in the south-east of this enormous country, a soupy gumbo of evocative cities, wildlife-heavy wetlands and coastal curves along the Gulf of Mexico. But where, exactly, is a matter of some debate.
To go by the rules of the 19th century, it would be the seven states which first formed the Confederacy in the wake of Abraham Lincoln's election as US president in November 1860 – Mississippi, Georgia, South Carolina, Louisiana, Alabama, Florida and Texas. The problem here is that, in the 21st century, Florida is seen as its own entity, while Texas, with its cowboy yeeha and border with Mexico, should really be considered part of the West.
Then there is the idea that the Deep South is as much a cultural concept as a geographical realm. Which brings Tennessee – as the spiritual home of that deeply southern musical genre, blues – into the equation. And, if South Carolina is at the party, then its twin, North Carolina, should also be on the guest list.
What is not in doubt is that, a decade ago, the Deep South had an emphatically troubled year. Hurricane Katrina, which crashed into its soft underbelly on 29 August 2005, did terrible damage to the lower sections of Louisiana – notoriously New Orleans – Alabama and Mississippi (as well as Florida). The 10th anniversary of the disaster makes this year a sensitive time to travel here – although an area that tends to revel in happiness of spirit will always look forwards as well as back.
America's Deep South

Show all 7
While New Orleans is probably the Deep South's most celebrated city, it is teasingly tricky to reach – there are no direct flights from the UK. The simplest option for arrival is the Georgia state capital, Atlanta –its airport is served by British Airways (0844 493 0758; ba.com), Delta (020 7660 0767; delta.com) and Virgin Atlantic (0344 209 7777; virgin-atlantic.com) from Heathrow. Delta – and from 29 March, Virgin – also flies to Atlanta from Manchester.
There is a direct daily US Airways connection between Heathrow and Charlotte, North Carolina (0845 600 3300; usairways.com). Florida's resort hotspot, Orlando (closely tied to the rest of the US by domestic flights), is another possibility: served by BA and Virgin from Gatwick; Virgin from Manchester (plus summer services from Glasgow and Belfast); Norwegian (0330 828 0854; norwegian.com) from Gatwick (from April); and Thomas Cook Airlines (0844 8550515; thomascookairlines.com) from Belfast, Manchester, Glasgow and Stansted (frequency varies seasonally).
While it would be impractical to tackle all seven states during one holiday, the Deep South is eminently suitable for a meandering road trip. A basic seven-night fly-drive package, travelling to Atlanta from Manchester in April, costs from £688pp, including car rental, with Virgin Holidays (0844 557 4321; virginholidays.co.uk).
Further information can be found at deep-south-usa.com (which covers Alabama, Georgia, Louisiana, Mississippi and Tennessee), plus visitusa.org.uk and discoveramerica.com.
Georgia
A Southern belle of backwoods beauty, Georgia also appeals in its urban enclaves. The capital, Atlanta, displays its sophistication in the High Museum of Art (1280 Peachtree Street; 001 404 733 4400; high.org; entry $19.50/£13). It is arguably the finest gallery in the region, with a collection of 14,000 works stretching from the bright Impressionism of Claude Monet to the stark sculptures of Anish Kapoor. And as Martin Luther King Jr's home town, Atlanta has many civil rights landmarks.
Savannah is the seaside starlet that has adorned the state's east flank since 1733. Its beauty is most pronounced in the pale, soaring towers of the 19th-century Cathedral of St John the Baptist (001 912 233 4709; savannahcathedral.org; free) and the lovely oak-lined urban space that is Forsyth Park.
Hayes & Jarvis (01293 739 562; hayesandjarvis.co.uk) can organise a 14-day Rhythms of the South self-drive tour which calls at both cities – from a starting price of £563pp. This covers room-only accommodation, but not flights or car hire.
The Carolinas
Small enough to be explored on one holiday, the Deep South's kindred souls take much of their identity from their position on the Atlantic. South Carolina has Charleston – a colonial-era jewel, founded in 1670, where the US Civil War broke out in 1861, while North Carolina has the Outer Banks – the wind-blown dunes where the Wright Brothers first flew in 1903 (nps.gov/wrbr).
Bon Voyage (bon-voyage.co.uk) offers a 12-day Sweet Carolina road trip which wanders both states. From £1,725pp including flights, car hire and room-only accommodation.
Louisiana
Parts of New Orleans still bear the scars of Katrina's intrusion, but the city has much to shout about in 2015. The highly anticipated New Orleans Jazz Market (001 504 301 9006; thenojo.com), is due to open this month, a fresh performance venue in an old department store. And the New Orleans Jazz & Heritage Festival will do its annual job of filling the city with music from 24 April to 3 May (001 504 410 4100; nojazzfest.com; day tickets from $58/£39).
The National World War II Museum has added new exhibits about the role of American forces in the events of 1945 (001 504 5281944; nationalww2museum.org; $23/£15).
Meanwhile, evening merriment ranges from the brash bars of Bourbon Street to classic Creole restaurants such as Brennan's (001 504 525 9711; brennansneworleans.com), and everything in between.
Beyond New Orleans are the former sugar plantations along the Mississippi – Oak Alley (001 225 265 2151; oakalleyplantation.com; $20/£13) and Laura (001 225 265 7690; lauraplantation.com; $20/£13) are two fascinating, well-preserved examples. And the city of Lafayette is the cornerstone of Cajun culture – that cocktail of French and American heritage which spills into music and cuisine.
Audley Travel (01993 838 755; audleytravel.com) sells an 11-day Discovering the Old South self-drive tour which dissects the state in detail. From £1,920pp, including flights, car hire and room-only accommodation.
Mississippi
Mississippi is one of the most beguiling US states, and the Natchez Trace Parkway – a scenic drive listed as a "national parkway" (nps.gov/natr) – makes for a spectacular journey. A trade route originally used by Native Americans, it forges 444 miles south-west from Nashville in Tennessee, through a large chunk of Mississippi, to Natchez.
America As You Like It (020 8742 8299; americaasyoulikeit.com) has a 10-night Natchez Trace Parkway trip from 1,105pp, including flights, car hire and room-only hotels.
For an insight into the Delta blues, visit tiny Clarksdale. Its musical credentials are writ large in the Delta Blues Museum (001 662 627 6820; deltabluesmuseum.org; $7/£5), Rock and Blues Museum (001 901 605 8662; blues2rock.com; $5/£3) and Ground Zero (001 662 621 9009; groundzerobluesclub.com), co-owned by Morgan Freeman.
The Katrina anniversary will be poignant in the Gulf resort of Biloxi, which was hit hard but has recovered. You'll find the Frank Gehry-designed Ohr-O'Keefe Museum of Art (001 228 374 5547; georgeohr.org; $10/£6.70) plus a series of casinos that make it into "Vegas On Sea".
Alabama
It is impossible to overlook Alabama's association with the Civil Rights movement. Even more so in the wake of the release of Oscar-nominated Selma – which looks at the protest marches between the titular city and Montgomery in 1965. The latter is one of the lesser-known US state capitals, but proffers an elegant memorial to the years of struggle (among other attractions) at 400 Washington Avenue.
Complete North America (0115 961 0590; completenorthamerica.com) has a 14-night Alabama Treats road trip from £2,299pp, including flights, car hire and room-only accommodation. The itinerary includes Montgomery and Birmingham – which has a designated Civil Rights District – as well as, on a sunnier note, the coastal city of Mobile. From there it's a short detour to Dauphin Island, which has stunning, under-developed beaches.
Tennessee
There is more to Tennessee than twanging guitars – Chattanooga, for example, is an enticing city on the River Chattahoochee, where Market Street is awash with eateries.
The state will always be defined by its two musical conurbations. In Memphis the headline attraction is Elvis's home, Graceland (001 901 332 3322; graceland.com; from $36/£24), but the city will go beyond its Presley fascination this spring when the Memphis Music Hall of Fame (memphismusichalloffame.com) opens at the Rock N Soul Museum (001 901 205 2533; memphisrocknsoul.org; $12/£8) on the Blues boulevard, Beale Street.
Some 200 miles to the north-east, Nashville burns an eternal flame for another genre. The Country Music Hall of Fame (001 615 416 2001; countrymusichalloffame.org; from $27/£18) is a museum of huge breadth, not least since it doubled in size ahead of its August 2013 reopening. If you hanker to know more about Dolly Parton and Johnny Cash, this is the place.
The American Road Trip Company (01244 342 099; theamericanroadtripcompany.co.uk) can arrange a 14-day Classic Deep South road trip that takes in Nashville and Memphis (plus Louisiana, Georgia and Florida), from £1,599pp, including flights, car hire and room-only accommodation.
Click here to view the Deep South Rhythms tour, with Independent Holidays.
Register for free to continue reading
Registration is a free and easy way to support our truly independent journalism
By registering, you will also enjoy limited access to Premium articles, exclusive newsletters, commenting, and virtual events with our leading journalists
Already have an account? sign in
Register for free to continue reading
Registration is a free and easy way to support our truly independent journalism
By registering, you will also enjoy limited access to Premium articles, exclusive newsletters, commenting, and virtual events with our leading journalists
Already have an account? sign in
Join our new commenting forum
Join thought-provoking conversations, follow other Independent readers and see their replies