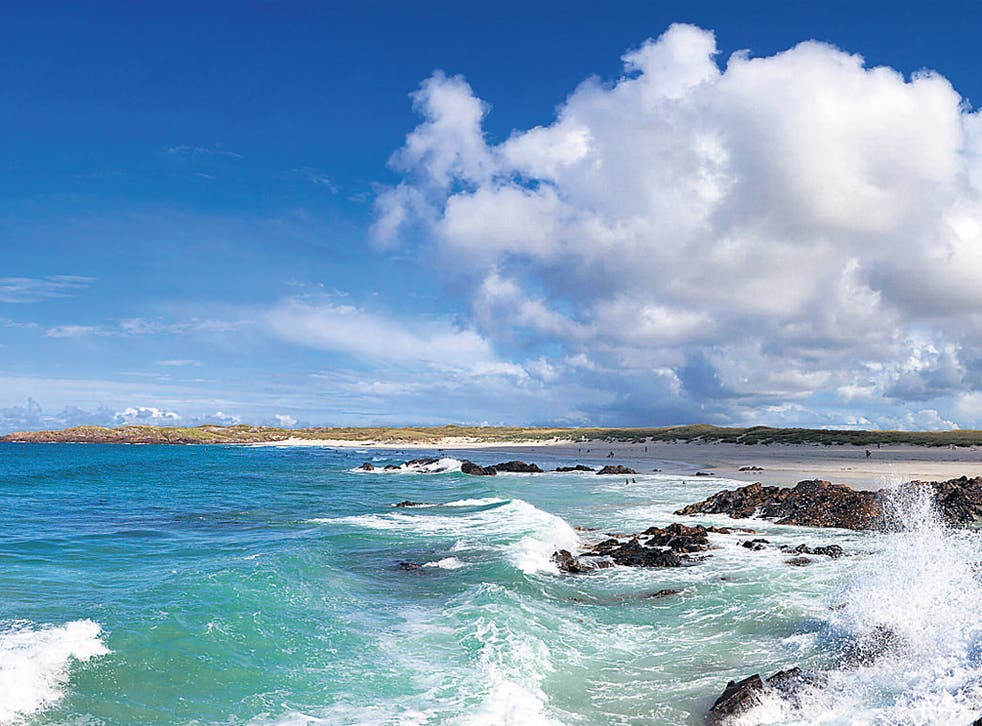 Around the Hebrides on the crest of a wave
Jonathan Bennett braves a surfer's chilly paradise
Jonathan Bennett
Friday 30 March 2012 15:05 Comments
One of the first rules of surfing (after "Don't learn, because it will take over your life") is "Never surf alone". So if you're planning on surfing in the Hebrides, it's a good idea to take a friend. Not that I was alone, exactly. As I paddled out into the clear, green water, I noticed an old man bobbing around, no more than 20 yards away, staring at me with undisguised curiosity.
I did a double take. My bald, bewhiskered observer was in fact a grey seal. But apart from the seal and a pair of gannets, I had the mile-long bay to myself. Ivory sand. Emerald water. Lush dunes. For surfers, the Hebrides is a chilly paradise.
Three hours from Oban, Tiree was just a stepping stone on my trip to the Western Isles. Any small island stuck out in the Atlantic with beaches facing all points of the compass is sure to have somewhere to surf, and after lumbering across flat, featureless moorland on single-lane roads, I stumbled across Balevullin, where local surf instructor Suds and his mate Adam were contemplating the waves.
Two weeks, 200 miles and eight Hebridean islands later, I would look back and realise that in surfing terms, this was a crowd.
After the small, green pancake of Tiree, the Outer Hebrides rise up out of the Atlantic like rocky crags strewn across the ocean. As I approached, glorious sunshine slanted through dark clouds, sending a rainbow over Kisimul castle, the small water-locked fort that guards the island of Barra and its main settlement, Castlebay.
A rocky, green peak looms above the bay, giving the village an oddly impermanent feel against the immensity of it environment.
I headed to Vatersay, a small island south of Barra, linked since 1991 by a short causeway. Here two lovely beaches sit back to back, separated by an isthmus covered in grassy dunes.
The leeward beach, Vatersay Bay, was as flat as a millpond; the windward, whipped up into brisk whitecaps. More fine, ivory sand. More clear, emerald water. It's easy to become blasé about the rugged beauty of the Hebrides.
Barra itself is small enough to go round in an hour or two, which made it easy to check out all possible surfing options. Along the way, I bought freshly caught scallops from the packing factory before they could be whisked off to market in Spain, and admired Barra airport, where the beach doubles as a runway and departures are dictated by the tide.
Finally I opted to surf in front of the bright, modern Isle of Barra hotel. Not at the reef that beckoned from the middle of the bay, even though Juliet, the charming hotel receptionist, generously offered to keep an eye on me in case I got into difficulties. Instead I headed to the adjoining beach, where powerful, shoulder-high waves were rolling in, sheltered from the worst of the wind by a rocky promontory.
Afterwards, I sat in the hotel's comfortable lounge to watch the sun sink into the horizon, feeling like a salty sea dog.
From Barra it's a short hop over to South Uist, but the contrast couldn't be more striking: bleak and rocky, it feels a lot more rugged. The road runs north through heather-covered moorland etched with trenches where peat is still dug for fuel – a stack of peat bricks stands outside many of the houses throughout the Hebrides, often next to a modern oil tank.
The waves had disappeared, so I pushed on, over Benbecula and up to loch-riddled North Uist, stopping only to buy a freshly boiled lobster for little more than the price of fish and chips. At Hosta, the swell was big and clean, offering an exhilarating surf in head-high waves on another pristine, deserted beach, bordered by rocks. My exhilaration was only slightly punctured when a local surfer, who arrived as I was leaving, announced that he couldn't see anything worth surfing and promptly left. Maybe they measure things differently in North Uist.
Then a 60mph wind began to blow in, closing down the ferries. It wasn't quite brisk enough to cancel the buses, though, so hardy school kids cheerfully struggled in to school. For the less hardy tourist, walking on the beach was hard enough, let alone surfing. Even Lochmaddy's otters were keeping their heads down.
Eventually the wind calmed enough for the ferry that traces a precarious zigzag through the treacherous reefs to Harris. Shaggy highland cows watched demurely as I picked a path through their meadow, past one of the many Neolithic standing stones on the islands, to the long, exposed beach at Scarista. Here I endured an unsatisfactory post-storm surf.
Then I travelled up through the eerie moonscape of the Golden Road along the east coast of Harris, where crofters scraped out a miserable existence after being turfed off the land to the west during the Clearances.
I visited the restored village of "black houses" at Gerenin on Lewis. These thick-walled dwellings, roofed with turf held down by ropes and rocks, wereonce thick with peat smoke and the stench of livestock – which often lived under the same roof. Those winter nights must have seemed interminable. One house has become a museum, complete with peat fire; the rest are now holiday homes.
After covering the length of the Western Isles, the wide beach, low dunes and clean waves of Eoropie at the northern tip of the chain provided a stunning backdrop for a final sunset surf. Then there was just time to hit Stornoway, where every pub has a live band and a shelf-full of whiskies – and to work out when I could return.
Jonathan Bennett is writing a book on surfing his way round Britain. His blog of the trip is at www.eightywaves.blogspot.com
Travel essentials
Getting there
* Caledonian MacBrayne (0800 066 5000; calmac.co.uk) operates routes to and between the Hebrides. Various "Hopscotch" tickets, valid for one month, link popular destinations. Hopscotch 8 connects Oban to Ullapool (or vice versa) one way, via Barra, South Uist, North Uist, Harris and Lewis, with an optional stopover at Tiree. (£32.50 per passenger; £138 per car).
Staying there
* Isle of Barra Hotel, Barra (01871 810383; isleofbarrahotel.co.uk). Doubles from £48 including breakfast
* Tigh Dearg Hotel, Lochmaddy, North Uist (01876 500700; tighdearghotel.co.uk). Doubles from £110 for one night including breakfast
* Fair Haven, Stornoway (01851 840343; hebrideansurf.co.uk). Doubles from £20 (shared use of small kitchen).
* The Gatliff Hebridean Hostels Trust (gatliff.org.uk) runs hostels in converted black houses at various locations, from £12 per night for adults, £7 per night for children.
Surfing there
* Hebridean Surf Holidays, Lewis (01851 840337 or 01851 840343; hebrideansurf.co.uk) £30 per session.
* Suds Surf School, Tiree (07793 063849; surfschoolscotland.co.uk) £50 per session.
Register for free to continue reading
Registration is a free and easy way to support our truly independent journalism
By registering, you will also enjoy limited access to Premium articles, exclusive newsletters, commenting, and virtual events with our leading journalists
Already have an account? sign in
Join our new commenting forum
Join thought-provoking conversations, follow other Independent readers and see their replies