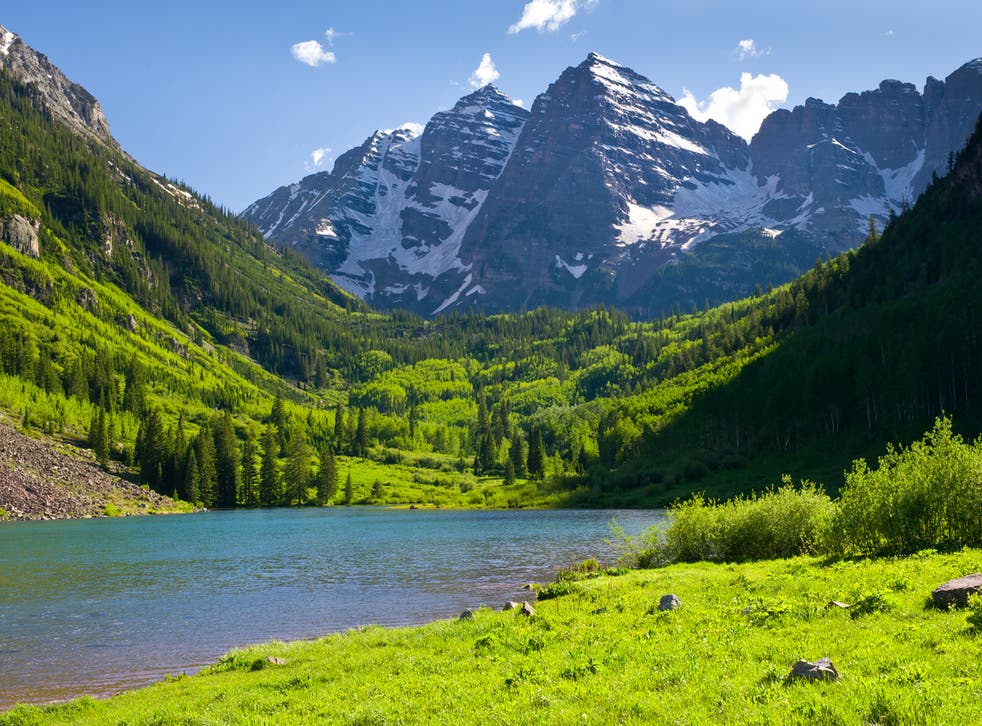 Aspen in summer: The Colorado ski town that isn't just for winter
Forget the snow and the Kardashians – Aspen is a year-round town with an appeal far beyond skiing
Ding. The tiny brass on brass sound rings out across the mountain top.
"And breathe…" I try and breathe out and find that I'm actually panting. I can see the sky and the birds and the forests on a mountainside, except they're upside down forming a sharp V against the bright blue morning. A keen yoga-goer, my downward dogs are not normally accompanied with a style of panting I'm mentally referring to as hot dog in a car. This is more than jetlag.
When you think of Aspen, you might think snow and celebrities – the Kardashians famously sweep into town every January on a wave of furry snow boots and sponsorships. But this upmarket ski resort is the quintessential American town – except it has a rebel heart and a movie-worthy location.
I visited Aspen last summer to find a town revelling in the sun, freed of the weight of the Hollywood expectations the winter brings. My first port of call was Aspen Mountain and a morning yoga class. It was hot even at 3,350m and the altitude made yoga surprisingly difficult. It's a reminder of just how remote Aspen is – even though it has its own (pretty swish) airport. The town itself sits at over 2,400m at the end of Roaring Fork Valley and was populated by Ute Indians until the pioneers popped their heads (and guns) over Independence Pass in the 1870s.
Aspen Mountain is what transformed this place from a sleepy silver mining town to the ski lovers' paradise of today – there's been a ski company here since the 1940s. But in summer, there are outdoor concerts and farmers markets, jazz and documentary festivals, the Aspen Ideas Festival (22 June to 1 July) and the Aspen Art Museum, all of which bring a level of cultural maturity to the mountain.
Hunter S Thompson ran for sheriff in 1970. He wanted to rename the town Fat City to put off the mega money flowing into town and change its countercultural ideals that were key to its post-war development – a story that will be the subject of a new documentary, Freak Power, to be filmed in Aspen this summer).
Today Aspen has found a way to balance the pretension (shopping here is strictly window unless you're earning six figures) with the progressive nature of Colorado as a whole. The state was the first to legalise cannabis – and the discreet pot stores in town are more like upscale delis than dodgy tie-dye stores. In only a few years cannabis sales have eclipsed alcohol.
While your Instagram feed might be clogged up with the moody forests of the Pacific Northwest with their hip homesteaders and DIY dons in plaid, Colorado is arguably more stunning. It's a short drive to the Maroon Bells – the most photographed, most magazine-cover-worthy part of the Rockies.
In winter, the sweeping U bend of the Maroon Bells valley is lost under thick snow, but in summer, the lower slopes and river sides are carpeted with flowers. The ubiquitous Aspen trees (which look like white birch) populate the mountainsides like scratched lines marking off the years since the Ice Age scraped out this valley. These trees are tubers, part of an enormous ecosystem – second only to the Great Barrier Reef in size and one of the oldest on earth – and some of it dates back 80,000 years. Each tree is connected underground and the network of tubers runs the length of the Rockies. In autumn these turn every shade of burnt gold and yellow, but in the summer they provide a hypnotic backdrop to the wildflower meadows.
I set out one morning at 7am, the best time to hike the Bells. There wasn't a puff of breeze; the symmetrical looking mountains were reflected perfectly in the shallow lake. While the snow seekers have their routes down the mountain, the rest of the year the hikers roam the well laid out trails and loops that circle the valley like a kid's doodle. Trails are well sign posted – I picked an easy one-hour loop that give me a sense of the majesty of the Maroon Bells without having to load up on gear like a pack horse. It took me through Aspen groves, over rivers and through meadows.
Aspen and nearby Snowmass Village sit as epicentres of hiking possibilities, and when locals say they go hiking in their lunch hour they aren't kidding. This is a city that lives in active-wear come summer and the trails are accessible on foot from downtown. I tested it out one afternoon with 90 minutes to spare – I managed a whole hour following boardwalks across rivers and through quiet forests on Hunter Creek Trail. It was something of a revelation that I could just decide to go for a long walk and be in thick forests 15 minutes after stepping out of my hotel.
For those that want to go further afield, the valley is home to miles upon miles of biking trails. I took part of the 42-mile-long Rio Grande trail, which follows an old railway line as part of a project called "rails to trails", to Woody Creek, made famous by Hunter S Thompson – he used to hole up at the local tavern and the bar is covered in photos of him. It's worth the cycle down through the valley, following the snaking river (where people can go tubing through shallow rapids), for the legendary fish tacos and no nonsense margaritas. From this summer you'll also be able to get around town in a new fleet of electric carts which can be ordered on-demand like Uber for free.
To balance out my healthy few days hiking and biking, I finished up my stay with a few drinks in Hunter's favourite Aspen bar, the J Bar, at the cosy but chic Hotel Jerome (which will open a new extension and pool this year). The famously cantankerous writer would commandeer a booth, order weird stuff off the menu to test the chefs, hold court and drink his Chevas Regal. Legends and stories swirled around the bar like his whiskey in a glass. I sat at a tall swivel chair at the polished wood counter and ordered up a locally made craft gin. Times have changed but Aspen's charm offensive hasn't slipped. Within minutes the bartender was drawing me a map to another hiking trail – out among the trees, it's business as usual.
Travel essentials
Staying there
Scott Dunn (scottdunn.com) offers seven-night Aspen & Snowmass itineraries from £2,525 per person. This is based on two travelling and includes return British Airways (ba.com) flights and private airport transfers.
Hotel Jerome (hoteljerome.aubergeresorts.com) has doubles from £625, B&B. Viceroy Snowmass (viceroyhotelsandresorts.com) has doubles from £129, room only.
More information
Join our new commenting forum
Join thought-provoking conversations, follow other Independent readers and see their replies