B&B and Beyond: The 5th Floor, Buenos Aires
Discover this Art Deco guesthouse with a strong psychological connection. Sorrel Moseley-Williams put her mind to the task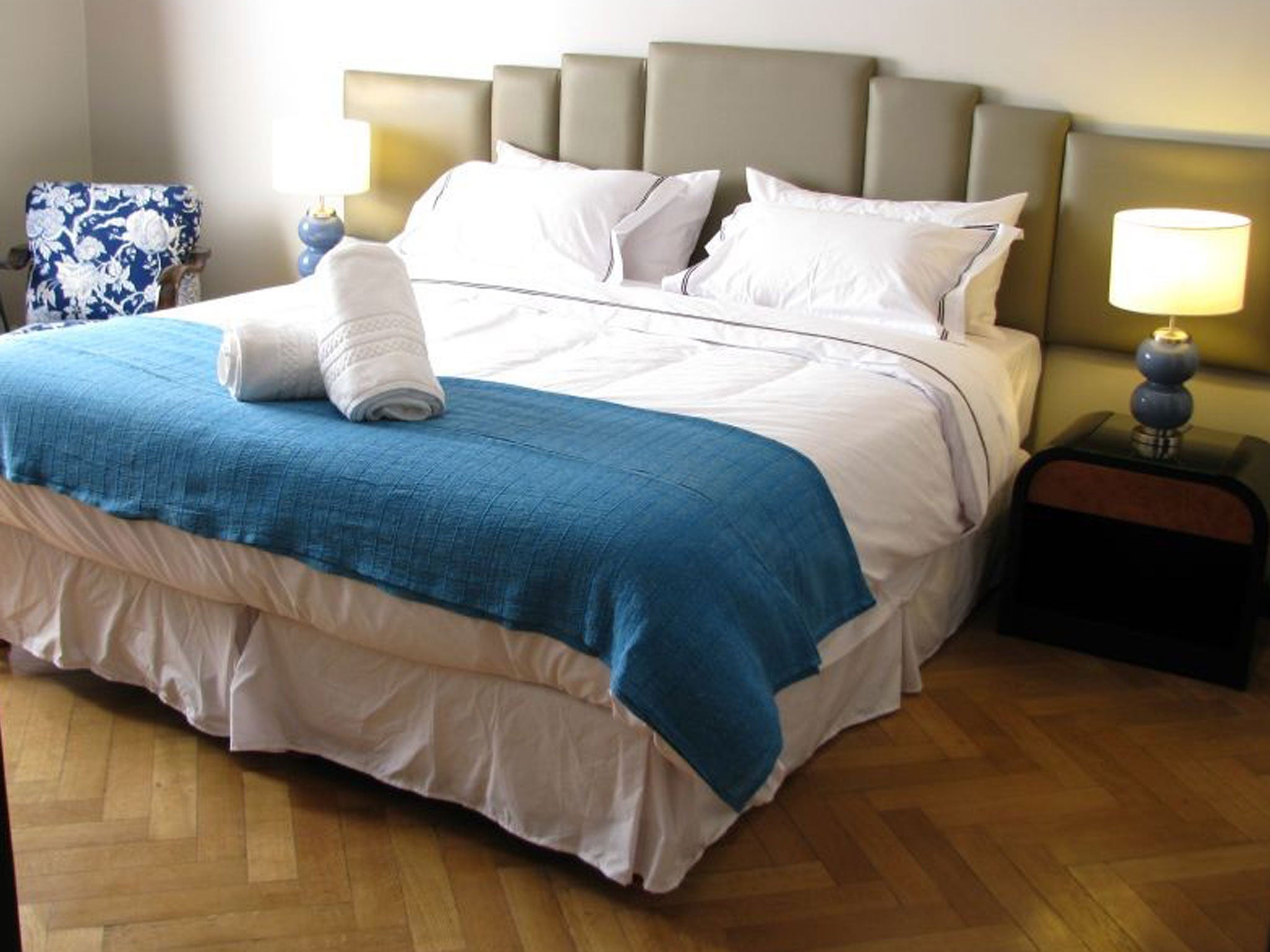 The 5th Floor was a psychiatrist's practice for almost half a century. It is located in Villa Freud, an unofficial mini-barrio in the bustling Palermo neighbourhood that is mainly residential, and named for the concentration of psychologists' offices here. The 5th Floor actually occupies two floors of a 1942-constructed Art Deco building. The ride up in the cramped three-person lift fades to a distant memory as soon as guests take in the high ceilings at this newly-converted, airy, seven-room B&B. Many original features remain, such as stained-glass windows depicting summery palm trees or cardon cacti in blue hues, and the stunning pink, white and grey marble curved staircase leading to five of the bedrooms.
With several communal areas designed for visitors to kick back with a borrowed novel or a glass of Malbec from the honesty bar, shared space is geared up for as much or as little socialising as one pleases.
The bed
The curved walls and natural light enhance the Art Deco proportions and interior design, from parquet flooring to antique chandeliers and 1930s-style leather club chairs. The larger en-suites have the feel of a luxury yacht cabin, complete with private viewing deck, while guests staying in compact rooms recharge batteries "down below". Black-and-white chequered marble floors are the norm in elegant en suite bathrooms, which have either a walk-in rainfall shower or tub. There's also a communal living room, front terrace, dining room and terrace, complete with the quintessential Argentine grill and potted herbs.
The breakfast
Taking a full English fry-up on the beautifully tiled Andalucian-style terrace is an unusual experience in Buenos Aires, but it works. The owner has sourced an English supplier for his back bacon, a Texan for the smoked variety, and German expatriates for the sausages, while locally grown vine tomatoes, mushrooms and organic eggs complete the line-up. Too hearty? Greek-style yoghurt, fresh fruit and medialuna pastries are available from the self-service sideboard.
The hosts
Owner Miles Lewis and his Argentinian partner Verónica Romano are on hand to offer insider information about their Buenos Aires querido. London-born Miles had visited Argentina every year since 1996 to play polo, then spent two years living in Buenos Aires before going back to Britain. Then the former venture capitalist realised that the capital had, in fact, become his home. He returned, later purchasing an ex-girlfriend's grandmother's apartment. The easy part done, Miles and lawyer Verónica have spent the past year converting the adjoining consulting rooms into a seven-bedroom B&B, taking care to maintain the property's original Forties features.
Although this is an about-turn for Miles's career, he says: "When I had a home in Cap d'Antibes, I'd always entertain and cook for 30 friends over the course of a weekend, so this is a natural transition."
The weekend
As Buenos Aires's largest neighbourhood, Palermo is buzzing at the best of times. However, this residential zone means that guests can delve into an authentic part of town, while having the luxury of Palermo Soho's bars and restaurants a stone's throw away. The ultra-modern Alto Palermo shopping mall (Santa Fe 3253; altopalermo.com.ar) is around the corner for stocking up on local staples, such as Paez's espadrilles (laspaez.com.ar).
Friendly service at La Pharmacie (Charcas 3494; lapharmaciepalermo.com.ar) has kept punters enjoying light pasta lunches for years, while nearby Plaza Güemes is home to the picture-perfect Nuestra Señora de Guadalupe church (parroquiaguadalupe.com).
As night falls, head to Thelonious (Salguero 1884; thelonious.com.ar) for jazz jams before dropping in for a nightcap at Verne Club (Medrano 1475; vernecocktailclub.com), a Twenty Thousand Leagues Under the Sea-inspired cocktail bar led by renowned bartender Fede Cuco.
The pit stop
Sample traditional folk music and the taste of north-west Argentina at La Peña del Colorado (Güemes 3657; lapeniadelcolorado.com.ar). This venue offers a programme of musical guests every night of the week, so expect mournful vocalists and guitar combos accompanying locro beef- and blood-sausage stew, quinoa and pumpkin pie, or porky packages known as tamales. Show tickets cost 30 pesos (£3), 90 pesos (£9) for a meal.
The essentials
The 5th Floor, Vidt y Santa Fe, Buenos Aires, Argentina (00 54 9 11 2181-8574; the5thfloorba.com). Double rooms start at US$90 (£60), including breakfast.
Join our commenting forum
Join thought-provoking conversations, follow other Independent readers and see their replies