48 Hours: Bermuda

Show all 3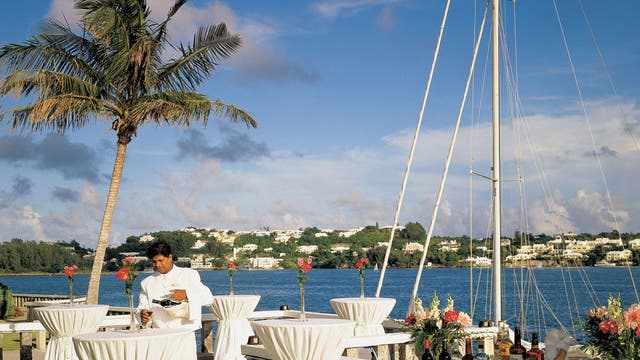 48 Hours: Bermuda
This fascinating Atlantic outpost combines colonial history with great beaches, as Simon Calder reveals.
Travel essentials
Why go now?
Spring in Bermuda equals summer in Britain, and finds the UK's overseas territory in the North Atlantic at its best: the two driest months are April and May. Even in the height of summer, though, Bermuda has a benign climate – it is 1,000 miles north of the Caribbean. And on 21 June, John Lennon's last journey and album, which he wrote in Bermuda in 1980, is celebrated with a tribute concert (doublefantasybermuda.com).
Touch down
British Airways (0844 493 0787; ba.com) flies from Gatwick to LF Wade airport (1). Services go daily from 25 March.
Get your bearings
Bermuda's main "island" is in fact a thin, fish-hook shaped collection of eight atolls linked by causeways and bridges into a 22-mile-long whole. The airport (1) is 10 miles north-east of Hamilton (2), the capital. Buses 1, 3, 10 and 11 run into Hamilton in about 40 minutes for $4.50 (£3). A cab costs about $35 (£23).
At the far north-east of Bermuda (and accessible by bus from the airport) is the first capital, Town of St George – known by all as St George's (3).
Most of Bermuda's best beaches are on the south side, with Elbow Beach (4) a favourite for its proximity to the capital. Nearby, Gibb's Hill Lighthouse (5) is a landmark for mariners and pilots.
At the far end of the archipelago, where it curls around, is the Royal Naval Dockyard (6), where many cruise ships arrive.
The visitor information centre is part of the Ferry Terminal (a) (001 441 295 1480; gotobermuda.com), open 9am-4pm Mon-Fri and 10am-4pm on Sat.
Ferries sail to a number of destinations, including the "blue route" to Dockyard (6) which leaves every hour or two and takes about 40 minutes, fare $4. An all-day ticket, price $12, also covers the bus network from Hamilton's bus station (b).
Check in
The Rosedon Hotel (c) stands amid luxuriant gardens at 61 Pitts Bay Road, Hamilton (001 441 295 1640; rosedon.com). A double starts at $358 (£239), including breakfast and afternoon tea.
Across the road, the "pink palace" is the Fairmont Hamilton Princess (d) at 76 Pitts Bay Road, (001 441 295 3000; fairmont.com/Hamilton). It served as the HQ for Britain's Atlantic intelligence operations during the Second World War, and also attracted a lot of writers: a seated statue of Mark Twain is in the foyer. Even if the lowest rates of around $550 (£367) including breakfast deter you, you could call in for afternoon tea.
Day one
Take a view
The tower of the Neo-Gothic Anglican Cathedral (e) presides over Hamilton. You can ascend to the highest point in the city for a splendid view, on a clear day, of the entire length of the archipelago.
Take a hike
Turn left out of the cathedral (e) and walk along Church St until the grand, Italianate Sessions House (f) appears on your right: tours taking in the diminutive debating chamber upstairs are at 10.30am and 2.30pm from Monday to Thursday. This is Bermuda's equivalent of Westminster, and below it is Whitehall – the hub of government, in the shape of Cabinet House (g), and beyond that the Cenotaph – a replica of that in London. In the grounds to the south-west stands the statue of Sally Bassett (h), an 18th-century slave who was burned at the stake.
Walk along Front Street, turn right on to Burnaby Street and left along Reid Street and a short way along on your right is Washington Lane, an alley that leads north to the white façade of the City Hall and Arts Centre (i), which houses the National Gallery (001 441 295 9428; bng.com; 10am-2pm on Saturday; closed Sundays; 10am-4pm other days; free). After an inspection, bear right along Church Street and left down Queen Street to the Perot Post Office (j) – a 19th-century antique where the first Bermudian postage stamps were issued in 1848. It is still selling postcard stamps, though only 9am-5pm daily from Monday to Friday.
Lunch on the run
On the other side of the entrance to the well-manicured Par-la-Ville Park is the Lemon Tree (k), a sandwich shop and much more – soups, wraps and salads also feature on the menu (001 441 292 0235; lemontreecafe.bm). It opens 11am-3pm on Saturdays, from 7.30am on other days, closed Sundays.
Window shopping
Imagine yourself in full, formal Bermudian attire? Aim for the English Sports Shop (l) at 49 Front Street (001 441 295 2672). For $300 (£200) or less you can kit yourself out with pink blazer, blue Bermuda shorts and long socks. You may be served by the tailor, Chris Creamer, who once measured up John Lennon for a suit.
Your friends and family at home may be (briefly) amused if you buy a triangle (three sizes available; largest $8/£5.50) at Music Box (m) at 58 Reid Street (001 441 295 4839).
Shopping hours are generally 9.30am-5pm daily except Sunday.
An aperitif
It is near-mandatory for every visitor to sample a Swizzle, Bermuda's signature cocktail. A good place to try this blend of rums infused with fruit (plus juice and bitters) is the Pickled Onion (n) at 53 Front Street (001 441 295 2263; thepickledonion. com) – a lively first-floor restaurant-bar with a balcony view of the harbour.
Dining with the locals
Head south to Elbow Beach and the Sea Breeze (4). While you wait for your superbly fresh sushi, sip a Bermuda Triangle cocktail and watch the Atlantic crash against the coral reef. Bear in mind that almost every restaurant charges an extra 15 or 17 per cent for "grats" – that's the tip. Whatever the price on the menu, add one sixth.
Day two
A walk in the park
For your second day, leave Hamilton. Car rental is unavailable to avoid adding to congestion, but bikes are easily rented, for example from Smatt's Cycle Livery, next to the Rosedon (c) and Fairmont (d) in Hamilton (001 441 295 1180; smattscyclelivery.com). A mountain bike and helmet cost $55 (£38) a day.
Pedal to Bermuda's expansive Botanical Gardens (7), east of Hamilton. It opens sunrise to sunset daily, admission is free. Flora of all descriptions thrives here. Lennon named his final album Double Fantasy after a freesia here. Within the gardens, Masterworks (001 441 299 4000; bermudamasterworks.com; 11am-4.30pm Sundays, 10am-4pm other days, $5) is an impressive gallery.
Out to brunch
Work up an appetite on the splendid ride along the Railway Trail to St Georges (3). Bermuda's only train line was a financial disaster, but has been reinvented as a walking and cycling path. Its north-east terminus is St George's, which became Bermuda's capital 400 years ago and is now UNESCO-protected.
Before you wander through the historic streets, refuel at Wahoo at 36 Water Street (001 441 297 1307), whose name is also its signature dish – a large game fish. Order a Wahoo platter, including wahoo pate and a wahoo nugget. Then wander along to tiny Ordnance Island in the harbour, where a replica of Deliverance has been created. The original carried survivors of the Sea Venture shipwreck in 1609 to their intended destination of Virginia.
Go to church
The native cedar that provided their deliverance is much in evidence in the oldest Anglican church outside the British Isles: St Peter's, which is about to be rededicated by the Queen as "Their Majesties' Chappell". The airy interior is notable for the carpentry in the roof, which resembles an inverted boat. The graveyard is full of history: slaves were buried at the western end; their owners at the eastern. An even more remarkable church stands close by: the Unfinished Church was begun in 1874, and after 20 years it was close to completion – but a series of misfortunes meant it was never finished. A hurricane did the rest, and the remains stand skeletally above the town.
Cultural afternoon
Reach Dockyard (6) by ferry – in summer, there is a direct link ("orange route") from St George's, otherwise return to Hamilton. The massive naval complex has been converted into shops and restaurants, aimed squarely at the cruise business, but the highest, furthest point contains the beautiful Commissioner's House.
The verandas command panoramic views, while the interior is home to the National Museum of Bermuda. Open daily 9.30am-5pm (last entry 3pm), admission $10 (£6.60).
Join our new commenting forum
Join thought-provoking conversations, follow other Independent readers and see their replies