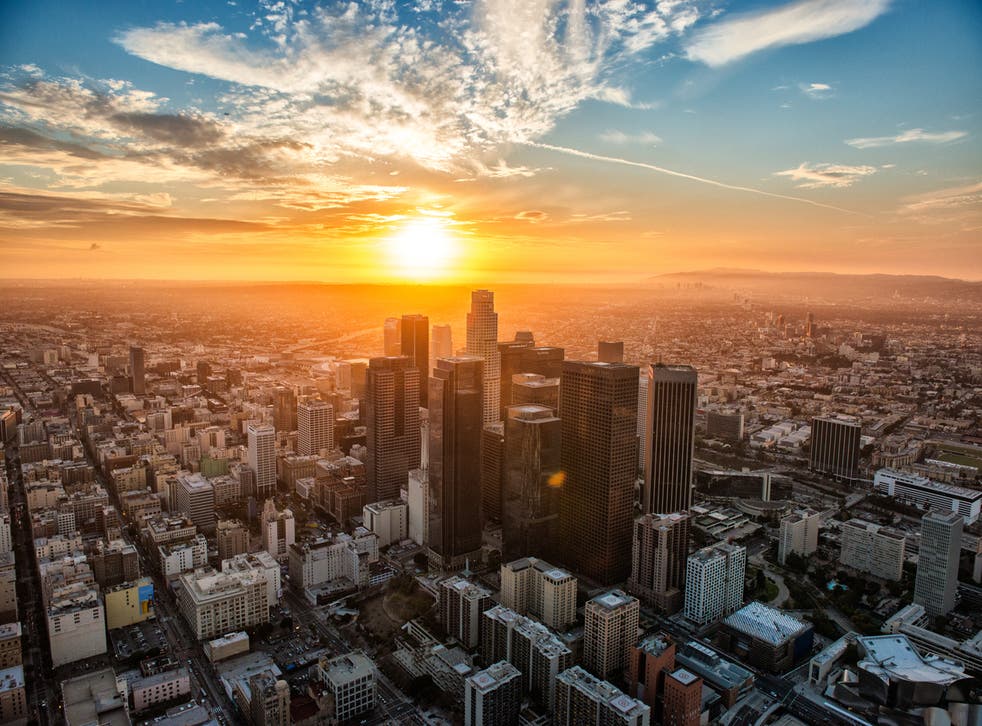 Zipwiring, rooftop yoga and Hollywood hikes: Getting active in LA
Bolstered by the return of its NFL team and a title-winning hockey team, LA is making its mark as a sport and wellness destination
​Halfway up a dusty mountainside, the silence is broken by the cries of a woman. She's strapped into a harness and staring down Zip Line Eco Tour's 300-metre zipwire which cuts across a rocky ravine.
"I can't do it. I'm so sorry," she tells a gnarly, grey-haired instructor. "I'm sorry for holding everyone up."
He's not done with her though – he tries to encourage, cajole, and persuade her to take the leap off the platform – as a small, curious crowd gathers nearby. He's unsuccessful. She aborts her attempt, but her plight leaves me with a clear strategy for my own attempt: don't think – jump.
I do it, pumping my left fist in the air as I speed down the wire, so that I turn to face the channel of Pacific that runs between here, Santa Catalina Island, and the coast of Los Angeles. It's a side to La-La land that many never see; plenty of lifelong Angelenos I speak to haven't even made the hour-long boat ride out to the island.
I'm on the hunt for a different side to Los Angeles – away from gawping, celebrity bus tours and the Walk of Fame tourist drag. I'm here for a wellness break.
My first stop was the Terranea Resort, an hour-long, rush-hour drive south of LAX. Away from Hollywood, away from downtown, seemingly away from anywhere. I'd never heard of it, but flipping through a city guide on the comfy Norwegian Air flight out of Gatwick, I found it's considered the city's number one place for a spot of indulgence.
At the spa, hands that gave Mariah Carey her "mommy massages" get to work on me with hot stones, in a treatment room with French doors opening out onto the Pacific. My body is mush.
Afterwards, I'm handed an iPad, and asked to design my own fragrance. With Christmas looming, I start with some frankincense, add a little cedar, and finish it with some top-notes of lemon. It's called the Path to Clarity, and I have it made into a hefty jar of body butter.
I could get used to Terranea's charms, but the resort feels so remote that I start to yearn for a more urban experience. I head downtown, and check in to the Los Angeles Athletic Club. It's as far from the clean, bright and airy LA aesthetic as you could imagine, and feels more like a Mayfair gentlemen's club than a West Coast retreat. It's more than 130 years old, which in California terms is practically prehistoric.
The decor matches its grand history – thick, black bedsheets, dark carpets, mahogany furniture, and turn-of-the-century city plans line my bedroom wall. And, as the name would suggest, sport is everywhere you look. There's a sprawling gym, full-size basketball court, a pool and sepia-toned pictures of burly athletes lining the corridors.
The air, at times, feels thick with testosterone. But there's room here for less macho fitness pursuits, too – I find myself one morning taking part in a gentle, rooftop-yoga session, with the skyscrapers of downtown reaching into the sky all around.
The hotel is the perfect launchpad for a trip downtown to the Staples Center for a Lakers or Kings game (I watch the Kings – two-time Stanley Cup trophy winners – demolish the Calgary Flames). Then it's the historic Los Angeles Memorial Coliseum to see the recently returned NFL team the LA Rams (between 1995 and 2015 they were the St. Louis Rams).
But the ultimate combination of LA iconography and fitness means pulling on some hiking boots, and hitting the hills underneath the Hollywood sign.
I joined a group expedition just after sunrise for a hike through Griffith Park, with the track's twists providing several unique vistas, and opportunities to spot most of the landmarks of this sprawling metropolis.
Throughout the trip, I work to overcome my reflexive dismissal of health food fads, as the hard-bodied sports fanatics around me put my pudgy frame to shame. It works, and after a few days I'm reaching for garishly coloured smoothies, and dining in stripped-back vegetarian restaurants like Zinc in the Downtown Arts District, at any opportunity.
I've no idea how long the "new me" will last, but for now – after a week of wellness – I feel like an A-lister.
Travel essentials
Getting there
Norwegian flies from Gatwick to LA five times a week, and daily from April, with economy fares starting at £159 one-way.
Staying there
Terranea Resort offers doubles from £368, room only.
Los Angeles Athletics Club offers doubles from £195, room only.
More information
Register for free to continue reading
Registration is a free and easy way to support our truly independent journalism
By registering, you will also enjoy limited access to Premium articles, exclusive newsletters, commenting, and virtual events with our leading journalists
Already have an account? sign in
Register for free to continue reading
Registration is a free and easy way to support our truly independent journalism
By registering, you will also enjoy limited access to Premium articles, exclusive newsletters, commenting, and virtual events with our leading journalists
Already have an account? sign in
Join our new commenting forum
Join thought-provoking conversations, follow other Independent readers and see their replies