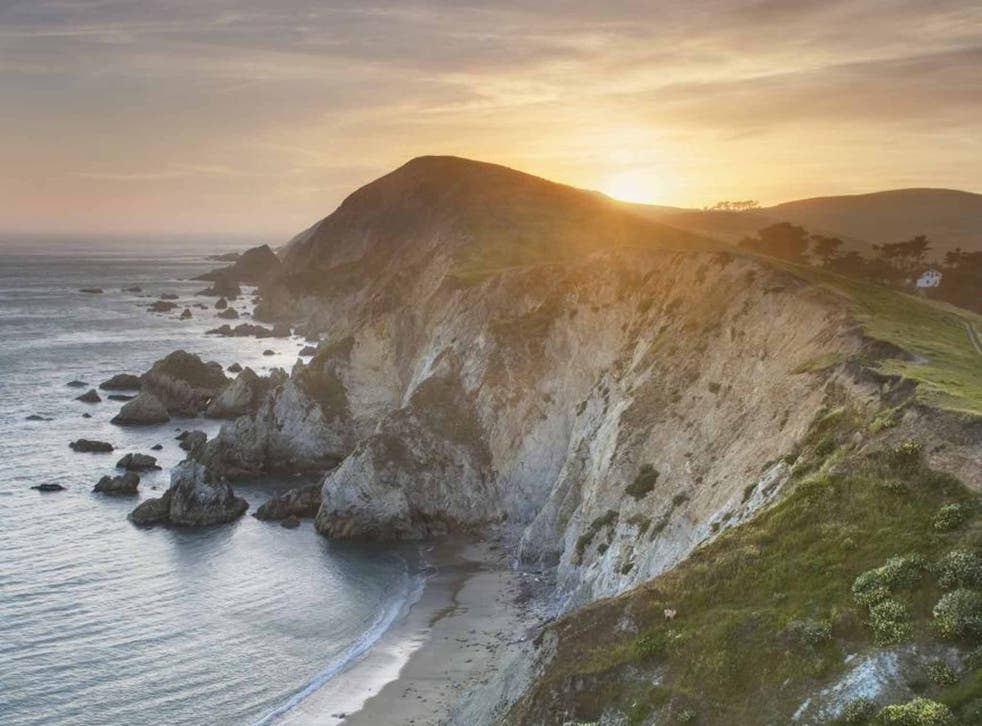 California's secret spaces: Get off the beaten track beyond Los Angeles, San Francisco and Yosemite
Lose yourself in a state of blissful solitude. Julia Buckley offers the inside track.
Julia Buckley
Friday 19 February 2016 11:28 Comments
It may be better known today than in 1850, when California first joined the US, but much of the Golden State remains untarnished by mass tourism. This is, after all, the second largest of the lower 48, with more than 800 miles of coastline that's rarely less than jaw-dropping and huge swaths of wilderness that have yet to be inhabited.
Nothing characterises California like its outdoor diversity: Joshua tree-filled desert, canyons sheering down to the Pacific; redwood and sequoia forests, sparkling lakes, and tectonic plates smashing into each other to create snow-topped mountains one side, parched desert on the other. This is a place where you can surf in the morning, ski in the afternoon, and have farm-to-table food and local wine for dinner. No wonder, after Florida and New York City, it's the most popular US destination for UK travellers.
California has its must-dos, of course: pitting SoCal and NorCal (Southern and Northern California) against each other with a drive up the Pacific Coast Highway from LA to San Francisco, sinking 282ft below sea level in Death Valley, and gazing skyward at the vast cliffs of Yosemite. Absorbing Hollywood, hippy and surfer culture is all well and good, too. But just as there's more to LA than the Walk of Fame, the moment you've ticked off the main itineraries is the moment that California truly opens up in all its show-stopping glory.
Beyond the big three cities of LA, San Francisco and San Diego lie time capsules: of mid-century architecture (Palm Springs), old-school Hollywood glamour (Catalina Island) and Gold Rush-era towns (Salinas, and even part of Sacramento). You'll find small-town USA in Bakersfield, a Beach Boys vibe in Pismo Beach, and the Summer of Love still going strong in Ojai. San Luis Obispo – the midpoint between LA and San Francisco – is a lovely, laid back town with a retro drive-in cinema; chi-chi Santa Barbara is a coastal delight. Up north, Sacramento makes a good base for Yosemite and Tahoe – its cobbled "Old Town" area dates back to the Gold Rush.
All that coast comes with never-ending beaches, of course – so even in the city, it's easy to escape the crowds. While most LA tourists cluster around Santa Monica and Venice, Torrance and Manhattan beaches are rarely busy; Coronado and La Jolla may be San Diego's best known sands, but the strip of seaside towns north of Encinitas are staggeringly gorgeous, and – apart from joggers – usually empty. There are coves and beaches the whole way up the ever-popular Pacific Coast Highway – simply pick the one with the fewest parked cars, and they're all yours.
With more national parks than any other state, plus often overlooked state parks, there's plenty of great outdoors to go around. While more than four million visitors see Yosemite each year, only 30,000 get on a boat to the Channel Islands National Park, off Ventura (001 805 658 5730; nps.gov/chis). Camp there overnight, and you'll have even fewer rivals.
There are countless fly-drive packages for California, and it's time-effective to fly into one city and out from another – LA and San Francisco is the most obvious combination. Frontier America (020 8776 8709; frontier-america.co .uk) has a 14-day fly-drive package, including Heathrow flights into LA and out from San Francisco, plus car hire, from £980pp – that allows you to create your own itinerary, but it also specialises in tailor-made trips to secondary cities.
For something organised but still off the beaten path, Bon Voyage (0800 316 3012; bon-voyage.co.uk) has an intriguing Northern California itinerary, looping up and inland from San Francisco; the £1,825 price includes flights from Heathrow to San Francisco, 15 days' car hire and hotel accommodation.
Alternative living
Even before it became the centre of the hippy movement, California was into all things alternative. At Big Sur's Esalen Institute (001 703 342 0500; esalen.org), you can still bathe – naked, of course – in communal, cliff-side baths filled by hot springs, and attend workshops on everything from "Alchemical Healing" to shamanic cosmology.
At the Integratron (001 760 364 3126; integratron.com), in the desert near Joshua Tree, try a "sound bath" in a domed wooden chamber that was built over a vortex in the 1950s, partly, so the story goes, on the orders of aliens (from $25/£18 for an hour). Ojai, also said to sit on a vortex, is an entire town that's been colonised by New Agers, with energy readings and full-moon yoga sessions as regular as coffee breaks. Too much too soon? Dip a toe in at Malibu Beach Yoga (malibubeachyoga.com), where the likes of Demi Moore and Gerard Butler practise "yogic sleep" and meditation under a Pacific-facing mural of the god Ganesh. Classes $18 (£13).
Parks and recreation
Many popular national parks have lesser-known state parks and reserves nearby: the Mojave National Preserve (001 760 252 6100; nps.gov/moja) between Joshua Tree and Death Valley, for example, or Prairie Creek State Park (001 707 488 2039; bit.ly/PrairieCreek), just north of Redwoods.
Bigger isn't necessarily always better; although Big Basin is a big draw for giant redwood-seeking tourists, nearby Henry Cowell Redwoods State Park (001 831 335 4598; bit.ly/HenryCowell) is a simpler day-trip from San Francisco, with an easily accessed grove of millennia-old trees beside a peaceful river.
Point Reyes National Seashore (001 415 464 5100; nps.gov/pore) is NorCal personified: its wild headlands are a magnet for flora and fauna, including grey whales which migrate here en route to Mexico each winter. Even the lunar landscape of Joshua Tree National Park (001 760 367 5500; nps.gov/jotr) is often overlooked – go in midweek to have it to yourself.
Road-tripping
The Pacific Coast Highway is legendary, but there's more to California road-tripping than the ocean. The scenic route from Twentynine Palms to the Nevada border (or Baker, if your next stop is Death Valley) takes you straight through the forbidding Mojave Desert – past prehistoric lava flows, the 700ft Kelso sand dunes and veritable forests of Joshua trees.
In the north of the state, above Orick – where Highway 101 is dubbed "the Redwood Highway" – veer off on to the Newton B Drury Scenic Parkway for a 10-mile detour through the densely wooded Prairie Creek Redwoods State Park. These gentle giants – and the wild elk that graze among them – are likely to be all yours.
To reach Big Sur without bumper-to-bumper traffic, take the inland route via Jolon. You'll drive through an oak-filled valley – now a military base, but once the estate of William Randolph Hearst – past the 18th-century Mission San Antonio de Padua (missionsanantonio.net), across the Santa Lucia mountains and down to the Pacific. Alternatively, take the train – unlike the LA and San Diego legs, the Santa Barbara to San Luis Obispo stretch hugs the coastline almost the entire way.
Secret beaches
Some of SoCal's most beautiful beaches lie north of San Diego, between Solana Beach and Carlsbad, where small towns perch on low cliffs above a strip of postcard-perfect sand. Just below Solana is the 2,000-acre Torrey Pines State Reserve (torreypine.org), whose wide arc of beach is topped by crumbling sandstone cliffs, with walking trails carved out along the top – the views are spectacular.
Midway between LA and San Francisco is Oceano Dunes State Vehicular Recreation Area (001 805 773 7170; bit.ly/OceanoCali), where you can drive along a 5.5-mile stretch of beach, or park up and watch the waves crash in.
North of San Francisco, Alamere Falls is a truly secret beach – you'll have a four-mile hike across the Marin County headland, through forests and past two small lakes, before reaching the beach, where a 40ft waterfall plummets into the waves.
Or head inland – most people take the scenic drive around Emerald Bay, on the western side of Lake Tahoe; but a mile's walk from the car park, through dense forest, is a pristine beach with shallow waters that make it ideal for families.
Getting there
Los Angeles, San Francisco and San Diego all have direct flights from the UK. LA is served from Heathrow by Air New Zealand (0800 028 4149; airnewzealand.co.uk); Virgin Atlantic (0344 209 7777; virgin-atlantic.com); British Airways (0844 493 0787; ba.com); United (0845 607 6760; united.com); American Airlines (020 7660 2300; aa.com) and Delta (020 7660 0767; delta.com). Norwegian (0330 828 0854; norwegian.com) flies twice a week from Gatwick. Thomas Cook (01733 224808; thomascook.com) flies from Birmingham, and starts Manchester flights in May.
British Airways flies to San Diego from Heathrow, while San Francisco is served from Heathrow by BA, Virgin Atlantic and United. Norwegian launches flights from Gatwick to neighbouring Oakland on 12 May.
Getting around
A car is essential for exploring California beyond the cities, especially for getting off the beaten path or for visiting national parks. For longer distances, there are plenty of flights between major and lesser cities; airlines include JetBlue (001 800 538 2583; jetblue.com), Southwest (001 800 435 9792; southwest.com) and Alaska Airlines (001 800 252 7522; alaskaair.com).
Greyhound buses (001 214 849 8100; greyhound.com) serve most cities, and Amtrak trains (001 800 872 7245; amtrak.com) can be a good option, too: the two scenic routes operate along the coast, the Pacific Surfliner running from San Diego to San Luis Obispo and the Coast Starlight from LA to Seattle.
Secret California

Show all 5
Where to stay
There's no need for cookie-cutter chain hotels here. At San Diego's Crystal Pier Hotel (001 800 748 5894; crystalpier.com), shack up in 1930s cottages lining Pacific Beach's pier. And in Long Beach, stay on the Queen Mary (001 877 342 0742; queenmary.com), the former Cunard ocean liner, now converted into a port-docked hotel.
Most people drive through remote Big Sur, but it has extraordinary places to stay, including Treebones (001 805 927 2390; treebonesresort.com), whose yurts, tents and treehouse teeter atop the cliff side.
A Route 66 icon is San Bernadino's Wigwam Motel (001 909 875 3005; wigwammotel.com) – a collection of 30ft high tepee-shaped bungalows. For Sixties kitsch (think themed rooms and a pink-heavy palette), you can't do better than San Luis Obispo's outré Madonna Inn (001 805 543 3000; madonnainn.com).
With just six rooms set on a 2,000-acre cliff-edge cattle ranch, the Inn at Newport Ranch (001 707 962 4818; theinnatnewportranch.com) has brought luxury accommodation to the far north coast – doubles start from $250 (£167), room only.
Meanwhile, LA's iconic Moroccan-inspired Hotel Figueroa (001 213 627 8971; hotelfigueroa.com) will reopen this summer after a renovation, and Sinatra's Cal Neva Resort & Casino (calnevaresort.com), straddling the Cali-Nevada border, will reopen on 26 May with an infinity pool overlooking Lake Tahoe.
Register for free to continue reading
Registration is a free and easy way to support our truly independent journalism
By registering, you will also enjoy limited access to Premium articles, exclusive newsletters, commenting, and virtual events with our leading journalists
Already have an account? sign in
Join our new commenting forum
Join thought-provoking conversations, follow other Independent readers and see their replies