The Independent's journalism is supported by our readers. When you purchase through links on our site, we may earn commission.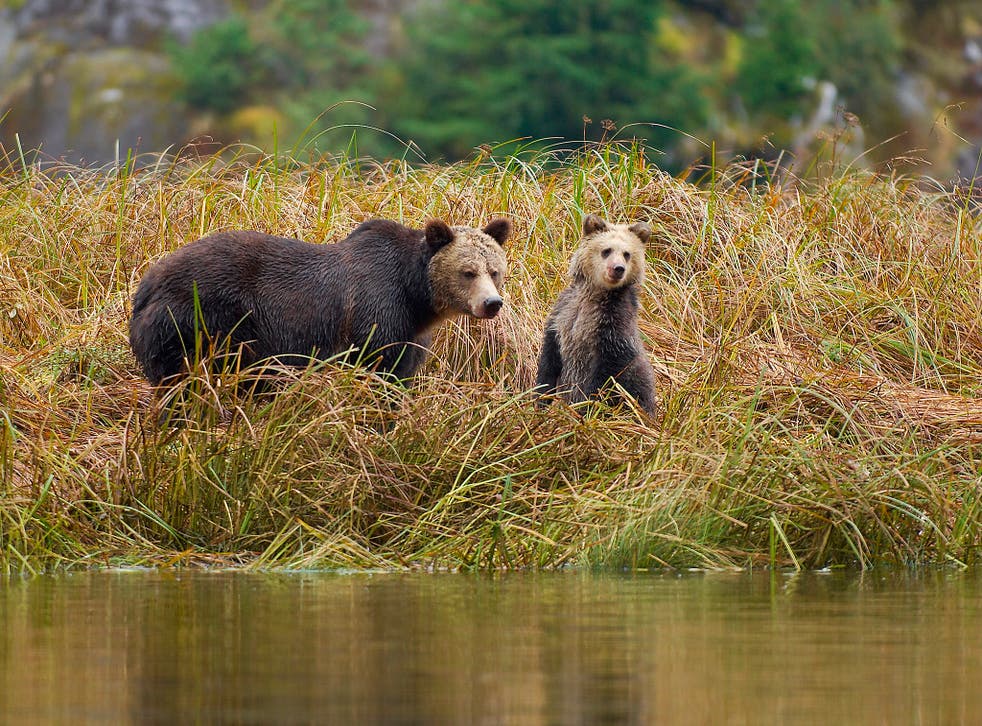 Canadian hotels offer free stays to bear hunters willing to renounce their guns
It's spring on Canada's west coast and that means the grizzly bear hunt is on. But two hotels are fighting back, offering free luxury stays to hunters who renounce the chase
Johanna Read Comments
Spring has sprung in the forests of British Columbia. The snow has melted, trees are budding. Grizzly bears are ending their hibernation – and hunters have begun pursuing them.
But two local wilderness lodges are trying to stop that from happening. Their cunning plan? To offer free stays in their luxury accommodation to any hunter willing to surrender their shooting pass.
It's no mean feat – hunting grizzlies has long been part of BC life. Half of Canada's grizzly population – about 15,000 animals – live here in Canada's westernmost province. Coastal grizzlies can weigh over 63 stone and stand over three metres tall. Omnivorous, they love salmon and avoid contact with humans – though they can be ferocious when provoked.
It's their size, elusiveness and aggression that makes them especially popular with trophy hunters. "Bears are the most dominant species," explains hunter Brent Sheppe, from Port McNeill, a small town on the north of Vancouver Island.
All hunting in Canada is regulated, and hunting grizzlies is subject to major restrictions. Unless they're indigenous peoples, BC residents need a Limited Entry Hunt (LEH) authorisation to hunt – and the BC government holds lotteries every spring and autumn to dole out the controversial permits. The current lottery, for the autumn hunt, ends on 26 May.
Sheppe isn't a trophy hunter. He does it for the exercise and the challenge, he says, eats everything he kills and has only rarely hunted bear because "I'm not very fond of the taste." When he bagged a prestigious permit in 2015, he became one of the first hunters to swap his chance to kill a bear for a luxury hotel stay.
Since 2015, Nimmo Bay Wilderness Resort, in the Great Bear Rainforest – home to grizzlies, black and brown bears, as well as the rare white Kermode or spirit bear – has run the "Bullets for Binos" (binoculars) programme. The initiative offers a free top-of-the-range stay to hunters who turn in their licences in a bid to persuade hunters that if there's anything better than mounting a grizzly head on their den wall, it's a £7,000 holiday.
"I knew something had to be done," says Becky Murray, General Manager of Nimmo Bay. "There are so many good people working tirelessly to stop the trophy hunt and I thought that Nimmo Bay was in a great position to support these efforts by trading bullets for binoculars and empowering hunters to save bears."
In exchange for turning in their LEH licence and pledging never to trophy hunt grizzlies again, Nimmo will give hunters a three-night Wilderness and Wildlife Adventure Package for two. That's three days of bear watching, whale watching, hiking, kayaking, and stand-up paddleboarding in the Broughton archipelago; and three nights in an intertidal chalet on a full board basis. The package is worth CAD$11,370 – just under £7,000. In contrast, the hunting permits cost $118.30, or £71. And although the package depends on availability, there's no limit on how many hunters can take them up on it.
Sibling hotel Tweedsmuir Park Lodge joined the programme in 2016. Hunter Jamie Scott was the first hunter who traded in his grizzly tag for a free stay last year, and ended up using the bear-viewing trip for his honeymoon. "I was a bit hesitant since it's a pretty hard hunting tag to acquire," he says. "I was taking away a different experience from someone else." He worried about backlash from other hunters, and he says he received a mixed reaction. Some agreed that protecting bears was more important than killing them; others were angry at "wasting" a precious hunting tag.
But it looks like the Nimmo programme may be part of something bigger. Over 90 per cent of BC residents oppose trophy hunting, according to a 2015 study. Coastal First Nations have banned the bear trophy hunt in their territories, and it's a divisive issue in the upcoming regional elections. Not just for ethical reasons either – bear viewing generates "far more value to the economy" than killing them, according to a Stanford University study in conjunction with the Center for Responsible Travel.
As such, more and more organisations are turning to bear-viewing tourism. The Raincoast Conservation Foundation even invites tourists aboard their 21-metre sloop for bear-watching while they undertake research.
As the tide slowly turns, some hunters have even turned in their licences without taking advantage of a free trip. "They simply believe in the cause and wanted to help," says Brianna Sloan, Nimmo's Guest and Travel Trade Relations Coordinator.
Jamie Scott ended up seeing more than a dozen bears when he exchanged his bullets for binoculars. "I don't think I will ever be that close to grizzlies again, so the experience was surreal," he says. His trip dispelled "the feared myth and reputation [grizzlies] usually carry" – in fact, having watched them up close, he he now sees the bears as "wild vulnerable animals."
Soon, perhaps, the only shooting of bears will be with cameras.
Register for free to continue reading
Registration is a free and easy way to support our truly independent journalism
By registering, you will also enjoy limited access to Premium articles, exclusive newsletters, commenting, and virtual events with our leading journalists
Already have an account? sign in
Join our new commenting forum
Join thought-provoking conversations, follow other Independent readers and see their replies