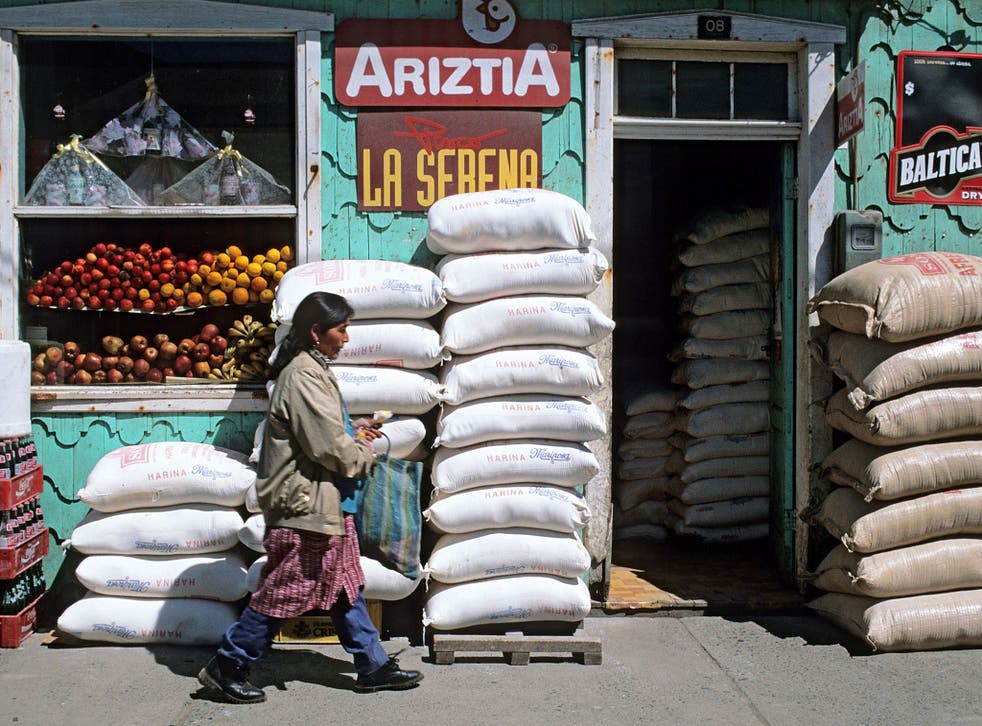 Chiloé: On the origin of the spuds
In 1834, Darwin noted the astonishing array of potatoes on Chiloé, the genetic source of 90 per cent of the world's varieties. But the island off Chile has been slow to cash in on its gastronomic heritage – until now, reports Nick Rider
"Do you know we have over 400 kinds of potatoes?" asks Pato, a tour guide on the island of Chiloé, off southern Chile. Many other Chilotes (Chiloé's inhabitants) let drop the same point, in the same slightly bemused way. Recently they've been able to add that DNA studies by universities from Chile to Wisconsin have also shown the island is the potato's global home, the original genetic source of more than 90 per cent of all those spuds around the world today (though argument goes on between Peru and Chile over where potato domestication first gained pace).
The astonishing variety of Chiloé's indigenous potatoes was noted by Charles Darwin, who visited in 1834. As to the 400 varieties, Andrés Contreras, one of Chile's leading experts in the field, has identified 286, but many have been lost over the years, and there could easily be more.
So, having heard about papas Chilotas (Chiloé potatoes), one might expect they would be prominently displayed, as a local treasure. Not at all. Instead, at first sight, Chiloé's potato wealth seems almost bizarrely elusive.
Chiloé – the main island, or Isla Grande, commonly just called Chiloé – and its archipelago are a kind of Spanish-speaking Hebrides, long isolated from the rest of Chile, with their own quirky blend of indigenous, Hispanic and other traditions. Jesuit missionaries sprinkled the island with strange timber-Baroque churches. It's very green, rainy and windy, covered in thick, boggy forest, fields and yellow gorse, introduced by 19th-century German immigrants as windbreaks. The ocean side is mostly empty forest, crags, dunes and penguin colonies; to the east, low tides leave great swathes of marsh and mud. Castro, the island capital, has a remote, windswept appeal, and is best known for its palafitos, traditional houses built on poles around the shoreline, which have become slightly trendy, with a few boutique palafito B&Bs, mellow restaurants and cafés. Palafito 1326, where I stayed, has lovely broad balconies for watching the tidal flow and the seabirds mud-picking for crabs and worms.
In one palafito restaurant, Mar y Canela, I found generically identified papas nativas, or "native potatoes" on the menu, with grilled pork. They were long, thin, purplish-black, dense in texture and slightly nutty in flavour, maybe with a hint of artichoke. A few other places offered native-potato dishes, usually with the same kind. But where were the rest of them? A Castro mini-market had none, only routine spuds. When I asked again, I was told to try the Feria Campesina, Castro's sprawling food-and-everything market, which is busiest on Sundays.
I found it on the edge of town, in a giant shed amid a car park staked out with stalls selling hefty cardigans, boots and car parts. Inside was a food market, fabulously idiosyncratic, even by Latin American standards. Great ranks of gleaming salmon – Chiloé's biggest modern export – and less identifiable fish and seafood were surrounded by spectacular fruit, unearthly giant garlic and Chiloé's most particular delicacies: seaweed of several kinds and strings of dried sea creatures. And, finally, Chilote potatoes. However, yet again, the ladies who ran the veg stalls divided their stocks just two ways, between papas normales (bog-standard international varieties) and others all referred to with the usual vagueness as papas nativas, in mixed bags, with many different varieties – black, red, green, yellow, in all sorts of odd shapes, some like great vegetable chorizos – all jumbled up together.
In any Mediterranean country, any such unique, natural gastronomic-cultural speciality would long ago have had some sort of appellation contrôlée, carefully labelling every variety and proclaiming its virtues. Beyond Chiloé's remoteness, the low profile of its native potatoes – many rich in antioxidants and vitamins – is due to the patterns of commercial agriculture, big business in modern Chile. For years, farmers were told by official experts to ditch them and plant international varieties, as the only ones for which there was any demand.
"Chilote potatoes," says Andrés Contreras, were seen as something "for poor people". Many farm families continued to grow papas nativas, but only for themselves or strictly local sales. Hence, despite scientists' pleas for the preservation of this genetic treasure-house, production withered.
Except that, contrary to my first impressions, things actually seem to be getting better. "Ten or 15 years ago you would hardly have seen any," says Carlos Venegas of Chiloé's Centro de Educación y Tecnología seed bank, when I mention the scarcity of native potatoes. After 30 years working in the area, often as a rearguard action, he feels a new optimism. In the last four or five years, officialdom has finally taken on board that Chiloé's potatoes represent a unique, premium asset.
In 2012 the Food and Agriculture Organisation of the UN (FAO) declared Chiloé one of its "Globally Important Agricultural Heritage Systems" or GIAHS (which sounds much better in its Spanish acronym, SIPAM). New channels are being created to market native potatoes in Chile's cities, and possibly abroad (with varieties duly separated out, and named). Information is being gathered from Chilote cooks on the culinary uses of each variety. Native-potato patches are now growing rather than shrinking. And chefs from sophisticated Santiago restaurants have hosted tastings and are experimenting with this new-ancient product.
Andrés Contreras remains sceptical of the readiness of Chiloé's small farmers to become gourmet food producers: "You've seen Chiloé … life's very placid, nothing is done in a hurry." But he accepts that foreign recognition has stirred new interest. Perhaps what they need now is for some international celebrity chef to make the world's oldest potatoes the latest foodie fad. µ
Travel essentials
Getting there
There are no direct flights between the UK and Chile. Iberia (0870 609 0500; iberia.com) flies to Santiago via Madrid, TAM (020 8741 2005; tam.com) flies from Heathrow via Sao Paulo.
From Santiago, LAN (0845 098 0140; lan.com) has direct flights to Chiloé's small airport, but there are more frequent and cheaper flights from all parts of Chile to Puerto Montt on the mainland. Sky Airline (00 56 2 2352 5600; skyairline.cl) is a good low-cost local carrier. From Puerto Montt there are frequent buses to Castro via the Chiloé car ferry at Pargua.
Staying there
Palafito 1326, Castro (00 56 65 253 0053; palafito1326.cl) has B&B doubles from 48,000 Chilean peso (£57).
Seeing there
Palafito Trip (00 56 09 9884 95522; palafitotrip.cl) offers treks, horse-riding, kayaking, fishing excursions and tours to penguin colonies around the island.
More information
Join our new commenting forum
Join thought-provoking conversations, follow other Independent readers and see their replies