The Independent's journalism is supported by our readers. When you purchase through links on our site, we may earn commission.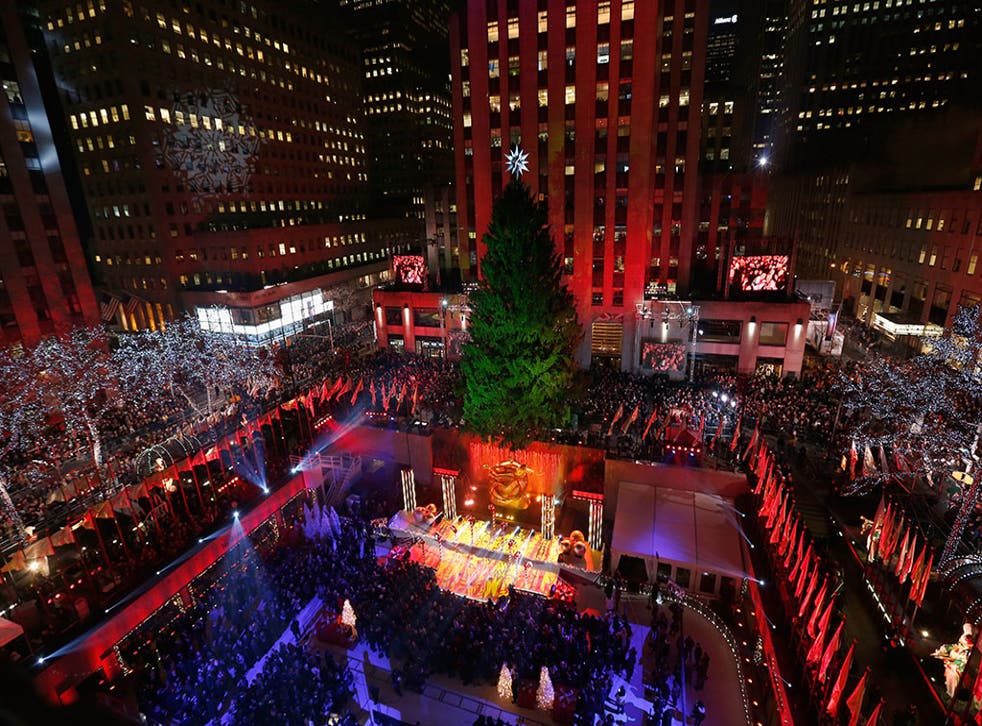 Christmas in New York: alternative things to do
From lunch with a gospel choir to Serendipity sundaes, the Big Apple is ideal for a festive break
Joanna Chaundy
Monday 15 December 2014 12:55 Comments
New York is certainly a top destination to visit at Christmas time, despite the cold weather. In fact, the cold weather is all part of the experience. The Big Apple never lets you down when it comes to a city break.
Many people instantly believe that the only airport to fly to is JFK, but Newark is actually much nicer and roughly the same distance in to Manhattan. Plus, you get to travel through New Jersey and pretend you're Tony Soprano on your way into the city.
While you will obviously want to see the big lights and hit the shops, there are many little hidden gems in New York that can make your trip a memorable event.
BB KINGS SUNDAY GOSPEL BRUNCH
Southern Buffet & Live Music, every Sunday from 12.30-2.30pm
Featuring the World famous Harlem Gospel Choir, set in BB King's restaurant, this is a real treat if you love filling up on fabulous soul food. No matter how full you get, your eyes become bigger than your stomach and you cannot help but go back for more. Watching the Harlem Gospel Choir perform while you eat is something you will never have experienced before and whether you're a churchgoer or not, they are sure to have you on your feet by the end.
Price: Tickets: $44 in advance. $47 day of show
237 West 42 Street, Manhattan
NEW YORK KNICKS @ Madison Square Garden
Do something out of the ordinary in Manhattan and go check out the local basketball team, the New York Knicks who play at Madison Square Garden. The atmosphere is electric, even if you don't know the rules of the game - plus it's good for celeb spotting around courtside. Spike Lee is usually there as he rarely misses a game, along with many other music stars and actors.
Price: Between $43 -$500
http://www.nba.com/knicks/tickets
4 Pennsylvania Plaza, Manhattan
A PIECE OF THE BERLIN WALL
As it is the 25 Anniversary since the Berlin Wall was knocked down, it might be a nice idea to visit this piece of unexpected history that stands in a small Midtown plaza on Madison Avenue. Amazing art work by German artists Thierry Noir and Kiddy Citny cover one side of the western facing side of the wall. The eastern side remains just blank concrete – a reminder of the political regime in the former East Germany. Something poignant to do, what's more, it's free.
Location - 520 Madison Avenue
LA ESQUINA – Mexican restaurant/corner deli
What used, apparently, to be a cabbie pit-stop, this Soho gem is now one of the most sought after eateries in New York. Try to get reservations in the main restaurant as it is a far more quirky experience to the deli section around the corner (also amazing food though). You will be led down a secret entrance and through the kitchen into a mosaic-tiled dining room with chandeliers holding big fat candles, as smooth cool music such as Nina Simone plays in the background. Here, the most refined Mexican food awaits you. (Go for the chorizo quesadilla or the whole red snapper). La Esquina is well worth the hassle if you have the patience to book.
105 Kenmare Street, New York
http://www.esquinanyc.com/
SERENDIPITY 3 - Old-school dessert destination
Having been the scene of several films, including romantic comedy, Serendipity, a cute and beautifully furnished restaurant founded in 1954, is famously known for its incredible but naughty desserts. Definitely somewhere you should try when you need a sweet fix. The Sundaes are to die for and the frozen hot chocolate is heaven and something you won't forget in a hurry and only $9.50.
225 East 60 Street, New York
http://www.serendipity3.com
ESCAPE THE ROOM – interactive game for groups of people
This is a fantastic way to spend a couple of hours with either your own group of friends or joining others there. It is a mystery puzzle in which you are all placed in a room of your choice in either an old Theatre, an apartment, office or old Victorian House. Then you have to work together to try to find clues and solve puzzles in order to secure the key to your freedom. This is an ideal way to meet new people and really try out something fun, spooky and different. You can even get a session at 11pm at night to add to the mood.
Price: $28 per person – book in advance
Located at downtown and midtown
https://static.escapetheroomnyc.com/
NEWPORT – Jersey City
If you fancy a little break from the hustle and bustle of Manhattan, Newport is only 15 minutes from 34 street on the PATH train. Ok, it's not 'New York', it's actually 'New Jersey', but is so close to Manhattan that it may as well be. It's a lovely little spot just over the Hudson River with a fabulous view of the city and perfect for family photos. Grab a coffee while you take in the view. There are plenty of little bars and restaurants surrounding the area and Hoboken, birthplace of Frank Sinatra, are the next stop and another pretty place in which to enjoy views, cafes and restaurants.
$2.75 per ride on the PATH train
http://www.panynj.gov/
THE DEAD RABBIT – Cocktail Bar
If you want to experience some Old New York and the Irish American tradition, The Dead Rabbit is the place for you. They have 72 historically-accurate cocktails shaken up by the most amazing bartenders. Tom Cruise aint got nothing' on this place. One of the worlds '50 Best Bars' this is a great addition to your night out. They also do lunch and have a grocery! A must while you're in the big apple.
http://www.deadrabbitnyc.com/menus/the-grocery/
All drinks from $14
THE HUDSON HOTEL
Part of The Morgan's Hotel Group, The Hudson is a cosy, fun and modern hotel in which to stay in northern Manhattan. It is so enjoyable to step out in the morning and enjoy a brisk walk around neighbouring Central Park.
Their deluxe studio rooms are great if you plan to do lots of shopping. There is plenty of space and with their richly paneled wood walls, it certainly gives you that cabin in the woods feeling when you get in from a long chilly day on the streets. Not only does The Hudson have a beautiful bar with a 300 square-foot space of clear floors, it also has nightly DJs on a Friday and Saturday night spinning on the decks. Have no fear, there is a much less noisy library bar with a roaring fire for those of you who just want to sit and relax over a bottle of wine or two.
Prices: Standard room: $529 per night Deluxe: $529 per night.
https://www.morganshotelgroup.com/hudson/hudson-new-york
THE HIGH LINE
It doesn't seem overly exciting when you hear that The High Line is just a park on an elevated section of a disused New York Railroad, but it truly is a lovely retreat in the middle of the city. This Urban Park has been open since 2009 and has become one of New York's must sees. Containing benches, public art installations and views of the Hudson River and skyline, The High Line runs from Gansevoort Street in the Meatpacking District through Chelsea, to the northern edge of the West Side Yard on 34 Street. It's a great way to see different neighbourhoods and soak up a revitalised piece of New York City's past.
Price: Free
https://www.thehighline.org/
BANK OF AMERICA WINTER VILLAGE AT BRYANT PARK
To really get you in the festive mood, pay a visit to Bryant Park situated in Midtown, where Bank of America sponsors this yearly gorgeous, twinkly winter village. It includes more than 125 boutique-like shops offering exquisite gifts from hand-made jewellery to local foods and much more. There is something for everyone here and you're unlikely to leave empty-handed. It is located along Bryant Park's terraces and each shop is housed in custom-designed jewel box kiosks. Truly beautiful.
Oct 21 – January 4 2015
http://wintervillage.org/shop/overview
Virgin Atlantic flies to Newark and offer a Premium Economy Upgrade service
Register for free to continue reading
Registration is a free and easy way to support our truly independent journalism
By registering, you will also enjoy limited access to Premium articles, exclusive newsletters, commenting, and virtual events with our leading journalists
Already have an account? sign in
Join our new commenting forum
Join thought-provoking conversations, follow other Independent readers and see their replies