The Independent's journalism is supported by our readers. When you purchase through links on our site, we may earn commission.
Exploring Nicaragua's volcanoes in a cloud of ash
This Central American hotspot provides Caroline Phillips with an active adventure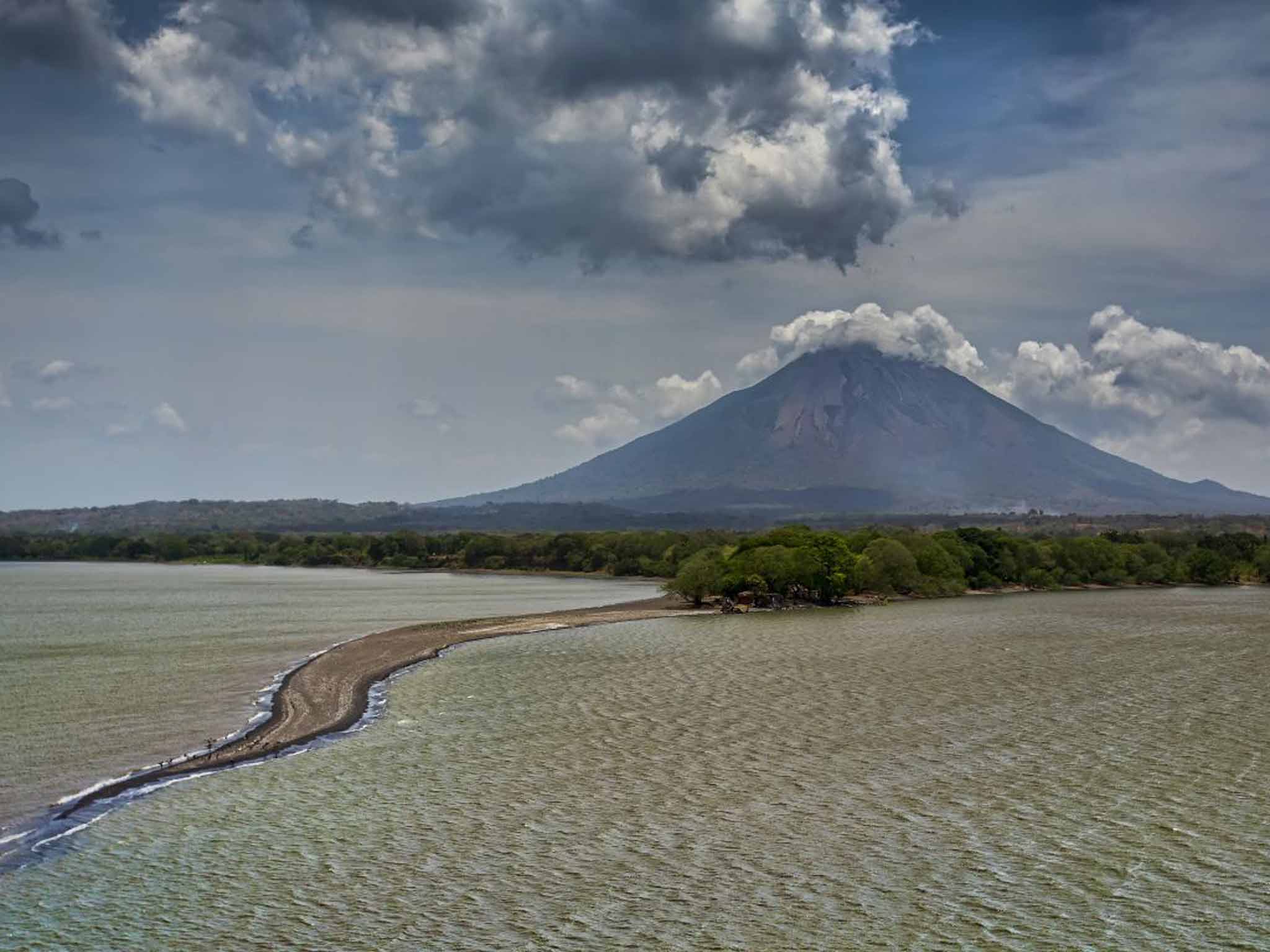 Nicaraguan volcanoes are multi-functional. They don't just stand around bubbling, burping and erupting. A local mayor and presidential candidate, the late Herty Lewites, once suggested that the Santiago crater of the mighty Masaya Volcano be used for rubbish. This to save on incinerating costs. His idea was vetoed.
But it has had some gruesome uses over the centuries. In pre-Columbian times the Chorotega Indians made a sacrificial altar here, throwing virgins and babies into the lava to appease the goddess of fire and prevent the volcano from vomiting over their towns. And, in the Seventies, dictator Anastasio Samoza's hitmen dumped torture victims into Santiago's Mouth of Hell to "disappear" them.
This is one of the most active volcanoes in Central America, spewing up to 1,200 tons of sulphur dioxide daily. Not that the wildlife is put off. Hundreds of green parakeets live in the crater walls, using them as protection from predators while the heat incubates their eggs and, on night-time tours, visitors are accompanied by the local bats.
I'm standing on the wrong side of the "Zona de Peligro" sign. There are no fences or wires; I can go right up to the lip of this volatile volcanic cone, where lava is bubbling beneath the sulphurous gases. My guide, Juan Carlos Mendoza, was here with a group of tourists in 2001 when it erupted. A 200lb lump of volcanic rock hit his bus. "Que sera, sera," he says.
Masaya is just one of 19 volcanoes that run down the spine of Nicaragua, a country the size of England, and my trip takes me to several of them. On Ometepe island, in Lake Nicaragua, twin peaks rise majestically. "Locally they're called The Lady's Breasts or the Breasts of Ometepetl," says Juan Carlos. "Name me any other country where you get to hike up a woman's bosoms." Pass. But León, the second oldest Nicaraguan city, 11 miles from the Pacific coast, sits at the foot of volcano Momotombo, and several others rise up around the city. As I stand in the plaza by the Bishop's Palace, with its mahogany trees and market selling utensils made from gourds and bracelets of coconut husk, only the pavement seems to separate me from the burning bowels of the Earth.
Mombacho is a volcano in the background of colonial Granada, in the south-west of the country. It has a halo of cloud forest, steamed up by fumaroles and other geothermal bubblings. A canopy tour – comprising a series of zip-wires and platforms, some as high as 63ft – takes me between the treetops and through jungle foliage, with views over the sloping coffee plantations. There are hummingbirds, howler monkeys and sloths lazing about, amid the orchids, ferns and bromelias.
At Cerro Negro I take my volcano tourism to the next level with a spot of ash boarding – essentially like snowboarding, but down a volcano rather than a mountain, and on ash instead of snow. When we arrive at the is 2,388ft jet-black volcano, we sign a waiver for dismemberment, death and the like.
"From this point on," explains Juan Carlos, "the volcano is not responsible for anything that happens to us." He points out the caraña tree, which grows at the foot of the volcano: "It's good for broken bones and swellings." Great to have the cure with the cause then.
I'm kitted out in a fetching grey boiler suit which, along with goggles and protective gloves, makes me look ready to tackle an outbreak of Ebola. I then choose which kind of board I want. The first option is one you can stand on, while option two is a sitting-down version (I take that, less likely to get injured).
The board is scratchy, heavy and knocks my calves as I carry it. So, at the risk of being punished by the volcano for laziness, I give it to Juan Carlos to carry. It's like walking on hot charcoal amid the smell of rotten eggs. I climb vertically up a giant's pumice stone, feeling as though a hot, gale-force wind is blowing against me.
After an hour, we're on top of the world. There's a 45-mile non-stop chain of volcanoes – the Cordillera de los Maribios – and we're in the middle of it. From where I'm standing, I can see 15 more peaks. I feel smug in the way that only someone who has just hiked up a volcano can. After a brief lesson in how to stop the board on the journey back (with my feet), how to go faster (sit back) and how to steer (with the rope), I take the plunge and slide down the volcano, a cloud of ash billowing in my wake.
A beautiful new world is revealed, and it's silent except for the crunch of volcanic ash. I'm alone on the slope. I gaze at the distant puffing peaks, at the Pacific on the horizon and at the beating sun. Only when I'm back on terra that's somewhat more firma do I realise that I have ash in my nose and ears, as a beard, and down my bra.
Getting there
Journey Latin America (020 8600 1881; journeylatinamerica.co.uk) can put together a tailor-made eight-day itinerary to Nicaragua, visiting Granada, Leon, Ometepe island and Mombacho, Cerro Negro and Masaya volcanoes from £2,189pp. Includes accommodation with breakfast, some additional meals, excursions, transfers and flights from London, via Houston, with United Airlines (0845 844 4777; united.com).
More information
Join our commenting forum
Join thought-provoking conversations, follow other Independent readers and see their replies